Khulna
Khulna
is the main city in
Khulna Division
in
Bangladesh
. On the bank of Rupsha (and Bhairav) river, it is known as the industrial city and located in southern part of Bangladesh. A large part of the
Sundarbans
, a UNESCO world heritage is located in Khulna. It has many Jute mills, the only newsprint mill and hardboard mill of Bangladesh, the only state-owned match factory (Dada match, later Dhaka match), Oxygen company (BOL), Ship yard. Khulna is the 4th largest city in Bangladesh after Dhaka,Chittagong and
Comilla
. It is a quiet, calm city inhabited by 1.5 million people.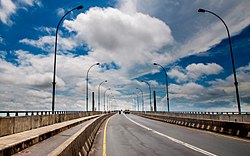 Get in
By air
United Airways , Regent Airways and Novoair have regular flights (daily two) to Jessore air port and some of these airlines provide shuttle bus to Khulna city. Cost approximately Tk. 5000 (USD 65.00). Hotels in Khulna will usually arrange a car to collect anyone from the airport at Jessore.
By bus
Regular buses all day and night runs from capital city Dhaka to Khulna. Well known are Shohag Paribahan (transport) , Eagle transport, A K Travels, Hanif transport etc. All of they have AC (air conditioned) and normal chair coach services. Cost approximately Tk 500-1200 (USD 7.00-16.00). Usual time is 6-8 hours.
Buses also run from Jessore (Tk50-100, 2-3 hour)
By boat
As of December 2018, the Rocket Steamer launches from here once per week on Thursdays heading to Dhaka (2 per cabin, 26-30 hours) with a few stops along the way including Barisal. It departs Khulna at 2:45AM, but it's possible to board the boat around 6-7PM the night before and sleep in your berth for no extra charge. The boats launch from Rocket Ghat just behind the train station, while the BIWTC office for ticket bookings is next to the Jolil tower in the city center.
Get around
Cycle-rickshaws are the main method of transport. From the bus stand to the center or from one end of town to the other shouldn't run more than about Tk10, and as little as Tk4 for shorter journeys.
It is also possible to rent a scooter (3 wheel) for little longer journeys.
See
Wonderland Shishu (Child) park. At Khalishpur region. A theme park.
Fultola Zoo. Maintained by Bangladesh Army. A nice place to spend a whole day. Take a scooter from the city center.

Gollamari MemorialMemoir for the mass murder in Gollamari river during independence war of 1971. On the way to Khulna University.

Khulna UniversityLocated at Gollamari, a modern university area with nice view and lakes. Good for spending an afternoon in natural surroundings.

Rupsha Bridge, a place frequently visited by local people. In the Lobon Chora area. A long awaited bridge over the Rupsha river connecting Bagerhat and Mongla port. You can walk along the bridge and take a snap of Khulna city and the Rupsha river.
The Home of Khan E Sabur, located at Lobon Chora area. Go by rickshaw or scooter. A nice garden and pond. Open for public access. It is a police camp now. A two lion sculpture to the Rupsha river with staircase into the river. There is a nice view of the river and nature.
Prem Kanon. Nice statues made of trees and its really awesome place.
St Joseph's Church, Babu Khan Rd. A catholic church run by the friendly, English-speaking Father Jacob. Daily mass is at 6AM, and they welcome visitors.
Market stalls run along the river between the train station and the ferry terminal. While their products are unlikely to be what tourists are looking to buy, the people are friendly, many of the tea stalls are great, and from time to time you get a glimpse of the river.
The Torture & Genocide Museum is a confronting and powerful exhibition of the 1971 war for independence. It offers a different take from that of Dhaka's Liberation War Museum and is well worth a visit, especially for the art and photography displays. There is a small entrance fee with donations encouraged.
Do
Hadis park, in the city center, spend your free time here. If you are lucky there will be a show of some kind on there.
Stay overnight in a nearby village (Ocean Tourism & Travel Agency arranges excellent village trips)
Buy
New Market, Khan A Sabar Rd, (in the north of the town). This is a big two-story shopping complex, selling clothing, electronics, etc. It's not too exciting, but a good place to buy a Bangladeshi outfit, a cell phone, or cd's and dvd's. Check out Coffee Heaven on the 1st floor for a refresher between shopping and using the internet cafes - they indeed have a large contraption that resembles an espresso
machine.
Cheaper option - Picture pallace mor market.
Eat
Hotel Castle Salam

phone: +880 41-720160

address: 8 KDA Avenue

G-,is one of the largest Hotel of Khulna that provides different types of facilities for people
Hotel Royal is one of the largest Hotel of Khulna that provides different types of facilities for people.

Aloka Restaurant

address: 1 Khan A Sabar Rd

This is a good option if you're staying in the central hotel district, with friendly waiters serving delicious Bengali food. Meals from around Tk 600. It's on the 2nd floor, look up for the sign.
Hotel Western International has a very good restaurant on site, serving several different cuisines, including a few good soups and a spicy version of fish and chips! Meals from Tk 150

address: Near New Market

Many budget restaurant at Moylapota mor and picture pallace mor,
Drink
Alcohol can be a little hard to find in Khulna. Famous drinks are Lassi or Faluda. Deluxe, Shourov restaurant at Dak Bunglow mor/Picture pallace mor are good option.

Sleep
To the east of the intersection of Khan A Sabur Rd and Cemetery Rd is a cluster of budget hotels in the various alleys.
phone: +880 41-721638-9

address: 33 K.D.A.Avenu

A nicer hotel. With complementary breakfast, the food is very good but the rooms are scruffy. Window air conditioning units in rooms. Wireless internet is unreliable.

Hotel Western International

phone: +880 41 733 191

address: 51 Khan A Sabur Rd

The nicest hotel in the town, with very friendly staff and nice, clean rooms. Tk800+.

phone: +880 41-720160

address: G-8 KDA Avenue

One of the best hotels in town centre. Air conditioned rooms. This place is popular and can be booked out by NGO's, so book early.
Hotel Society, in the cluster of hotels around the city center, probably never lived up to its name. Tiny rooms with cold showers, squat toilets and mosquito nets are just bearable. They ask Tk75/50 for attached/shared bath, but attached can be bargained down to at least Tk60, making it a worthy budget option.
Hotel Park, 46 K.D. Ghosh Road, +24077, 20990. An ok option. Rooms Tk150-750.
Stay safe
Khulna Metropolitan Police Control Room, 20220.
Cope
Khulna Sadar Hospital, 20133.
Connect
PhotoFrame.Net, 2/6 Babu Khan Road (Beside Commerce College) Khulna (Tel: 041 731916), Have a handful of computers and very good and fast internet connection which is mostly said that the fastest cyber cafe in khulna. Charge: TK 20/hr.
Messenger Cyber Cafe is probably the best of a handful on the top floor of New Market in the north of the city, with a decent connection (for Khulna), Tk20/hour.
Rangdhonu digital studio Rangdhonu digital studio and training center goalkhali bus stand.
Go next
Shat Gombuj Mosjid (The sixty dome mosque), in the Bagerhat district. One hour travel from Khulna. Take a bus from Sonadanga bus terminal or from Rupsha ferry terminal.
Monlga sea port, 40-minute bus ride. Take a bus from Sonadanga bus terminal or from Rupsha ferry terminal. A nice place to see the Poshur river too. Scenic beauty overlooking the Sundarban. Cross the river by Shampan boat to go to the Mongla city. It is possible to hire a boat to roam around to the Sundarban.
Sundarbans - Khulna is a good place to arrange a trip into the Sundarbans, and there are several private operators. If you're on a budget try comparing prices among the several lined up near the BIWTC Rocket reservation office.