Khuri
Khuri
is a small village around 45 km from
Jaisalmer
.
Get in
By taxi: From Jaisalmer station or Hanumant chaura taxis are easily available to take you to Khuri. Price as of Jan 2012 is ₹600 for Tata Indica, ₹800-1000 for Tata Sumo.
By bus: It's about a two-hour direct bus ride from Jaisalmer. The bus leaves from a 'bus station' 100 m east of the entrance to the lake, on Rd 15, just after it splits from Gadisar Rd. You'll know you're in the right place if there is a small shrine at the base of a sloping tree. Buses leave from that side of the road on a rough schedule, so you'll have to ask. The ticket sellers on this route are particularly fond of overcharging (up to ₹150 each way per person), by making up a fictitious 'luggage charge' and 'convenience charge'. The price was ₹35 each way in June 2012, so be sure to not overpay. Make sure to ask the price of the trip from other bus riders to make it easier, otherwise taking a photo of the offending conductor will often do the trick.
Do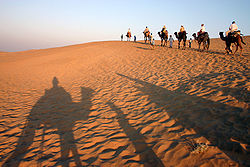 Camel Safari: To near by sand dunes. During summer almost all operators only offer day trips leaving in the afternoon and returning the next morning (see below) due to the heat. Do consider if you really want to ride during the hottest afternoon sun, and check that whoever you go with has shade
Desert camping: Various guest house owner at Khuri can arrange for you to stay a night in nearby desert among sand dunes. The typical tour starts around 3:30PM when you start on a camel back for a 1½-2 hour journey to reach an isolated sane dune in desert. Each travel party is accompanied by one or more camel men who also prepare food in the night by using fire wood. Tipping is often expected, as is a visit via their house so their children can ask for tips (not expected).
Sleep
Ajun guesthouseThey organise a ₹500 per person (ideally minimum two) overnight camel trek. No room charge if you do, but you can leave your bags in a room overnight if he's not booked out. Lovely host. He's not that pushy, even if he does meet you at the bus stop. Be a little wary of the food - once contained off milk.

Badal House, 45 km away from Jaisalmer at Khuri village, Accommodation in the house of Mr. Badal Singh. You can make bookings in advance by calling on his number +91-9660535389 or 03014274120. Rent ₹300 per night as of Nov 2011. Recommended for those looking for a more peaceful experience than one gets at SAM Sand dunes