Kiel
Kiel
is the capital city of the
German
state of
Schleswig-Holstein
and has a population of roughly 240,000. It is located at the Baltic Sea at the end of the "Kieler Förde".
Understand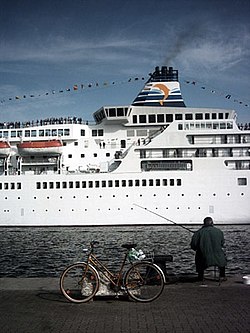 Kiel is a maritime city and has been for a long time, it remains one of Germany main passenger ports (besides
Travemünde
and
Rostock
) and as the Baltic endpoint of the
Kiel Canal
plays an important role in shipping. The beginning of the end of German monarchism happened here when in 1918 the admirals wanted the fleet to sail out for one last glorious but militarily pointless battle and the sailors told their superiors where they could shove that idea, culminating in revolution and the formation of Soviets.
During the Second World War, Kiel was severely bombed, because of its submarine-producing shipyard. Civil and military ships are being built in Kiel nowadays and the tall cranes dominate the eastern shore of the Förde (fjord).
The bombing destroyed almost all historic buildings in Kiel; even the older looking buildings were built after World War II. So, if you come to the "Kieler Schloss" (Kieler Castle) don't be disappointed. There isn't much left of the original building. During the rebuilding after the war, mostly modern architecture was used.
Get in
By boat
Kiel serves as the German ferry terminus for the ferries to
Oslo
,
Norway
with
Color Line
and
Gothenburg
,
Sweden
with
Stena Line
. It is also the endpoint of the Kiel Canal, which connects the North Sea to the Baltic Sea (allowing ships not to round Denmark).
By train
Kiel HauptbahnhofKiel is connected to the DB rail system, with regular RE, IC, ICE and EC services to Hamburg and beyond. Transfers can be made in Flensburg or Lübeck to Danish Rail.
By bus
Bus lines run services to - or through - Kiel. A weekly bus leaves Kiel and travels via Poland and the Baltic states to
Tallinn
,
Estonia
. A comfortable bus operates daily from
Berlin
to Kiel via
Lübeck
(6 hours). Further bus operators serve
domestic routes
.
By plane
address: in "Holtenau"

There is no commercial service to this airport.

address: Flughafenstr. 1, 22335 Hamburg

The nearest major airport is Hamburg, about 100 km away (one hour by car). The airport has a railway connection to Hamburg's Hauptbahnhof, from where there are multiple trains a day to Kiel. There is a shuttle bus service to and from the Airport (Kielius). Buy both tickets (from/to the airport) at the same time for a discount, and be sure to hold on to your voucher. Students get a discount (ISIC required).
Get around
Kiel has a relatively good public transport system based on buses and ferries operated by
VRK
. 1-, 3- and 7-day tickets are available, and offer good value for tourists. The taxi service is expensive but good.
Kiel is very flat, and bicycles can be hired at various places. The main train station has a large bicycle garage and bicycle rental center (
Radstation
), with both regular bicycles and e-bikes available. It is quite easy to ride from Kiel to Laboe, catch a ferry to Strande, and cycle back to Kiel.
When crossing the Kiel canal, you can go across one of several bridges (Holtenauer Hochbrücken, Levensauer Hochbrücken), or take a ferry shuttle. The
Adler
at Kiel-Holtenau only takes pedestrians and bicycles; the ferries at Landwehr and Sehestedt also carry cars and motorcycles. All canal ferries are free.
See
Tiergehege Tannenberg

address: Projensdorfer Straße 276

A smaller forest area in the north of Kiel where different types of deer roam about freely and with relatively little fear of humans. There are some enclosures including one for boar. Not spectacular, but good for a relaxing walk and to see some of the local wildlife. Make sure to obey the feeding rules posted around the area.
Museums
Eight museums of Kiel have created a common initiative called
Museen am Meer
, or "
museums by the sea
", where a common website brings together all details you need about their collections, opening times, admission prices etc. along with a route planner. For young travellers (17 years and younger), there is an app, "
MuseumsCard
", that offers information and free admission to many museums in Kiel and the rest of Schleswig-Holstein.
AntikensammlungFace to face with antiquity: collection of Greek vases as well as casts of important Roman and Greek sculptures unique to Schleswig-Holstein.

Aquarium Geomar

address: Düsternbrooker Weg 20

Public aquarium that is part of an oceanic research centre. From Baltic Sea herring to tropical seahorse: local and exotic sea creatures presented in aquariums that simulate their natural habitats. Known for its outdoor seal pool which can be accessed for free without entering the aquarium itself. Seal feeding times every day at 10:00 and 14:00 except on Friday.

Kunsthalle zu KielArt from the Dürer era through to the present day: permanent collection spanning all artistic genres, including works by Repin, Nolde and Richter, as well as special exhibitions on specific topics and artists.

Medizin- & Pharmaziehistorische SammlungInsight into the history of medicine and pharmaceuticals: exhibition of historic instruments, collection of pathology specimens, interior of an old pharmacy and a doctor's office.

Schifffahrtsmuseum

address: Wall 65

In the former fish auction hall, built in 1910: permanent exhibition on Kiel's maritime history, pier with historic ships.

Stadtgalerie KielNew contemporary art: exhibitions of regional and international contemporary art, art from the Baltic Sea region, permanent exhibition of the works of the Expressionist artist Heinrich Ehmsen.

Stadtmuseum Warleberger HofTraces of Kiel history: permanent exhibition on the early history of the city and exhibitions on social and cultural history.

Zoologisches MuseuExperience marine and evolutionary research at first hand: exciting display on the subject of marine science and research, Germany's most extensive exhibition of whale species, presentation of the origins of zoology in Kiel.
Do
There are two free monthly magazines listing activities and events. Paper copies of both
Station
and
Ultimo
can be found in most cafes.
Online information is available via
Kiel Magazin
and
Fördeflüsterer
.
Kieler Woche
The main tourist attraction is the
Kieler Woche
("Kiel Week") at the end of June.
Apart from being world's largest sailing event the
Kieler Woche
is one of Germany's largest festivals. Apart from the sailing, the entire center of the town is transformed into an international food and craft fair, with regular big name performers appearing nightly. If you intend to visit Kiel during this time, book your hotel well ahead. The waterfront and major parts of downtown will be inaccessible for cars.
Information on events is posted all over town and through a free magazine which will be distributed about a month before the event. Events include entertainment for kids during daytime throughout the entire week and lots of open air concerts. Most concerts end around 23:00 and nightlife moves to indoor venues and to the Eggerstedtstraße.
Aside from an abundance of food and drink outlets along the streets the "International Market" on the Rathausmarkt is the place to go for food and drink. Dozens of countries operate booths on the open-air market offering their traditional foods and drinks. The Kieler Nachrichten newspaper runs a special about food on the market in its Saturday edition, with ratings. If you cannot decide from the endless choices head over to the Scandinavian area or to wherever crowds are gathering; the Poles also offer large portions for a surprisingly low price.
Sports
phone: +49 431 98 210 226

address: Euopaplatz 1

One of the most successful handball clubs in Germany, Kiel is also among the top addresses for the sport throughout Europe. They were the 2014/2015 German champion and hold the record for most national championships at 20.

phone: +49 431-389024-100

address: Westring 501, 24106 Kiel

A venerable football (soccer) club that used to be German champion and that has been making a comeback.
Buy
A variety of shops are located in the pedestrian zone Holstenstraße and the mall Sophienhof. Another relatively big mall is the Citti-Park from where you can also access the huge Ikea furniture shop.
Numerous cafés are located in the old town center at the northern tip of the Holstenstraße near
the "Nikolaikirche" (Nikolai church).
An outdoor shopping area is the busy Holtenauer Straße with lots of cafes and more upscale stores towards the south end near the Dreiecksplatz.

Eat
There are food courts in Kieler Hauptbahnhof (train station) and the shopping mall across from the train station (Sophienhof).
Garips ImbissExcellent German/Turkish Döner kebabs.

Cafe LoufNice breakfast buffet on the weekend.
Other good cafes and pubs can be found in the old city centre.
Drink
Cafes and pubs
Subrosa

address: Elisabethstr. 25

Kiel's alternative pub and bistro.

Unrat

address: Spichernstr. 2

The place for Kiel's students to talk philosophy, drink a cheap beer or listen to some live band.

Prinz Willy

address: Lutherstraße 9

A "creative" café that offers live music, arts and poetry.

Exlex

address: Ziegelteich 14

The number one meeting point for students and young folks downtown.

Blauer EngelA café, bar and nightclub with a nice view and outdoor serving.

Cafe Medusa

address: Medusastr. 16

It hosts live-music and readings.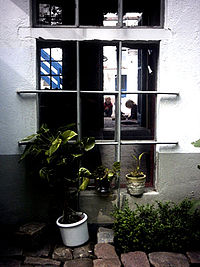 Bars
Astor Bar

phone: +49 431-99790

address: Holstenplatz 1-2, 24103 Kiel

One of Kiel's best cocktail bars.

Chaplin's

address: Waisenhofstraße

Piano player and cocktails.
Clubs
Kiel's clubs are spread out all across the city. Although some locals prefer doing the one-hour drive to Hamburg to go out, Kiel has some clubs that are worth being checked out. Make sure you have had a look at the site
Fördeflüsterer
before going out to get the most accurate information on all night live events. Most clubs have a €5 cover fee.
Parties
Not exactly in the category of clubs are the various parties that take places in different parts of the city. Traditionally on Thursdays between October and April all the big university departments organize
Studentenparties
on and off campus. Expect somewhat cheap drinks and hundreds of university students dancing to a mix of pop, rock and r'n'b. Sometimes there are even live bands or second dance floors. On the weekends several fancier parties are hosted in unusual locations throughout Kiel. You'll be dancing to house music in a show room of a car dealer or in the terminal of the ferry to Scandinavia. Tickets for these parties can bought in advance which will save you money and time. Check the Kiel4Kiel site to find out where tickets are sold or ask a local student.
Live music
When it comes down to live music, Kiel is not the city where you'll be able to see big headliners. If you're into that you'll have to go to Hamburg. Still, you might be able to listen to some decent live music while staying in Kiel. The
Halle400
, the
MAX
and the community-operated
Pumpe
host local and international acts. Surprisingly good German or Scandinavian acts can sometimes be spotted in the
Schaubude
or the
Nachtcafé
for very little money. On occasion, some clubs like the
Luna
host national-recognized DJs. The city's own
Kulturforum
has concerts (as well as stage plays etc.) almost every night. The best place to find out who's playing and to get a ticket is
Konzertkasse Streiber
close to the
Ostseehalle
.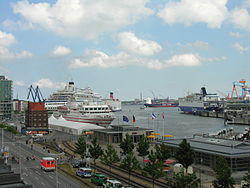 Sleep
The Youth Hostel is close to the Hauptbahnhof. There are a number of moderately priced hotels in the city centre. For some Olympic history, stay at Olympiazentrum in Schilksee, the sailing athletes village for the 1972 Munich Games. Top end is the Strande Hotel in Strande, or the Kieler Kaufmann just north of the city centre.
Budget
Mid-range
Nordic Hotel AstorIn the city center, close to main train station and ferry connections. Singles from €60, doubles €80. Rooms have 1970s charm but are clean. Bar on highest floor has a great view of the city.

address: Hamburger Chaussee 2

Downtown, close to the main train station.
Splurge
Connect
Internet access
The local Internet Service Provider TNG operates free wireless access points in the downtown area. Access will be blocked after-hours. A list of locations is available on the TNG Spot website (German).
Many stores, malls and supermarkets offer free WiFi.
The public library offers free Wi-Fi if you ask for a voucher with an access code.
Commercial Wi-Fi based access can be found throughout most parts of Kiel provided by various operators. Most will not allow you to use your international roaming plan like iPass, though.
Go next