Killarney
Killarney
is a small town in southwest
Ireland
. Situated on the
Ring of Kerry
scenic drive, it's one of Ireland's leading tourist destinations because of the abundant lake and mountain scenery in Killarney National Park.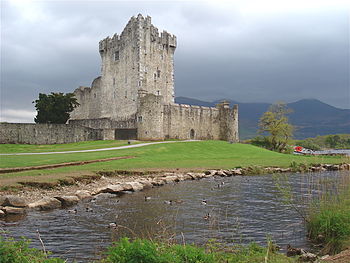 Understand
Killarney has been entertaining visitors and tourists for over two hundred and fifty years. Its beautiful peaks such as Crohane, Tomies, Torc, and Mangerton date way back to prehistoric times when the ice melted after the ice age. There are many tales and legends concerning the town which draw in tourists.
It has charming architecture and style reminiscent of the late nineteenth century. Since the council banned gaudy plastic shop signs in the 1980s, there has been a strong competitive streak among shop keepers to put on an attractive face, with old style signs, window boxes, and stained-glass doors.
The town has many narrow lanes which are sometimes hard to navigate but bring about opportunities to stumble upon new adventures. Many restaurants and craft shops are hidden down these lanes and it is well worth the effort to explore.

Get in
By plane
By train
Killarney is on the Dublin-Tralee and the Cork - Tralee railways. It is about 3.5 hr from Dublin and about an hour and a half from Cork. You might be required to transfer trains at
Mallow
in County Cork. The train station is only a few hundred metres from the centre of town.
By car
Killarney is situated approximately two hours from Shannon Airport, one and a half hours drive from Cork Airport and 4 and half hours drive from Dublin Airport. It's possible to rent a car from any one of these places or to drive directly to Ireland via ferry from the United Kingdom or Europe.
By bus
The bus station is located next to the train station, although they use different entrances. The bus station is beside the Outlet Centre opposite the Friary. For the train station, go between the Outlet Centre and the Malton Hotel (formerly The Great Southern Hotel).
By taxi
There are nearly always taxi cabs available from the rank, outside McSorleys bar and niteclub. Local numbers to call are +353 64 37676, and +353 64 37444, to name but a few.
Get around
By bicycle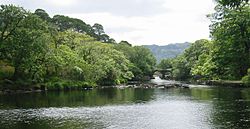 Cycling is an ideal way to see the Killarney National Park. There are paved bicycle paths in Muckross, Knockreer and Ross Island.
If you do not have a bicycle, there are several places in Killarney where you can rent them. O' Sullivans Cycles, located across from the Tourist Office, charges €15 to rent a bike for the day.
By foot
Put on your runners...
Killarney town can easily be covered by foot. It is a mere ten minute walk from the town centre to The Demesne at the entrance of the National Park. There are many beautiful sign-posted walks you can follow from there. If you are a parent, there is a new enclosed playground two minutes walk from the main gate by the river, with play areas divided up by age group.
See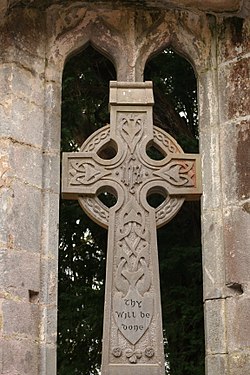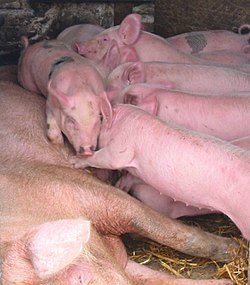 Muckross AbbeyBeautiful ruin of a Franciscan friary that was founded in 1448. The ruin is completely open (except when certain sections undergo restoration work) and you can wander through the rooms independently.

Muckross House and GardensThis area of the park also boasts the "Muckross Traditional Farms", a perfect outing for the kids. A ring walk (not very long, approx 2 hours from start to finish, including stops), leads you past several 'traditional farmhouses'. These farmhouses demonstrate 'the way we were'. During the summer, there are often litters of kittens and puppies, which the children will be delighted with as you watch the demonstrations of soda bread and butter making, a sample of which will be given to you if you behave!

Ross CastleA medieval tower in Killarney National Park. Situated in a beautiful location on the lake shore. Tours are available.

Torc WaterfallA beautiful waterfall in the Killarney National Park. Covered in tours of local attractions.
Do
Visit Killarney National Park, which is on the very edge of the town centre, west and south. Entrances on Mission Road and Port Road.
Ross Road, slightly further south, leads to Ross Castle. From there you can take a boat trip on the Lakes of Killarney. Boats leave regularly during the summer, some of which visit Innisfallen Island, which boasts spectacular monastic ruins.
Watch a game of Gaelic football, Ireland's national game. Kerry has won more All-Ireland Football Championship titles than any other team. Killarney has a rich footballing tradition and Kerry inter-county matches are often played at Fitzgerald Stadium in the town.
Visit Fitzgerald Stadium located at what is known locally as the "top of town". The stadium is home to the Kerry senior football team, constantly providing spectators with competitive and enjoyable matches. It has a seating capacity of over 39,000, and also serves as a major concert venue in Kerry County for musical performances during the summer. Don't try and park nearby during events, as it is restricted to local residents and disabled permit holders. Through traffic is blocked for major events. Park in town, and follow the crowd.
Go for a swim or relax in the sauna in Killarney's only brand new, purpose-built leisure centre. Five minutess from town by car or 25 minute walk, it is on the bypass road. Several hotels also have swimming pools open to non-residents, but they tend to be expensive.
Have a game of pool in the Cue club in the centre of town.
Watch the latest movies in the Killarney cineplex (recently renovated and looking fabulous!), go for a drink in any of the numerous pubs Killarney has to offer, or simply put on a jacket... and go outside!
Go to the

phone: +353 64 6631 125

address: Ross Road, Killarney, Co. Kerry, Ireland

This racecourse holds various meetings for horse racing (both flat and" jumps") at various festivals in the summer . A "smart-casual" dress code is encouraged for attendees.
Buy
The Killarney Outlet Centre (opposite the Friary) has a wide range of shops including NIKE, Blarney Woollen Mills, and other name brands. Also available are books, camping gear, and Irish style jewellery. It's all under cover, so good for a wet day.
Go to The Crystal Shop located on High Street in Killarney. The shop is dedicated to fine crystal, china, and soft furnishings. It is a spot to browse or purchase. The shop features major Irish brands along with some of the smaller factories. Prices are on par with other shops, but the staff go above and beyond to help the customers. There is also tax-free shopping available for non-European Union residents
In the basement of Muckross House, you'll find a modest gift shop offering fine woollens at very attractive prices.
Eat
phone: +353 64 31149

address: Main St

The Laurels enjoys a great reputation for its food. Expect to find the best traditional fare around prepared not with just a little flair entirely from local ingredients. Bantry Bay mussels come in a tureen of white wine, garlic and fresh cream with home-made soda bread; Irish stew with crusty home-baked rolls; and traditional potato-cakes filled with chicken and smoked bacon on a mushroom sauce. As well as dining in the pub, the adjoining restaurant seats 65 people between two rooms for more leisurely dining.

address: College St

This small cafe has a friendly, unpretentious setting and gives a particularly hearty welcome to families. There are a good variety of hot and cold options, with something to suit everyone. Salads, soups, sandwiches, and hot entrées are available throughout the day and evening, all for very economical prices. Specials offer daily diversity to the menu. A special child's menu has a number of pleasing standards with generous helpings of chips. Enthusiastic and fast service makes eating at Cronin's a pleasure.

Scéal ÉileA nice restaurant and café on Main Street. Try to get a window seat if you're dining on the second-floor restaurant. On a sunny day, the window boxes compliment the view as the bustling life goes by. The menu is varied and quite nice, as are the staff.
Drink
Sleep
Killarney has a huge variety of accommodation available for visitors, from top of the range luxury 5 star hotels to comfortable B&Bs and hostel accommodation. There's something to suit every budget.

Hostel
Bed & Breakfast
Hotel
Splurge
Stay safe
Like all tourist towns, Killarney can get very busy, so remember, safety in numbers. There can be a lot of noisy trouble-makers on the streets when the clubs close in the early hours of the morning, and it may take time to get a taxi then. Stay on the main streets late at night and avoid the laneways. The better hotels may have a car available to pick you up and return you to your accommodation.
In case of trouble call the local police (known as the 'Garda') +353 64 663-1222.
The mountain scenery is lovely, but sudden weather changes can be dangerous. Don't go fell walking or mountain climbing without local advice and a decent set of warm, waterproof clothes. Make sure a responsible person knows where you are going.

Go next
The Gap of Dunloe is about 10 km (6 mi) west of Killarney, a wild gorge about 3 km long with Macgillycuddy's Reeks and Tomies mountains on either side. The highest mountain is Carrantuohill, and at about three and a half thousand feet high is the highest mountain in Ireland. For the very fit a walk though the gap is the best option while for the less able a Jaunting Car ride would suit. There are also ponies for hire, the choice is yours. The scenery in the Gap is spectacular, with steep sides and deep glacial lakes. The road is not suitable for most vehicles, but 4WDs or other cars with a high clearance could get through.
The Ring of Kerry is a route which meanders around the Iveragh Peninsula, mostly skirting the coast. 176 kilometres in circumference. It takes about 4 hours to complete without stops, but it's best to make it a full day drive and enjoy the views and quaint towns on the way. Drive from Killarney towards Kenmare on the N70 and follow the signs. You will pass St Finan's Bay, Bolus Head and Doulus Head, with the ring ending at Killorglin. In places the views are sensational, especially at Caherdanial where you will find Ireland's only beach pub. At regular intervals you will come across restaurants, cafes and gift shops majoring in Irish crafts.
Carrauntoohil is the highest mountain in Ireland. Although it reaches just 1041 m into the sky, it is a real mountain, and a very nice climb. The tree-line in the region is very low, there are barely trees at all, and from the very start of the climb, it gives a true feeling of mountaineering. The route starts from the west, where Carrauntoohil is in the bottom of a valley. Looking in the valley, to the right is the third highest summit, and to the left are many smaller summits, with the second highest as the crown. You may walk across them all. It is possible to ascend the mountain from different angles. The standard route is up Devils Ladder, up the east face. Another option is to try and visit the whole range in one go, something which is possible to do in one very long day. Finally, it is possible with some good scrambling to approach from the west and visit the three highest peaks. If you are not a skilled navigator, the Devil's Ladder route may be preferable. As for steepness, there are ridges that are fairly narrow, but at most places, there are paths when this occurs. There is, however, a narrow passage about half-way between the highest point and the second highest point, which requires scrambling, and which is rather exposed. A fall could be fatal. Make sure you are prepared for bad weather also when the weather is beautiful. The mountain is exposed to high winds and the weather in Ireland changes rapidly. A good pair of boots or walking shoes are mandatory, as well as warm clothing and rain gear. It is also strongly recommended to buy a map and carry a compass, and know how to use it.
Aghadoe (pronounced AHA-DOE) is a decent but not overly strenuous cycle, approx 45mins from town will leave you gazing over some of the most spectacular views Killarney has to offer from the viewing point, located just beside the Aghadoe burial grounds. The view is the one that most commonly appears on Killarney postcards, and is world famous. Aghadoe is also a popular area for those interested in Ireland's early history, with an 13th-century Norman ruin named Parkavonear Castle, and ancient Ogham stones in the church ruins. If you cycled up by heading north from Killarney, there are two nice alternate routes back to town - both downhill. The shorter one is to go between the graveyard and Parkavonear Castle, and follow the road past the back of the golf course, then turn left when you meet the main road to town. Alternatively, head past the Aghadoe Heights Hotel car park, and follow the road. You'll pass an old church (closed now) on the left that makes a nice photo, and turn left at the T junction near the German Butcher Shop. The Killarney youth hostel is worth a quick look. It is a grand old house hidden in among the forests. Its entrance is at the junction, look for the gatehouse. Continue downhill and turn left on the main road to town. Careful, this is the main road from west Kerry, and can be busy.