Kimberley (British Columbia)
Kimberley
is a city of about 4,500 people (2016) in
British Columbia
.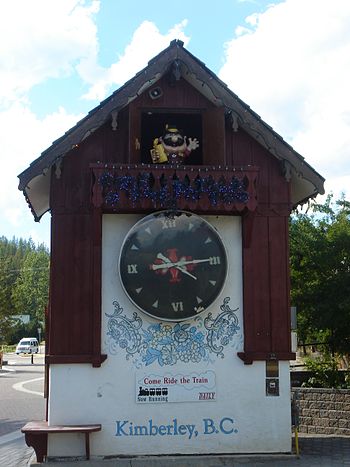 Understand

Kimberley was named in 1896 after the Kimberley mine in South Africa. From 1917 to 2001, it was the home to the world's largest lead-zinc mine, the Sullivan Mine. Now it is mainly a tourist destination.
The city has the "largest freestanding cuckoo clock in Canada".

Get in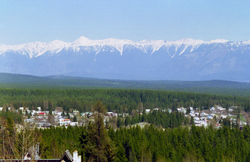 Kimberley sits along Highway 95A between the Purcell and Rocky Mountains.
The nearest airport is in
Cranbrook
.
See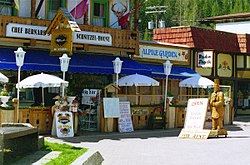 Platzl

address: at the end of Spokane St

The Bavarian-themed pedestrian street at the centre of town. Take in the atmosphere or view the large cuckoo clock where the town mascot, Happy Hans, pops out every hour.

Cominco Gardens

phone: +1 250 427-5160

address: 290 Rossland Blvd

Gardens with almost 50,000 flowers and a nice hilltop view.

Kimberley's Underground Mining Railway

address: 111 Gerry Sorenson Way

Features a 750-foot-long (230 m) underground mining interpretive centre complete with operational 3 ft (914 mm) narrow gauge railway equipment. Ride the rails through the Mark Creek valley as you listen to the history of Kimberley and the Sullivan Mine. Experience life as a miner at the Underground Interpretive Centre. The mining show demonstrates working mine equipment. Spectacular scenery and the occasional wild life en route to the Kimberley Alpine Resort. After a brief stop at the Resort Station you can learn more about Kimberley as you continue back to the Downtown Station.

phone: +1 250-427-4919

address: 64 Deer Park Ave

Fine art exhibitions, live performances, workshops year-round, art gallery, theatre, dance studio, fibre arts room and ceramics studio.
Do
phone: +1 250 427-4881 (general line), +1 250 427-1333 (snow report)

address: at the end of Gerry Sorenson Way

Mid-sized ski resort with three chairs and a T-bar and 750 meters of vertical (2,465 feet). Lifts are also open on weekends in the summer for hiking and sightseeing.

phone: +1 250 427-5171 (general line), +1 250 427-3389 (tee times)

address: 500 Stemwinder Dr

One of the best "mountain" golf courses in BC.

St. Mary's Alpine Provincial Park

address: Dewar Creek Road

9,146 ha. Numerous lakes and tarns are tucked against rugged granite cliffs and surrounded by tundra and lingering snowfields. Seven creeks drain the lakes, resulting in numerous waterfalls and cataracts, some as much as 150 m in height. Experienced hikers, willing to expend considerable effort in bushwhacking and route finding should visit this protected area where few if any people will be encountered. Backcountry camping is allowed in the park. When toilets are not available, bury human waste at least 15 cm in soil and 30 m from water. To ensure drinking water is safe, it must be boiled for at least 5 minutes. Practice "no trace" camping ethics.

Mountain bike "around the mountain"This is a 20-km open access mountain bike train
Recreational pursuits include world-class skiing, snowboarding, snowmobiling, fishing, whitewater rafting, kayaking, biking, hiking and golfing on championship golf courses.
Buy
Old Crow Emporium

phone: +1 250 417-9982

address: 275 Spokane St

Antiques and consignment booths
Eat
The Old Bauernhaus Restaurant

phone: +1 250-427-5133

address: 280 Norton Ave

German food.

Nina's Hillside Garden

phone: +1 250-427-4681

address: 440 Spokane St

Beautiful gardens, homemade soups and sandwiches.

Our Place

phone: +1 250-427-3739

address: 290 Spokane St

Breakfast and lunch diner. Gluten-free choices.
Drink
Pedal & Tap

phone: +1 250-427-3325

address: 215 Spokane St

Extensive beer, wine and drink menu. All of their wines are BC VQA and vineyard direct. Good menu, including vegan selections.
Sleep
Kimberley Riverside Campground

phone: +1 250 427-2929

address: just off of St. Mary's Lake Rd

Serviced and tenting sites with convenience store, laundry, showers and pool. On the river with nice mountain views. Open from mid-May to mid-October.

North Star Motel

address: 8826 BC-95A

Free Wi-Fi, free parking, air conditioning, hot tub, non-smoking rooms, family rooms.

phone: +1 250 427-5175

address: 500 Stemwinder Dr

Rooms range from studios to three bedroom suites and come with kitchens and fireplaces. It's close enough to the slopes for ski-in, ski-out in the winter.
Go next