Kimitoön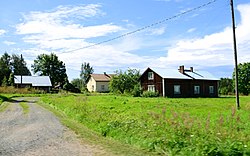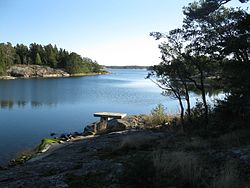 Kimitoön
is a municipality in the
Archipelago Sea
,
Finland
. The main island (which gives the municipality its name) is a large coastal island with rural landscape typical for southern Finland. It is surrounded by inner archipelago and outer archipelagos of minor islands, similar to that in the rest of the Archipeago Sea.
Understand
Kimitoön as a municipality was created 2009 by joining the municipalities of Kimito, Västanjärd and Dragsfjärd, all partly on the main island. Earlier many of the island groups and some other villages were independent municipalities. What is now the municipality of Kimitoön was the eastern part of the Åboland region (the western part, Väståboland, is now called Pargas).
Tourist information

phone: +358 2 426-0170
Villa Lande

address: Engelsbyvägen 8

Magasinet

address: Stallsbacksvägen 6
Villages
(among others)
Kimito, a traditional rural village (or a couple of them) with a medieval church and some museums. The new centre by the main roads hosts large grocery stores and other service.
Björkboda, village between Kimito and Dalsbruk with lock factory and museum.
Dalsbruk, the most urban settlement of Kimitoön, nice village with ironworks and a related museum, famous for its Baltic Jazz festival. Marina.
Hitis, island group and former municipality south of Kimitoön. The quite large village of Hitis has retained much of its traditional character. The adjacent Rosala has a Viking centre. Ferries from Kasnäs.
Kasnäs, spa hotel, marina and ferry harbour in the south-west.
Högsåra, island near Kasnäs, with a road ferry passage.
Vänö, a larger remote island, ferry from Kasnäs M–F and Sun.
Västanfjärd, in the eastern part of the main island, with two churches and some shops.
Talk
Kimitoön has a
Swedish
speaking majority, like the rest of
Åboland
. Most people also speak decent Finnish, and people know English as in the rest of Finland.
Get in
There are three roads to Kimitoön: from the north via
Sauvo
from national road 1 (E18) or regional road 110, both between
Helsinki
and
Turku
, from the east via
Perniö
over the Strömma canal (said to be the only place in Finland where tides can be observed) and from north-east along small roads via the Kokkila–Angelniemi ferry. The main village, Kimito, is some 60 km from Turku, 155 km from Helsinki via
Ekenäs
.
There are buses from Turku to Kimito and Dalsbruk (€18.70) about once an hour in daytime, with a few connections e.g. to Kasnäs and Västanfjärd (check before counting on them). Buses from Helsinki more sparsely, possibly with a transfer. In addition to the normal buses, there is
a bus from Helsinki
07:15 via Kimito, Dalsbruk, Söderlångvik, Kasnäs and Rosala to Hitis.
By bike you can follow the same routes as the cars, but the roads are narrow, so this is less nice if there is much traffic. If coming from the east, there is a biking route mostly avoiding the main roads,
Kustrutten
(description in Swedish, links,
map
) from
Salo
either via Kirjakkala, Teijo (
Tykö
) and Mathildedal ironworks, Teijo National Park, over the Strömma Canal and via Dalsbruk to Kasnäs with ferries to some of the islands, or via Finby and Angelniemi to Kimito and Dalsbruk. The route mostly follows small village roads, with some legs by the main roads, some through the forest. Not suited for racing bikes, but normal bikes will do.
With yacht you probably arrive via
Hanko
in the east or via the waters of
Pargas
or
Nagu
in the west. The main inner fairway between the Gulf of Finland in the east and Pargas, Nagu, Turku and Åland in the west and north-west goes south of Dalsbruk and Kasnäs, north of Hitis and Örö. The outer archipelago south of these is difficult to navigate and lacks official channels.
There are probably also boat connections from Hanko to Kasnäs in summer, for those who want a cruise.
Vitharun
has ended its services, hopefully somebody else continues them. You could also take a boat to the Bengtskär lighthouse and "return" with another boat to Kasnäs (check both legs before booking).
Get around
There are good roads on the main island, suitable also for bikes, but they are narrow and without bike lanes, so biking in hours with much traffic is less pleasant. Check what hours to avoid.
Bus transport is sparse (see
Get in
). There are ferry connections to the main remote islands. The ones to Högsåra and Rosala are car ferries, on the other islands there is no parking and no road to drive. Except Kimito, most places of interest are reachable by boat with some walking.
The main island is 60 km long from north-east – Angelniemi of Salo not counted – to Kasnäs in south-west and 40 km wide from Mjösund in north-west to Lammala in south-east.
Taxi

phone: +358 2 432-700

phone: +358 40-675-6441

Ferry to the western archipelago (Vänö, Tunnhamn, Helsingholm, Vänoxa etc.)
See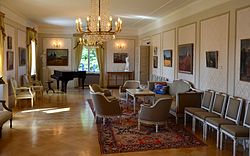 Churches.

The ironworks museum in Dalsbruk

phone: +358 40-721-9535

address: Tullbacksvägen 7

Dalsbruk has ironworks traditions from 1686. The museum tells about the history of ironworking and worker housing. Signboards probably in Swedish only, ask about guiding in English in advance.

phone: +358 40-721-9535

address: Tullbacksvägen 7

Björkboda has ironworks traditions since 1732. The museum tells about the local locksmith and lock factory traditions (Abloy still has a lock factory here). The museum is in a worker house from the 1840s. Signboards probably in Swedish only, ask about guiding in English in advance. The museum is administratively part of the Dalsbruk ironworks museum.

phone: +358 2 421-738

address: Museivägen 7

Good local museum with history revival activities for children (perhaps Swedish/Finnish only). Includes houses of district court, schools and farms. Café. Nice museum shop. Groups should call in advance.
phone: +358 2 424-662

address: Amos Andersonvägen 2

Mansion, museum, park, farm, café, craft and farm shop, cottage-like accommodation. The museum is primarily about Amos Anderson, but has also e.g. a large art collection from the first half of the 20th century. The mansion interiors and the park are in themselves worth a visit.
Do
Tour to the Bengtskär lighthouse

phone: +358-40-218-2960

Tour from Kasnäs to the Bengtskär lighthouse, including a visit to the Rosala Viking centre, lunch and guiding.

Sailing with traditional sailing ship

phone: +358 440-427-862

The original Eugenia, built 1879–1880, was one of the last Finnish ships without engine in 1951. She was a small ship sailing with coastal cargo, e.g. stone for the Bengtskär lighthouse 1905–1906. The replica was built 1997–2000. The ship is maintained by volunteers. Book in advance. Dress warmly.
Go on a sea kayaking tour
phone: +358 50 569 70 88

Full service guided trips and supported solo expeditions with transportation from/to Turku. Also help with route planning and maps.
Events
phone: +358 440 790 340

address: Dalsbruk

Relaxed music festival annually in July.

Kimito Music FestivalChamber music. Concerts at different venues, such as Söderlångvik and Sandö mansions, Kimito, Dalsbruk, Karuna, Hitis, Teijo (Tykö) and Västanfjärd churches, Dalsbruk market place and Salo art museum.

address: Dalsbruk

Harvest and handicraft markets, reenactment shows (including tournament by Rohan Tallit), related programme for children, sailing race, and evening party.
Eat
There are decent or good restaurants at least in some of the See/Do/Sleep places and in Dalsbruk. Restaurants with limited supply (including places for pizza and kebab) also in Kimito and probably in a few of the other villages.
Sleep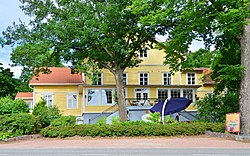 No real hotels by Finnish city standards, but nice anyway. Bathrooms usually shared. Be prepared to pay with cash unless you know cards are accepted. Cottages for rent in many locations (ask around).
Accommodations below ordered by location.
Budget
phone: +358 400-325-701

address: Campingvägen 55

Camping, pier and cottages. Also beach, kiosk, café, sauna and cooking facilities. Boats for rent.

Dalsbruks camping

phone: +358 40-661-5939

address: Olavi Hjelmans väg 16

Tents and caravans. Limited service. Nature trails nearby.
Mid-range
phone: +358 2 424-553

address: Pensionatsvägen 6

Former pension in Dragsfjärd. Toilets ensuite, showers in some family rooms. Breakfast and linen included. Owner change and renovation 2019–20, the restaurant and pub reopen in the winter, rooms again available from May, at least some of them more expensive than before.

phone: +358 2 424-637

address: Labbnäsvägen 66

Nice quiet location 5km from Dalsbruk, very good local food in the catering restaurant. A rectory since the 17th century, Labbnäs was bought in the 1950s by Amos Andersson, donated to the Martha organisation and transformed into a pension. Now schools and conference groups are common guests. Rooms in the main building and as small apartments with kitchen in a modern building nearby. Events such as sing-alongs and flea markets are arranged. In wintertime there is a hole in the ice for swimming (join the weekly group, Tu 17:30 or heat the sauna and go by yourself).

Villa Merihelmi

phone: +358 44-295-5639

address: Sjukhusvägen 6

1930s house in local style, Dalsbruk.

phone: +358 400-481-028

address: Dalsbruksvägen 694

Old hotel in Dalsbruk. Free Wi-Fi.
Splurge
phone: +358 2 521-0100

address: Kasnäsvägen 1294

Modern spa hotel by a big marina and a ferry harbour. Accommodation in small houses.
Stay safe
Be careful when at sea and when getting a lift on a Saturday night. Do not let children or pets into water with
algal bloom
. Otherwise there are few risks. The only non-obvious one is probably the
ticks
, which may carry TBE or Borreliosis.
Go next

Örö, a large island with valuable nature south of Hitis. Until recently the island was closed for outsiders as a military base (first fort by the Russians 1915), which has retained many otherwise threatened features. There are meadows with rare butterflies, old forests and nice cliffs and beaches. Also the military history is interesting. It is now part of the Archipelago Sea National Park (from the beginning of 2015) and most army facilities have been converted for tourism use, with services arranged by private partners; minor areas are still off limits. Ferry connection from Kasnäs. Accommodation in hotel rooms, cottages (private or shared), at a campsite or in your yacht in the guest harbour.
Bengtskär, a skerry in the outer archipelago, with the tallest lighthouse in the Nordic countries. Tours from Kasnäs via Rosala (the Viking centre) and from Hanko, with optional dinner, sauna, accommodation etcetera at the lighthouse. Service is provided also for those arriving with own boat, but the island is difficult to reach, due to location and lack of shelter.
Mathildedal, with old ironworks, and Teijo national park, near Strömma, in the municipality of Salo