Kinderdijk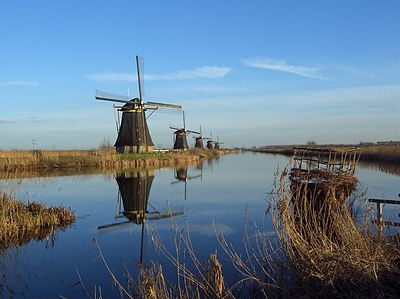 Kinderdijk
is a village in the
Alblasserwaard
polder of the
Netherlands
. It's a popular, yet authentic, tourist destination for its large network of windmills. These received recognition as a
UNESCO World Heritage Site
in 1997.
Understand
History

Kinderdijk lies in the Alblasserwaard, at the confluence of the Lek and Noord rivers. In Alblasserwaard, problems with water became more and more apparent in the 13th century. Large canals, called "weteringen", were dug to get rid of the excess water in the polders. However, the drained soil started setting, while the level of the river rose due to the river's sand deposits.
After a few centuries, an additional way to keep the polders dry was required. It was decided to build a series of windmills, with a limited capacity to bridge water level differences, but just able to pump water into a reservoir at an intermediate level between the soil in the polder and the river; the reservoir could be pumped out into the river by other windmills whenever the river level was low enough; the river level has both seasonal and tidal variations. Although some of the windmills are still used, the main water works are provided by two diesel pumping stations near one of the entrances of the windmills site.

Get in
By bus
Although Kinderdijk is in a rural area, getting there with public transport is possible on several ways. Buses are operated by Qbuzz. Regular
OV-chipkaart
is valid, also the Holland Travel Ticket. Alternatively tickets can be bought when entering the bus for around €4,50.- one way (debit/credit card only). Local RET daytickets are not valid on Qbuzz buses.
Bus 489 operates 2 times per hour between Rotterdam Metro Station Kralingse Zoom, Rotterdam Park & Ride Beverwaard, Oostendam, Alblasserdam, Kinderdijk and Nieuw-Lekkerland
Bus 316 operates 2 times per hour between Dordrecht Railway Station, Alblasserdam and Kinderdijk. In the early morning and late evening you can take the limited 316 service to Alblasserdam and change there to 489 to Kinderdijk.
The bus stop is Kinderdijk, Molenkade for both routes. That is the third stop in the village Kinderdijk after IHC Smit and Kloos.
Amsterdam & The Hague: Take the train to Dordrecht. Take the 316 bus from there.
Rotterdam (option 1): take a tram to P+R Beverwaard. Change there to bus 489 to Kinderdijk.
Rotterdam (option 2): from Zuidplein metro station, take bus 392 and 491 to Oostendam (up to 8 times per hour). At Oostendam, change to 489 to Kinderdijk.
Rotterdam (option 3): from Kralingse Zoom metro station, take bus 489 to Kinderdijk.
Utrecht: take Intercity train to Rotterdam Alexander. Change there to a metro to Kralingse Zoom. From there, take bus 489 to Kinderdijk.
By boat
Take a
waterbus
from
Rotterdam
(
Erasmusbrug
) or
Dordrecht
(
Merwekade
).
A day pass is available which includes coupons for a return ride on the Driehoeksveer ferry and entrances to the Museummolen and Wisboomgemaal.
Line 202A seasonal direct service which connects Kinderdijk with Rotterdam (Erasmusbrug) and Dordrecht (Merwekade). Travel time is about 1/2 hour. Departures from Rotterdam hourly starting from 9:35 to 15:35; 8:35 only on weekdays; 16:53 in Jul,Aug.
Alternatively:
Line 20 and DriehoeksveerGet off at De Schans (Ridderkerk), change to a Driehoeksveer (Triangle ferry), a smaller ferry to Kinderdijk.

waterbus and busTake off at Alblasserdam Kade and take a bus #90 or #190 from Alblasserdam Dam stop (direction Utrecht).

waterbus and bikeTake off at Alblasserdam Kade and have a bike ride (approx. 5 km).
By car
There are many ways to get to Kinderdijk by motorway. If you're coming from
Rotterdam
, drive south along motorway A16 in the direction to Dordrecht. At the junction, get onto the
A15
that goes in eastward direction to Gorinchem. Get off at exit 22 and follow the signs to Kinderdijk.
If you're coming from
Amsterdam
or
Utrecht
, drive south along motorway
A2
. At the junction Everdingen, get onto motorway
A27
that goes to Gorinchem in southwestern direction. At the junction Gorinchem, get onto motorway
A15
that goes to Rotterdam in westwards direction. Get off at exit 22 and follow the signs to Kinderdijk. The ride is about 100 km from Amsterdam.
By bike
Kinderdijk is also within a cycling distance of the
Dordrecht
. Route maps are available at the VVV visitor information bureau. Just cross a river via a bridge or by a ferry (take off at
Papendrecht
), then take a ride for
about 15km
.
Get around

The best way to see the windmills is on foot or by bicycle.

See
Mill Network at Kinderdijk-Elshout

phone: +31 6 520-834-86

The largest concentration of old windmills in the Netherlands. In total, there are 19 windmills that were built in 1740 to drain the Albasserwaard. The mills are not always in operation; this depends on the weather. The Kinderdijk site, being a part of the general landscape, is free to visit.

Museum sitesTwo of the windmills can be visited inside, and a visit is usually combined with the steam-powered pumping station Wisboomgemaal. The Wisboomgemaal has a visitor's centre, a digital scale model and an introductory film. Some of the facilities here include free restrooms and soda machines.

Do
Bike rideCycling is a popular activity in Kinderdijk. You can take a ride along the windmills, or in the wider area. It is even possible to cycle all the way to here from Rotterdam! Bike rental is available at the Partycentrum de Klok (see below) or at the town of Alblasserdam (near the waterbus stop). By bike you can easily combine a visit to Kinderdijk with other tourist attractions, such as Schoonhoven (Silver City), the fortress town of Nieuwpoort and the Streekcentrum Ooievaarsdorp Het Liesvelt (Stork Village).

Boat tourAlong the canal dotted by the windmills. A tour takes about 30 minutes. The first boat leaves at 10AM, the last one departs at 5PM.
Buy

Kinderdijk is not really a place to go shopping, but you can buy souvenirs from the usual gift shops.

Eat
There are a few restaurants at the entrance of the park.
phone: +31 78 691-2485

address: Molenstraat 230

This restaurant is housed in a historic building at the main road close to the windmills. It has an old-Dutch luxurious interior that has a traditional appearance. On the menu are meat and fish dishes and Dutch pancakes.

address: Molenstraat 117
Drink

Coffee for an affordable price right at the entrance of the park.

Sleep
phone: +31 78 691-2425

address: West Kinderdijk 361, Alblasserdam

This is a decent hotel with rooms for mid-range prices. There's also a restaurant attached to it where you can have dinner or lunch. Mains are about €17-20. It is possible to make a reservation.
Go next
You can take the
Waterbus
to
Dordrecht
, a historic town with some interesting museums.