King's Lynn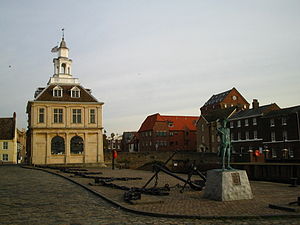 King's Lynn
is the third largest town in
Norfolk
in
England
with a population of 42,800. It is a town with great history, having being founded in medieval times, and is situated towards the west of the county on the Great Ouse river and near the Wash estuary. Though it may not be the great trading port today that it was in years gone by, Lynn's marine links are still a defining feature of the town.
Understand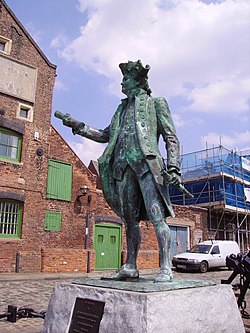 The word 'Lynn' means pool and likely originally refers to a tidal pool on the Ouse, which by the end of the 11th century was home to a small trading settlement. By the 14th century it had a population of about 6,000, which by medieval standards made it a large and important town. Lynn had strong links with the Hanseatic League, with merchants from the rest of Europe doing much trade with Lynn and in 1475 a Hanseatic Warehouse was built for them. Previously named
Bishop's Lynn
, the town came to be known as King's Lynn in the 16th century.
The old industries of Lynn all but died out by the end of the 20th century. However, fishing in the nearby Wash remains important to the town, as well a growing tourism sector, with many museums and cultural attractions appearing in recent decades. Since the 2000s, King's Lynn has hosted a growing Polish & eastern European community.
King's Lynn is the place where explorer George Vancouver was born.
Get in
By train
address: Blackfriars Rd, King's Lynn, PE30 1NX

A two-platformed station located near the centre of the town, and is within 5 minutes walking distance of the town's shopping centre. Direct trains from London King's Cross via Cambridge and Ely terminate at King's Lynn, with journey times from London being around 1 3/4 hours. The station reception is open from 5:00am - 8:00pm on weekdays and is well staffed considering its size.
By road
King's Lynn is at the end of the A10 from London and Cambridge, the A17 from Newark and is on the A47 between Birmingham and Great Yarmouth. King's Lynn is also on Sustrans (National Cycle Network) Route 1.
By bus
The majority of bus services around King's Lynn town centre are operated by Stagecoach in Norfolk with their flagship Coasthopper service providing half hourly (summer) / hourly (winter) services around the North Norfolk coast. Other services in and around King's Lynn and the nearby villages are served by other Stagecoach in Norfolk services, Lynx Bus and First who operate the long distance X1 service from Peterborough to Lowestoft via Wisbech, King's Lynn, Swaffham, Dereham, Norwich and Great Yarmouth.
National Express also run a further 2 long distance services: 1 daily service to and from London Victoria Coach station and 1 daily service running to Birmingham from Great Yarmouth.
By boat
King's Lynn town centre can be accessed from West Lynn on a small passenger ferry. Although King's Lynn has an active port, there are no regular long-distance passenger ferries.
By bicycle
On foot
Get around

The town centre is best explored on foot. Local buses serve the suburbs and nearby towns.

See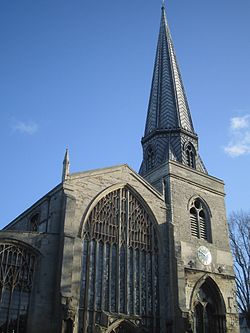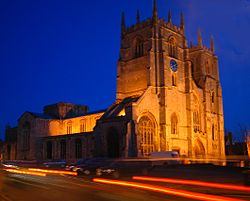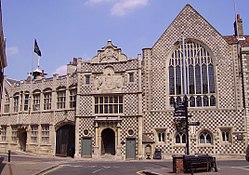 Greyfriars tower15th century tower that is the only remaining section of a medieval Franciscan Priory. The tower which leans to one side is in a park, the Tower Gardens laid out in 1911. Only the exterior can be seen.

Lynn MuseumLocal history museum, including Seahenge, a wooden structure from 2049BC.

The old town

phone: +44 1553 774471

Red Mount ChapelBuilt in the 15th century.

The two guildhalls

phone: +44 1553 777775

address: Saturday Market Place, King's Lynn, PE30 5DQ

phone: +44 1553 763044

address: Purfleet Quay, off King Street

phone: +44 1553 631330

address: PE31 6AH

address: PE35 6EH

The Queen's house in Norfolk, owned by the royal family (not the nation) since 1862. The ground floor of the house, a museum, the church and the grounds are open - allow four hours to see it all.
Do
phone: +44 1553 764864

phone: +44 1553 764864

address: Tuesday Market Place, King's Lynn, PE30 1JW

phone: +44 1553 771918

address: Tower St, King's Lynn, PE30 1EJ
Buy
King's Lynn has three small markets each week. On Tuesday and Friday, the market is held in the Tuesday Market Place, and on Saturday in the Saturday Market Place. Specialities include fish and seafood (local brown shrimp on Tuesday and Saturday), local organic fruit and veg (Friday) and a Country Market stall selling locally-produced cakes, preserves, produce and plants (Friday).
There are many independent shops, including an egg shop.
After extensive redevelopment, the town center now has many more shops to offer including: TK Maxx, New Look, JJB Sport, TJ Hughes, Monsoon, Accessorize, 2 new coffee shops (Cafe Nero and Costa) and many discount shops
phone: +44 1553 731720

address: Scania Way, Hardwick Industrial Estate, King's Lynn, PE30 4LR

Petrol station (different hours), cafe (different hours), pharmacy (different hours). ATMs

phone: +44 1553 731310

address: Langley Road, South Wootton, Kings Lynn, PE30 3UG

phone: +44 1553 768596

address: Coburg St, Kings Lynn, PE30 1RX

Petrol station (different hours), cafe (different hours). ATMs
Eat
At the top end of the market are the Riverside Restaurant, Prezzo and Luigi's, all excellent places to eat.
For cafe food and drink, try the Green Quay cafe on South Quay or Crofters.
Avoid the Globe on the corner of the Tuesday market place and walk straight past down to the Crown & Mitre at the bottom of Ferry Street for a wonderful selection of traditional home cooked meals at very affordable prices.
Drink
Most pubs in the town have a very reasonable selection of not only lagers and bitters, but also local ales. Unfortunately, as in all towns and cities there are several places that are not up to scratch. The Crown & Mitre is well worth a visit with its fine selection of real ales and all the maritime artifacts you could wish to see.
Sleep
Stay healthy
Connect
Post Office

address: 7 Norfolk St, Kings Lynn, PE30 1AR
Go next
North Norfolk, with its popular seaside resorts including Old and New Hunstanton, Sheringham, Cromer as well as the many quintessentially English villages dotted around the green countryside.
Norwich, Norfolk's only City, is about an hour's drive down the A47 and offers a great range of shopping opportunities along with historical buildings and a Premier League football team. It is also situated next to the Norfolk Broads.
Great Yarmouth, a large seaside town that hosts a Sea Life Centre, 15 miles of smooth sandy beach and one of the UK's largest range of amusement arcades. Getting there may be slightly more of a challenge for those without car travel, as it is 1 1/2 hour drive directly down the A47 (trains do not run in this direction from King's Lynn Rail Station).
Shouldham Thorpe is a small, sleepy but friendly village at just 11 km from King's Lynn. Its small parish church (St. Mary the Virgin) was for a large part rebuilt around 1860.