King County
King County
is the largest county in
Washington State
by population, home to roughly 30% of the state's residents. It stretches from Puget Sound to the Cascade Range, encompassing the major cities of
Seattle
and
Bellevue
and their sprawling suburbs, as well as wide stretches of rural farmland and uninhabited mountain terrain.
Cities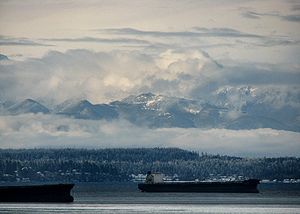 The rest of the county is described by its location relative to Seattle and Lake Washington.
North King County
Largely upscale suburbia, heavily residential.
East King County
Better known as the
Eastside
, this is the fastest growing region in the county.
South King County
Most visitors will only see the
Sea-Tac Airport
, in the city of SeaTac. (The airport's name came first.) Continuing south merges into
Pierce County
, soon reaching
Tacoma
.
Cascades
The rural, sparsely distributed towns of the far east county are the one respite from the sprawl.
Other destinations
- Ski resort in the Cascades on the eastern edge of the county
Get in
Get around
By bus
Metro Transit
(electric or diesel city buses) actually works pretty well. The
web trip planner
is straightforward and accurate, as long as your bus is on time.
Sound Transit
(diesel and hybrid buses, trains) is more expensive, but has many convenient express routes that travel South (to Tacoma), East (Redmond, Bellevue), and North (Bothell, Lynnwood). Unlike Metro, it serves the adjoining counties as well.
Outside of the immediate Seattle-Bellevue area, many routes operate only during weekday rush hours. Check your schedules in advance, and beware of holiday service cutbacks. The number of the route also tells you which area of the county it serves:
Below 100 - Seattle only
100s - South King County
200s - Eastside
300s - North King County
500s - All Sound Transit routes
By rail
Sound Transit
Link Light Rail
service connects Sea-Tac Airport, Tukwila and Seattle.
Sounder
commuter rail service, operating weekday rush hours only, connects Seattle to
Tacoma
via Kent and Tukwila.
By car
All but essential for reaching the outermost suburbs and mountains. In addition to the interstates, major routes include SR-520, linking Seattle's
University District
to
Bellevue
and
Redmond
; SR-18, a major freeway in the south county from Federal Way to
Issaquah
; and SR-509, the alternate route from the airport to Burien and
Seattle
.
Traffic congestion is a major problem in the Puget Sound area on all freeways and major roads. Avoid traveling during rush hour if you can, particularly along I-5 and across the Lake Washington bridges.
Lake Washington is crossed by two floating bridges: the I-90 bridge is free, but the SR-520 bridge charges a toll that varies by the time of day. There are no toll booths: unless you have a transponder, your license plate will be recorded and a bill will be mailed to you automatically in a few weeks. The long detour around the lake in either direction will usually waste far more time than you'll save in toll money.
Do
Go next