Kingston (New Zealand)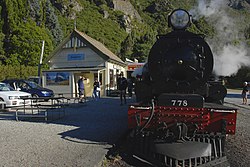 Kingston
is a small village at the southern end of Lake Wakatipu, south of
Queenstown
in
New Zealand
. Activities in the area include fishing, boating, kayaking, hiking and rock climbing.
The village is the base for the Kingston Flyer, a tourist-oriented vintage passenger train pulled by one of two steam powered locomotives, one of the last of its kind in New Zealand.
Do
phone: +64 3 248-8888

As soon as gold was discovered in the Wakatipu districts in 1862 the need to connect to the shipping ports of Dunedin and Invercargill by steamships and steam trains became apparent. The resulting railway line at last reached Kingston on 10 Jul 1878 and a public holiday was declared by the local councils.