Kinsale
Kinsale
(Irish:
Cionn tSáile
) is a small town in
County Cork
,
Southwest Ireland
.
Understand

Kinsale is situated in the estuary of the river Bandon, nestling among hills that hide it from the open sea. Because of its location it is an historic port and is still very popular with pleasure sailors and anglers.
Two forts, James Fort and Charles Fort, guard the approach to the sea. The Siege of Kinsale, one of the most significant battles in Irish history, took place here in 1601. It was fought when an Irish army had travelled from Ulster to relieve an English siege on the town that was held by the Spanish and Gaelic Irish. Against the odds the Irish and English besiegers lost the battle, but the siege continued and the Spanish ultimately surrendered weeks later. Many of the Gaelic lords fled to continental Europe, hoping to raise an army and return, but the English consolidated their power preventing a reconquest. This marked the end of the ancient Gaelic social order in Ireland and was also one of the final battles in the Anglo-Spanish war.
In addition to its visual charms, Kinsale has become a home of good food, especially seafood, and holds an annual festival to celebrate.
Get in
If you have not already rented a car for your trip, the easiest way to get to Kinsale is via taxi, or by bus.
By taxi
Taxis await in a line ("queue") just outside the front entrance to the terminal at Cork Airport, and are always present. Count on spending €25-30 for the 30 minute drive.
By bus
Bus Éireann run buses to and from Kinsale hourly every day. The 226 bus service runs from the bus station in Cork City to Kinsale via Cork Airport. View the timetable
here
. The 226A services Cork Airport only.
By car
From Cork city, take the N27 towards Cork Airport, then take the R600 to Kinsale.
From Bandon, take the N71 towards Inishannon, then take the R605 to Kinsale.
Get around
By taxi
There are two taxi companies operating in Kinsale:
phone: +353 21 477-2642, +353 21 470-0100

address: Market Square

Cabs 3000

phone: +353 21 477-3000

address: Pearse St
By foot
Kinasle is a small town and it is easy to walk around.
See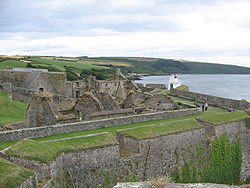 phone: +353 21 477-2263

address: Summercove

This is a 17th century star shaped fort, which is very well preserved and has seen very little military action. 45 minute tours depart every hour, last entry 45 min before closing. Open mid Mar-Oct daily 10:00-18:00, rest of year 10:00-17:00.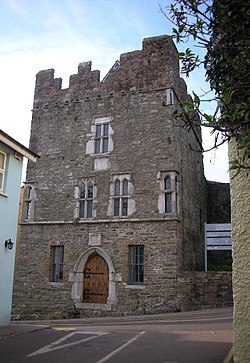 Desmond Castle

phone: +353 21 477-4855

address: Cork St

Built c. 1500 by the Earl of Desmond as a custom house, this is a well-preserved tower house. The Castle is known locally as the French Prison following a fire in which 54 French prisoners died in 1747. The building was later used as an ancillary workhouse during the Famine. Admission €2.90, covered by Heritage Card, open Apr-Oct daily 10:00-18:00, last entry 17:15, tours given on request, closed Nov-mid Apr.
James FortThis is an older fort on the other side of the river and in much poorer condition.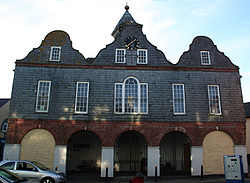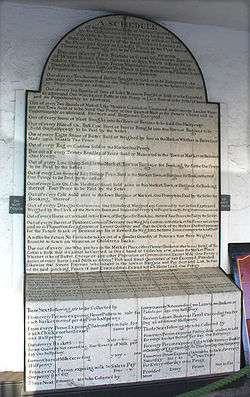 Kinsale Regional Museum

phone: +353 21 477-7930

address: Market Square

An interesting small museum with exhibits on domestic and maritime history, including the ocean liner Lusitania which was torpedoed and sunk by a German U-boat in World War I (the Great War).
Do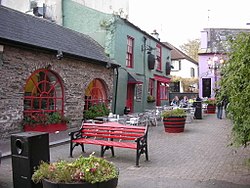 Sailing, Blue Flag marina, at Castlepark just outside the town, has public boat ramps and docks. Both crewed cruising yachts and small recreational sailboats are available.

phone: +353 21 477-3188

Sea Angling / Whale & Dolphin Watching

phone: +353 87 125-6199

Full day, half day and evening trips for groups large and small.

phone: +353 21 477-2234

address: Pier Rd

Giving free maps & brochures, open Jul-Aug M-Sa 09:15-19:00, Su 10:00-17:00; Mar-Jun & Sep-Nov M-Sa 09:30-17:30, closed Su; shorter hours Dec-Feb.

phone: +353 87 948-0910

address: Tap Tavern

A slapstick-style horror tour of Kinsale. 90 min. Leaves from the Tap Tavern.

Historic Stroll in Old Kinsale

phone: +353 21 477-2873, +353 87 250-0731

address: Tourist Office

An engaging and fun tour of the town's history. Leaves from the Tourist Office. 90 min.

Dermot Ryan's Heritage Town Walk

phone: +353 21 477-2729 or +353 86 826-7656

Leaves tourist office daily.

Kinsale Road TrainTour Kinsale on the Road Train. Bus stop to Charles Fort.
Buy
phone: +353 21 477-4493

address: Market St

A charming crystal shop specialising in deep cut lead crystal. The founder was originally with Waterford Crystal before setting up Kinsale Crystal. Several items are available for purchase on their website.

phone: +353 21 477-4020

address: Market St

Handmade silver jewellery with Celtic themes. The proprietor, Dominic Dolan is very personable.
Eat
Kinsale is a gourmet centre with many restaurants for all prices and tastes.
phone: +353 21 477-2260

address: Scilly

Famous for its Steaks, Seafood and their Stuffed Duck served in a nice restaurant with a good atmosphere. Range from €20-€35.

phone: +353 21 470-0415

address: Pier Rd

Big with spacious indoor, balcony and terrace seating. Phone for reservations.

Cafe Blue

address: Pearse St

Mother Hubbard's

address: Near market square

Sandwiches, baguettes, salads & coffee.

The Little Skillet

phone: +353 21 477-4202

address: 47 Main St

Romantic atmosphere, Irish music, much fresh vegetables, €20 entrees, €25 3 course early-bird meal before 19:30, open daily 12:00-14:30 & 18:00-22:30.

Hoby's Restaurant

phone: +353 21 477-2200

address: 5 Main St

Romantic, quiet, & candlelit, €25 3 course dinners.

phone: +353 21 477-2443

address: 48 Main St

International food, fancy interior & presentation, lunch from 12:30, dinner from 18:30, closed Tuesday, €22 3 course early bird special before 19:30.

phone: +353 21 477-2541

address: Market Quay

A crowded local favorite with €20-30 dinner only meals in romantic area, or €12-19 meals in the bar, steaks, seafood, & vegetables, cheaper than other restaurants.

phone: +353 21 477-7911

address: 69 Main St

One of many ethnic restaurants, this one serves Indian food, €10 plates.

phone: +353 21 477-2131

address: Summercove

Seafood & seasonal produce, €10 lunches, €22-26 meals in fancy restaurant upstairs.
Drink
Kinsale's many pubs have a lively atmosphere, all near the center of town:
phone: +353 21 477-2131

address: Summercove

Has great music sessions Tu Th Su 21:30, folk session W 21:30, get there a half hour early to ensure a seat.

Spaniard Inn

phone: +353 21 477-2436

A ten minute walk from town out onto the Scilly Peninsula, music W 21:30, arrive an hour before to ensure a seat.

phone: +353 21 477-2382

Two real ale pumps. Yes, real ale in Ireland. Usually one available depending on supplier like Hobgoblin or Pride. Howling Gale, Speckled Hen etc. on keg. Music at the weekend.

The Grey Hound

phone: +353 21 477-2889

A proper old Irish pub established in 1690 with a very mixed crowd from rugby/hurling fans to hippies. Tables outside, umbrellas and heaters for smokers. Usually sport on TV and a good selection of music if not.

The Tap TavernHas music on Thursday nights.
Sleep
phone: +353 21 477-9900

address: Pier Rd

Newly renovated and reopened hotel overlooking Kinsale Harbour.

phone: +353 21 477-9300

address: World's End

66 rooms, harbor views, restaurant and bar. €35-€100.

phone: +353 21 477-2027

address: 43 Cork St

10 rooms, goofy floor plan, nice lounge, quiet, fine breakfast. Double €110, bigger double €150, biggest double €170, family quadruple €180, 2 quadruple suites with no breakfast €170, free wi-fi and internet access, private parking.

phone: +353 21 477-7384

address: Friar St

New & modern on a hill with 18 rooms, single €80, double €90-130, triple €150-160, quadruple €190, wi-fi, private parking.

Chart House B&B

phone: +353 21 477-4568

address: 6 Dennis Quay

A Georgian hotel with 1 single, 4 doubles, non-smoking, quiet, high ceilings, chandeliers, great lounge, a block from the harbor, single €40-45, double €120, deluxe double €170, 10% discount when paid with cash, easy parking.

O'Donovan's B&B

phone: +353 21 477-2428

address: 8 Guardwell St

In a 400-year-old building, quiet, non-smoking, friendly, in the medieval center, single w/no bathroom €45-50, double w/no bathroom €70, double w/bathroom €75.

phone: +353 21 477-3012

address: 56 Lower O'Connell St

Six quilt bedded rooms, 2 friendly dogs, cozy breakfast, cash only, non-smoking, laundry service available, double w/no bathroom €70, double w/bathroom €80.

The Sea Gull

phone: +353 21 477-2240

address: Cork St

On a hill next to Desmond Castle, cash only, six rooms, single w/no bathroom €35-40, double w/bathroom €70, triple w/bathroom €95.

Guardwell Lodge

phone: +353 21 477-4686

address: Guardwell St

A great budget hotel, with 44 rooms on top of a hill, but stark and somewhat prison-like, but modern and comfortable. Almost like a hostel, but isn't, no breakfast, all bedding provided, TV lounge, fully equipped self-service kitchen, quiet rooms are on the church side. €17 beds in 4-bed dorms, single €30, twin double €55, double with large bed €60, triple €60.

phone: +353 21 477-2233

address: 55 Main St

Rooms are En-Suite with complementary Wi-Fi.
Go next
There are a number of excellent Blue Flag beaches in the area. Both Garretstown and Garrylucas (White Strand) beaches are just over 8km from Kinsale and can be reached by following the R600 to Ballinspittle village. Garretstown beach in particular is renowned for its surf and equipment is available to rent on the beach.
The charming, but not-as-charming-as-Kinsale town of Cobh is reached by first driving and then taking a poorly signposted ferry to the island it's on, make sure you don't accidentally take the ferry that goes to France instead. It can also be reached by road via Cork city.
The ever-famous castle at Blarney is also less than an hour away.