Kinugawa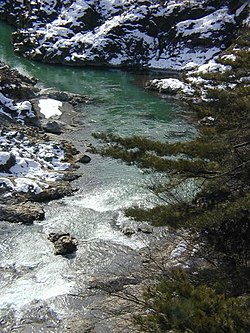 Kinugawa
(鬼怒川) and
Kawaji
(川治) are twin hot spring towns in
Tochigi Prefecture
,
Japan
.
Understand

Kinugawa Onsen, known as the "okuzashiki" (奥座敷) or "living room," of Tokyo, was opened to development in the early Meiji period, and it became a major destination for those wanting to escape the noise and congestion of the city. The name "Kinugawa" literally means Angry Demon River. The exact provenance is unclear, but the most likely explanation is that this comes from the raging waters within — although the river is now dammed and considerably more placid.
The central area is home to several hotels and ryokan, most with their own hot springs. Unfortunately, due to a decline in group tours and the failure of the area's regional bank, Ashikaga Bank, in the late 1990s, several of the larger hotels have gone under, and their empty hulks scar an otherwise picturesque location. Still, the resort is home to dozens of hotels, pensions, and ryokan, and the areatogether with nearby Kawaji--still attracts over 2 million visitors each year.
If you can spare the cash and time, it may be worth it head up northward to Kawaji or one of the many tiny hot spring hamlets collectively known as Oku-Kinu (奥鬼怒, "Inner Kinu").

Get in
By plane
Airport limousine buses
operate two round-trips per day from
Haneda Airport
's terminals. It takes around 3 hr 30 min and costs ¥3300 each way.
By train
By Tobu Railway from Asakusa
Tobu Railway operates frequent service to Kinugawa from their terminal at Asakusa Station in
Tokyo
, which is connected to the Toei Asakusa and Tokyo Metro Ginza subway lines. Conventional commuter services take around 3 hr - 3 hr 30 min depending on the time of day and cost ¥1550, with several transfers required. A more convenient way to travel to Kinugawa is on one of Tobu's direct limited express services, which take 2 hours and are operated with either the older
SPACIA
trains or the newer
Revaty
trains. Services depart every 30-60 minutes, costing ¥2890 for the
SPACIA
or ¥2990 for the
Revaty
. All services conveniently stop at the station for
Tokyo SkyTree
.
The limited express trains that offer direct service to Kinugawa are called
Kinu
(
SPACIA
trains) and
AIZU
(
Revaty
trains), with the latter continuing on to the Aizu region. There are also
Kegon
trains that you can use, but you'll need to change to a local service at Shimo-Imaichi to reach Kinugawa.
Tobu offers a few travel passes for foreign tourists that wish to visit Kinugawa and nearby
Nikko
. Passes for foreign tourists can be purchased online through Tobu's website, or in person at the Tobu tourist information desk at Asakusa station.
Nikko Pass - World Heritage Area: ¥2000 for 2 days. This pass includes unlimited train travel between Tobu-Nikko, Shimo-Imaichi and Kinugawa Onsen, and discounted admission to Edo Wonderland and Tobu World Square. It also includes unlimited bus travel in Nikko between the train stations and the world heritage sites.
Nikko Pass - All Area: a 4 day pass costing ¥4520 from mid-April to November, and ¥4150 at other times. In addition to the features of the World Heritage Pass, the All Area pass includes unlimited bus travel from Nikko to Lake Chuzenji, Yumoto Onsen and Kirifuri Falls.
An additional pass available to everyone - not just foreign tourists - is the
Marugoto Nikko Kinugawa Free Pass
which costs ¥5630-6150 for 4 days. The pass includes unlimited train travel between Tobu-Nikko, Shimo-Imaichi and Kinugawa Onsen, unlimited bus travel on routes in the Kinugawa area, and unlimited bus travel from Nikko to the world heritage sites, Lake Chuzenji, Yumoto Onsen and Kirifuri Falls.
Included in these passes is one round-trip from the Asakusa area on standard commuter trains. You can purchase separate reservation tickets for the direct limited express services on either the
SPACIA
(¥1340 each way) or the
Revaty
(¥1440 each way). A 20% discount is given on these tickets when purchased with a pass.
By JR/Tobu from Shinjuku/Ikebukuro
JR and Tobu operate joint limited express trains a few times a day from Shinjuku and Ikebukuro stations that operate to Kinugawa in 2 hr 30 min at a cost of ¥4000. Three of the four trains operate directly to Kinugawa, while one service requires a transfer to a local service at Shimo-Imaichi. Regional JR East passes, including the Tokyo Wide Pass, fully cover this journey. Holders of the national Japan Rail Pass must pay a surcharge for the portion of the trip on Tobu tracks.
By JR only
There is no easy method to reach Kinugawa using the Japan Railways. Kinugawa is best reached by Tobu, but there are a few options for users of the Japan Rail Pass. There is little added cost, but you will have to make a few transfers along the way.
Option 1: Take the JR Tohoku Shinkansen from the Tokyo area to Utsunomiya station, then take the JR Nikko Line to Imaichi Station (1 hr 45 min, from ¥5060 unreserved without a rail pass). Walk for 1 km northeast to Tobu Shimo-Imaichi Station, then take a 20 min ride by Tobu service to Kinugawa Onsen (¥250).
Option 2: Instead of exiting the JR train at Imaichi, continue another 15 min to the terminal at Nikko Station. Walk 200-300m to Tobu Nikko Station, then use the Tobu trains to go to Kinugawa Onsen via Shimo-Imaichi (30-60 min depending on connection, ¥310).
Japan Rail Pass holders must purchase Tobu tickets separately. IC cards such as Suica and Pasmo can also be used for the Tobu trains.
Before your journey you will want to check train times and connections using
Hyperdia
or a similar website.
Note that some hotels in Kinugawa also offer a free or inexpensive shuttle bus service to/from Utsunomiya station. These services usually require a hotel reservation and advance notice.
By bus
Tohoku Express Bus operates one daily round-trip service from Tokyo Station, reaching Kinugawa Onsen station in 3 hr 30 min. The trip costs ¥2500 one way or ¥4000 round trip. The bus from Tokyo leaves at 7:50, and the return trip from Kinugawa Onsen leaves at 15:30. The bus also stops at Tobu World Square.
There is also a twice-daily bus service from
Yokohama
station, which is the same bus that serves Kinugawa from Haneda Airport (4 hr 30 min, ¥3300).
Get around
Kinugawa is fairly spread out. You can either use the infrequent buses, or the expensive taxis. If arriving by train, be sure to check if your lodgings are closer to Kinugawa Onsen or Kinugawa Kōen station.

See
There is little to see in Kinugawa Onsen itself, but the Nichien Momiji Line, the highway connecting Kinugawa and Kawaji, makes for a fairly scenic drive.

Do
Loll about in
hot springs
. More adventurous types may also want to try battling against angry demons by
rafting
in the Kinugawa River.
Two theme parks in the area, collectively known as
Kinugawa Theme Park
, are major draws for Japanese visitors:
Tobu World SquareA miniature 1:25 model of the world's most famous sites, covering everything from the Pyramids to the Statue of Liberty and, oddly enough, Narita Airport.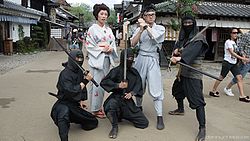 phone: +81-288-77-1777

address: 470-2 Karakura

A cultural theme park that resurrects and showcases the life and culture of the Edo period. The park hosts Edo period architecture from rural lodgings to urban samurai residences and government buildings. Also features 7 theatres featuring various traditionally themed shows including Ninja action, Oiran shows, Ninja workshops, Japanese traditional archery, shuriken throwing, and costume hire.
Eat
Most guests eat at their lodgings, but there are a scattering of restaurants just outside Kinugawa Onsen station.

Sleep
The recession of the 1990s hit Kinugawa hard and many hotels struggle with low occupancy rates (or have been outright shut down). This means there are some pretty good bargains to be found, especially off-season.
phone: +81 288-96-0311

address: Oku-Kinugawa

A lost hotel in the mountains with 8 hotsprings, 7 of which are mixed and/or private baths. You can eat bear sashimi and share a bath with your partner, watching the stars, river and waterfall.

phone: +81 288-77-2121

Large operation offering surprisingly large and nice Japanese-style rooms. The outdoor bath on the ground floor has nice views — if you keep your eyes fixed straight forward and ignore the rumbling air/water/heating machinery on all other three sides.

phone: +81 288-97-1204

address: 199 Nokado

Deep in the mountains west of Kinugawa, this rustic inn specializes in food cooked on the hearth (irori). Public hot spring next door.
Go next
Nikko, with its national parks and opulent shrines, presents an altogether different picture.