Kiribati
Kiribati
(pronounced
Kiribahs
) is an archipelago nation in
Micronesia
, at the equator. It consists of 33 atolls widely dispersed through 3.5 million square kilometres of sea territory.
Kiribati is one of Oceania's poorest countries, and a demanding destination, with few hospitality venues. That said, there aren't many countries where the people are more friendly.
Regions
Except for
Banaba
(Ocean Island -
6km²/2.3 sq mi, population c. 300
), all the main islands are in one of three groups: the Gilbert Islands, the Line Islands, and the Phoenix Islands.
Cities
Understand
With few natural resources and geographic isolation, income per capita is very low. Most of it comes from remittance, foreign aid, and fishing.
Half the population, most of them being very poor, live on South Tarawa.
Other islands have far fewer people, and getting to them can be difficult, and conditions are even more primitive. Most tourists, especially from the US, go to
Kiritimati
(Christmas Island). Conditions there are somewhat better than in the rest of Kiribati.
While the islands are on both sides of the 180th meridian, the International Date Line has been drawn east of them all, placing Kiribati islands in the same day, in time zones UTC +12, +13 and +14. The Line Islands are in the latter time zones, and are therefore the first part of Earth to see every new day.
History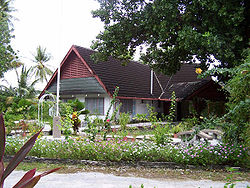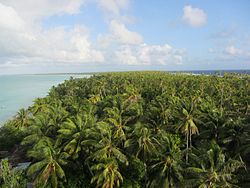 Kiribati was inhabited for 2000 years prior to European contact. Under British colonial rule, it was known as the Gilbert Islands.
In the
Pacific War
, Kiribati saw harsh combat between American and Japanese troops, with the devastating Battle of
Tarawa
in November 1943.
Kiribati was granted self-rule by the
United Kingdom
in 1971 and complete independence in 1979. The US relinquished all claims to the sparsely inhabited Phoenix and Line Island groups in a 1979 treaty of friendship with Kiribati. The name "Kiribati" is pronounced "Kiri-bass", which is the closest local equivalent to "Gilberts".
The Phoenix and Line Islands were generally held to be on the east side of the International Date Line and are in different time zones from the Gilbert Islands group, but on 1 January 1995, Kiribati proclaimed that all of its territory was on the same calendar day (skipping 31 December 1994 in those island groups), effectively extending the Date Line further eastward to accommodate this. This makes the Line Islands the farthest "ahead" of any territory on the planet.
In 1995 Kiribati suspended diplomatic relations with
France
to protest the latter's decision to resume nuclear testing on
Muraroa Atoll
. In 1999 the government claimed that two atolls had been lost due to sea level rise and, in 2002, joined with
Tuvalu
and the
Maldives
to take legal action against the US for refusing to sign the Kyoto Protocol.
The presence of gun emplacements and ship wrecks from Second World War battles on South Tarawa makes
shipwreck diving
a common tourist activity.
As Kiribati is perhaps the most vulnerable country to global warming due to rising sea levels, the country has looked to purchasing land at
Fiji
where its entire population will eventually migrate supposedly their islands are submerged in the future.
Climate
Whoever coined the phrase, "It's not the heat, it's the humidity" may have had Kiribati in mind. Actually, the average high temperatures are quite reasonable compared to other well-known places in the tropics (such as
Bangkok
,
Singapore
,
Manila
). But the humidity more than makes up for this, making it feel very sauna-like. The wet season varies, but is usually December to March, give or take a month. Severe drought also occurs at times.
Talk
English is the official language of Kiribati along with the native
Kiribati
or Gilbertese. While English is used heavily in South Tarawa the further away from the capital you go the stronger the Kiribati tongue. Most people on Kiritimati Island speak some English.
Get in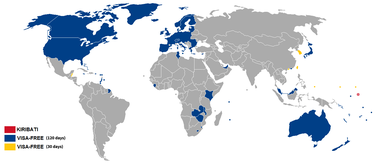 Visa requirements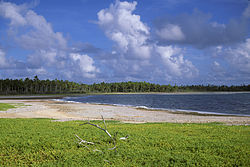 Nationals and citizens of the following countries are exempted from obtaining a visa before entering Kiribati where the intended duration of their stay is 30 days or less:
Belize
,
Federated States of Micronesia
,
Macao
(only in respect of holders of
Macao
Special Administrative Region Passports),
Marshall Islands
,
Palau
, Republic of China (
Taiwan
), Republic of
Korea (South Korea)
.
Nationals and citizens of the following countries specified are exempted from obtaining a visa before entering Kiribati:
Antigua and Barbuda
,
Australia
,
Austria
,
Barbados
,
Belgium
,
Bulgaria
,
Canada
,
Cook Islands
,
Cyprus
,
Czech Republic
,
Denmark
,
Estonia
,
Fiji
,
Finland
,
France
,
Germany
,
Grenada
,
Greece
,
Hong Kong
(only in respect of holders of British Nationals Overseas passports and
Hong Kong
Special Administrative Region passports),
Hungary
,
Ireland
,
Italy
,
Jamaica
,
Japan
,
Kenya
,
Latvia
,
Lesotho
,
Lithuania
,
Luxembourg
,
Malawi
,
Malaysia
,
Malta
,
Mauritius
,
Nauru
,
Netherlands
,
New Zealand
,
Niue
,
Poland
,
Portugal
,
Romania
,
Saint Kitts and Nevis
,
St. Lucia
,
Saint Vincent and the Grenadines
,
Samoa
,
Seychelles
,
Sierra Leone
,
Singapore
,
Slovakia
,
Slovenia
,
Solomon Islands
,
Spain
,
Sweden
,
Switzerland
,
The Bahamas
,
Tonga
,
Trinidad and Tobago
,
Tunisia
,
Tuvalu
,
United Kingdom
, United Kingdom Overseas Territories of (
Bermuda
,
Cayman Islands
,
Montserrat
and
Turks and Caicos Islands
),
United States of America
,
Vanuatu
,
Zambia
,
Zimbabwe
.
There are honorary consulates in
Rose Bay
(near
Sydney
), NSW, Australia;
Honolulu
, USA;
Suva
, Fiji;
Hamburg
, Germany;
Tokyo
, Japan;
Seoul
, Korea;
Auckland
, New Zealand; and
London
, United Kingdom. Also, visas may be obtained by writing the Principal Immigration Officer, Ministry of Foreign Affairs, P.O. Box 68, Bairiki, Tarawa, Kiribati (Central Pacific). Caution: Do not apply directly to Tarawa within a couple months or so of your departure date, or when you need your passport elsewhere. Usually, it's best to inquire at the nearest consulate abroad. There's no requirement that you be a resident of the same country that the consulate is located in.
By plane
If through tickets are too expensive, get to Fiji and go from there. On the other hand, if you've got plenty to spend and extra time, see how a
Round the world fare
on
Oneworld
or
Star Alliance
compares with the fare to
Tarawa
, and include this on your itinerary.
Fiji Airways
has flights to Tarawa and
Kiritimati
(Christmas Island). Flights to Tarawa are twice weekly non-stop flights (3 hrs) from
Nadi
(
Fiji
), with connections from
Australia
,
New Zealand
,
Japan
,
Canada
, and the United States including
Honolulu
(with codeshares with Oneworld alliance members). Kiritimati is a stop on a weekly flight each way between Nadi and Honolulu. Again, connects can be easily made with flights from New Zealand, Australia and Europe. If using another airline to get to Fiji, be certain it lands in Nadi, not
Suva
(unless you're staying a while and can get to other side of the island).
Nauru Airlines
(formerly
Air Nauru
) connect Tarawa in Kiribati with Nauru, Honiara and Nadi. This service provides an improved access to Tarawa and other Pacific nations.
Air Marshall Islands
operates scheduled flights every 2 weeks Majuro to Tarawa CW117 returning the same day. The price is USD330 if ticket bought in Marshall Islands. They will not issue a one way ticket unless you can provide proof of an onward ticket or Kiribati/RMI residence/work permit. Air Marshall Islands email amisales@ntamar.net Phone number is +692 625-3733, calling is suggested as emails often go without a reply.
Get around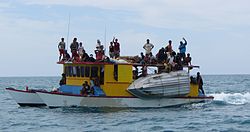 By plane
Air Kiribati has two turboprop aircraft for inter-island travel. Flights travel to all Outer Islands in the Gilbert group regularly.
Coral Sun Airways offers a scheduling alternative to Air Kiribati and can also be chartered for private use.
Reliability of internal flights in Kiribati is improving all the time and fares are relatively cheap. It is important to reconfirm your return flight on arrival at your destination. Each airline has different booking and confirmation conditions, you need to ensure you are familiar with these to ensure a hassle free trip.
By ship
For ship connections within the Gilbert Islands you might ask at the harbour in Betio, South Tarawa.
See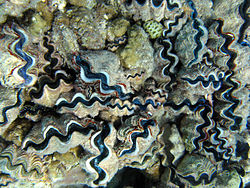 Kiribati has some beautiful
beach scenery
, is a great place for boating or yachting and many of the atolls are lovely to explore on bike or foot. The lagoons are stunning to look at and the white sandy beaches and waving palm trees are a typical holiday brochure sight. Especially on the outer islands you'll find
traditional culture
is still very much alive. The Kiribati people are generally friendly and welcoming to visitors, and will include you in their celebrations if you happen to be around.
The islands of Kiribati saw some of the bloodiest fighting of World War II and remnants of that war are still all around.
Tarawa
(and
Betio
in particular),
Butaritari
,
Abemama
and
Banaba
island are home to the most prominent World War II sights, including coastal defence guns, bunkers and pillboxes. Tanks, ship wrecks, amtracs and plane wrecks are still visible at the coasts of Tarawa and Butaritari, especially during low tide. If you want the full story behind the remains, take a guided tour.
For anyone with an interest in sea life, the tranquil
Phoenix Island Marine Protected Area
(the world's largest marine protected area) is a treasure waiting to be discovered. It boasts some gorgeous landscapes combining sandy beaches with coral islands and incredibly blue lagoons. The islands are a bird watcher's paradise and its under water coral life is practically unspoiled. However, limiting visitor numbers is an explicit goal of the authorities. Gaining access to the islands isn't easy and although there are rumours of plans to open the region a bit more for tourist purposes, you probably won't be able to dive there yet.
Buy
Money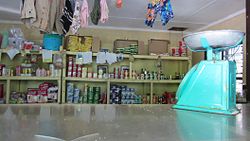 Australian dollars
, denoted by the symbol "
$
" ( ISO code:
AUD
), are used as the official currency. While Australian banknotes are used, Kiribati issues its own coins in denominations of 5¢, 10¢, 20¢, 50¢, $1, and $2.
Bigger stores are only available on Tarawa or Kiritimati.
South Tarawa
There are a wide number of local handicrafts available. These are generally made by the women groups from around the Gilbert group. Of special note are the colourful tops worn by the local ladies called Tibuta. The Catholic Women's association runs weekly classes in weaving and the making of these tops.
ATMs are located in Betio, Bairiki and Bikenebeu. There is also one located at the hospital. There is also a foreign exchange office at the Airport. ANZ operates in Kiribati.
Most shops will only accept cash, as credit cards are rarely usedexcept for the two hotels.
===Outer Gilbert Islands===
Cash only is used on the Outer Islands and banking services are not available.
===Kiritimati Island===
An ATM and bank are both available on Kiritimati Island. The branch is located in London.
Most shops and stores will only accept cash. Credit cards are not widely used.
Eat
The variety of food on Kiribati is limited. If a shipment of imported food has just come in, buy it now, as it won't last long! The variety and amount is increasing and improving all the time as is the number of supply boats that arrive.
While Western style products will always be slightly limited you will find that the basics are generally available. Fruit and vegetables availability is limited.
The staple diet of the I-Kiribati is fish and rice and this is reflected in many of the eating outlets on Tarawa. It is worthwhile trying the local sashimi which is supplied straight from the ocean to your plate.
Western-style meals are best found at the two hotels: Marys and the Otintaai. There is also a variety of Chinese restaurants.

Drink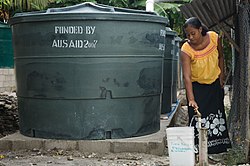 The local drink is toddy made from the sap of a coconut tree. This sweet toddy can then be fermented for a couple of days into the alcoholic sour toddy that is favoured by locals. The original sweet toddy can also be cooked into a syrup called Kamaimai. The Kamaimai can then be drizzled on sweet buns or ice cream.
Kava is also easily found throughout Kiribati with a large number of Kava bars appearing throughout Tarawa.
The two main bars in Tarawa are Captains Bar in Betio and the Lagoon Club in Ambo. Friday nights at the Otintaai is dance night. Supply of wine and spirits is limited, however there is a good supply of beer which is always cold.
There is a single night club in Tarawa called the Midtown which is open till late.
Alcohol is not sold on a number of Outer Island in the Gilbert group.
Sleep
The range of accommodation in Kiribati varies depending on which part of the country you are in.
South Tarawa
The two main hotels are Marys Motel and the government owned Otintaai Hotel. Both offer motel style accommodation each with a restaurant and air-conditioning. They are located at different ends of South Tarawa and the decision on where to stay is usually made based on your activities while you are in South Tarawa.
There are also a variety of other smaller properties scattered throughout South Tarawa. A full listing including a map showing locations can be found on the
Kiribati National Tourism Offices web site
These hotels can get very busy throughout the year so it is advisable to book ahead.
===North Tarawa===
A visit to North Tarawa is the easiest and most convenient way to experience village life in Kiribati. North Tarawa offers a number of guesthouses and traditional style accommodation.
Tabon te Keekee is the closest option, offering traditional Kiribati accommodation in an I-Kiribati family environment. Located at Abatao it is only 10-15min north of the airport.
Biketawa Islet, run by the Otintaai Hotel, offers traditional kia kia accommodation. Run in a similar fashion to a retreat meals and sleeping equipment can be arranged, along with boat transfers.
A council guesthouse is located at Abaokoro.
===Gilbert Island Group and Council Guesthouses===
The Outer Islands are the essence of Kiribati and not enough people make the time and effort to visit these remote islands. Each has a distinctive culture and story to tell of its history.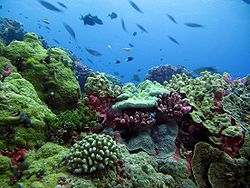 Each of the outer islands of the Gilbert Group have, at the least, a council guesthouse. Standards vary across the group however they are usual a mix of the local style houses known as Kia Kia's and an open style guest rooms. Each guesthouse usually has a communal living area where meals are served and the cost is approximately $30 per night including 3 meals a day.
The facilities available vary from island to island, however they are located in isolated communities and expectations should be altered accordingly. Electricity will usually be supplied in the evening and throughout the night. Food will mainly be based on the local fare and it is recommended that you take anything additional you may need. It is also recommended that fresh drinking water is taken.
Most guesthouses are perfectly located on the beach or causeway and a lovely spot to stay easy for swimming and exploring.
These guesthouses are run by the Island Councils and it is one of the very few ways the council earn revenue. Each council will normally have a truck and driver that you will be able to hire to help you discover the island. Alternatively many of the locals will be keen to hire out the motorcycles and scooters to you.
For more information on the Outer Islands – get a copy of the
fact sheets
.
===Kiritimati Island===
This world renowned bone fishing destination has a variety of fishing lodges, guesthouses, and motels to choose from. Accommodation is usually booked in 7 night packages and each lodge will have the services of a fishing guide to assist you in your expeditions. For a full list of accommodation options visit www.kiribatitourism.gov.ki.
The lodges are geared around fishermen and schedule meals and activities around your fishing day.
Meals are usually included in the price.
For a full list of accommodation options visit
Kiribati Tourism's page.
Work
With very high unemployment, it is unlikely that foreigners will be allowed any work unless they have needed skills not otherwise available. Aid agencies are active in Kiribati and undertake a range of volunteer and contracting programs.

Stay safe
Kiribati is generally a safe place to travel. However, it may be risky to be outside after dark in Betio or along the beach in South Tarawa, especially for single females. However, virtually all problems are caused by drunk males, not career criminals.
Normal common sense applies when moving around.
Some care should be taken on the roads as the traffic can include pigs, children, dogs and buses all fighting for road space.

Stay healthy
Don't drink the
water
without boiling or filtering. Chemical treatment is not recommended as it may not prevent giardiasis. The lagoon (especially around Betio) is heavily contaminated, and may make the entire island segment smell bad at times. Always ask first before going out in the water at each location on South Tarawa -- no matter how inviting it looks. This is a good idea on other islands too. Get a hepatitis A shot, and be up-to-date on all your other vaccinations, preferably several weeks beforehand. Mosquitos can be very bad at times, so use repellent. Be sure to bring your own insect repellent and sunscreen, as these are
not
available locally. Don't expect any needed medications to be available either. (Some are, but you never know what is or when.)
There's no
malaria
, but
dengue fever
outbreaks (mosquito transmitted) do sometimes occur. The fish caught locally may give you food poisoning (ciguatera), so be extra careful. Ciguatera is
not
preventable by cooking or freezing the fish. Promptly treat even the smallest cut, sore, or insect bite, as these can become infected very easily.
Medical evacuation insurance
is
highly
recommended for Kiribati. Many outer islands have no airstrip, making any sort of evacuation long and difficult.
Respect
Before going to swim it might be a good idea to ask the landowner. There might be stone figures of religious importance that should be treated with certain rules.
Go next