Kirkintilloch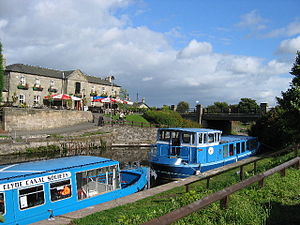 Kirkintilloch
is a small industrial town in the
Clydeside
area of central Scotland. It's about 8 miles (13 km) northeast of central
Glasgow
, on the Forth & Clyde Canal. The main reason to visit is to see the Antonine Wall east of the town. It's also a base for exploring the canal, and the Campsie Fells to the north.
Understand
The
Clyde Puffers
were stubby little cargo ships that used to ply the seas around the Firth of Clyde and the Hebrides, and came to hold a romanticised place in Scottish lore. Kirkintilloch, miles inland, was their unlikely birthplace.
The first puffers, from 1856, were simply iron canal barges fitted with a rudimentary steam engine. Since the barge could continually draw fresh water from the canal, the engine didn't have a condenser, so the piston strokes created a great snorting puff-puff-puff of steam. Later designs had condensers and could go to sea but the name stuck. The ships had blunt bows, shallow draft with flat bottoms, a single mast, and (later) a derrick and a wheelhouse just behind the funnel. They were built along the Forth & Clyde Canal, with yards concentrated at Glasgow Maryhill and at Kirkintilloch. New ships were launched sideways into the canal with an almighty splash, and the local children's sport was to try to sprint along the towpath beneath the wave without getting drenched.
Forth & Clyde Canal traffic withered as the railways were built, but the Crinan Canal was an important shortcut between Glasgow and the Hebrides, which lacked roads and harbour facilities. The puffer could simply be beached as the tide fell, a horse and cart came alongside for the coal sacks and other supplies to be offloaded, then the puffer departed on the next flood of tide. This era passed into legend with the
Para Handy
tales of Neil Munro, published from 1905, describing the adventures of the four-man
Vital Spark
.
By 1939 the puffers were being replaced by diesel craft, but wartime created a shortage of diesel while Britain mined its own coal. The puffers had proved useful auxiliary vessels in World War I so the Admiralty placed a large order for more, known as VICs – Victualling Inshore Craft. Over 100 were built, mostly in England as the Clyde builders were too busy with other navy work. Many survived the war, were converted to diesel and remained in civilian cargo service, but by 1993 better roads and harbours finally brought about their retirement.
A small number of puffers survive. VIC 27 "Auld Reekie" played the role of
Vital Spark
in the TV adaptation of Munro's stories; it's under restoration at Crinan. VIC 32, also based at Crinan, runs
cruises
in summer.
Get in
Kirkintilloch is north-east of central
Glasgow
, leave M80 at junction 3 and follow A806 north for 3 miles. By bike follow the canal towpath, or A803 north through Bishopbriggs. Parking in the town is generally easy and free.
First Glasgow Buses X85 & X87 run from Buchanan Street station (stand 36) via M80 and Lenzie to Kirkintilloch, every 30 min, taking 30 min. The X85 continues to Lennoxtown and Clachan in the Campsie fells. Bus 88 runs from the same stand via Bishopbriggs to Kirkintilloch every 15 min, taking 50 min.
The nearest railway station is a mile south. There are trains from Glasgow Queen Street every 30 min, taking just under 15 min. These trains continue north via Stirling to Alloa or Dunblane.
Get around
As well as X85 and X87, the hourly bus 178 runs from Kirkintilloch to Lenzie railway station.
The Forth & Clyde Canal is navigable west to Glasgow and east to Falkirk and Grangemouth, with a good towpath for walking and cycling. Check
Falkirk
for current status of the Wheel, the ingenious contraption that lifts boats into the Union Canal to Edinburgh.
See
Antonine WallThe Romans built this wall from 142 AD, 100 miles north of their earlier Hadrian's Wall. It ran for 39 miles from Bo'ness on the Firth of Clyde to Old Kilpatrick near Dumbarton on the Firth of Clyde. It was only guarded for 8 years to 162 AD, then the Romans withdrew to Hadrian's Wall; it was briefly re-occupied from 208 AD then they again withdrew and never returned. Medieval accounts called it Gryme's Dyke - Gryme being the Devil. It was only made of turf with a wooden fence on top, flanked by a ditch and a military road. Thus less of it survives than Hadrian's stone wall, as it became obliterated by agriculture, buildings, and roads and the canal which follow the same route. What remains is a UNESCO World Heritage site, with the best sections east of Kirkintilloch towards Kilsyth. Croy Hill and Bar Hill were forts within signalling distance of each other, though you'll have to use a bit of imagination to perceive the camp layout. The fort at Kirkintilloch is just an embankment in Peel Park, and very little survives further west. Discoveries from the wall, such as the richly-carved plaques left by its builders and garrisons, are in the Hunterian Museum in Glasgow.

The Auld Kirk was built in 1644. It was vacated for a new church in 1913 and is nowadays a small free museum of local history, open Tu-Sa 10:00-13:00 & 14:00-17:00.

Kirkintilloch Town HallThis 1906 building is nowadays mostly an event space, e.g. for weddings. There are occasional exhibitions and talks.

Lenzie Moss just west of the railway station is a peat bog with birch woods and wildlife. Access by the footpath from the station.
Do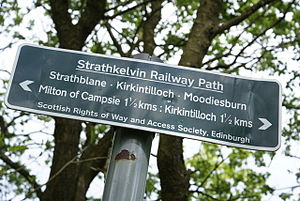 Walk or cycle along Strathkelvin Railway Path, which runs south to Gartcosh. It doesn't link into other cycleways, but there are plans to turn it into National Cycle Network Route 755 with links to Loch Lomond, the Campsie Fells and along the canal to Edinburgh.
Stroll in Peel Park, which has an elaborate bandstand and fountain, cast at the town's Lion Foundry. Plus of course the Antonine Lump.
Occasional narrowboat cruises explore the canal.
You'll need your own wheels to tour Campsie Fells to the north. The highest point is the Earl's Seat at 578 m (1896 ft).
Buy
Sainsbury's is just off Townhead, and Lidl is by the river bridge on Glasgow main road.
Eat
The town's main drag is Cowgate/Townhead, eateries here include Ashoka Brasserie, Alessio's Bistro, Nonna's Kitchen and Thai Cafe. There's another little cluster of places just east of the river, including Kirky Mahal, Oriental Palace and Paolo's. A mile east of town on the Kilsyth Road, Caulders is a chain garden centre with cafe.
phone: +44 141 777 6088

address: Glasgow Bridge G66 1RH

Country pub with good food in former stables for the horses that towed the canal barges.
Drink
phone: +44 141 775 4140

address: 1-11 Townhead Kirkintilloch G66 1NG

JD Wetherspoon with decent food.
Bar Bliss at 1 Cowgate is a no-nonsense Central Belt pub, open daily 12:00-00:00.
Sleep
phone: +44 141 775 0398

address: 3 David Donnelly Place Kirkintilloch G66 1DD

Basic 3-star in town centre, with bar and grill.
and Best Western are mid-range chain hotels at M80 junction 3 at Stepps.
Connect

Decent 4G mobile reception in and around town.

Go next