Kirkuk
Kirkuk
(
Kurdish
: کەرکووک) is a city in
Northwestern
Iraq
. Its population is ethnically mixed, and it is under the control of the Iraqi government.
Get in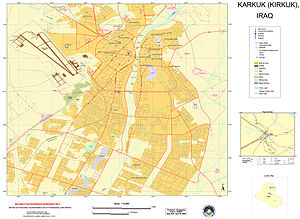 See
Kirkuk CitadelDating back to 858 BCE, this citadel stands on an artificial mound, 40 metres high, on a plateau across the Khasa River. Several hundred families still live in the citadel.

Tomb of Prophet DanielOne of many traditional burial places for Prophet Daniel, inside the citadel.

Qishla of KirkukThis qishla, meaning barracks in Turkish, was built in 1863 to be the headquarters of the Ottoman army in Kirkuk. It is in disrepair.

Eternal fire of Baba GurgurMore than 4,000 years old.

Pirehmerd market
Stay safe
Frequent targeted bombings are still occurring in Kirkuk as of January 2019. If one must go it is wise to avoid all public gatherings. This includes markets, mosques and festivals.


Go next

The archaeological sites of Qal'at Jarmo and Yorgan Tepe are found at the outskirts of the modern city.