Kisarazu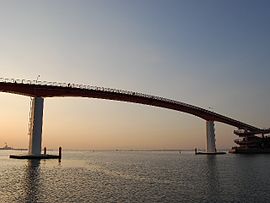 Kisarazu
(木更津) is a city of 122,000 in
Chiba
,
Japan
.
Get in
By train
From
Tokyo
Station, Kisarazu can be reached by either the
JR Sobu Line
or the
JR Keiyo Line
. Both of these connect to the
JR Uchibo Line
, on which Kisarazu station is located.
Infrequent
Sazanami
limited express trains via the Keiyo Line leave once every few hours, generally at 30 past, with more frequent runs during the late afternoon and evening. This will get you to Kisarazu in as little as 55 minutes for ¥2490.
The cheaper and more frequent alternative is to use the JR Sobu line at a cost of ¥1280. A direct train to Kisarazu (last stop Kimitsu) leaves once per hour and takes 80 minutes, or else a change of trains will be required.
Uchibo Line trains from
Chiba
leave every 10-20 minutes, reaching Kisarazu in about 40 minutes (¥650).
These trains are free to use with a Japan Rail Pass or JR East Rail Pass.
By bus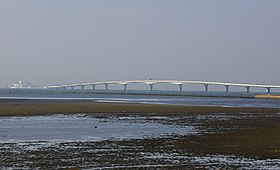 Across the street in front of Tokyo Station, there is a Keisei bus heading for Kisarazu &
Kimitsu
. With irregular schedule, mostly with a 40-60 min interval between them. Fare is ¥1300 for Kisarazu Station and ¥1400 further across the city, heading to Kimitsu. Travel time is about 1 hour, going thru Tokyo Wan Aqua-Line.
There are also bus lines for and from
Yokohama
,
Shinagawa
,
Kawasaki
and
Haneda
airport.
See

ShojojiMildly famous for a nursery rhyme called "Shojoji no Tanukibayashi", about a raccoon dog (tanuki) whose statue can be found in the temple.

Kimisarazu TowerThere is a mountain park called "Odayama", also called "love forest". The main tower, called "Kimisarazu tower", is on the top of the mountain park. You can see the big statue of a couple on a ship, based on a tragic love story. Once, there was a man named "Yamato-takeru-no-mikoto" and his wife named "Oto-tachibana-hime". One day, "Yamato-takeru-no-mikoto" was trying to cross the sea to go to "Kazusa-no-kuni" (Chiba). However, the sea was very stormy and his wife thought that it an anger of the Sea God, so she threw herself into the sea to soothe the anger. After he could get to Kimisarazu, he left one poem for his wife: "Kimisarazu Sodeshi-ga-ura-ni-tachunami-no Sono-omokage-wo-miruzo-kanashiki". It means "I could get here, but when I see the sea from here, it reminds me of you. I can't leave here because I miss you so much." The poem is the origin of the city.
Do
In 2005, a TV drama called "Kisarazu Cat's Eye" aired on TBS. A lot of fans come sightseeing and take pictures around Kisarazu Station.
Kisarazu Kaigan Shellfish Gathering

phone: +81 438-23-4545

You can go shellfish gathering on the seaside, which is called 'kisarazu kaigan′. The best occasions is to in the middle of March for in the end of August.
Buy
Akua Wakuwaku IchibaIf you want to buy vegetables, sea food and clams from Kisarazu, you can buy them at this market. The market is close to the "Aqua Line", which is convenient for people coming from Tokyo or Yokohama.

Mitsui Outlet Park Kisarazu

address: Kaneda

There are outlet stores and restaurants. This has become the newtourist destination of Kisarazu.
Eat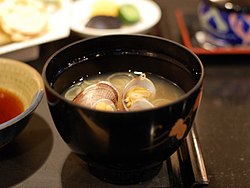 The specialties of Kisarazu city are short-neck clam, loquat, and peanuts.
Drink
BRAZILYA Coffee

phone: +81 438-22-5433

A coffee shop with many different kinds of beans. The shop also sells cute "washi" wrapping paper.
Sleep
Hotel Crescent

phone: +81 438-41-8111

Enjoy the spa as the day trip or stay overnight. This hotel is located near the coast where gathering shellfish can be done.
Go next