Kismayo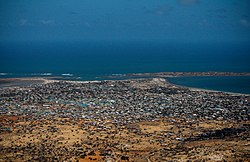 Kismayo
(also Kismaayo, Kismayo, Kismayu and Chisimayu) is a port city in
Southern Somalia
.
Understand
Kismayo is a port city around 500 km south of the capital
Mogadishu
, and has a population of around 250,000. Since the former President Siad Barre was overthrown in 1992, Kismayo has been a city in constant turmoil with local war lords, the federal government, African Union peacekeepers, Al Shabaab and others all vying for control of the area.
Get in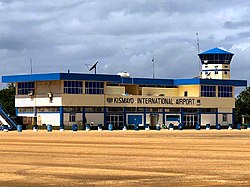 To arrive in Kismayo is by plane as the road means is abit insecure by waring insurgents. Air fare from Nairobi to Kismayo ranges from Usd 450-500 2 way ticket. It is a busy town and the security is under control by surveilling police and civilian ground intelligent hovering around eyeing for insurgents and anyone with ill motives to destabilise the security wise of the city.
Get around
Buses are the main form of transportation in the city.

Eat
There are variety of nourishing foods ranging from African to normal dishes served in East Africa. Special meals can be arranged and one can enjoy as much as possible.

Sleep
phone: +252 61 7342659

Beachfront hotel, among the nicest in town.

Hotel Cascasleey

phone: +252-07903209446

Small hotel with 22 rooms built in 1983, a restaurant and a mosque is available at the hotel grounds.
Stay safe
The city is not safe for any visitors. Arrival by car from Mogadishu is extremely dangerous, and arriving by sea invites risk of attack by pirates.

Go next