Kiso Valley
The
Kiso Valley
(木曽谷) is in
Nagano prefecture
,
Japan
.
Understand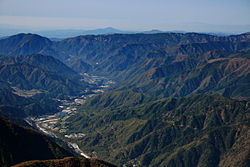 Situated in the southwestern part of Nagano Prefecture, this area was once a section of the old Nakasendō Highway, one of Japan's historic transport arteries joining
Kyoto
with Edo (present-day
Tokyo
). Roughly following the Kiso River, the once-important post towns now form a well-preserved living museum of the Edo Period, with most modern facilities being hidden from sight. Historically, Kiso district was once known as Nishichikuma District (西筑摩郡).
Get in
By train
The centrally-located train station for the Kiso Valley is
Kiso Fukushima
(木曽福島), located on the
JR Chuo Main Line
.
There are several different approaches to Kiso-Fukushima from
Tokyo
. One route is to take the Tokaido Shinkansen
Nozomi
to
Nagoya
, then transfer to the
Wide View Shinano
for the run to Kiso Fukushima (3 hours 20 minutes, ¥13800).
Another route is to take the Nagano Shinkansen
Asama
to
Nagano
and transfer there to the
Wide View Shinano
. This takes about 3 hours 40 minutes and costs ¥11300.
A third way is to take the
Azusa
or
Super Azusa
from
Shinjuku
to
Shiojiri
and transfer there to the
Wide View Shinano
(3 hours 20 minutes with good connection, ¥9080).
If you use the Japan Rail Pass, you should go via Nagano or Shiojiri.
From western Japan, including
Kyoto
and
Osaka
, take the Shinkansen to Nagoya and change to the
Wide View Shinano
or to local service.
Note that some other parts of the valley are located at other stations near Kiso Fukushima on the JR Chuo Main Line (see below).
By bus
From Tokyo you can also sign up with local motorcoach tours for a one or two-day excursion to the Kiso Valley region. And from
Tokyo
, the highway bus goes Kiso Fukushima via
Shiojiri
Get around
Buses of the following two companies serve part of the valley and are good for train connections and returning to your destination after a hike, although they run infrequently.
Kitaena kōtsūNakatsugawa-Magome.

Ontake KōtsūNagiso-Tsumago-Magome.
See
A historical section of the Nakasendo Highway runs through the Kiso Valley.
MagomeThis southernmost post town is famous as the birthplace of the noted poet/novelist Toson Shimazaki (1872-1943). The town often appears in his works. Old inns wind their way up to the old curving street, much as they did in the Edo period. Magome is the most developed site for tourism and its steep street tends to get crowded.

TsumagoThis town was designed as the forty-second post town from Edo. Since 1968, the town has been preserved and restored to its former glory by the efforts of the local society and is now a Protected Area for the Preservation of Traditional Buildings. Wonderful old Edo atmosphere. It is a fascinating 3-hour, 9-kilometer walk from Magome to Tsumago to experience the ancient highway as it was in its heyday. There is a 2-3 hour hike between Tsumago and Magome. You can return to your starting point by bus or taxi. The Tourist Information Center can take care of your luggage.

NaraiThis town is also a Protected Area for the Preservation of Traditional Buildings. Once the most prosperous of the post towns, it was called "Narai of a Thousand Houses." Five public wells still refresh travelers with their cool, clear water. On the northern end of the Kiso Valley, Narai is a bit more laidback than Magome and Tsumago, and to some extent it looks more authentic. From Narai you can climb to the Torii pass and see an original section of the paved Nakasendo.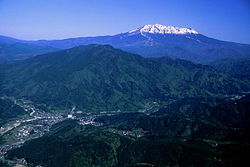 Mt. OntakeA magnificent, active volcano rising 3,067m at the southern end of the Northern Alps on the cypress forest to the top. The view of Mt. Ontake from Kaida Heights is justly famous. Though popular for hiking in years past, a major eruption in 2014 led to dozens of deaths.
Do
Hike between Magome and Tsumago is one of the best and most famous in Japan. Take your time and enjoy the sites. The hike can be done around an hour if you don't care about seeing anything but 2 to 3 hours to make it special If you're going to hike the trail between the two cities, it is easier to hike from Magome to Tsumago. Tsumago is a very nice place to stay overnight and the JR Nagiso Train Station is only an hour walk or a ¥1500 taxi ride away.
Ski at one of the resorts around Kiso Valley
Buy
The Kiso valley is known for the "
Hinoki
" fine-grained cedar pine trees (Chamaecyparis Obtusa). This scented wood is known for its durability. Hinoki is used for example for bath tubs and accessories. Japan's most important shrine,
Ise
Jingu is rebuilt each 20 years using Kiso Hinoki.
You can buy Hinoki goods, especially around Narai. North of Narai, visit
Kiso-Hirasawa
(木曽平沢) which is famous for its lacquerware.
Remember that in both Tsumago and Magome, international ATMs are only available at local post offices, and that they are only accessible during regular daytime hours. As it is impossible to exchange international currencies in the area, try to do this before your visit. Be sure to bring along enough cash and coins if you wish to purchase souvenirs and crafts from the street vendors.
Eat
Numerous cafes, restaurants and snack places are open during the day, many serving local specialties like soba and horse sashimi. The smaller towns close down at night - if staying overnight, you should have your own food or eat at your hotel.

Sleep
Take your time to explore the valley and overnight in an historical building at one of the minshukus.
HanayaA fantastic little ryokan outside of the small town of Tsumago. It is located directly off the Nakasendo trail; you can walk on the trail into Tsumago itself in about 15-20 minutes. Hanaya is a modern building about the size of a large, 2-story house. It has a fantastic hot bath (single sex only), and they serve both dinner and breakfast in your room.

phone: +81 264-57-3009

address: Tsumago 858-1, Nagiso

The in Tsumago is also worth checking out. The owners speak some English and Italian.

phone: +81 573-69-2038

address: Magome 4296

Filipina-run Japanese-style lodging that is useful for foreigners because they take web bookings and speak English. Small rooms with shared communal bathrooms. Lavish meals provided in the restaurant across the street.
Go next
Kiso Valley has also several small ski resorts.