Kitchener
Kitchener
, with neighbouring
Waterloo
and
Cambridge
forms a tightly-integrated metro area within the larger
Region of Waterloo
in
Southwestern Ontario
.
Understand
Kitchener and Waterloo were pioneered by Mennonites from Pennsylvania, Cambridge by British, principally Scots, in the early 19th century. Once named Berlin, Kitchener was renamed in 1916 due to the anti-German sentiment during
World War I
, after British military hero Lord Kitchener. Since the 1950s when Waterloo attained city status, Kitchener and Waterloo have been known as the "Twin Cities", "K-W", or "Kitchener-Waterloo". Increasingly, Kitchener, Waterloo, and Cambridge (a 1970s merger of the older City of Galt with the neighbouring Towns of Preston and Hespeler, and the village of Blair) are being referred to collectively as the "Tri-Cities".
Immigration, beginning with Germans and Central Europeans in the 19th century and continuing to the present from Central and South America, the Near East, Far East and Asia have created a broad-based multi-cultural population. Kitchener and Waterloo, in 'North Waterloo' exhibit a strong German heritage, celebrated most notably in their 9-day
Oktoberfest
, the largest outside of
Munich
. Cambridge, in 'South Waterloo', has a sizeable Portuguese population, from the Azores, and a large constituency of Newfoundlanders, relocated from Belle Isle, Newfoundland, in the 1960s.
Get in
By car
Highway 401 runs along Kitchener's southern border. Kitchener is located one hour west of
Toronto
, one hour east of
London
, three hours east of
Windsor
/
Detroit
. If coming from Toronto, take exit 278A (Highway 8). At the Highway 7 and King Street exit, take the exit King Street to get to downtown Kitchener. If coming from London, take exit 278 (King Street), then take Highway 8 east to the King Street exit as above.
By plane
Waterloo Region International Airport
is served by
WestJet
with one flight a day to
Calgary
,
American Eagle
with one flight a day to
Chicago-O'Hare
, and
Sunwing Airlines
with one flight per week to Punta Cana, Dominican Republic, during the winter months. Most air travel to Kitchener comes through
Toronto Pearson International Airport
(
YYZ
) in the north-west corner of Toronto. Ground transportation between Kitchener and Pearson is operated by Airways Transit who operate door-to-door services as well as scheduled minibus services from several large hotels in Kitchener, Airways Transit services are, however, prohibitively expensive, to the point that a taxi is significantly cheaper for two or more people. Another, much cheaper option for people travelling alone is to take the Greyhound coach to downtown Toronto and then take the Pacific Western airport coach to the airport, however this can take significantly longer depending on traffic.

By rail
Kitchener Railway Station

address: 126 Weber St W

Kitchener Railway Station serves Via Rail and GO Transit trains. It lies about 650 metres east of ION Central Station; GRT bus routes 20 and 34 can save you a little walking.
VIA RailVIA Rail runs between Kitchener and Toronto, Guelph, London, and Sarnia. Via runs two trains a day in each direction. A trip from Toronto to Kitchener takes about 1 hour and 35 minutes. Seating is reserved. As Kitchener Station has limited opening hours, customers should consider booking VIA Rail trains online.

GO TransitGO Transit runs several commuter trains weekdays (excluding holidays) in the morning rush hours to Toronto returning during the evening rush hours. Effective September 2019, there is also one early afternoon plus one mid-evening train running from Toronto to Kitchener on weekdays, returning to Toronto after a brief stop. A GO train trip to Toronto takes about 2 hours, and is cheaper than by VIA Rail. GO trains from Toronto can be crowded; there is no reserved seating. GO fares can be paid by Presto card. GO Transit refers to Kitchener Station as "Kitchener GO" online and in printed schedules. Some GO Transit bus routes originate at "Kitchener GO" before stopping at the Kitchener Bus Terminal (Charles Street Transit Terminal).
By intercity bus
Charles Street Transit Terminal

address: 15 Charles St W, Kitchener

The Charles Street Transit Terminal serves inter-city buses operated by GO Transit, Greyhound and Megabus (Coach Canada). Nearby connections to ION light rail are at ION Victoria Park Station (southbound) and ION Kitchener City Hall Station (northbound). As of July 2019, ticket counters serve only Megabus; GO Transit users cannot reload the Presto cards or buy tickets within the terminal; there may be a Greyhound ticket seller on the platform.
GreyhoundGreyhound operates buses between downtown Kitchener and Toronto, stopping on the site of the former Sportsworld amusement park on the border of Kitchener and Cambridge.

GO TransitGO Transit provides service to Mississauga Square One (City Centre Transit Terminal) as well as to Bramalea GO station, where one can make connections to other destinations, such as Toronto. There are no direct GO buses between Kitchener and Toronto, and GO trains operate only during rush hours between those two points. However, midday weekdays (excluding evenings and holidays) you could take a GO train (Kitchener line) from Union Station to Bramalea GO station, and transfer to GO bus 30 to complete the trip to Kitchener (Charles Street Transit Terminal). The trip would take about 1 hour 50 minutes. GO fares can be paid by Presto card.
Kitchener Sportsworld

address: Sportworld Drive, Kitchener

A number of Greyhound buses from Toronto and GO Transit buses from Mississauga Square One stop at this location near the city limits between Kitchener and Cambridge before proceeding to the Charles Street Transit Terminal. ION bus 302 running between ION Fairview Station (Kitchener) and the Ainslie Street Transit Terminal (Cambridge) also stops here.
Get around
By car
By car, with a local map: where other cities are laid out more or less on a grid Kitchener streets are not, rather follow their own complex patterns with frequent twists and turns, many continuing into adjoining Waterloo.
Likewise, street directions are designated E, W, N, and S, but only one major cross street, Lancaster Street East/West, is true to the compass (running, oddly enough, straight north/south). King, Weber and Westmount are the principal EW streets in Kitchener (at Union Street, they become King, Weber and Westmount in Waterloo, where they are designated N/S). Queen, Frederick, Ottawa and Victoria, are the principal NS cross-streets.
There is an express route, known locally as the Conestoga Parkway, but not signed as such, which loops traffic on Highways 7&8 traffic through Kitchener South and Highway 85 traffic through Waterloo North.
Addresses number EW from Queen, NS from King.
The centre of the city, known as downtown, is divided into four neighborhoods:
Warehouse District at the north end of downtown, full of disused factories, many of which are now being converted into loft condominiums or offices.
Downtown Core, the centre of downtown, contains city hall and a large number of other sights, as well as many office buildings, shops and restaurants.
Civic Centre, contains many public buildings, including the public library, the police station and the Centre in the Square concert hall.
East End, contains many small shops and inexpensive restaurants as well as the Kitchener Market.
By public transportation
Grand River Transit
provides all public transit within the Region of Waterloo, which allows access to most centrally located sights in the twin cities of Kitchener and Waterloo.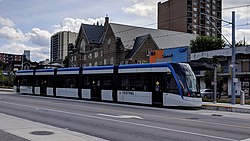 Downtown Kitchener is fairly compact and walkable; thus, public transportation is mainly useful to go beyond downtown such as Uptown Waterloo. The ION light rail line runs from Fairway Park Mall (ION Fairway station) in south Kitchener, through Downtown Kitchener and Uptown Waterloo to terminate at the Conestoga Mall (ION Conestoga station) in Waterloo. In Downtown Kitchener, between Victoria and Frederick streets, the ION line splits into two branches with northbound going along Frederick and Duke streets, and the southbound trains going along Charles Street; the branches are about 250 metres apart. Because of the branches, four of the 6 ION stations in Downtown Kitchener serve only one direction. The Charles Street Transit Terminal (Kitchener Bus Terminal) is served by ION Victoria Park Station (southbound) and Kitchener City Hall Station (northbound); Kitchener Railway Station lies 650 metres east of ION Central Station.
address: 105 King St E

Information and sale of fare media for GRT buses and ION light rail.
See
Landmarks
Waterloo Pioneer Memorial Tower

address: 300 Lookout Ln

A tower built in 1925 to commemorate the pioneers who first settled in this area in 1800, the first inland settlement in Upper Canada. A national historic site.

Victoria ParkBeautiful park in downtown. The park was designed by the firm of Frederick Law Olmstead, the same firm that designed Central Park in New York City. The park contains a large lake, a magnificent clock tower taken from the old city hall when it was demolished, a statue of Queen Victoria and a small restaurant that plays host to many musical acts among other things. The main entrance to the park, which was recently redesigned, is at the end of Gaukel St., only two blocks from city hall.

Kitchener City Hall

address: 200 King St. W

An attractive, post-modern building located in the centre of downtown.
Cultural Items
Historical sites
Amusement Center
phone: +1 519-744-1555

address: 425 Bingemans Centre Dr

An amusement centre, campground and conference/banquet venue.
Do
Buy
address: 2960 Kingsway Dr

The largest shopping centre in the region, it is at the southern terminus of the ION light rail line.

Belmont Village

address: Belmont Ave

This three-block section of Belmont Street is lined with storefronts, giving it a small-town feel. Here you will find a few antique stores, a few flower shops, and several niche stores, as well as other businesses.

ABC Military Surplus

phone: +1 519-571-8567

address: 46 Queen St S

Independent army surplus shop to purchase new or used army gear; camouflage pants, boots and supplies.

Kitchener-Waterloo Oktoberfest

phone: +1 519-570-4267

address: 17 Benton St

Non-profit retail store located in a building resembling a Schloss. Sale and rental of Oktoberfest costumes (Tracht in German). In-store and online sale of tickets for Oktoberfest venues.

phone: +1 519-576-0552

address: 143 King St E

This women's clothing store features the dirndl, a traditional costume (Tracht) suitable for Oktoberfest. According to the window display, other Oktoberfest-themed knickknacks are also for sale.
Eat
Downtown
Suburbs
Cafés
The German Clubs

All the German clubs serve food but not all of them have restaurants. Call before you go.


Drink
See
Nightlife
, the weekly entertainment supplement published Thursdays by The Record, the area's daily newspaper, for its calendar of what's on in clubs, concerts, movies, stage, art, and kids stuff.
phone: +1 519-208-0202

address: 2880 King St E

40 taps of Ontario and craft beer, over 50 bottles of one-offs, hard-to-find selections and Trappist ales.

phone: +1 519-653-9660

address: 20 Heldmann Rd

Log cabin decor, child-friendly.

Descendants Beer and Beverage Co Ltd.

phone: +1 226-241-3700

address: 319 Victoria St N

Craft brewery and European-style bierhalle with a full bar, eatery and a retail shop with cans, bottles, growler fills and merchandise.
Sleep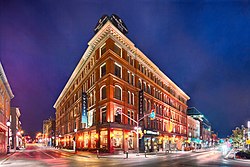 Crowne Plaza Kitchener-Waterloo

phone: +1 519-744-4141

address: 105 King St East

This is downtown Kitchener's only major chain hotel and has a heated indoor pool.

phone: +1 519-745-4321

address: 20 Queen St S

In the middle of downtown Kitchener on a site that has been the site of a hotel since 1820, this historic hotel dates back to 1893. Its guests have included Queen Elizabeth the Queen Mother, Eleanor Roosevelt, Bob Hope, and Louis Armstrong. All of the hotel's 79 luxury rooms were renovated in 2002 and feature modern amenities such as wireless high speed Internet.
Go next
Kitchener is one of three cities in Waterloo Region. Visit
Waterloo
to the north or
Cambridge
to the south. It is also a great base for exploring the surrounding countryside, the towns of New Hamburg,
St. Jacobs
and
Elora
are all within easy driving distance.