Kitsap Peninsula
The
Kitsap Peninsula
is in
Washington State
in the
Pacific Northwest
of the
United States of America
. It lies in
Puget Sound
between the Cascade and Olympic mountain ranges and it is almost an island connected to the mainland by only a relatively small landmass near Belfair.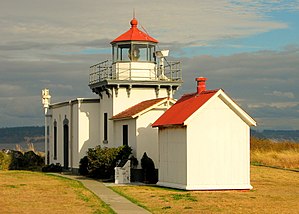 Cities
Old growth forests made travel by land nearly impossible for early settlers so towns grew around harbors on Puget Sound to take advantage of the relatively easy water transportation. Although roads have since come to dominate the area many towns still spread out from their harbors and downtown areas are usually close to the water.
North Kitsap
Historic northern area includes the oldest lighthouse on Puget Sound.
— beautiful beaches and a wonderful lighthouse.
30-minute ferry ride from Edmonds.
— historic lumber mill town established in 1853 and still company-owned.
— known as "Little Norway", a popular destination for boaters.
— home of the Suquamish people and burial site of Chief Seattle.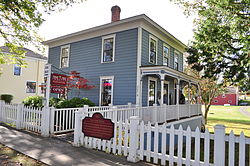 Central Kitsap
The most urban and populated areas of the Kitsap Peninsula.
— the Kitsap Peninsula's largest town built around a military base.
-- a secluded and snug harbor.
— a small residential area along the west side of Dyes Inlet with beautiful water views and views of Mt. Rainier to the South.
— where you'll find the wonderful Elandan Gardens.
has views of Hood Canal, the Olympic Mountains and sunsets. With an average of of rain a year, it is the greenest corner of the Kitsap Peninsula.
— quaint waterfront community, mostly residential
— home to the Naval Undersea Warfare Center.
— known for its public boat launch and commanding views of Seattle across Puget Sound.
— county seat for Kitsap County also a popular harbor with a convenient downtown.
— shopping center for the Kitsap Peninsula
— on Dyes Inlet with amazing views of Puget Sound.
South Kitsap
The least populated area of the Kitsap Peninsula and home to many state parks.
— overlooking the shoreline of North Bay-Case Inlet on Puget Sound.
— gateway to many wilderness areas including the Theler Wetlands.
— the name was adopted for the creek that runs past town at Burley Lagoon.
— this mostly residential the Hood Canal community's name comes from an Indian word meaning "home of evil spirits who make men crazy."
— southern gateway to the Kitsap and Olympic Peninsulas.
— picturesque rural community with many old barns, forests and rolling hills.
— home of the Purdy Spit with a mile-long beach access.
— a historic mill community still has few traces remaining of its early logging years.
— ferry terminal for the SeattleVashon Island state ferry run.
— tiny, southern-most town on the Kitsap Peninsula.
— at the bend of Hood Canal, with spectacular views
Key Peninsula
This remote southern region south of Purdy is a sub peninsula of the Kitsap Peninsula.
— this quiet seaside community was once one of the more radical and socially progressive areas in the state.
— this small town is the largest on the Key Peninsula.
— one of the last mosquito fleet era docks still in operation.
— home to the southern-most marina on the Kitsap Peninsula.
— once served by the mosquito fleet, this area is home to the Key Peninsula Museum.
Other destinations
Islands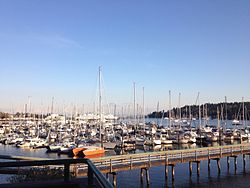 Several islands are accessible from bridges or ferries from the Kitsap Peninsula and are included in this entry.
— a 35-minute ferry ride from Seattle this Island of 20,000 residents is a good place to visit and/or live
— Manchester is the closest boat launch to this popular island state park between Seattle and the Kitsap Peninsula.
Eagle Island — off of the Key Peninsula more info in State Parks Section.
— a 5.2-square-mile island with a lighthouse.
Understand
Just a short ferry ride from Seattle or a picturesque drive across the Tacoma Narrows or Hood Canal bridges, the Kitsap Peninsula offers a nice mix of rural and urban activities. Quaint harbor towns offer shopping, dining and regional cultural experiences while rural Kitsap Peninsula offers a wide variety of parks, beaches, golf courses and endless rural charm. With its nearly 400 miles of coastline and dozens of public marinas and boat launches the Kitsap Peninsula is a popular place to arrive and explore by boat and many harbor towns cater to boaters. For clarity we will also include Bainbridge, Blake and other nearby islands in this entry.
The region has a rich and diverse history. Giving a combination of Native American, Scandinavian, military and pioneer attractions. The Kitsap Peninsula is "almost" an island, accessible primarily by ferries or bridges with highway access from the south.
Kitsap County
is the governmental body covering the majority of the Peninsula, with
Pierce County
lying in the SE portion of the Peninsula, and
Mason County
lying in the SW portion of the Peninsula. Mason County extends west beyond the Kitsap Peninsula into the
Olympic Peninsula
region.
Talk
Although English is the most common language spoken in the region, there is an incredible variety of languages used in the area.
The Suquamish people called Puget Sound 'WulcH, which simply means "place of clear salt water" in the Southern Lushootseed language that was originally spoken in the area. Many of the names in the area come from the Southern Lushootseed language including 'Kitsap' which was named after their chief and even 'Seattle' which was named after chief Seattle.
Get in
By ferry
By boat
With its nearly 400 miles of coastline, boating is a major tourist draw on the Kitsap Peninsula and many businesses cater specifically to boaters. Some restaurants and shops provide their own docks for easy access and some golf courses offer shuttles from major marinas. Check individual city listings for specific marina information. Larger marinas can be found in
Bainbridge Island
,
Bremerton
,
Brownsville
,
Gig Harbor
,
Poulsbo
and
Port Orchard
but even some smaller towns such as
Lakebay
offer marinas with services and fuel and even some of the state parks such as Blake Island offer docks with restrooms and picnick shelters.
Washington State Parks and Recreation Commission

phone: +1 360 902-8500

Has the largest state-managed mooring system in the United States. The commission manages more than 40 marine parks in Puget Sound that provide more than 8,500 feet of public moorage space.
By plane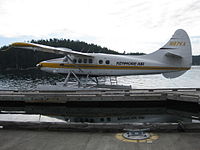 Seattle-Tacoma International Airport
(
SEA
), universally nicknamed "Sea-Tac", is to the east across Puget Sound. Domestically it's a major hub for Northwest and West Coast destinations, and internationally handles especially frequent trans-Pacific routes, as well as direct flights to the major European airports.
All international flights arrive at the south satellite terminal, but after immigration and customs, passengers are then funneled onto a train back to the main terminal, outside the security checkpoint. You'll need to pick up any checked bags to clear customs, then place them right back on the conveyor for transit to the main terminal. Reclaim checked bags once again from carousel 1 in the main baggage hall, to the right after leaving the train and going upstairs. Allow plenty of time for this dance! All connecting passengers will need to re-check their baggage with their airline and pass through security.

By airport shuttle
phone: +1 360-876-1737

offers shuttle service from Seatac airport into various locations on Kitsap Peninsula.

By sea plane
Sea planes are another popular way to travel around Puget Sound with several airlines based in Seattle with chartered flights to the Kitsap area including Kenmore Air serving areas all around Puget Sound and Canada.
By car
The impressive Tacoma Narrows Bridge to the south or Hood Canal bridges to the north are the two main road access points into Kitsap. The Tacoma Narrows is a toll bridge but only for eastbound traffic leaving the area.

Interstate 5 (I-5)From I-5 the Kitsap Peninsula can be accessed via :
US Hwy 101 in Olympia at Exit #103. Follow Hwy 101 to WA-Hwy 3 intersection. Follow Hwy 3 through Shelton (as a local street) and up along Hwy 3 into Bremerton. Or go west on WA-Hwy 302 from Hwy 3 (21 mi/33 km north of Shelton) to get to Purdy & Gig Harbor.
WA-Hwy 16 through Tacoma at Exit #133. Hwy 16 goes across the Narrows Bridge up to Bremerton where it merges into Hwy 3. ($6 toll to cross the Narrows Bridge from Gig Harbor to Tacoma. No toll going the other way.)
I-90 WEST from Exit #164 south of downtown Seattle. I-90 ends into 4th Ave by Safeco Field. Follow signs to ferry terminal.
WA-Hwy 104 in Mountlake Terrace (follow signs to 'Edmonds Ferry') at Exit #177 (going north) or #178 (going south). From the ferry terminal go on Hwy 104 which becomes Hwy 307 (past the Hwy 104 turn-off going north towards Hood Canal Bridge via Port Gamble). Continue west on Hwy 307

US Hwy 101 completely bypasses the Kitsap Peninsula west of the Hood Canal. From Hwy 101 the Kitsap Peninsula can be accessed from:
Hwy 3/104 turn-off 3 mi/4.8 km south of Discovery Bay (where US 101 intersects WA-Hwy 20). Hwy 3/104 crosses the floating Hood Canal Bridge into Key Peninsula.
Hwy 3 turn-off from south of Shelton which goes through Shelton while Hwy 101 by-passes Shelton.
Get around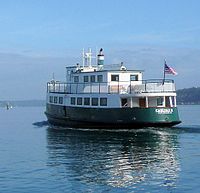 Just a short journey by Washington State ferry, Tacoma Narrows or Hood Canal bridges, and surrounded by nearly 371 miles of shoreline and dozens of marinas the Kitsap Peninsula is an excellent place to travel by car, boat or bike.
By foot ferry
phone: +1 360 373-2877

Shuttles passengers between Port Orchard, Bremerton and Annapolis ferry terminals using two passenger only ferries, 'Admiral Jack' and the 'Carlisle II' a historic Mosquito Fleet era boat that is nearly 100 years old. Foot ferry service is a great way to tour a historic boat and get an up close and personal view of the marinas and the harbor.
By bus
phone: +1 360 479-6962

Kitsap Transit offers transit services throughout the area including pickup from all ferry terminals and connects with Mason Transit (Mason County), Pierce Transit (Pierce County), and Jefferson Transit (Jefferson County) offering connections outside of the area.
By bike
The Kitsap Peninsula is a great destination for bicycles with its rolling hills and spectacular scenery. During the summer you'll find bike rentals near the ferry dock on
Bainbridge Island
but be forewarned that it may be some distance between pit stops so plan accordingly.
By taxi
A-Ward Taxi Towncar

phone: +1 360-440-1517, +1 360-801-1235

address: Port Orchard based

Bainbridge Island Taxi

phone: +1 206 842-1021

address: Bainbridge Island based

Locally owned and operated, serving Bainbridge, Poulsbo, Kingston. Silverdale, Bremerton and the Olympic Peninsula.

Best Darn Taxi

phone: +1 360-782-2378

address: Bremerton based

Serving Kitsap County.

Bumblebee Taxi

phone: +1 360 782-1966

address: Silverdale based

A full service taxi company serving Kitsap County and beyond. Serves all military bases and offer flat rates and military discounts.

First Choice Taxi

phone: +1 360 373-7903

address: Bremerton based

Serves Bremerton, Kitsap County and Seatac Airport. Bremerton Ferry pickups can be arranged.

phone: +1 360 479-2273

address: Bremerton based

Transporting mobility challenged clients in specially equipped vans.

Pleades Transportation

phone: +1 206 618-9630

address: Bainbridge Island based

limousine service on Bainbridge Island.

Redtop Taxi of Kitsap

phone: +1 360 876-4949

address: Port Orchard based

phone: +1 206-842-7660 (Bainbridge Island), +1 360-698-7660 (Kingston - Silverdale - Poulsbo), +1 360-377-9393 (Bremerton), +1 360-876-9393 (Port Orchard)

24 hour serving Bainbridge Island, Kingston, Silverdale, Poulsbo, Bremerton, Suquamish, and Port Orchard.

White Blitz Taxi

phone: +1 360 516-0271

address: Bremerton based
By charter bus
Janssen's Charter & Tours

phone: +1 360-871-2446

address: 1623 Woods Rd E, Port Orchard
See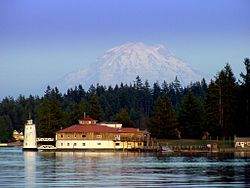 The Kitsap Peninsula is known not only for its busy sea ports and picturesque towns but also for its rolling hills, thick forests, miles of coastline, scenic farmlands and many public parks.
Lighthouses
Lighthouse viewing on the Kitsap Peninsula is an excellent way to explore the area, while some lighthouses are accessible to the public others such as the Point No Point Lighthouse offer tours and can even be stayed at overnight.
Fox Island Lighthouse -The southern most lighthouse in the area is on Fox Island near the Tacoma Narrows Bridge.
Gig Harbor Lighthouse- at only tall this is certainly one of the smaller lighthouses in the region but nonetheless plays an important roll marking the opening to Gig Harbor. Directions: from Highway 16, exit onto Pioneer Way. When the road tees, turn right on Harborview Drive and continue to its end where you will find a small park from which you can view the lighthouse.
Point No Point Lighthouse- since 1879 the oldest and most historically important lighthouse on Kitsap Peninsula. Located on a 60-acre park with beach access. 9009 Point No Point Rd NE, Hansville Turn North (left) at the intersection of Hansville Road and Highway 104. Travel 8 miles to the intersection of Hansville Road and Point No Point Road. Turn right onto Point No Point and travel to the road end into the park entrance.
Skunk Bay Lighthouse- Located on Skunk Bay at the northern tip of the Kitsap Peninsula near Hansville.
Nature reserves
phone: +1 206 842-7631

address: 7571 NE Dolphin Dr Bainbridge Isle, WA 98110

an award winning garden so popular that reservations are required.
Museums
Museums offer visitors a welcome change of pace and an opportunity to learn more about the Kitsap Peninsulas maritime history.
phone: +1 253 858 6722

address: 4121 Harborview Drive, Gig Harbor, Washington, Gig Harbor, WA 98335

Experience the history of the Gig Harbor Peninsula including its maritime industries and even a well preserved school house.

Kitsap Historical Society and Museum

phone: +1 360 479-6226

address: 280 4th St Bremerton

collects, preserves, and exhibits the diverse culture, heritage and history of Kitsap County

address: 1 Garnett Way, Keyport

learn what life is like under the sea as this museum preserves, collects and interpret naval undersea history.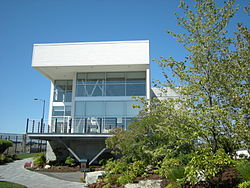 Raceways
phone: +1 360 674-2280

address: 7500 Old Clifton Rd. Bremerton

NHRA Division 6 Championship drag racing
Bridges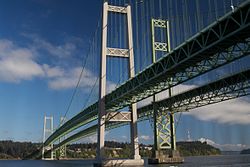 Two bridges connect the Kitsap Peninsula to the mainland.
Hood Canal Floating Bridge — third-longest floating bridge (the longest over tidewater)
Tacoma Narrows Bridges- majestic side by side bridges replaced the infamous 'Galloping Gertie' bridge which famously collapsed in a 1940 wind storm.
Convention centers
Historic military areas
Puget Sound Naval Shipyard and Intermediate Maintenance Facility

address: 1400 Farragut Ave #850 Bremerton

Established in 1891 as a Naval Station and was designated Navy Yard Puget Sound in 1901. During World War I, the Navy Yard constructed ships, including 25 subchasers, seven submarines, two minesweepers, seven seagoing tugs, and two ammunition ships, as well as 1,700 small boats. During World War II, the shipyard's primary effort was the repair of battle damage to ships of the U.S. fleet and those of its allies. Following World War II, Navy Yard Puget Sound was designated Puget Sound Naval Shipyard. It engaged in an extensive program of modernizing carriers, including converting conventional flight decks to angle decks. During the Korean War, the shipyard was engaged in the activation of ships. In the late 1950s, it entered an era of new construction with the building of a new class of guided missile frigates. In 1965, USS Sculpin (SSN 590) became the first nuclear-powered submarine to be maintained at PSNS. The shipyard was designated a National Historic Landmark in 1992. The historic district includes 22 contributing buildings and 42 contributing structures, as well as 49 non-contributing buildings, structures, and objects.
State parks
The Kitsap Peninsula's state parks are the coveted jewels of the area. Offering miles of public access beaches and forested trails, many also offer camping and moorage opportunities and are well distributed throughout the area.
phone: +1 360 275-0668

A 65-acre, year-round camping park on 3,720 feet of saltwater shoreline at the southern end of Hood Canal. It is noted for its saltwater tide flats, wetlands with wind-blown beach grasses and pleasant areas for beach walking.

Blake Island State ParkIt's not part of Kitsap, and is accessible only by boat. Kitsap Peninsula is its closest neighbor from the boat launch in Manchester. A 475-acre marine camping park with five miles of saltwater beach shoreline providing magnificent views of the Olympic Mountains and the Seattle skyline. Native American style salmon dinners and demonstrations of Northwest Native American dancing are offered at Tillicum Village. The island offers 21 buoys and 1744 feet of moorage for visiting boaters.

Calvinwood State Park

address: 6838 Calvinwood Road SW, Port Orchard

Known for the large lodge on Nels Johnson Lake and surround by just over 100 acres of wilderness.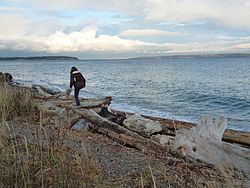 Fay Bainbridge State Park

phone: +1 206 842-3931

address: 15446 Sunrise Dr NE Bainbridge Island

The park comprises 16.84 acres (68,100 m2) of land, including 1,420 feet (432 m) of saltwater shoreline along Puget Sound.

Illahee State Park

phone: +1 360 902-8844

address: 3540 NE Sylvan Way, Bremerton

A 75-acre marine camping park with 1,785 feet of saltwater frontage on Port Orchard Bay near Bremerton. "Illahee" means "earth" or "country" in the Indian tradition, and views of Puget Sound from the Illahee beach give the viewer a sense of what that word meant to native people. Offers 356 feet of dock space and 5 buoys for visiting boaters.

phone: +1 360 902-8844

10-acre marine park with 2,600 feet of saltwater shoreline. There are 2 mooring buoys on the west side and 1 on the east side of this remote island accessible only by boat between Anderson Island and McNeal Island, there are also trails and camping spots and the area is known for the many seals that come to sunbath. The park was named after Harry Eagle, a member of the Wilkes Expedition.

Joemma Beach State ParkOn the Key Peninsula near Gig Harbor, this 122-acre marine camping park has 3,000 feet of saltwater frontage on southeast Kitsap Peninsula. Aside from the natural beauty of park and surroundings, the area is an excellent place for fishing, boating and crabbing. Provides a boat launch and water trail campsites, 5 buoys and 500' ft dock footage.

phone: +1 360 779-3205

Kitsap Memorial State Park is a 58-acre camping park with 1,797 feet of saltwater shoreline and facilities for group and individual recreation, weddings and overnight stays. The park offers beautiful natural surroundings and sweeping views of Hood Canal.

address: 10712 56th St. NW Gig Harbor

A 109-acre marine park with 5,600 feet of saltwater shoreline on Henderson Bay. One portion of the park, Cutts Island (or "Deadman's Island") is a half mile from shore and reachable only by boat. There are 2 buoys near shore and 5 near the island for visiting boaters.

phone: +1 360 871-4065

address: Port Orchard

A 111-acre camping park with 3,400 feet of saltwater shoreline on Rich Passage in Puget Sound between Southworth and Port Orchard.

Penrose Point State ParkA 152-acre marine and camping park on the shores of Puget Sound. The park has over two miles of saltwater frontage on Mayo Cove and Carr Inlet. Wildlife, birds and forested terrain make this a beautiful park.

phone: +1 360 902-8844

address: 9565 Scenic Beach Rd NW, Seabeck

A 88-acre camping park with 1,500 feet of saltwater beachfront on Hood Canal. The park is known for its wild, native rhododendrons and stunning views of Hood Canal and the Olympic Mountains.

Square Lake State Park

address: Manchester

Don't let the Manchester address fool you, this 7.9-acre park is actually south west of Port Orchard along Lake Flora Rd. Popular with sport fisherman with limited parking and access, best suited for hand launched boats.

phone: +1 360 275-2222

address: Belfair

On the shoreline of Hood Canal, features one of the warmest saltwater beaches in Washington state. This is because Hood Canal is one of the warmest saltwater bodies in Puget Sound. The 182-acre marine, camping park has 3,167 feet of saltwater shoreline. The name of the park derives from the Native American Twana tribes, better known as the Skokomish, who made their home in the area. The park has 7 buoys and 192 feet of dock space for visiting boaters.
State forests
Green Mountain State Forest-A 6,000-acre working forest a few miles west of Bremerton. 13 miles of trails and recreation opportunities for a variety of activities including horseback riding, mountain biking, fishing, hunting, camping, and other uses. The Green Mountain Horse Camp offer 16 campsites for first-come, first-served camping.

Tahuya State ForestA 23,000-acre working forest located on the southeastern portion of the Hood Canal west of Belfair in Mason County. This popular year-round destination area attracts more than 200,000 recreational users each year. Tahuya offers recreation opportunities for a variety of activities, including off-road vehicle riding (ORV), horseback riding, mountain biking, fishing, hunting, camping and other uses. Tahuya is primarily a destination area for ORV riders. Each year more than 150,000 motorized recreationists and 50,000 non-motorized recreationists visit the forest.
County parks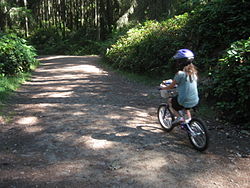 Many county parks are outside of urban areas and many provide camping, biking, hiking, horse trails, fishing and access to lakes or
Puget Sound
.
A Quiet Place Park, Anderson Hill Athletic Fields, Anderson Landing Preserve, Anderson Point Park, Arness Roadside Park, Bandix Dog Park, Banner Forest Heritage Park, Bill Bloomquist Rotary Park, Billie Johnson Kingston Skate Park, Buck Lake County Park, Carpenter Lake/Nike Site/Saltmarsh, Chico Creek Estuary, Coulter Creek Heritage Park, Erlands Point Preserve, Guillemot Cove Nature Reserve, Hansville Greenway, Harper Park, Horseshoe Lake County Park, Howe Farm, Illahee Preserve Heritage Park, Island Lake County Park, J.A. & Anna F. Smith Park, Kingston Community Center, Kingston Tennis Courts, Kitsap Fairgrounds & Events Center, Kitsap Kids Playground - Fairgrounds, Kola Kole Park, Long Lake County Park, Newberry Hill Heritage Park, Nick's Lagoon, North Kitsap Heritage Park, Norwegian Point Park, Old Mill Park, Point No Point, Lighthouse and Park, Silverdale Community Center, Silverdale Rotary Gateway Skate Park, Silverdale Waterfront Park, South Kitsap Regional Park, Veteran's Memorial Park, Wicks Lake, Wildcat Lake County Park,Wynn-Jones Preserve
Do
Birdwatching
The Kitsap Audubon Society has been actively meeting since 1972 and has a broad coalition of birders actively tracking and sharing sightings since then. They also maintain an active
website
with updates of the latest sightings, suggestions on areas for birders and even a regular newsletter. They also developed a
checklist
of birds likely to be seen birds in the area.
The state Audubon society developed 'The Great Audubon Birding Trail' which includes key migration flyways. Flyways are major north-south routes of travel for migratory birds and likely areas to see birds along the route extending from Alaska to Patagonia. Point No Point County Park near
Hansville
at Kitsap County's northern tip is particularly important for birds migrating the Pacific Flyway. The Audubon Society designated it an IBA or an
Important Bird Area
but there are six other areas along the trail that are also important. Penrose Point State Park near
Lakebay
, the Sinclair Inlet north of
Port Orchard
, Lions Park in
Bremerton
, the Old Mill Park in
Silverdale
, Liberty Bay near
Poulsbo
and Fort Ward Park on
Bainbridge Island
.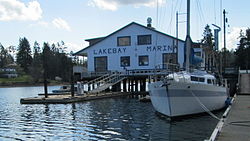 Boating
Puget Sound offers some of the best
Cruising on small craft
in North America. Breath taking views of the snow capped Olympic and Cascade mountain ranges along with glimpses of Mount Rainier mingle with thick forests and clear bays and streams to create a humbling cacophony of natural sights.
Carved by ancient glaciers, Puget Sounds intricate and complex waterways provide endless opportunities for exploration while the many harbor towns built on protective bays cater to boaters and provide an wide array of services, restaurants and shops.
For visitors, the Kitsap Peninsula is uniquely situated amongst Puget Sound with its convenient proximity to Seatac airport and major urban centers, it nonetheless offers a rural boating experience with many state and county parks located right on the water and miles of forests reaching into the Puget Sound. The well distributed harbor communities on the Kitsap Peninsula were mostly built before roads and tend to be centered around the docks offering boaters easy access to amenities and historic retail areas, even small towns tend to have a country store with access to a dock.
Major ports can be found in
Bainbridge Island
,
Bremerton
,
Brownsville
,
Gig Harbor
,
Kingston
,
Port Orchard
,
Poulsbo
and
Silverdale
while dozens of other communities have smaller areas to rest and resupply and many State Parks offer secluded moorage closer to nature. See individual city listings for more info.
The Washington State Parks and Recreation Commission has the largest state-managed mooring system in the United States. The commission manages more than 40 marine parks in Puget Sound including several in Kitsap that together provide more than 8,500 feet of public moorage space. More info HERE.
Sailing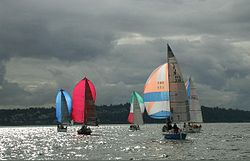 The Puget Sound is a destination celebrated by sailors from around the world and the Kitsap Peninsula is a prime example of why it is so popular. The scenery around Puget Sound can be so amazing that it borders on the surreal and could only possibly be appreciated more from the deck of a boat under sail. From isolated moorages in such places as Blake Island State Park to historic harbor towns with fine restaurants, museums and shopping all accessible from convenient harbors.
Visitors to the area will often be treated to the sight of a flotilla of sailboats on Puget Sound as local yacht clubs organize events that sometimes attract hundreds of sailors. These 'races' such as the Gig Harbor Yacht Club Islands Race are often informal events that are more of an opportunity for fraternization and attract many types of sailboats and many different skill levels of sailors.
Sea kayaking
Sea kayaking can be a rewarding way to explore the Kitsap Peninsulas nearly 400 miles of coastline allowing the paddler a closer and slower look at their surroundings and making Kitsap one of the most popular areas to kayak in Puget Sound. Thick forests of majestic pine and deciduous trees and hundreds of creeks and estuaries dot the coastline. Or just explore Kitsaps many harbor towns that cater to kayakers with shops and restaurants accessible from the water. Harbor Seals, Otters, Sea Lions, Bald Eagles and Blue Herons are common sites while the occasional viewing of an Orca or Grey Whale is not out of the question.
Kayak trails
Organized trails offer overnight camping options and maps of appropriate lengths and scenic travel destinations.
Cascadia Marine TrailThis inland sea trail is a National Recreation Trail and designated one of only 16 National Millennium Trails by the White House. Suitable for day or multi-day trips, the Cascadia Marine Trail has over 50 campsites to visit. People can boat to the campsites from many public and private launch sites or shoreline trailheads including Hood Canal.

Kitsap Peninsula Water TrailsThe National Parks Service Named the this 'Trail of the Month' in the entire USA for the month of December 2012, PDF copies of the water trails map are available

Key Peninsula Marine Trailis a forty mile Peninsular Marine Trail with fourteen legs between fifteen points of interest during a paddling journey around the Key Peninsula
Kayak rentals
There are several companies around the Kitsap Peninsula that rent kayaks and offer classes from beginner to expert.
Olympic Outdoor Centeroffers kayak rentals, classes and basic information for paddling the area for just a few hours or week long adventures.
Beach combing
What Puget Sound beaches lack in white sand and warm water is more than made up for in the amazing scenery as the clear waters play against wild coastlines and snow peaked mountains scatter on the horizons. Kitsaps many State Parks are an excellent place to start a beach combing adventure offering miles of beaches from the rugged to the sandy smooth. Small crabs, moon snails, sea stars and sand dollars are common sites and tide pools can offer hours of exploration.
Be warned that sea shells and driftwood are considered part of the natural environment and should not be removed, however the often rocky and wild shores are havens for creating and revealing beach glass and anything artificial found is fair game for removal. Be respectful of private property and gentle with sea creatures. Keep a wide distance away from nesting birds, seals and other shore animals and always put back anything removed from the shoreline.
Crabbing
Sport crab fishing is popular in the area with most fishermen looking for the elusive and meaty Dungeness Crab, but other less popular crabs are plentiful in the area. Crab season starts with a two-day opener July 1st and 2nd and follows up with crabbing every Thursday through Monday through Labor Day weekend. A wide array of crab traps are available from a variety of area sporting goods stores and the red and white buoys marking the traps are a common site on the water during the short crabbing season. Fishing permits are required and can be purchased from a variety of local stores, more information is available from the
Washington Dept of Fishing and wildlife
Shellfishing
Shellfish are prized resources of the Puget Sound, the cool, clean waters provide some of
the finest shellfish habitat in the world. Washington State is the nation's leading producer of farmed bivalve shellfish (clams, geoduck, mussels and oysters) and with Kitsap Peninisulas dozens of Public Clam and Oyster Beaches and miles of coastline it is a popular place for individuals to find these elusive and sought after shellfish. Maps of public shellfishing areas and health warnings and updates can be found online at the States Fish and Wildlife
website
, as with all fishing in Puget Sound permits are required and can be purchased online or in some sporting goods stores.
Scuba diving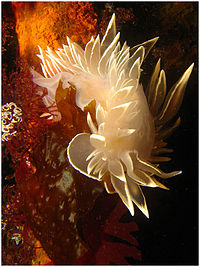 Scuba diving
the cold waters of Puget Sound takes a bit more gear and training than other warm water locations, but the rewards are incredible. The area contains some of the best diving in the world and many areas are accessible from the Kitsap Peninsula. Many dive sites are completely covered with colorful sea creatures that defy description. Giant Pacific Octopus are common, along with friendly wolf eels. Colorful sponges, sea cucumbers, sea stars, soft corals, anemones and fish can be seen on nearly every dive. The state has offers a guide to parks with launch sites
HERE
Sound Dive Center

phone: +1 360-373-6141

address: 5000 Burwell Street, Bremerton, WA 98312

Established in 1972, this 6000 sq foot diving center offers a full range of diving gear and classes and is the largest dive center in the Puget Sound region.
Conservation areas
There are many spectacular dive areas around Kitsap Peninsula ranging from
wreck diving
a wooden hull ship near
Bainbridge Island
known simply as
The Boss
to artificial reefs that were created with scuba divers in mind. In addition there are four Designated Conservation Areas which are easily accessed from various ports around the Peninsula.
The Colvos Passage Marine Preserve Area located near Gig Harbor is a protected marine area and is considered one of the best shore accessible diving areas in Puget Sound. Known for its many friendly Wolf Eels and its 25 foot high rugged rock wall that runs along the shoreline for about 200 feet. There are also sightings of, for example, Giant Pacific Octopus, Ratfish, Copper, Brown, and Quillback Rockfish, Lingcod, Greenlings, many varieties of sculpins, Green Sea Urchins, scallops, Rock Sole, Starry Flounder, countless sea stars, warbonnets, gunnels, different varieties of nudibranchs.
Orchard Rocks Conservation Area is located north east of Manchester State Park in the waters and bedlands of Rich Passage within a 400-yard radius of Orchard Rocks day marker and accessible by boat. The natural bedrock and boulders provide habitats for rock associated fish and invertebrate species. Copper rockfish and quillback rockfish once were common at this site but now are rare. Brown rockfish are common as are lingcod, red Irish lord, buffalo sculpin, striped seaperch, and pile perch . Kelp greenling, painted greenling, cabezon are consistently present in the reserve. Dominant invertebrates include red rock crab, spider crabs, red sea cucumber, and orange sea cucumber. Harbor seals frequently visit the site and are often seen hauled out on the exposed rocks at low tide. California sea lions are also commonly observed at the site and may be seen hauled out on nearby navigational buoys.
Well-known to regional scuba divers, Sund Rock is a designated conservation area between Kitsap Peninsula and the Olympic Peninsula on Hood Canal accessible by boat from Seabeck. The area is known for abundant and diverse life, including Lingcod, Giant Pacific Octopus, Wolf Eel, nudibranch, anemone, and sea cucumber.
Z's Reef Marine Preserve is a designated conservation area on the shores of Fox Island. A variety of fishes typically associated with rocky habitats congregate at the site and in such quantities that are unusual for southern Puget Sound. The dominant fishes include copper rockfish, brown rockfish, and quillback rockfish. Other common fishes include lingcod, kelp greenling, painted greenling, wolf eel, and striped seaperch. Pregnant rockfishes are observed at the site during the spring indicating that at least some fishes use the site for reproduction. Other marine organisms include sea stars, encrusting organisms such as giant barnacles, red sea cucumbers, shrimp, and red rock crabs. Seastars are common including sunflower seastar and gumboot chitons are also frequently observed.
Golf
The Kitsap Peninsula has several of the top rated golf courses in the state. Combined with the areas natural beauty golfing in Kitsap leaves a lasting impression. If you are arriving by boat several of courses offer transportation from popular marinas.
phone: +1 360 415-5432

address: 7263 W Belfair Valley Rd, Bremerton

36 hole award-winning Olympic and Cascade courses.

phone: +1 360 377-0166

address: 3885 NW Golf Club Hill Rd, Bremerton

Madrona Links Golf Course

phone: +1 253 851-5193

address: 3604 22nd Ave NW, Gig Harbor

18-hole public golf course, reasonably priced and well maintained.

phone: +1 360 895-0130

address: 5155 McCormick Wods SW, Port Orchard

The course is known for being equally beautiful and challenging.

Meadowmeer Golf and Country Club

phone: +1 206 842-2218

address: 8530 Renny Ln NE, Bainbridge Island

Public golf course with covered driving range.

Rolling Hills Golf Course

phone: +1 360 479-1212

address: 2485 NE McWilliams Rd, Bremerton

Course, pro shop and Putters Restaurant and Lounge

phone: +1 360 874-8337

address: 3900 SW Lake Flora Rd, Port Orchard

Expensive and very well-maintained golf course and fishing lodge-style clubhouse.

Village Greens Golf Course

phone: +1 360 871-1222

address: 2298 Fircrest Dr SE, Port Orchard

Affordable 19-hole golf course that is well designed, Caddy shack has hotdogs, soda and coffee. There is also a small driving range.
Casinos
Suquamish Clearwater Casino Resort

address: 15347 Suquamish Way NE, Suquamish

Although this resort is known for gambling, it also offers a Luxury Waterfront Hotel Resort with 85 rooms offering commanding views of Puget Sound, a zero entry pool, a spa, 4 restaurants including Agate Pass Deli, all-you-can-eat Longhouse Buffet, Beach Rock Sport Lounge, and well known Cedar Steakhouse. If that is not enough to keep you busy they also have the White Horse Golf Club built on 456 acres and a long list of incoming bands and various performances.

phone: +1 360 297-0070

address: 7989 NE Salish Ln, Kingston

This casino also has restaurant and bars and is between Hansville and Kingston.
Eat
Like the rest of the Puget Sound area Seafood is a specialty so look for seasonal specials and locally sourced ingredients. Dungeness crabs, clams, oysters, mussels and salmon can all be found in abundance but look also for fresh produce from local farms. Blackberry season towards the end of summer usually means these tasty local berries will find their way into local dessert menus. See city listings for particular food recommendations.
Farmers markets
With its abundance of farm land the Kitsap Peninsula offers a wide variety of fresh produce and road side vegetable and fruit stands, some farms have their own stores and offer locally grown foods and goods. Christmas tree farms are also seasonally popular and offer families the opportunity to select their own trees.
Drink
Like the rest of the Puget Sound region, people on Kitsap Peninsula take their coffee seriously. See city listings for particular coffee and bar recommendations and don't forget to check out some of the regions award winning breweries, distilleries and wineries that make for a great stop over when exploring the area.
Breweries
address: 1100 Perry Ave, Bremerton

Brewery owned and operated by women with a wide selection of craft beers.

phone: +1 360 297-8316

address: 26499 Bond Road Northeast Kingston

Try Dosewallips Special Ale,, Bywater Bay ESB, Dabob Bay IPA, Agate Pass Amber, Big Beef Oatmeal Stout and Breidablik Barley Wine.

phone: +1 360 813 1487

address: 206 Katy Penman Ave., Bremerton

Many award winning beers.

Slaughter County Brewing Company

phone: +1 360 329-2340

address: 1307 Bay St, Port Orchard

Hand-crafted beers in a maritime, pirate-themed pub with views of the water. The name comes from the original name of the county before it was switched to Kitsap.
Distilleries
address: 3207 57th St Ct NW, Gig Harbor

phone: +1 206 842-3184

address: 9727 Coppertop Loop NE, Bainbridge Isle
Vineyards & wineries
The Kitsap Peninsula has several wineries that offer a nice change of pace when exploring the Peninsula.
Bainbridge Island Wineries Group

phone: +1 206 780 0905

address: 12976 Roe Road, Bainbridge Island

Olalla Valley Vineyard & Winery

address: 13176 Olalla Valley Road SE, Olalla

phone: +1 253 884-5746

address: 17812 G Street, Lakebay

although they purchase their grapes in Eastern Washington, they are processed in their 1500 square foot wine cellar on their 15 acres in Lakebay, Washington and have a tasting room open to the public.
Sleep
The Kitsap Peninsula offers a wide variety of places to spend the night, from cozy bed and breakfasts to isolated waterfront campgrounds. More urban areas such as
Gig Harbor
boast a wider variety of places to stay but travelers in the know can search out more off the beaten path options like staying at the historic lighthouse in
Hansville
.
Stay safe
Animal safety
Though many of the animals in the Kitsap area are used to seeing humans, the wildlife is nonetheless wild and should not be fed or disturbed. Stay at least 100 m away from bears and 25 m from all other wild animals! Check trail head postings at parks for recent activity and be aware of rules keeping a distance from Orca Whales and other marine animals while boating. Regulations for killer whales require that boaters stay 200 yards away & keep path of the whales clear. These new U.S. regulations apply to all vessels (with some exceptions) in inland waters of Washington.
Don't disturb resting seal pups, keep children and dogs away and report to the local stranding hotline +1 253-589-7235. Seal pups 'haul out' to get much needed rest when they are young and are often alone for many hours. They are extremely vulnerable at this time and should be left alone. Only about 50% of Puget Sound seal pups make it through their first year so please help to protect their health.

10 essentials
Know your 10 essentials when going on a hike, because cell phones won't always work in many rural areas, and may not be depended on in an emergency situation.
1. Navigation
2. Hydration & Nutrition
3. Pocket Knife
4. Sun Protection
5. Insulation
6. Fire!
7. Lighting
8. First Aid
9. Shelter
10. Whistle

Petty crime
With so many people visiting Kitsap each year petty crimes are something to be vigilant against. Lock your car doors and exercise sensible precautions with valuables, especially when parking your car at a trail head or marina when you may be away from your car for a while. It would also be advisable to carry anything of value out of sight.

Go next