Klagenfurt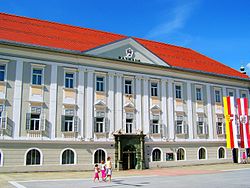 Klagenfurt
(Slovenian:
Celovec
) is the capital of
Carinthia
in
Austria
. It was one of the eight host cities in the
2008 European Football Championships
.
Understand
Klagenfurt has about 90,000 inhabitants and is close to
Wörthersee
. It is the native town of well-known writer Robert Musil (especially known for his book
The Man Without Qualities
) and is host for
The Ingeborg Bachmann Competition
, a famous German literature competition. Gustav Mahler, musician and composer also worked and lived in
Klagenfurt
. Every year the Beach Volleyball Grand Slam Tournament takes place at
Wörthersee
lake at the beginning of August.
Get in
By plane
Other nearby airports include
Graz
,
Salzburg
,
Vienna
,
Ljubljana
,
Maribor
,
Trieste
and
Venice
.
There are good train connections (3–5 hours) to all airports above apart from Ljubljana and Maribor. A private
shuttle bus
serves Ljubljana and Graz airports from Klagenfurt, but it must be booked in advance.
By train
Since (
main station
) is located at a railway gateway to
Italy
,
Slovenia
and
Germany
, it can be easily reached from any bigger Austrian city. There are hourly connections to
Vienna
,
Graz
and neighbouring
Villach
.
By bus
Klagenfurt has daily connections to
Graz
(departing close to the main train station) and to
Ljubljana
in
Slovenia
. Tickets can be bought directly on the bus.
By car
Klagenfurt is on the A2 motorway and has four exits (Klagenfurt West, Klagenfurt Nord, Klagenfurt Ost and Klagenfurt Airport). It can be easily reached by
Graz
,
Vienna
and
Villach
. The B91 connects Klagenfurt to
Slovenia
.
Get around
Most sights of interest can be easily reached by foot. Klagenfurt offers an extensive bus network. Tickets can be bought directly at the bus and cost around €4 (24-hr ticket) or €0.90 for a single ride. The main bus hub is at
Heiligengeistplatz
in the centre of the city.
Hiring a bicycle is recommended if you wish to travel to Klagenfurt's beach, on the shore of the Wörthersee in the Western outskirts of the city. There is a cycle path along the Lendkanal, taking you from Heiligengeistplatz (take the underpass) to the beach and continuing along the northern shore of the Wörthersee all the way to
Velden
. Bikes can be hired at
Neuer Platz
.
See
Lindwurm

address: Neuer Platz

The lindworm is the town's landmark. According to a legend, an evil dragon infested the region where Klagenfurt is located today. The duke of Karnburg promised land to those who would catch and kill the dragon. Eventually a group of menials achieved the killing of the dragon by a trick. They got the promised land and set up a village at the place where the dragon was killed. The monument was built in the 16th century. The head of the lindworm was shaped after the head of a glacial rhinoceros found in the same century in this region.

Minimundus

phone: +43 463 21194

address: Villacher Straße 241

This park offers a huge collection of miniature models of famous buildings from many countries in the world. Entrance is around €11, there are special rates for groups and children.

Reptilienzoo Happ

phone: +43 463 23425

address: Villacher Straße 237

A small zoo offering a large and varied stock of reptiles and animals. Entrance is around €8, there are special rates for children and groups.
Europapark - This park, next to the Minimundus and to the Strandbad (beach) of the Wörthersee invites to stroll, relax, play chess and enjoy the beautiful plants. Watch peacocks fan their feathers.

phone: +43 463 501429

address: Bahnhofstraße 50

The museum is the house of birth of the writer Robert Musil. If you are interested in literature, this is the place to go.

Gustav Mahler Komponierhäuschen

phone: +43 463537 5632

Gustav Mahler, famous musician, worked and lived close to Klagenfurt. Back in 1899 he bought a small mansion which is now a museum offering postcards, letters written by Gustav Mahler. The museum has guides in English, French and German. Take bus no.10 or 11 to Strandbad. From there it's a 15-min walk.

Museum Moderner Kunst KärntenA museum for modern and contemporary art.

EboardmuseumA museum for electronic key instruments.
Do
StadttheaterKlagenfurt's theater is well known (even beyond the borders of Carinthia) for the high quality of its theatre and opera performances.

If you are interested in the historic city centre, you might want to take an organized tour: a historic city walk. Those tours are available daily (at 10:00) during summer time. Head for Neuer Platz (in front of the city hall) or call 537 2293 for more details. The tour is free.

Beachvolleyball Grand SlamEvery year the world's top beach volleyball players meet in Klagenfurt. Tickets sell out quickly and should be purchased well in advance. There is also a certain number of free seats, but queueing is necessary.

Ironman AustriaTakes place every year with a large number of participants (2007: 2200 athletes).

Swimming: Klagenfurt's beautiful beach (Strandbad Klagenfurt), is on the Wörthersee and has space for around 12,000 guests. In addition to a sandy beach, a large grassy area and piers for sunbathing, there is also a small football (soccer) pitch, a beach volleyball court, a water slide (free of charge) and two restaurants. Entrance fee is approx €2-3.
Buy
The centre of the city (around
Alter Platz
) offers a large variety of boutiques, book shops and perfumeries. Big shopping malls are located in
Völkermarkterstrasse
.
Kärntner Heimatwerk

phone: +43 463 55 575

address: Herrengasse 2

Sells original local, hand-made handicrafts.
Eat
Stalls serve traditional Austrian cuisine in the indoor part of Klagenfurt's market. Main courses cost €3-6.

Kleeblatt

phone: +43 463 502174

address: St. Veiter Ring 31

The owner's philosophy is to cook simple, honest dishes using high quality ingredients from local farmers. Most classical Austrian dishes are on the menu. The Wiener Schnitzel is highly recommended—however most dishes are vegetarian. Though a haunt of Klagenfurt's "green scene", this place lacks the pretence of the usual "organic" or "health food" restaurant and is frequented by a broad mix of customers.

Gasthaus Pirker

phone: +43 463 42634

address: Waltendorfer Str. 129

Offers traditional Carinthian and Austrian cuisine.

Hirter Botschaft

phone: +43 463 54 44 40

address: Bahnhofstrasse 44

offers the locally brewed Hirter bier (beer). Serves traditional Austrian and Carinthian cuisine.

Schweizerhaus

phone: +43 463 5 67 21

address: Kreuzbergl 11

Already in the "Kreuzbergl" recreational area (basically Klagenfurt's town forest), but still within walking distance from the city centre (ca. 15 minutes, or bus 50, but it will not spare you the uphill walk), this restaurant offers an interestingly refined version of regional cuisine, including some vegetarian options. Frequently recommended by locals, and very popular in summer, when you will have a nice view of the city from the terrace.
Drink
Discothek Bollwerk

address: Gerberweg 46.

One of the few large clubs in Klagenfurt, in the city's periphery. Very loud and commercial techno is played, and the guests are somewhat more rustic than in the clubs in the city centre. Alcoholic drinks are very cheap.

phone: +43 664 1421281

address: Villacher Ring 21

The name means "the living room" in German and the establishment indeed resembles and feels like a cosy, public living room. Stylish decor and groovy music playing. A good selection of local and imported beers. Also serves breakfast and snacks.
Sleep
Budget
Gasthof Müller

phone: +43 463 21254

address: Rankengasse 21

Gasthof Schlosswirt

phone: +43 463416210

address: St. Veiterstr. 247

Jugendgästehaus Klagenfurt

phone: +43 463 511590

address: Neckheimgasse 6

A youth hostel close to the university. Has single rooms (€26.40), doubles (€22.40/person) and rooms with four beds (€18.40/person) Offers internet access.
Mid-range
address: =Karfreitstrasse 20

phone: +43 463 207 005

address: Nautilusweg 11

Open from 1 July to 30 September. 77 non-smoking rooms en-suite with hairdryer, Flat-TV with satellite access, safe and free Wi-Fi, panorama rooms with rooftop terrace, 2 handicapped accessible rooms, lobby with seating, garden, hotel parking, rental e-bikes, drinks and snacks machine, luggage storage, concierge service & breakfast buffet.
Splurge
address: Neuer Platz 13

€119-197/€84-182 single/double
Connect
Phone
The local area code is (0)463. The country code for Austria is +43.
Internet
An Internet cafe can be found at Waaggasse 10 (Sir Magic's Internet Cafe, close to Alter Platz)
Free Internet terminals are offered at Klagenfurt University, on the Western fringe of the city (about a 10-minute bus ride from the main bus station)
Cafe Jäger offers a wireless hotspot for a bargain €3/day (using the FON network). This cafe is near the nature park Kreuzbergl, about a 15-min walk from the city center. Radetzkystraße 38 - 40 A-9020 Klagenfurt
Go next