Klaipėda
Klaipeda
is
Lithuania
's third largest city, located in the north-western corner of the country. It is the gateway to the
Curonian Spit
, a stretch of sand dunes 99 km in length from 400 m to 4 km, in breadth that arcs down to the
Kaliningrad
region of
Russia
.
Understand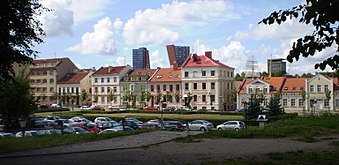 It was founded by Baltic tribes, and the city and castle was built by the Teutonic Order in 1252 and named
Memel
in honor of the river of the same name some 40 km to the south. For most of its history, Memel was part of
Prussia
and large battles with Lithuanian lords took place here. Invasions came from Sweden and Russia and the city was part of the Prussian Kingdom and became a prosperous harbor town. It represented the northernmost city in Germany and Prussia until 1918. After
Germany
lost the
First World War
, Memelland was first given free city status and then subsequently annexed to the newly established Republic of Lithuania. The Weimar Republic partly encouraged this annexation as it feared French influence on the League of Nation administration over the former German territory, which still bordered East Prussia, at the time a German exclave. It was briefly reabsorbed by Nazi Germany before World War II and then reverted to Lithuania (the Soviet Union) in 1945. Since Lithuanian independence in 1990, Klaipeda has become one of Lithuania's most buoyant cities with a steadily growing tourist trade.
Get in
By ferry
Port of KlaipėdaThe port is one of the most important in Lithuania and sees ferry service from Sassnitz (Rügen, Germany), Kiel and Karlshamn, Sweden. It also handles a lot of freight and used to be an important link for railway ferries from the GDR to the USSR.
By plane
Palanga International Airport (PLQ

) is the closest to Klaipeda but it only has a limited and highly seasonal assortment of destinations. Regular destinations include Copenhagen, Riga and London.

Kaunas Airport (KUN

).

Vilnius Airport (VNO

), the capital's airport, served by its own railway station is much busier than the other options and offers far more connections.
By bus
phone: +370 46411547

address: Butkų Juzės g. 9

Direct service throughout Lithuania and even into neighboring Kaliningrad Oblast (Russia) and Latvia.
By train
Klaipėda railway stationThe station is served by the national railway several times daily from Vilnius (~4 hr). Trains aren't all that fast, but the tickets are affordable. The station opened in 1875 and was built by Prussia with parts of the original station still remaining.
Get around
By bus
A single paper ticket costs €0.70 (from a kiosk), or €0.80 (from the bus driver). Tickets are cheaper when loaded onto an electronic card. Minibus trip per person ~€0.74 (day time), ~€1 (night time).
More information on Klaipėda passenger transport: http://www.klaipedatransport.lt/ and http://www.marsrutai.lt/
A bus
departs from the Smiltyne old ferry terminal every 2 hr, a few minutes after the ferry arrives from Klaipėda. It's possible to take a bike on it for an additional charge.
By taxi
Taxi cost ~€0.29/km.
By ferry
this ferry takes passengers and cyclists to the other side (Smiltyne) in a few minutes. It usually runs at least every hour, all year round. During summer there's also a service to and from Nida.
the ferry from the new terminal a little south from the old one also takes vehicles to the other side.
Ferry times:
Smiltynė > Nida: 07:10 (working days), 09:10, 10:10, 11:10 (weekend), 12:10, 14:10, 16:10, 18:10, 19:10 (weekend), 21:10
Nida > Smiltynė: 06:10 (working days), 08:00, 09:00, 10:00, 12:00, 14:00, 17:00, 18:00 (weekend), 20:00
There are also ferries to Jaodkrantė; €1.40.
By bicycle
is located near the old ferry terminal and rents bikes from €12 per day. Bikes are especially easy because they can be taken on the ferry to get around the Curonian Spit, which has a bike lane running along almost the entire length.
See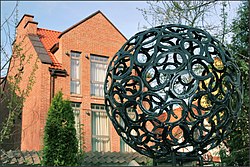 Klaipėda is known for its main icons: sculpture
Annchen von Tarau
, located in theater square, old sailing ship
Meridianas
(there was a restaurant inside). There are also lots of small sculptures (sculpture of mouse, dog, dragon, chimney sweep, post pigeons and others) hiding in the old town.
There are several museums. The most popular include the
History Museum of Lithuania Minor
, the
Klaipeda Picture Gallery
, the
Marine museum
and the
Clock museum
. Klaipeda's old town is small but interesting. Anika Square has a balcony where Adolf Hitler addressed a crowd. Legend has it that Hitler was annoyed because the statue depicting "Anikė" of the Lithuanian folk tale was not facing him, so he had the statue removed. A replica is now in its place.
Do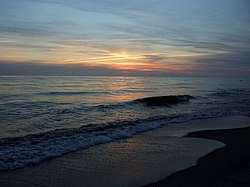 If you like nature, visit the
Curonian Spit
, which is only a couple of minutes by boat from the old ferry terminal (New ferry terminal for vehicles). In the summer ferries run every 30 min, from 06:00 till midnight. In other side (Smiltynė) you can visit the sea museum, ethnographic fisherman farmstead, take a walk on the pier, see the white sand beaches or just take a bus to Juodkrante or Nida (they are located 18 and 50 km from Smiltynė to the south). Renting a bicycle and cycling to Juodkrantė is a nice day trip. The forest is magnificent.
When coming from or staying in Klaipėda, it's possible to rent a bike there, take the ferry to Smiltynė, catch a bus to Juodkrantė and return by bike. See
the get around section
.
Beaches
There is a big and wide sand beach at Smiltynė (at the Baltic Sea side), full of locals and tourists in the summer. The beach runs almost along the entire length of the Spit.
Giruliai and Melnragė beaches are at Northern Klaipėda, big and popular places to visit. The water is clean and warm in summer.
Buy
Klaipėda is a unique city - here you will not find shopping street or old town crowded with stores. Of course you will find some stores in the center but, most of them are located in big shopping malls such as: "Akropolis", "BIG", "BIG-2", "Herkaus Galerija", "Mega Plaza", "Studlentas", "Banginis", "Arena".
The biggest shopping mall is called
Akropolis
and it is one of the biggest shopping malls in the
Baltics
. Akropolis attractions include cinema, skating rink, restaurants, shops, 2 supermarkets, gym, pizzerias and so on.
Eat
If you are looking for non-expensive
lunch
you can go to any restaurant/bar and get the day lunch, from the day lunch menu. The time when you can eat day lunch is 11:30-14:00. It consists of a soup "day soup" and 2-4 main dishes. Approximate price is €3-4.
There is a decent selection of Lithuanian and Western restaurants, most of which are located around the city's main thoroughfare, Herkaus Manto street, and its continuation into the Old Town, Tiltu street. Main course prices range from €3 at the lower end up to around €20 at the higher end.
Snack
If you are looking for snacks, you will find small bakeries in city center and the old town.
There are also few popular bistros: "Friedricho bistro" at Herkaus Manto street, and not far from it there is Mažvydo alley "Alėja".
Klaipėda city is famous for its mysterious cheese fingers - you can't leave the city without trying this. These you can get in the bar "Senamiestis", located in Bažnyčių street 4. Many bars tried to copy famous cheese fingers but did not succeed.
In the city center and old town is not so easy to get fast food. The most common fast food is kebab, but still in the city center it isn't easy to find where you can get one. However, it is always possible to get some pizza slices or bakery items at a Maxima or IKI supermarket.
Klaipėda has one McDonald's restaurant (located next to the "Akropolis" mall, about 3 km south from the center).
Dinner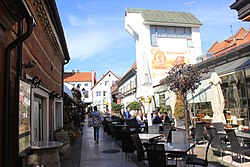 address: Tiltu st. 26A

Has a wide variety of food facilities in one place (Lithuanian dishes restaurant, pizzeria, tea/coffee house, bakery, winery, Mediterranean sea restaurant, steak house).

La CleRestaurant is one of the most popular with very dedicated chefs. Mostly it is booked ahead, but it is possible to get in without table reservation.

Fat Cat pub

address: Žvejų st. 21/Teatro st. 1

address: Tiltu street, 6

Built in 1856 on the burnt foundation after the Great Fire in Memel in 1854. Restaurant is an architectural monument and is guarded by the state. It's a small restaurant in the very centre of an old town. It slightly reminds of a shop of antiques, a little bit of museum, and also of a club for variety stars, politicians and businessmen. But the most important is qualitative Russian, Ukrainian, Polish, Balkan and Byelorussian cuisine.

Senoji Hansa

address: Teatro street 3

address: Taikos av. 61

White Flow chinese restaurant

address: H. Manto g. 9A

Decent Chinese restaurant with fast service, and appears to be one of the few restaurants in Klaipėda where the kitchen is open after 21:00 on weekdays.

phone: +37061353333

address: Sukilėlių 8

DOMA restaurant (former Anikės teatras) located in the heart of Klaipėda city in Teatro Sq. with large outdoor terrace. The menu is unique, gourmet and modern, where you can also find Lithuanian cuisine special flavor dishes. Restaurant also offers 5-course dinner of an exclusive flavor, which requires advanced reservation. The meal made from exclusively fresh materials and do not use frozen products in this place.
Drink
The local brewery is
Švyturys
(
Lighthouse
). The "Š" is actually a "sch" - sound and the "y" is pronounced as a long "i".
Klaipėda is known not only for its beer, locals are very into wineries. Almost on every corner you can find a small and cozy winery with huge variety of wines.
address: Sukilėlių g. 18

A great down-to-earth but arty bar with cool music/decor/staff.
As well you can find plenty of small and cozy pubs in the Old town "Herkus Kantas", "Leika", "Senamiestis".
Clubs
Most of the pubs are located in the city centre and also in the southern part of the city. In the city centre there is old warehouse
Memelis
(now it is renovated and working as bar/club), there is a brewery inside and you can taste beer that's produced in the same building. Average price for a pint of beer in city center for pub €1.45-2.30.
Popular clubs include:
address: Kepėjų st. 10

Latino dance music.

address: Kurpių st. 1a

Jazz club.

address: Naujojo Sodo st. 1

Dance, disco, funk music.

address: J. Janonio. 27

Club music.

address: Taikos av. 64

address: Turgaus st. 1

Zematia

faksas

Beer garden

Metro

Kisi
Sleep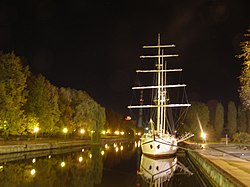 Camping
Pajūrio kempingasIn this camping place you can stay in a tent, camper, camping wagon or indoors. They offer a stay in one dorm room with five beds. Bungalow: Sept-May €40-50, June-Aug €60-65. Camping from €5 per person.
Hostels
Klaipėda hostelButkų Juzės street. A small, cozy hostel. Discounts with IYHF card.

Hostel Kubu, Herkus Mantas street 37A, next to Lietuvininkų square. Small hostel in the city center.

LITiNTERP Klaipeda guest house

phone: +370 46410644

address: Puodziu street 17

In 2004 the house was renovated and converted into a cosy guest house with 2 apartments, 9 double, 5 triple and 3 single rooms. Rooms are spacious, carpeted and comfortably furnished. Some of the brick walls have been left unplastered in order to give an authentic reminder of the house's history. Every room has a private en-suite bathroom and only 4 rooms share bathrooms. In that case only two rooms sharing one bathroom. Guests have their own keys and are free to come and go at any time. All rooms are non-smoking. Car parking in the courtyard is available. Breakfast included. Free Wi-Fi.
Hotels
Stay safe
Klaipeda is a safe place but like anywhere you have to use common sense. Try to walk with a confident air and not look lost.

Go next
From Klaipėda there is an easy way to the most famous unspoiled nature resort Curonian Spit with the most famous old fisherman towns Nida and Juodkrantė. On the peninsula you can find amazing sand dunes (highest dune is in Nida), amazing white sand beaches. Lithuanian (52 km long) and Russian (48 km long) side of Curonian Spit is a part of UNESCO world heritage list.
The lovely seaside resort Palanga is on the way back to past glory. It is busy with tourists from June to September. During the high season Palanga is being called summer capital of Lithuania.