Kluang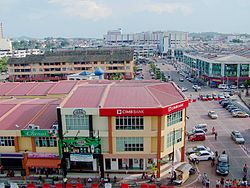 Kluang
is a town in Kluang District,
Johor
,
Malaysia
. It is geographically located at 110 km north from Johor Bahru, east-southeast of Batu Pahat, west of
Mersing
and south of Segamat. This district is the only district that does not have a sea front, as it is surrounded by all other districts namely, Johor Bahru, Pontian, Batu Pahat, Segamat, Mersing and Kota Tinggi, except Muar district.
Understand

The name Kluang comes from the Malay word keluang, which means a type of flying fox or rather a type of fruit bat. Alas, the critters have almost completely disappeared, and some suspect that the town was named after two mountains that resemble the head and wing respectively of a bat from a distance.

History
Kluang district is located in the middle of the state of Johor in Malaysia. It is geographically located at 110 km north from Johor Bahru, east-southeast of Batu Pahat, west of Mersing and south of Segamat. This district is the only district that does not have a sea front, as it is surrounded by all other districts namely, Johor Bahru, Pontian, Batu Pahat, Segamat, Mersing and Kota Tinggi, except Muar district.
The name Kluang derives from the Malay word 'keluang' which means a type of flying fox or rather a type of fruit bat. They have almost completely disappeared due to the combination of hunting and destruction of their natural habitat deforestation. Some people believed that Kluang was named after two mountains that resemble the head and wing respectively of a bat from a distance.
Kluang was founded in 1915, to serve as the administrative centre for Central Johor. A railway line linking north to south Malaya was built passing through Kluang to provide the communication link to transport labour and tropical produces from Kluang and this helped in its growth since 1915. Roads were built to link Kluang to Johor Bahru towards the south, to Batu Pahat towards the north-west and to Mersing towards the east. Kluang is divided into two district councils namely Simpang Renggam District Council (Majlis Daerah Simpang Renggam) based in the town of Simpang Renggam and Kluang Municipal Council (Majlis Perbandaran Kluang) based in the town of Kluang which is also the district capital. This district grew rapidly in 1920 and 1930 as a major rubber-producing district.
In its early days, Kluang as an entirely agricultural economy, is an agriculture hub of Johor; rubber and oil palm are the major crops. With the establishment of Institute Pertanian it has benefited the agricultural sector of Kluang. Now it has the biggest dragon fruit orchard, organic vegetables farm, organic rice farm, pineapples and tea plantation. Kluang is also famous for being the main producer of ceramic pottery and tiles, with pottery factories located at the border township of Machap. The most renowned tiles manufacturers are MML (Malaysian Mosaic), Guocera and Claytan all located at Kluang Industrial area. Kluang has also developed various industries including polymer, porcelain, paper, textiles and electrical products. It grew rapidly from agriculture sector to industrial sector in late 1970. The dynamic change was after the completion of BCB Plaza and Prime City Hotel, the first mega shopping mall in Kluang founded in 1996. The increasing commercial activities have brought major bank and stock brokerages house to set up branches in Kluang.
With the tremendous growth of economy, Kluang was upgraded from the status of District to Municipal on 31 January 2001. The first Kluang specialist medical centre was founded in year 2000, it provided the much needed medical facility for Kluang residents. The most sought after shopping mall with the combination of entertainment, food, leisure and shopping, Kluang Parade was completed in February 2007, anchored by the Parkson Department Store. It is located at Jalan Sentol, in the heart of the busiest business golden triangle. The streets and surrounding buildings were given a facelift as well. In 2008, Kluang Mall was opened, located on Jalan Rambutan. Kluang Mall is anchored by Pacific Department Store, MBO, POPULAR and Ampang SuperBowl. Recently it opened an international fashion zone with H&M, UNIQLO and Cotton On opening in late 2015. Kluang has become a vibrant town with all the entertainment and branded goods which a modern town should have.

Get in
By plane
The town does not have its own airport. The nearest airport is the
Senai International Airport
(
JHB
) serving Johor Bahru.

By car
Jalan Batu Pahat.
Jalan Mersing.
Jalan Intan.
Jalan Paus.
Taman Indah Jaya.
By Bus
Kluang Bus Terminal, Jl Bakawali
INTERCITY BUS SERVICE:
1. * Gunung Lambak O.M.O. Bus.
2. * Mersing Omnibus.
3. * Renggam Bus.
4. * Johore Motor Bus.
5. * S&S Bakti Transit Bus.

By train
Get around

Kluang is served by Muafakat bus route KL001 departing from Kluang Bus and Taxi Terminal, stopping at Kluang Mall, Stor JKR Kluang, SMKA Kerajaan Johor, SK Lelaki Bandar Kluang, Taman Sri Kluang, Taman Intan, Taman Muhibah, Jalan Mengkibol Health Clinic, Merdeka Hotel, Kluang Golf and Country Club, Kluang Town Square, Giat Mara Kluang, Prime City Hotel. Bus departs every hour with first bus at 6:00 a.m. and the last bus at 8:00 p.m.

See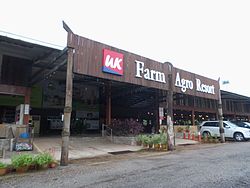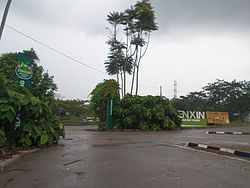 Kluang Modern Agriculture Project (Projek Pertanian Moden Kluang), off Jln Batu Pahat. An area of over 9,000 acres dedicated toward vegetable, fruit, herbal and grazing farms. UK Agro Farm is located within. Nice dirt road driving experience.
Kluang Railway Station, In service since 1915. The railway passes through Kluang town, basically cutting it into two halves. Local residents once said that when the train approaches Kluang Railway station, the entire town stands still, as the main road into town temporarily closes for the train to pass. The station itself withstood the test of time and should be of interest for those who have passion for nostalgic photographs. Onsite is Kluang RailCoffee which has been operating since 1938.
St. Louis Church, (at the end of Jln Omar, a few meters away from Kluang Railway Station), Built in 1964 with its own unique architecture.
Little India, Jln Stesen is the "Little India" of Kluang. It is lined with shops offering various merchandise catering to the needs and wants of the Indian community, especially sarees, herbs and spices, and also household items. There are also several Indian restaurants offering various Indian cuisines and local food as well as the local –favorite "Teh Tarik".
Jalan Ismail, (opposite Jln Stesen). Just like Jln Stesen, this street is interesting for the traditional Chinese traders and craftsman. One of them is shoe making. A couple of cobblers with basic equipment continue to produce shoes manually and customers can buy the ready-made shoes on display or request the cobblers to make a pair according to their specification.
Masjid Jamek Kluang, Jln Sekolah, (just beside Sekolah Tinggi Kluang). An old mosque, very popular among local Muslims for prayers as it can accommodate up to 1,000 people at any one time.
Old buildings at Jln Lambak, Next to Jl Ismail is Jl Lambak. Nowadays, it is filled with modern businesses like Medan Johbase, but there is still a row of 8 buildings with marks indicating they were built in 1939. The shops' lion mask heads are arranged to face different directions that appear to symbolize specific beliefs of their owners.
Jalan Dato' Teoh Siew Khor, used to be the central of Kluang, as the old market and shops were located here. Along the road there is Jubilee Intan Hall which was a historical event hall. It took the centre stage of old Kluang. The most prestigious textile shop Nan Yuan Sdn Bhd is also located here.
Kahang Organic Rice Farm, Kahang. (about 40 minutes road trip from Kluang). A good place to relax and enjoy the beauty of the padi fields. Accommodation available.
Kahang Low Rise Tea Plantation, One of the non-hilly tea plantations.
Gunung Belumut, Nice place for picnics and waterfalls.

phone: +6077597555

address: Plot 8, Project Pertanian Moden Kluang, KM13 Jalan Batu Pahat, 86000 Kluang, Johor, Malaysia

Tourist farm.

phone: +6077595196

address: 47A & 47B, Batu 9 Jalan Batu Pahat, 86000 Kluang, Johor, Malaysia

Kluang Lake Square

address: Kluang, Johor, Malaysia

Public square
Do
Mount Lambak Recreational ForestClimb Kluang's highest peak. Summit at 510 metres (1,673 feet). For a moderately fit person, the hike should take under 2 hours.

Kluang Coffee Powder Factory, Visit Kluang Coffee Powder Factory and see the process of traditional coffee. Coffee tasting available. The famous Cap Televisyen brand was founded in the 1960s. 76 Jalan Besar, 07-773 1943
Tong Huat Confectionery. Visit the confectionery and view their baking process. Famous for its tau sau and mooncakes. Located at 28 & 30, Jalan Cantik. GPS: 2.030787,103.322845. Hours: 9:00am to 6:00pm daily
Kluang Country Club. Play at Kluang's only golf course. 9 hole, 3017 yards. Reciprocal guest policy. Jalan Mengkibol, +6 07-7718840. Call for details.
Ampang Superbowl. Go bowl at the 36-lane international standard bowling alley. 10:00am to 1:00am. 3rd Floor, Kluang Mall, Jalan Rambutan. 07-777-1531.
Splash, at the colonial Army Base Swimming Pool. A public swimming pool is also available in Kluang Barat.
Buy
Souvenirs
The top souvenirs for a visitor to bring back from Kluang are:
Kluang Coffee Powder (either Cap Televisyen or Kluang Rail)
Tong Huat Traditional Cookies
Dragon fruit & dragon fruit wine (Zenxin Organic Farm or Zenxin Shop at Kluang Mall)
Organic fruits and produce (Zenxin Organic Farm)
Pre-packaged dried fruits (Peaches, Pomegranate, and finger-lemons)
Pickled fruits and vegetables
'Swiss-Roll' Cakes
Traditional crackers or "Keropok"
Hand-made straw woven handbag from Air Hitam
Ceramic pottery like flower vases and jewellery boxes
Crystal glass flowers from Air Hitam
Shopping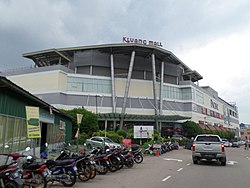 Kluang Parade, Jalan Sentol. Opened in February 2007 and anchored by a large Parkson Department Store. There is also an Old Taste, KFC, IG Mobile Centre, Ban Optics, KBox (karaoke) and a bowling arcade amid a wide array of interesting local fashion, gadget shops and DVDs. There is also a money changer here.
Plaza BCB, linked to Prime City Hotel. It is just beside the central bus station (Kompleks Perhentian Bas dan Teksi), easy access to bus and taxi services.
Pekan Rabu Complex, opening soon.
The Store, AEON BiG, Econsave and YC Superstore. "The Store", is situated besides Anika Hotel at Jln Dato Rauf. AEON BiG is located on Jln Mersing and also has a Mr. DIY outlet. Econsave is on Jln Mersing. YC Superstore is a local family mart, located at Jln Dato Hj Hassan.
The business centre of downtown Kluang town stretches from Jalan Mohd Lazim to Jalan Dato Hj Hassan. It is the commercial and finance area of Kluang. MayBank, BSN, UOB Bank, OCBC Bank, Bank Islam, CIMB Bank, Public Bank, RHB Bank, and Bank Muamalat also can be found in this area along with several insurance agencies.
Eyewear. There are also good quality eyewear shops like Ban International Optics centre (in Kluang Parade and Jln Dato Kaptain Ahmad). The history of that optical shop has been for over 20 years. Visual and Classic Optical are also well-established local brands.
Local Fashion. Mansor Toko Batik is known for Malay traditional and Muslim clothing such as batiks, songkoks, kain pelikat and mantras. 5 minutes' walk from Kluang's bus station and 10 min from the railway station. There are textile and fashion shops like NY Fashion, Nan Yuan 2000 and Cartino Sonea (in Kluang Mall).
Kedai Emas Sri Mutiara, 30 Jln Dato Kaptain Ahmad, gold and jewellery.
Monday Flea Market (Pasar Karat Tani), Tapak Pasar Tani (near to Pasar Petang). Mobile 019 705 1210. From 7.00am. A must visit by anyone who has interest om used items for the house. If you are a treasure hunter, you may end up getting something dirt cheap. There is a great variety of things you can choose from. There are replacement parts for your home gadget. This is also a great way to practise "recycling". Come vist us on Monday morning 7am. A great way to pass your time.

address: Jalan Rambutan, Taman Suria, 86000

It is the largest shopping mall in Kluang which was opened in December 2008. Anchors include Pacific Hypermarket, POPULAR Bookstore, MBO Cinemas and Ampang SuperBowl. Kluang Mall also has international fashion brands H&M, UNIQLO, Cotton On, Brands Outlet plus the usual array of dining options including Starbucks, Secret Recipe, Old Town Coffee, Sakae Sushi, Sushi King, Pizza Hut, KFC, Big Apple Donuts and more. There's a Guardian and Watson's and sport stores. Check out the local brands of Cartino Sonea for fashion, Visual or Classic Optical for the best prices on optical wear and Zenxin Organic for fresh produce. Kluang Food Street is also popular.

address: No.1, Jalan 6, Taman Sri Kluang

Supermarket.

address: No. 38-45, Jalan Intan 2/1, Taman Intan

Supermarket.
Pasar Malam
For light, casual shopping, there are roadside stalls, bazaars and night markets around Kluang. A weekly attraction is the colourful, bustling night market or Pasar Malam, found in most neighborhoods on certain days of the week, which stock a bewildering variety of goods, local food and fruits at low prices. Some bazaars sell only agricultural produce and are called Pasar Tani (Farmer's Market). It is fun to visit Kluang Pasar Malam, all kinds of local food and agriculture produce are available here. Pasar Malams operate in different areas and time;
Taman Muhibah on Sunday
Taman Lian Seng on Sunday
Kampung Melayu on Monday 4PM onwards
Kampung Melayu on Monday 7AM onwards (Pasar Tani)
Taman Kluang Barat on Tuesday
Kampung Paya on Wednesday
Taman Seri Impian on Thursday
Taman Sri Kluang on Friday
Sri Lalang on Friday
Taman Desa on Saturday
Photo
Kedai Gambar Express Hawaii

phone: +60 7 774 4149

address: 6,Jl Intan 2/2,Taman Intan

This shop provides digital photo service and studio photos with the newest Konica Minolta digital photo processing system.
Art Gallery
Engsin Frames & Art Gallery

phone: +60 7 776 9899

address: 44 l Dato Keptan Ahmad

ES Home Decor & Art Gallery

phone: +60 17 726 6330 (H/P)

address: 19 Jl Dato Rauf
Eat
Kluang Railway Station Coffee Shop. Kluang Railway Station. Not only famous for serving roasted coffee, but also their hot toasted bread with home-made kaya and/or butter and half boiled eggs as well. They also serve other dishes like nasi lemak. Opens daily from 6:30AM-12:30 noon and from 2:30PM-6PM. Closed on Thursdays and lunch is not served here. Started in the 1930s.
Yean Kee Beef Noodles, 4 Jln Murni 3 and Kluang Food Street, Kluang Mall. The owner doesn't compromise on the soup and hand made rice noodles. The beef is tender and the soup is tasty, clear and without MSG. The beef noodles are served in two styles, dry or soup. What makes it so special is the added peanuts, lime and the chili sauce; they just complement well with all the ingredients. Started as a stall in 1930.
Milky Cake House, A famous local cake house.There are varieties of cakes such as Oreo Cheese Cake, Black Forest Cake and Yam Cake. The cake house in located in the middle of Kluang Town area. Opposite the Anika Hotel. Address: 2 ,Jalan Md. Lazim Saim.
Restoran Ikan Asam Pedas, 83-85 Jalan Lim Swee Sim (07-772-7624). Home-town favourite specialising in Asam fish head and well regarded for its fresh fish and good value. Open for lunch (12:00pm) and dinner (5:30pm). Gets crowded.
Star Coffee House & Restaurant. 11 Jalan Sultanah (07-772-3288). Started in 1979 and one of the more consistent Chinese restaurants in Kluang. Open weekdays for dinner from 6:00pm and weekends for lunch (11:30am) and dinner (5:30pm). Reservations recommended on the weekends. The frogs legs dish is notable.
Barney's, the best Western restaurant in Kluang with a good variety of delicious desserts. Chef Barney is a second-generation restauranteur with a passion for flavours and travels widely for produce and inspiration. Try the Wagyu Prime Rib (when available). A surprise gem, typically frequented by the few expatriates in town and locals for a taste of overseas. Open everyday at 11:30am-10:00pm. 5 Lorong Yayasan (07-774-4992).
One Two Eight Seafood Restaurant, one of the more established Chinese seafood restaurants. Located in Yap Tau Sah. Open 11:30am to midnight. Closed alternative Thursdays. Order the fish soup and other fresh seafood. 38 Jalan Cantik (07-772-3530).

Ah Fu Satay

address: (near Chong Hwa High School)

Satay (chicken, lamb, and pork), fried chicken wings, and a variety of fried rice. Fried oyster with eggs, ikan bakar (grilled fish), Ju Cheong fun, lamb and chicken chops.

Teo Heng Bak Kut Teh

address: Taman Kluang Baru

Serves Bak Kut Teh in the morning till noon. Extremely popular in Kluang, usually crowded during morning on weekends.

Cafe De Kokok

address: 54, Jln Duku Haji Manan

Serves coffee, pastas, pizza and pastries and wifi is available.

Cafe Kit Siong

address: Taman Aman, row 2

Busy restaurant, one 'must try' is their Char Siew Pao.
Hup Chup Kopitiam, (合作社). Famous for won ton noodles (云吞面), curry noodles and chilli oil, fried noodles is also recommended.
Thursday Rest n Cafe, Western Thai food cafe in kluang with a good ambiance and food.
Old Taste, Kluang Parade. You can hang out all day. Remember to bring your laptop, free wifi for customers.
PKH Kedai Kopi, Dried beef stomach with noodles.
Kluang Baru, Famous Botak curry noodles, bak kut teh (正宗巴生肉骨茶), Kluang Baru Food Court (新居銮美食中心) are quite well-known also in Kluang.
Honeyland, Jl Lambak. Serves Nyonya Kuih, local snacks and cakes. Many choices of puffs, deep fried fritters and traditional Chinese Ang Ku Kuih. The café is packed with patrons during high-tea hour.
Yong Tau Fu, at the corner of Jln Haji Manan. Serves the best Yong Tau Fu in Kluang. It is famous for its fish balls, bean curd, eggplant, bitter gourd, bean curd sheet and chili with fish paste as filling for all their ingredients.
Rong Seri Restaurant, No.2, Jln Cempedak. (off Jln Haji Manan, Lian Seng Garden). First established in 2003, Northern Thai food. Specialities include Chiang Mai seafood tom yam, fried fish in Rong Seri's Sauce and Thai stir-fried chicken. Open daily from 6PM-12:30AM.
Kluang Rest House, Serve a variety of Western and Chinese style cooking. The place is quite nice & located on a hill side comprising government offices.
Heidi Restaurant, Serves Western cuisine in Kluang. Located along the road heading to Gunung Lambak or Kota Tinggi.
Long Wei Kopitiam, (near to Chong Hwa). The yong tau fu and hand made pork balls are a must try.
Kluang Lim, (previously Hoover Restaurant), Kluang Baru. Chicken rice and afternoon, they have many kinds of kuih such as pisang goreng, popiah and onde-onde which is popular in Malaysia. Lunch menu includes as Hainanese chicken rice as the owner is a Hainanese.
Tin Jin Wah Kedai Kopi, (downstairs Persatuan Daerah Lim) They are famous for their home made curry puff, hakka cai kuih, fatty hainan fried noodle, radish stew pork meat & hainan kopi & teh.

Wan Li Xiang Restaurant (万里香状元粉)

address: 7, 9 Jl Aman 2, Taman Aman

Well known for its quality handmade noodles.

Behind Old Coronation CinemaFamous Botak Curry Noodles; Duck Noodle; Pork innards soup with yam rice

Restoran Sin Hon Kee

address: Kluang Baru

Yummy Beef Ball & Pork Ball Noodles

Kopi Kluang Cap Televisyen

address: Jalan Besar

Kopi Cap Televisyen

Taman IntanTaman Intan is another food haven in Kluang which has many seafood restaurants, coffeshops serve delicious snacks or dimsum (点心), and drinks too. Well-known Wan Ti noodles (皇帝面), Long Yuan Coffeeshop (龙园茶餐室), Seremban Siew Bao (芙蓉烧包) are located here as well!
Sleep

Downtown The downtown area has banks and financial institutions and also a wide variety of dining and entertainment options within walking distance of most of the hotels. Note that downtown areas have car park rates which start from 8:00am in the morning. Ask the hotel reception on obtaining car park coupons or if there is a dedicated car park area.
Pusat Perniagaan Tasik (Lake Business Centre) The area is approximately 1km from downtown, before the railway crossing and is located next to the Taman Tasik MPK Kluang, which features a nice jogging track. There is a One Stop Superstore which sells cheap goods and groceries, a few restaurants and a reflexology centre in the area.

Kluang Country Club Approximately 2km from downtown and near the Kluang Country Club.
Other Areas
Eco Resorts / Outside Kluang Town

Go next
Endau Rompin National Park
Gunung Berlumut