Knoxville
Knoxville
, in
Knox County
, is the third-largest city in
Tennessee
. It is the home of the University of Tennessee's primary campus (UTK) and site of the 1982 World's Fair.
Understand
Knoxville sits nestled on the Tennessee River about an hour from the
Great Smoky Mountains National Park
. On any evening of the week, throngs of residents and visitors can be seen at the sidewalk cafes, theaters, restaurants and night clubs along Gay Street and Market Square. The University of Tennessee, with its 27,000 students, is within walking distance of the downtown, separated only by the World's Fair Park.
You can still see remnants of the 1982 World's Fair in the Sunsphere, a rising structure topped with a gold sphere which dots Knoxville's skyline. Most of the other structures from the Fair were removed to create a large city park, which attracts families, students, and artists on weekends and sunny days. The World's Fair brought a lot of attention and development to the city, including high-rise office structures, and the four-star Hilton, Crowne Plaza and Marriott hotels.
The city is home to a thriving college athletics scene, with the University of Tennessee Volunteers football team. The basketball teams play in the more-than 21,000 seat Thompson–Boling Arena, and the football team plays in Neyland Stadium, one of the largest on-campus stadiums in the world at 103,000 seating capacity. During the fall you will find plenty of orange in the foliage, but you will see Big Orange (another nickname for the UTK athletic programs) year-round with the people of Knoxville.
The city is also the home or birthplace of a number of cultural figures, such as authors Cormac McCarthy, James Agee, and Alex Haley, and filmmaker Quentin Tarantino, who mentions the city in all of his films (remember the watch in
Pulp Fiction
?) The Everly Brothers attended high school here and began performing on radio in Knoxville. Dolly Parton began her career in Knoxville. Senator Howard Baker, actor David Keith, film director Clarence Brown and opera singer Mary Costa are all from the Knoxville area. Actor and daredevil Johnny Knoxville is from the city.
Get in
By plane
The following cities are served non-stop from Knoxville by air:
Atlanta
(ATL),
Charlotte
(CLT),
Chicago
(ORD),
Cincinnati
(CVG),
Cleveland
(CLE),
Dallas
(DFW),
Denver
(DEN),
Detroit
(DTW),
Houston
(IAH),
Memphis
(MEM),
Minneapolis
(MSP),
New York
(LGA),
Newark
(EWR),
Orlando
(MCO),
Philadelphia
(PHL),
Washington
(DCA),
Washington
(IAD).
McGhee Tyson Airport
is a few miles south of downtown in nearby
Blount County
.
By car
Southbound Interstate 75 and westbound Interstate 40 converge in the middle of Knoxville via Interstate 275 and run concurrently through western Knoxville. I-75 and I-40 split at the western edge of Knox County.
By bus
By boat
The Tennessee River runs through Knoxville and is accessible by personal watercraft. Many boaters routinely navigate the Tennessee River for both pleasure and travel. Some arrive at Neyland Stadium by boat, avoiding Knoxville's worst traffic and parking problems. The Holston and the French Broad Rivers join just upstream of Knoxville to form the Tennessee, which is navigable, courtesy of the TVA dams along the Tennessee River and U.S. Army Corps of Engineering dams along the Tennessee-Tombigbee Waterway, all the way to the Gulf of Mexico.
Get around
Although parking is usually easy to come by in most of the city, it may be mildly difficult at times to find adequate parking downtown and around the University of Tennessee. Walking is convenient downtown, but in other areas, most major roads are not amenable to pedestrians or bicyclists. In the outer areas of the city, because bus service is infrequent and some places don't have sidewalks, traveling by car is the way to go.
Public transportation
Knoxville Area Transit, or KAT. KAT runs a bus service throughout the City of Knoxville and parts of Knox County. Most KAT bus stops are served on an hourly interval, so exploring Knoxville via KAT bus is somewhat difficult. However, the recent opening of an ultra-modern Downtown Station bus terminal should greatly improve public transportation within the city. All KAT buses are equipped with flip down bicycle racks and many are powered by biodiesel or other alternative fuels. KAT operates special routes for some events, a downtown trolley service, and bus services for the University of Tennessee.
Knoxville Trolley Lines. The trolley runs several free downtown and University routes during business hours and one "Late Line" route on Friday and Saturday nights during the University of Tennessee fall and spring semesters. Most daytime stops are served on ten to twenty minute intervals.
Biking and walking
Knoxville is slowly building a paved greenway system that allows cyclists and pedestrians to travel into downtown from nearby suburbs such as Sequoyah Hills and Island Home.
Bearden Village/ Third Creek Greenway: Beginning at Bearden Elementary School on Kingston Pike, the Third Creek Trail parallels Sutherland Avenue as it follows Third Creek's wooded path. When the trail ends at Neyland Drive, pedestrians and cyclists can continue on the Neyland Greenway to access Volunteer Landing, the stadium, and parts of the University of Tennessee campus. A spur of the Neyland Greenway connects to the World's Fair Park near Neyland Stadium.
The Sequoyah Greenway is a gravel walking and running path in the median of Cherokee Boulevard, the main road of one of Knoxville's wealthiest neighborhoods. However, cycling the broad boulevard roadway is a pleasant and reasonably safe ride for a casual or serious cyclist. Keep right and most automobiles will have more than enough room to pass you safely. Sequoyah Hills Park and the Tennessee River parallel much of the boulevard's southern side, and the park is a wonderful place to stop for a picnic. The northern side of the street is lined with stately homes. Much of the Sequoyah Hills neighborhood is pedestrian friendly, so be sure to explore a few of the leafy side streets. The trail is accessible at several parking areas along the boulevard, and at the Laurel Church of Christ parking lot (use the crosswalk at the intersection of Cherokee Boulevard and Kingston Pike.) A spur of the Third Creek Greenway leads to the Laurel Church parking lot. This spur is extremely steep and not in the best repair. Bicyclists may need to dismount and small children will need lots of help.
Jean Teague Greenway: Beginning at West Hills Elementary School and terminating at West End Church of Christ, the Jean Teague Greenway is an ideal trail for walkers and families with young children. As the trail passes through West Hills/John Bynon park, it divides to form a loop and winds around numerous athletic fields and playgrounds. Near its midpoint, the trail crosses Winston Road near the YMCA. Parking is available at the elementary school when school is not in session, at the park entrance on Winston Road, and at West End Church of Christ on East Walker Springs Lane. Those wishing to continue on to the Cavet Station Greenway may do so by exiting the church parking lot and traveling westbound on East Walker Springs Lane.
Cavet Station Greenway: The Cavet Station Greenway follows the heavily traveled Gallaher View Road from the intersection of East Walker Springs Road to Middlebrook Pike. Although this may someday be a useful link between greenways, it is a less than idyllic experience for a recreational biker. Nearby residents do seem to make use of it as a convenient exercise path for jogging. A sidewalk is on the opposite side of Gallaher View, and there is a crosswalk at the intersection of Walker Springs Road. A Wal-Mart and Sam's Club are just off of the western side of Gallaher View Road.
Victor Ashe Park This large and popular park is located at 4901 Bradshaw Road in North Knoxville. The park consists of 115 acres and has many ameneties. It is popular for its playground, a paved loop for walking or biking, an open space for special events, an unpaved trail, football fields, 4 soccer fields, and a disc golf course. It is popular as a dog park. Fishing is also available. Adjacent to Badgett Field and Northwest Park. The park is named for Victor Ashe, a former mayor of Knoxville and former United States Ambassador to Poland in the George W. Bush Administration. Ample parking for 330 cars exists.
See
Candy Factory. It is undergoing conversion to condominiums, but still hosts a fully-functioning candy store. White chocolate-dipped strawberries (fresh daily) are a treat for Valentine's Day.
Fort Sanders neighborhood. A multitude of Victorian-era houses.

Market SquareA small, historic downtown square, home to dining, retail, a twice weekly farmer's market, and special events. Market Square takes its name from the Market House that once stood at its center. Farmers from surrounding areas would bring their wagons into Knoxville's Market House to sell their wares. Today the square is full of interesting little shops and restaurants. Entering the southern end of the square from Union Avenue, one may pass the bell from the old Market House as well as a statue commemorating Tennessee's role in the fight for women's suffrage. Dotted with benches and tables, Market Square is a lovely place to spend a few hours browsing the shops, dining with friends, or watching children play in the small fountain. A lucky square patron may happen upon anything from a pair of cellists playing Beatles songs to an ice cream give away. Unless an event is taking place in the downtown area, parking at the Market Street garage (on Walnut) is free on weeknights after six pm and all day on weekends. Event parking is usually five dollars.

Old City. A lot of interesting architecture and a chief nightlife spot. Lots of bars and pubs for every taste.
Gay Street. The main drag in downtown Knoxville, home to a number of shops, a movie theater, and restaurants. Mast General Store, featuring clothing, sports equipment and southern Americana is very popular.

Tennessee TheatreOn Gay Street downtown. The state theater of Tennessee and is an interesting example of Moorish architecture.

Volunteer Landing. Knoxville's riverwalk along the Tennessee River, complete with large, splashing fountains that were purposefully designed for you to play in! The Three Rivers Rambler operates from this location, taking visitors to the headwaters of the Tennessee River on this traditional, coal-fired train.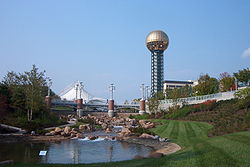 World's Fair Park. Site of the 1982 World's Fair Park and adjacent to the Knoxville Convention Center. Large, kid-friendly fountains. A big hit in the summer months.

SunsphereA modernistic monument built for the 1982 World's Fair

Museum of East Tennessee History

address: 601 S. Gay St

The East Tennessee Historical Society off Market Square has a new and fascinating museum about the history of the area, from Native Americans through Davy Crockett, the Revolutionary War, industrialization (the city was once called the Underwear Capital of the World), the Civil War, and modern history, including the role of the area in producing the first atomic bomb.
Do
Outdoors
The Smoky Mountains. Knoxville is 30 minutes from the Great Smoky Mountains National Park, one of the largest protected areas in the United States. With its ancient beauty and diversity of plant and animal life, the Smokies are a hiker's paradise with over 800 miles (1300 km) of trails. The park and surrounding park areas offer a host of activities, including camping, fishing, auto touring, horseback riding, sightseeing, and more. If you enjoy bicycling, visit Cades Cove Loop Road, an 11-mile (18-km) one-way road surrounded by stunning landscapes and closeup viewing of wildlife and 19th century homesites.
House Mountain State Natural Area. The House Mountain State Natural Area consists of 525 acres (2.12 km²) managed by the Tennessee Department of Environment and Conservation and Knox County Parks & Recreation. The Trust for Public Land purchased the plot in 1985 and sold it to the state of Tennessee in 1987. An interpretive kiosk, picnic facilities, and approximately 5 miles (8 km) of trails were constructed in the early 1990s. The park gets quite busy during the nicer months of the year.
Fishing The Tennessee River's bass producing waters feature an abundance of fishing opportunities. From the lower end of Pickwick, legendary for world-class smallmouth fishing, the river pours through a powerful tailwater before winding many miles until backing into the Kentucky Lake basin. Kentucky Lake, covering 164,000 acres (109,000 in Tennessee), is legendary for its largemouth bass fishing. Whether you enjoy pure river fishing, open-reservoir structure fishing or casting to cover in creeks or backwaters, there's a Tennessee fishing experience waiting for you.
Motorcycling Living in the Knoxville area puts you near America's number one motorcycle road: The Tail of the Dragon. If 318 curves over 11 miles sounds a little too exciting, enjoy the area's many other roadways. Loop through Smoky Mountain National Park or follow the backbone of the Appalachian Mountains on the Blue Ridge Parway.

phone: +1 865 577-4717

address: 2915 Island Home Ave

A 275-acre large park and wildlife preserve, Ijams has hiking trails, educational activities, and events about stewardship, local flora and fauna, and more.

address: 3500 Knoxville Zoo Dr

A nice but smallish zoo with 800 animals and a lot of success breeding red pandas. There's also a reptile center and kids play area.
Sports
address: 3540 Line Drive, Kodak

Watch the AA level Tennessee Smokies play their Southern League rivals at the recently built Smokies Park. They are an affiliate of Major League Baseball's Chicago Cubs and the park even serves Old Style beer, a Chicago staple.

phone: +1 865 525-PUCK

address: 500 Howard Baker Ave

Watch this Southern Professional Hockey League and three time champion battle their rivals for the Commissioner's and President's Cups at the James White Civic Coliseum.

address: 9435 College St, Strawberry Plains

Come see the amusingly named Possums of Knoxville play in the second Division of the USA Rugby South Territory.
Theatre and music
Festivals & events
Dogwood Arts Festival
Rossini Festival
Honda Hoot
Kumba Festival
Boomsday
Knoxville Lindy Exchange
Christmas in the City
Blooms Days Garden Festival and Marketplace, University of Tennessee Gardens on Neyland Drive
Learn
The
University of Tennessee
, the flagship public university, was established in 1794 on a 560 acre land-grant campus near downtown. Now part of the University of Tennessee system, it operates with more than 1500 faculty, 9800 staff, 27800 students and $1.1 billion dollars in endowments.
By contrast
Knoxville College
, a historically black liberal arts college founded in 1875 by the United Presbyterian Church of North America, is a
ghost town
of a campus. After a long period of decline which began in the 1970s, the college lost accreditation in 1997 and was no longer functional by 2015. The library and administration are still operational; the rest of the campus is boarded up and the buildings rank among the 15 most-at-risk historic sites in the city.
University of Tennessee Trial Gardens

phone: +1 865-525-4555

Over 1,000 woody plants are under long term observation and 2,000 varieties of annual herbaceous plants comprise the primary collections of this 12-acre urban public garden. The University of Tennessee (UT) Gardens have been open to the public at no charge every day year-round since 1982 and now serve an estimated 50,000 visitors annually.

address: 1600 Phillip Fulmer Way, Suite 200

The Tennessee Vols and Lady Vols (the "Lady" nickname is used in several women's sports, most notably basketball) are an integral part of the Knoxville lifestyle. Neyland Stadium packs in over 100,000 Tennessee football fans as one of the country's largest and most popular college stadiums. (~$45 and up) You'll know why when you hear the roar of the fans and feel the energy that fills the stadium at every game! After the football team, the most storied team on campus is the Lady Vols basketball team, perennial national championship contenders and one of the most successful teams in all of American women's sports. (~$10-70) Watch the University of Tennessee's men's basketball team, one of the most successful in the country during recent years in the second largest on-campus arena in the nation.
Buy
Major shopping complexes
address: 7600 Kingston Pike

West Town is the more upscale of Knoxville's two malls and is anchored by Belk, Dillard's, Sears, Belk, and JCPenney. West Town contains a food court and most traditional "mall" stores. The Centre at Deane Hill (cross Morrell Road, east of the mall) contains a Borders, PetSmart, Kohl's, Bed Bath and Beyond, Food City, and many smaller stores and restaurants.

address: 3001 Knoxville Center Dr

Most locals still refer to Knoxville Center by its former name, East Towne Mall, if not from habit, then for geographical clarity. Knoxville Center contains a food court, movie theater, numerous small to midsize stores, and is anchored by Sears, JCPenney, Belk, and Dillard's. Surrounding shopping centers include Sam's Club, Walmart, Carmike Cinema 10, Lowe's, Home Depot, Kohl's and Target.

address: Parkside Dr

A "Lifestyle Center" containing many different restaurants, clothing stores, a very large movie theater (Regal Cinemas Pinnacle Theater 18.) Large retailers include Walmart, Super Target, Old Navy, Borders, and Belk.
Downtown shopping
Market SquareThe shops lining Market Square include several locally owned clothing and home accessories boutiques. In addition, the square is often home to vendors during events such as the Dogwood Arts Festival.
phone: +1 865 405-3135

Harking back to the square's original function, the Market Square District Association hosts a farmer's market each Wednesday (11AM-2PM) and Saturday (9AM-1PM.)

Reruns

phone: +1 865 525-9525

address: 2 Market Square

phone: +1 865 522-8270

address: 22 Market Square

phone: +1 865 329-8868

address: 24 Market Square

Village Market Place

phone: +1 865 541-5050

address: 32 Market Square

phone: +1 865 673-6711

address: 29 Market Square
Gay StreetOnce the center of life in Knoxville, Gay Street is slowly becoming a destination for shopping and socializing. Mast General Store and Yee-Haw industries make up the limited but hopefully growing retail. At the north end of Gay Street, the Emporium Center for the Arts contains studios of local artists and gallery space. The visitors' center (located on the corner of Gay and Summit Hill), the East Tennessee History Center, and Blount Mansion also have gift shops with souvenirs and local products.
The Old City
Books
address: 230 Papermill Place Way

A warehouse-sized extravaganza of cheap, used books, CDs, DVDs, videos, audiobooks, CD-ROMs, and video games. As well as shopping, you can sell your used items for cash or store credit.

address: 2537 Chapman Highway

A large selection of used books and LPs, predominantly from estate sales. Excellent quality, with neighborly felines to pet while reading.
Eat
Knoxville has plenty of restaurants, although the diversity and quality of them can be disappointing if you're not willing to look beyond the major chain locations. Persevere, however, and you will find some diamonds in the rough. Vegetarians and vegans are generally not well catered to, there are exceptions and the vigilant vegetarian or vegan will not starve.
Budget
Knoxville has most typical fast-food chains in one or more places around town.
Petro'sPetro's was founded in Knoxville during the energy-themed 1982 World's Fair. The petro consists of corn chips, chili, cheese, green onions, tomatoes, and sour cream, and it comes in beef, chicken, and vegetarian varieties. It goes well with Petro's Hint-of-Orange Iced Tea.

phone: +1 865-692-1003

address: 7409 Middlebook Pike

For melt-in-your-mouth barbeque, go to this small cement block setup, open daily.

Elidio's Pizza

phone: +1 865-687-1002

address: 6714 Central Ave Pike

Great New York-style pizza and other Italian offerings.

Jacob's Restaurant and Grill

phone: +1 865 584-6671

address: 5307 N Middlebrook Pike

Fantastic burgers and deli sandwiches. Run by Jacob, who immigrated from Israel in the late 1960s and opened up this restaurant.
Mid-range
Aubrey'sFresh seafood, steaks, and salads. Voted "Best of Knoxville" in the Knoxville-News Sentinel.

address: 6515 Kingston Pike, 400 Neyland Drive, and 10020 Kingston Pike

Voted as serving the best ribs in all of America, Calhoun's offers what they call a "taste of Tennessee". Calhoun's also operates a microbrewery at each of their locations.

The Chop HouseA Knoxville favorite for great steaks and chops in a warm, friendly environment.

Connors Steak & SeafoodFresh seafood and dry-aged steaks.

address: 424 S Gay St

Big, stylish microbrewery on two floors with huge copper brewers' tanks in the center. Upscale pub fare steaks, seafood, sandwiches and fry ups, as well as the tasty house-brand beers.

El CharroPurportedly has the best salsa in town.

phone: +1 865 584-8739

address: 5107 Kingston Pike

Litton's Restaurant

address: 2803 Essary Drive NE

Some of the best burgers that can be found in Tennessee, and their patties have a remarkably robust and well balanced flavor that is almost sweet. All baked goods are prepared fresh daily in-store by a team of bakers who arrive to prepare the day's goodies before first light. The Tuesday lunch special is fried chicken, broccoli casserole, and banana pudding. Their red velvet cake is simply the best, and their "dinner plate" chocolate chip and sugar cookies (literally the size of small dinner plates) are not to be missed.

Nama'sOne of the better sushi joints in Knoxville.

Puleo's GrilleThe only place in Knoxville (and probably the state) where you can begin a meal with fried green tomatoes with cheese grits and two kinds of sausage gravy and top off the evening with a glass of white wine and a cannoli.

phone: +1 865-288-5500

address: 11308 Parkside Drive, Knoxville, TN 37934-1971

A restaurant and brewery in western Knoxville.

phone: +1 865-525-2069

address: 1100 N. Central St

Three Rivers Market is a natural foods grocery store with a great hot food bar serving daily seasonal menus. There is also a full service deli case, a fresh sushi counter, and a grab-and-go case with drinks, sandwiches, wraps, and...cupcakes from Magpie's Bakery.

phone: +1 865-246-2270

address: 13 Market Square

Trio's menu takes a multiple choice approach to salads with an order card of ingredients and a pen to tick of the items you'd like tossed with your greens. Tasty sandwiches and a handful of entrees round out the lunch and dinner options. Breakfast is decidedly eggy with a choice of several types of omelets and Eggs Benedict. Coffee and pastries are available all day.

phone: +1 865-637-4067

address: 12 Market Square

The Tomato Head is a favorite restaurant of many locals. They have fabulous (and veggie friendly) salads,sandwiches, pizza, and calzones.

phone: +1 865-671-6612

address: 11383 Parkside Dr

The menu at Cru represents both new and exotic flavors as well as beautifully executed yet familiar selections for one and all to enjoy. The chef-inspired small plates menu encourages those with curious palates to explore and experience a wine variety of foods and an extensive selections of global wines by the glass, the flight, or the bottle. Also downtown at 141 S. Gay Street (+1 865-544-1491).
Splurge
Drink
Market Square and the Old City house a number of bars, probably too many to list here. Below are a few popular locations in those areas and elsewhere.
phone: +1 865-521-0092

address: 200 East Jackson Ave

48 drafts. Concerts on weekends. Pizzas. Billiard Room.

phone: +1 865-633-8111

address: 424 S. Gay St

Great bar and grill on Historic Gay Street in downtown Knoxville. Good selection of beers brewed on site. Standard pub fare. Pool tables, television, and live music. Front and back patios. Popular with locals.

phone: +1 865-673-3500

address: 721 S 17th St

Really interesting place from a perspective of European traveler, a bar full of old 25-cent arcade games (more than ten machines like Donkey Kong, Street Fighter II, Mario Bros) plus cheap beer (different kinds) especially on Tuesdays. Smoking only outside, on a funny small patio. Great, relaxed atmosphere.

phone: +1 865-524-2224

address: 28 Market Square

Good beer selection, live music.

phone: +1 865-951-2066

address: 428 S. Gay St

Trendy and upscale.

phone: +1 865-525-5839

address: 280 N. Fourth Ave

Big, three-storey house turned into a party place. Quite far from everywhere but worth visiting.

Union Jacks

phone: +1 865-584-5161

address: 124 Northshore Dr

Low key pub scene, far from centre.
Sleep
Budget
Mid-range
Splurge
phone: +1 865-522-2600

address: 401 W Summit Hill Dr SW

phone: +1-865-523-2300

address: 501 West Church Avenue

Downtown Knoxville location. Complimentary WiFi access throughout the hotel.
Stay safe
In general, Knoxville is a safe town. Practice the same precautions you would in any other mid-sized American town -- for example, lock your car and don't leave valuables sitting in plain view in your car. Low-income areas downtown should be traversed carefully.
Avoid the area around University and Fifth. You don't want to go there after dark. This is not at the University of Tennessee. Be careful where you park in the "Old City" area. It's right next to the mission district.

Cope

The University of Tennessee Chancellor's Commission for LGBT People is an advisory group which is active in civic and public discourse regarding LGBT issues in the Community, particularly at the University of Tennessee itself, but is accessible by all members of the LGBT community in one capacity or another .

Go next