Knysna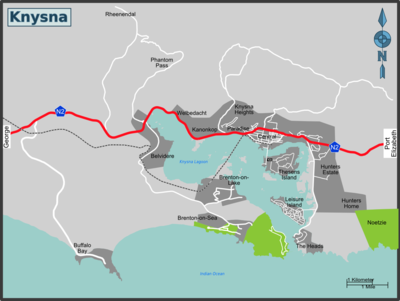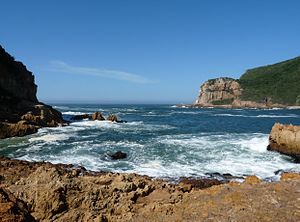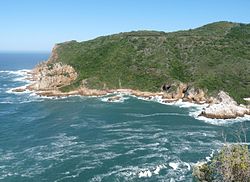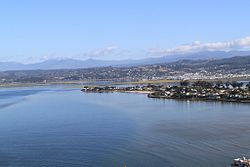 Knysna
, pearl of the scenic
Garden Route
, sits between
George
and
Plettenberg Bay
. Perennially green thanks to a Mediterranean Maritime climate with rain falling throughout the year, Knysna is mantled by indigenous forests extending into the
Tsitsikamma National Park
area. Nestled between the impressive Outeniqua Mountains and the Indian ocean, the culinary capital of oysters and other delectable seafood is a compulsory stopover on every traveller's itinerary. At the heart of Knysna is a lagoon protected from the sea by the monolithic sandstone "Heads"
Webcam
– best explored on board a catamaran or from along hiking paths in the Featherbed Nature Reserve. A hotspot for art and craft, as well as adventure activities such as tree canopy gliding, kloofing and abseiling, Knysna offers something to everybody.
The peculiarity of the origin of the place-name Knysna is commonly explained with a light-hearted joke of two German tourists travelling to Knysna, and upon reaching the lookout point on the eastern Knysna Head, the one says to the other: 'Nice, na?'. On a more serious note,
Knysna
is believed to be derived from a Khoi word for
place of wood
, or
fern leaves
, but most probable
straight down
or
hard to reach
- referring to the steep Knysna Heads.
Annual events

Knysna hosts a variety of events annually, which draw local and international visitors alike. Such events include the Pick n Pay Knysna Oyster Festival (late June/early July); the Pink Loerie Mardi Gras (end of April/beginning of May); Gastronomica lifestyle festival, which promotes healthy eating and organic principles(September); and the Rastafarian Earth Festival held at the end of July, celebrating Rastafarian religion, culture and lifestyle.

Knysna Oyster Festival

The Pick n Pay Knysna Oyster Festival, held annually in late June/early July, is the town's biggest event. The duration of the festival is ten days, first held in 1983. Oysters, the festival's namesake, are a large component, and approximately 200 000 are consumed over the 10-day period. Many sporting activities take place too, such as rugby, golf, bowls, squash, cycling and marathons. The Knysna Forest Marathon and Half Marathon, as well as the Rotary Cycle Tour draw many a sporting enthusiast to the town.

Get in
By car
Located in the middle of the
Garden Route
Knysna is easily accessible from
Cape Town
(about 500 km) and
Port Elizabeth
(about 270 km).
By bus
By plane
The nearest airport is in
George
, while for international flights you have to go through
Cape Town
.
By train
There is no passenger train service to Kynsna.
Classic Rail
is working to restore service on the steam train line to George. The old railway station is adjacent to the waterfront shopping and restaurant complex, a couple of blocks from the centre of town.
There is a railway heritage museum in
George
, alongside the train station.
Get around

Walking around is the best option or rent a bicycle for longer distances. Except the minibuses there is no public transport so you have to take a taxi if you want. Traffic can become extremely busy during the tourist high season and long queues in and out of Knysna are common.

See
The lagoon: about 18 km² and home to at least 200 species of fish is connected with the Indian Ocean through a turbulent channel between "The Heads", two sandstone cliffs. Tour around on one of several boats or just take a coffee at "the Heads". Take a boat across to the Featherbed Nature Reserve on the Heads (this is an organised tour because it's a private reserve, but it's a good way to spend some time on the lagoon then take a walk in the reserve).
The Knysna Forest: about 80,000 ha are now under conservation. The 'King Edward VII' tree (at Diepwalle forest station) is an estimated 600 years old, 39 m at height, and has a circumference of 6 m. The most famous animals are the Knysna elephants. Research involving DNA testing of dung is being done to see how many of them may still rumble in the jungle, please report any "dung" sightings! Remember to always take care. There are several hiking trails but you need a car to access the forest. Don't forget the conservation motto "Take only photographs, leave only footprints!".
Pledge Nature Reserve: offers 3½ km of pathways through scrub forest and hillside fynbos with fine views over the lagoon and is 500 m from the town centre. A nice place for a walk in the afternoon.
Millwood Gold Fields: Site of one of the first gold rushes in South Africa, the Millwood Museum and Materoli Tea Room (be sure to try a piece of Jayne's World Famous Chocolate Cake) offers a unique and fascinating view of the greed, entrepreneurship, energy, and ultimate failure of the first gold discovered in South Africa during the late 1800s. Tours through the old gold diggings are available.

Jubilee Creek

phone: +27 44 302 5600

Picnic site in forest.
Do
phone: +27 44 382-2802

Hire a fully equipped self-drive Knysna houseboat and spend your holiday gently floating along on Knysna's tidal lagoon. No experience or skipper's licence is required.
Walk along the lagoon, take a coffee at one of the many shops at the waterfront and head straight on for The Heads.
There are many golf courses around, often with stunning settings or views. Pezula Championship Course and Golf Club Simola Golf and Country Estate, and Knysna Golf Club.

phone: +27 44 532-7732

Offers the unique opportunity to get up close and personal with African elephants. The elephants here are orphans from various SAN Parks and further afield, and they are so used to humans now that it is possible to feed them and actually touch them! Buy a bucket of fruit at the entrance and the elephants will pick up bits of fruit that you offer to them in your hands, or far more likely, they will take it straight from your bucket when you're not looking! You can also (if you book well in advance) take an evening or morning walk with the elephants. If you have the time, this is an experience not to be missed.

phone: +27 44 382-1546

4 Safaris in the Knysna and Plettenberg bay area. Safari 1: Monkey, Bird & Elephant Safari. Safari 2: Game, Whale & Dolphin Safari. Safari 3: Site-seeing Day Tour (ideal for rainy or drizzly weather days). Or a customised tour (minimum 6 people).

GoVertical Mountaineering Adventures

phone: +27 82 731-4696

address: Waterfront Knysna

Abseiling, rock climbing, kloofing, trekking, hiking and slackpacking adventures in the Garden Route Knysna.
Mountain bike in one of the beautiful forests.
Events
Buy
Knysna has two shopping malls, and there are shops along the Main St. and at the Waterfront.
address: St Georges Street

Low-cost clothing, shoes & cell phones.
Supermarkets
address: Main Road

address: Rawson Street

address: Crn Grey & Nelson Streets

Savers Lane

address: 1 Nelson Street

Low cost supermarket.

address: Woodmill Lane

address: Main street

Part of Wal-mart USA.
Banks & ATMs
First National Bank

address: 41 Main Street

Has a Mastercard/Visa Card ATM.
Eat
Many restaurants line the main street and the waterfront area.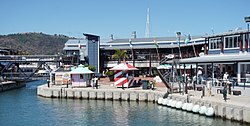 There are so many good restaurants in and around Knysna that you will be spoilt for choice!
address: Waterfront

Great ambiance and delicious food.

address: Thesens Island

Delicious dishes with various kinds of home-made bread.

Zachary's Restaurant'The highly acclaimed Zachary's is a sophisticated world-class gourmet restaurant under the helm of Executive Chef Geoffrey Murray, who delights in serving up local ingredients inspired by global influences.

Persello's Pizzeria

phone: +27 44 382-2665

address: Memorial Square

Italian pizzeria with wood-fired ovens, home-made pasta, lasagne, cannelloni, crostoli, crisini and other gourmet treats all under a charming atmosphere.

phone: +27 44 382 3131

Probably the best value for money seafood in Knysna.

phone: +27 44 382 7196

address: TH 29, Thesen Island, Knysna

phone: +27 44 382 7331

address: Shop 19, Knysna Quays
Drink
phone: +27 44 382-4685

address: Arend St

Offers tours around the brewery and tastings of their beer.
Sleep
Many Backpackers hostels, guesthouses, hotels and B&Bs compete for the visitor in off-season, but in high season prices rise and places fill early so book ahead. There are also several nice options out of town (like Brenton-on-Sea and Buffalo Bay) for those with their own transport.
Budget
Mid-range
Under Milkwood Chalets

phone: +27 44 384-0745

Has 16 log chalets nestled amongst the Milkwood trees on the shore of the Knysna Lagoon. Rate from R825 per person per night.

phone: +27 44 384-1478

address: 11 Duthie Street, Rexford

Four-star bed and breakfast or self-catering accommodation.

phone: +27 44 384-0937

address: 9 Bolton Street, Hunters Home

Accommodation on a bed and breakfast basis, 14 en suite rooms are individually styled and decorated with a distinct African touch.

phone: +27 44 382-5604

address: 56 Milkwood Drive, Upper Old Place

Timber-frame double-storey home.

phone: +27 84 606-0813

address: Rheenendal

Cottages sleep 4 to 8, with valley views.

phone: +27 44 382-7768

address: 52 Main Road, Westhill

A most unusual guesthouse: although it is right in the centre of town, once you enter the premises you have the feeling of being in the middle of the African bush. 3-star.

phone: +27 44 382-2802

address: TH 34 Long street, Thesen Islands

Offers 4- to 5-berth luxury self-drive houseboats on the lagoon.

phone: +27 44 382-5440

address: 19 Fichat Street, Central

3-star guesthouse offering B & B accommodation on the Garden Route. The old Victorian mansion was built in the 1890s as a residence for Knysna's mayor, and overlooks the beautiful lagoon.

phone: +27 44 382-6483

address: Sun Valley Drive, Costa Sarda

On the edge of the lagoon, the multi-award-winning Knysna River Club is a private enclave of self-catering log chalets. Surrounded by shady trees and well-tended gardens, the resort offers security, privacy and comfort.

phone: +27 44 382-6460

4-star guest house.

phone: +27 44 382-4656

address: 22a Dikkop St

Lazy Leopard

phone: +27 82 965-5765

address: Rheenendal

Especially the 2 smaller cottages (just 2 persons) are very nice, both have bathrooms with lots of glass, as if you are outside.

phone: +27 44 382-5835

address: 16 Gray Street, Central

"Indigenous" concept.

phone: +27 44 382-4904

address: Thesen Island

Sandybanks is a self-catering holiday home built in the style of a contemporary boathouse on the edge of the Knysna Lagoon. Views and bird watching. Swimming pool. Kayaks and bicycles available.

Saffron Self-catering Holiday House

phone: +27 44 382-0089

address: Thesen Islands

The house has 4 bedrooms, 3 bathrooms, lounge, dining room, kitchen, scullery, single garage and patio directly over the lagoon.

phone: +27 44 382-6011

address: 48 Main St

A very nice B&B in the centre of the town.

phone: +27 44 382-5357

address: 28 Ridge Drive, Paradise

In a quiet suburb above town and offers self-catering and B&B in two traditional timber cottages surrounded by a lush indigenous garden and with a view onto the Lagoon.

Under Milkwood Chalets

phone: +27 44 384-0745

Has 16 log chalets, nestled amongst the Milkwood trees on the shore of the Knysna Lagoon.
Splurge
Elephant Hide of Knysna Accommodation

phone: +27 44 382-0427

address: Cherry Lane, Welbedacht

On top of the Welbedacht Cliff Tops 3 km from Knysna Town, the Lodge overlooks the Knysna Lagoon and the Outeniqua mountains. The theme of the Lodge is one based on natural beauty with stone and wood architecture combining to give that comfortable earth feel. The surroundings attracting numerous bird species. All the suites have double showers with views and are private. The lodge is a family run business that prides itself on personal service.

phone: +27 44 382-5850

address: Cnr Gray & Trotter Streets, Central

The three-star Graywood Hotel has 49 en-suite timber log rooms with a licensed bar, secure parking and a full breakfast available.

phone: +27 44 382-3317

address: 114 Keerom, Paradise

4-star guest house. Two Executive Rooms on the ground floor and three Superior Rooms on the first floor offer views of the lagoon and Heads.

phone: +27 44 384-1524

address: 47 Howard Street, Hunters Home

4-star guest house. Each custom built individual unit, with feature en suite bathroom, is equipped with luxury bedding and stylish décor.

The Lofts Boutique Hotel at the Boatshed

phone: +27 44 302-5710

address: Thesen Islands

phone: +27 44 382-5100

address: 1 Azalia Street, Paradise

A four-star rated guesthouse.

phone: +27 44 302-3333

address: Lagoon View Drive, Sparrebosch

address: Welbedacht Lane, Kanonkop

Rated best B&B/Guesthouse with Self-Catering in South Africa three times in a row. 5-star accommodation.

phone: +27 44 382-4989

address: 13 Watsonia Drive, Paradise

Spacious suites with combined sleeping and seating area averaging 32 square meters of living space.

Milkwood Bay Guest House

phone: +27 44 384-0092

A Mediterranean villa situated on the shores of the Knysna Lagoon. Rate from R799 pppns.
Connect
The town has rolled out municipal wifi provided by
Uninet
. Access is restricted to 45 minutes per user per day.
Go next
Hike in the Kynsna forest or take a tour in the Outeniqua Choo-Tjoe steam-train to Knysna. Other options are a day tour to
Oudtshoorn
or the Noetzie castle a few km north east of town.
Noetzie Castle - East of Knysna some Britons lost their castles on the beach. Worth some hours or more if you like the beach.
Brenton-on-Sea - Less crowded than Knysna this sea-side village offers endless beaches
Continue up the Garden Route to Plettenberg Bay or down towards Wilderness