Košice
Košice
(pronounced Ko-shi-tse) is the second largest city in
Slovakia
, with a population of over 250,000. It was selected the
European Capital of Culture 2013
.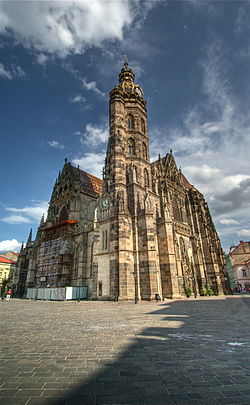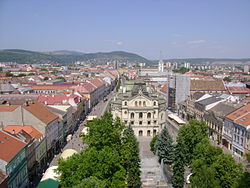 Understand
Košice has had a colourful history with its ever changing medieval and modern rulers of Hungarians, these days hardly imaginable Turks for a while, Czechs and nowadays Slovaks. Serving its part as a center of what may best be described as a frontier of Slovak hill country, Hungarian lowlands and Ukrainian/Russian/Soviet East, it has become a predominantly Slovak city in what was then Czechoslovakia after its emergence in chaos of reconciliations after the First World War. Until these days the city is inhabited by descendants of east Slovak dwellers with many relations in the gorgeous rural surroundings of the city who were flocking to the town during its industrial boom after the WW2 and a large Hungarian speaking minority along with its fast growing underprivileged and often resented population of Gypsies (or Romas as is their official naming).
A smart, patient and crying with the wolves traveller may find the city suffer from what may best be described as a small man syndrome, a feeling shared by many locals probably best attributed to being the second city in Slovakia and a place not often visited from elsewhere. This may however help in engaging with many residents who may seem to be one of those lovely people who actually enjoy foreigners visiting their place.
The city prides on being known as "The City of Peace" thanks to non-violent ethnic and national tolerance throughout its history.
Despite its relative remoteness, you may likely find Košice a hidden, unknown and approachable gem when seeking for a lesson in less known European history, lively arts scene or for a less spiritual entertainment thanks to its vibrant party scene.
History
The area around Košice has been inhabited since the 8th century, but it was in the 13th century that it developed into a town. It grew relatively rich during the Middle Ages due to its strategic position as a trading center. Having briefly served as the capital of the liberated Czechoslovakia after World War II, it is now finding its new role as one of the easternmost centers of the new
European Union
. It provides a look into the not-that-long-gone way of living in an eastern European country while also serving as a lovely example of a booming and rapidly changing place with rich ancient history best served by its stunning historic city center, with an impressive cathedral quickening the hear-beat of every picture hunting traveller.
Climate
Košice has a continental climate with hot and relatively humid summers and cold winters. Summer (July–August) temperatures may rise up to 30+ degrees Celsius with stretches of rainy weeks and 15 degrees at max, while winter (December–February) weather is mainly freezing with stretches of weeks with significant snowfall and temperatures of max -10 Celsius, interspersed with weeks of positive temperatures during the day. City receives relatively a lot of sunshine hours with winter months being the most gloomy. Winds and humidity may make the winter time rather uncomfortable, but temperatures usually stay above those in areas of hilly country north of the city and most of Slovakia. Snow and skiing forecast may vary unpredictably within a week ahead. Best season to visit may be the blooming and lovely spring of late April/May, though damp weather may occur unforseeably for a week or two regardless of a season.
Tourism information office
Official city of Košice Visitor Centre is located in the inner part of the city at Hlavná 59, Tel +421 55 625 8888, email: info@visitkosice.eu. It provides complex information on the city as a destination, tourism packages in the city and where to explore the region, and also official city guides in various languages. With helpful staff it will help you to make your stay in Košice easier, fun and memorable.
The privately run another municipality information center (MiC KOŠICE) , is on Hlavna 2 or Pri pracharni 4. Tel +421 911484337, e-mail: info@MiCKOSICE.sk. Provides information on the city and official guides for Košice and the nearby region. English, German, Hungarian, French, Russian, Spanish, Polish and Italian speakers available.
Get in
By plane
Košice International AirportYou can fly to Košice from London, Bratislava, Vienna or Prague with the discount carrier Wizz Air and from Istanbul on Turkish Airlines.
By train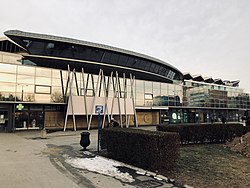 Košice Railway Station
7 hr 20 min, EC Košičan
There are more daytime connections with a change at Puchov.
3 night trains a day
*IC 1021, 8¼ hr
*EN 443, 10 hr
*EC 283 / RR 873 / R 801, 13 hr
R trains every 2 hr, taking 5 hr 40 min and costing ~€20
4 InterCity trains a day taking a little less than 5 hr, for also around €20
Night train Poľana (7 hr) costing €25-50 depending on the berth type (triple/double/single)
Be aware that
Horehronec
train follows a different and slower path, via rural central Slovakia, and the journey lasts for 7½ hr. But it also offers fairly spectacular nature scenes especially at section between
Brezno
and
Margecany
.
Journeys on many Slovakian trains may be interrupted after 100 km off the starting point while you remain within your ticket validity dates.
There's no suitable train connection from Poland.
By bus
Košice Bus Station
Given the efficiency and value of the train system, you shouldn't need to use the bus system very much.
Eurolines
coaches come to here from numerous European cities, and bus is the most efficient way of reaching the nearby town of
Levoca
. There are also several companies linking Košice with Prague, usually with several stops on the route, including Brno.
Direct buses from Budapest or Vienna to Kosice by
Eurobusways
Flixbus has direct buses to Kosice from
Kraków
(4½ hr, also serving
Bardejov
and
Presov
).
Get around
Košice has a small and compact city center, and is mostly navigable by foot. If you are staying in the suburbs, the tram system is cheap and efficient. With good bus and tram connections around the whole city , transport is very easy to handle. You can get practically anywhere by public transport and all the main sights of the city are within walking distance.

See
Most of Košice's attractions are along the main pedestrianized street, known as
Hlavná ulica
(Main Street),
Námestie Maratónu Mieru
(Peace Marathon Square, the north end of Hlavna), and
Námestie Osloboditeľov
(Square of the liberators, at the southern end of Hlavna) at various parts.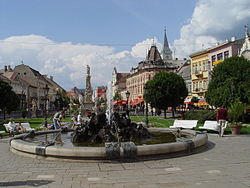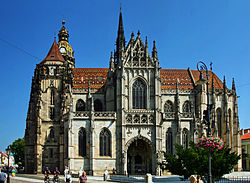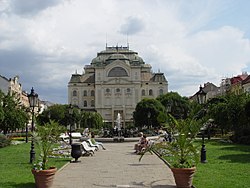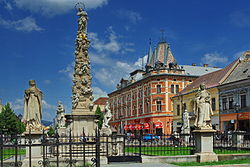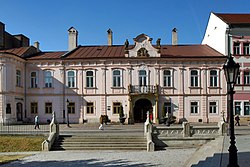 Main StreetWhere most of the sights worth seeing are. With its unique atmosphere it creates the heart of the town. In the past, it used to be a medieval square and the whole town started to grow from this point. Now this place is flat, however in the past it used to be hilly and even a stream flew there. The "Čermeľský potok" (The Tshermel stream) used to create an island on the main street, where the Saint Elizabeth cathedral is located now. Due to developing infrastructure, this stream has been landed up in 1899 and was renewed only symbolically during the renovation of the main street in the 1990s. Today, all the traffic from the main street is excluded, therefore it is a very pleasant pedestrian site. Except the Saint Elizabeth Cathedral, you will find also the Saint Michael Chapel, Urban tower, The State Theater, the so-called singing fountain (a unique fountain in Europe), as well as many stylish original bourgeois houses.

St Elizabeth's CathedralThis remarkable medieval monument was built in the High Gothic style. The present cathedral stands on a site formerly occupied by a parish church, which was destroyed by fire around year 1370. The patrons of the church included St. Elizabeth. The construction of St. Elizabeth's Cathedral began approximately in 1378. The entrance to the cathedral is for free anytime during the day. There is also a possibility to visit the northern tower of the cathedral, which gives you a stunning view of the surrounding historical centre. The height of this tower is 59.7m and contains 160 stairs in the staircase. It is open all year long between 10am and 17pm. You can buy the tickets at the entrance to the cathedral. The entrance fee is rather cheap.

St. Michael's ChapelThe chapel probably dates from the first half of the 14th century and had always been a part of the parish church. It was built as a cemetery chapel in the centre of a cemetery inside the city walls stretching from the Cathedral to the south on the island of the Čermeľský potok (Čermeľ brook) in the place of the present park in the Hlavná ulica (Main street). The outer decoration is Gothic, the turret is fitted in the roof structure. The patron of the dead, the Archangel Michael, vanquishing the Satan as dragon is shown on the altar. There are Archangels Rafael and Gabriel on his sides. In the interior, there is a nice stone tabernacle, the ornamental sculpture "Ecce Homo" and remains of wall paintings from Middle Ages. The oldest coat-of-arms of Košice is situated above the door leading to the vestry.

Saint Urban's towerOriginally a Gothic prismatic campanile with a pyramidal roof dating back to the turn of the 14th and 15th centuries. The bell, which was installed in the tower (its weight equals to 7 tones), was dedicated to St. Urban, the patron of wine-prowers, which was cast in a mould by the bell founder Frantisek Illenfeld of Olomouc in 1557. 36 tombstones dating from the 14th century (one of these tombstones is Roman dating from the 4th century) to the 17th century were put into the outer walls of the Tower. In 1966 the Tower was damaged by fire, which destroyed the roofing and the bells. In the years 1967-1971 the Tower was subjected to restoration and renovation.

The State TheatreThe theatre was built in a new-baroque style during the years 1879-1899, according to the projects of A. Lang and A. Steinhardt, where a former theatre building, built in 1788 - 1790, was situated. Originally before that a town-hall building was standing here. The interior of theatre is richly decorated with plaster ornaments, the stage is lyre-shaped. The ceiling of the theatre's building is decorated with paintings by the Viennese painter P. Gatseb with scenes from Shakespeare's tragedies Othello, Romeo and Juliet, King Lear and Midsummer Night's dream. On the main forcade of the building a memorial plaque can be found, dedicated to the first director of the theatre after WW2 - the national artist Janko Borodac.

ImmaculataThe Immaculata Statue is the most beautiful Baroque-style sculptured monument in the city. It commemorates the plague from the years 1710‑1711 and is dated from 1720‑1723. It is a 14 m high column on the stone base with sculptures of Josef, Sebastian and Ladislav. On the top is the sculpture of Virgin Mary. On the pillars of the fence there are sculptures of St. Gabriel, St. Elizabeth of Hungary, St. Margita, St. Michael the archangel and St. Barbora.

Palaces of Košice. Košice is the city which has the highest number of palaces in Slovakia and all of them are worth seeing. Perhaps the most important palace is the Former Town Hall , which is the oldest of Košice's council offices. The Andrassy's Palace today serves as the biggest cafeteria and patisserie - AIDA. The other palaces include The Bishop's Palace , Hadik - Barkoczy Palace , Pongrácz - Forgács' Palace - the seat of the Regional State Library and Csáky - Dessewffy Palace - at present the building is the seat of the Constitutional Court of Slovak Republic and at the same time it is the so-called 'palace of the books' as you can find the biggest bookstore of Košice, selling books not only in Slovak, but also in Hungarian, English, German and other languages. We shall not to forget about the Captain's Palace where you can find the Slovak Technical museum and last but not least, Jacab's Palace which was erected in 1899 in the pseudo-Gothic style constructed from discarded stones from the Kosice St. Elizabeth's Cathedral and most of the inhabitants of Košice would choose this building as one of the most beautiful ones.
Beggar's House - For an interesting story you may look up the Beggar's House which is one of the historical houses on Hlavna (on the right between the Theater and Immaculata when walking up north). On forefront, at top of the house you will see a statue of a guy with a hat thanking/begging for alms. The story says the career beggar who had no other income had over years used generosity of rich Košice dwellers to build the house at what was then a very 'high-end' medieval (a.k.a. Hlavna Street) part of Košice. This kind of largess may seem to be perceived a bit strange by today's beggars rarely appreciating Košice inhabitants, but it still makes up for a good narrative. And a historic house.
Museums and galleries
East Slovak Museum (Vychodoslovenske muzeum) was established in 1872 and it is one of the oldest and most significant museums in Slovakia. From the architectonic point of view, the buildings of the museum itself are very interesting historical sights. In this museum, the following permanent expositions can be found: the nature of Carpathia, Hundreds of years of art, "Rodosto" - the memorial house of Franz II. Rakoczy, Artistic metal founding in Eastern Slovakia and Centuries of Košice - Mikluš's Prison. Except these expositions, there are always some temporary events and expositions.
Muzeum Vojtecha Lofflera, 20 Alzbetina ulica. Likely interesting for the more art inclined traveler after seeing the usual government sponsored touristy stuff.
Do
Walking the historic center. The best thing to do on a short trip or shortly after arriving is to walk the compact and lovely historic center.
Singing fountain. You may find it difficult not to find the 'singing fountain' in front of the theater enjoyable on warm afternoons or evenings. Calm music tunes and accompanying water salvos provide lovely vibes for couples enjoying their ice cream and serve as a hilarious entertainment for the kids.
Day hikes - All hiking trails in the gorgeous surroundings of the city may be looked up at . Apart from magnificent, relatively close and serious mountains of High Tatras (~1½ hr on the train to Stary Smokovec with a stopover in Poprad, take one of the faster 'rychlik' trains) you may take up on an easily public transport approachable Bankov (hop on a bus #14 from Havlickova or Mier to Horny Bankov stop) providing nice views of the city, Jahodna (a bit more distant, small but enjoyable also on summer days ski resort, the #14 bus also), or Vyhliadkova Veza (the sightseeing tower, overseeing the city, #29 bus from center, direction at the ZOO or 'Kavecany'). For a more challenging hike you may take the train to 'Ruzin' stop (you need to take the slower 'osobny vlak' train as the faster ones stop in farther Margecany station only), walk up the hill splurging in wonderful views of the surrounding hill country and the Ruzin dam along the yellow trail. The trip up and to the other side (take the green trail straight to the west then) of the Sivec hill (Kosicke Hamre bus stop, with last bus connection to Kosice at 17:24) takes about 2.5 hours and makes for great views and photographs. For a shorter and easier hike to Sivec take the bus from bus station to Kosicke Hamre and walk up the hill on the green trail. Mid-range accommodation and food is provided at Kosicke Hamre at 'Sivec Pension' and 'Bradan'. Ruzin dam also makes up for nice fishing (permit required) and boat rides. For another lovely day-trip, you may take the 30 minute 'osobny vlak' train south to Slanec township and enjoy lovely sights from the top of the hill with interesting ruins of a small medieval castle. For those interested in less distant history, take the bus from bus station to Dargov, a place of a major WW2 battle with real tanks and a war museum. A trip entertaining for kids with lovely surroundings asking for a hike and with the Herlany geyser in medium hiking distance.
Anicka - pronounced as . A popular park area and easily approachable weekend hangout for many locals. Tennis, playgrounds for children, summer swimming pool, pubs and lovely evening walks by the river. Take bus 71/72/29 north from the city center to 'Mier' stop and ask for directions.
Buy
You won't need to walk or travel long distances anywhere when craving for shopping in Košice while you stay in the center or most inner city areas. There are quite a few shopping malls in Košice, you may also find many historical center buildings hide interesting and chick boutiques while roaming around.
Optima Shopping Center is the biggest shopping center in Košice. It is 52 300 m2 and contains more than 100 boutiques and a multi-cinema Cinemax with 7 stages. Opening hours are: 10AM-9PM. Address: Moldavská cesta 32. You can get there easily by public transport - tram no.5 or bus no.10

OC Galéria KošiceIs the newest and the second biggest shopping center in Košice. It is located nearer to the city center than Optima. You may find it 10 minutes walk west (up the steeper hill) of Steel Arena ice hockey stadium, Toryska street.

AuparkLocated in city center at Námestie osloboditeľov.
Eat
Vegetarian
AJVEGA, 10 Orlia (turn left when walking Mlynska west towards Hlavna from the train station). A vegetarian and celiac diet friendly meals and pizzas providing restaurant. Dietary meals (with some including meat) offered at the 'tower', upstairs. A quiet place with a terrace enjoyable on warmer days. A weekday inexpensive midday lunch menu offered.
Budget
Panda Asian bistro, Fejova 13, open from 09:00 to 19:00, closed on Sunday, good and cheap food, average price for lunch is €3,50. Ask for opekane rezance, Asian style noodles for €1,50.
Mid-range
Med MalinaRestaurant, Hlavná 81, open from 10am till 10pm every day, and till 11 pm on Fridays. Offers good food, English speaking staff, wi-fi internet access and cosy traditional environment.

GolemDominikanske namestie 15, next to the church. Nice pub and restaurant with an indulging vibe usually on all week days. Try out their own microbrewery produced beers and home made pickled ermine cheese.

phone: +421 55 622 56 89

address: Zvonárska 133/4, 040 01 Košice, Slovakia

Lovely pizza restaurant, with great food, was about EUR 5.20 for a large pizza. All stone baked on hand thrown dough, brilliant toppings, lively atmosphere, and great staff.
Drink
Košice is faithful to its east Slovakian tradition in providing great and cheap parties for both locals and travellers while competing with many of Europe's much bigger and more often visited cities in what travel books usually call 'liveliness'. Season may vary with summer months unexpectedly providing a bit of a lull in usual Friday/Saturday silliness but city's center compact and concentrated bar scene provides many hidden gems disregard of day of week or month of the year. If you walk evening Hlavna after seeing everything 'important', do not hesitate to ask around. Only beware of getting caught up in acts of suspicious types, visiting parks at nights etc., as this place, though being relatively safe, really may be called the frontier of civilized part of Europe at times. Common safety measures for women and lone travelers are advisable.
address: Hlavná 21

Literally hundreds of teas to chose from, and friendly staff to help you chose. Very special ambiance, with several sitting corners, games. A great place to hide from the rain or have a peaceful moment.

address: Hlavná 54

Beer House offers probably the widest range of beers in the city. The cheapest beer is for €1,06/0.5l, most expensive €1.96/0.5l .They offer pizza at the same time and you can order it until 2am. There is live music every Thursday and Saturday.
Cambridge, a 5 minute walk or 1 stop tram ride north of Namestie Maratonu Mieru (the north end of Hlavna). A popular Slovakian style and cheap 'biergarten' enjoyable on warm evenings within easy reach of the center.

CollosseumDominikanske namestie, at the end of the square with a bit of hidden entry though fairly huge with several pubs inside the space. An alternative music and lifestyle craving types may find this one to be a great place for an entertaining hangout or a not occasional international live music act. Also a great place for partying even until the weekday wee hours. Discretion or attending in wider groups may be advised.

address: 39 Kovacska

Despite the confusing name (no jazz music happening in there) providing for the dance music and party craving types and being the place to go for the regular night entertainment seeking locals on most week days. A bit overpriced but definitely lively.

GolemDominikanske namestie next to Hlavna, on the corner next to the church. Nice pub and restaurant with an evening vibe and their own tasty microbrewery produced beer.

Smallvill Tea HouseMasiarska 50. A fine tea house with a wide range of quality loose tea to offer, often referred to as the best one in the town. You can choose from numerous quality teas from all over the world, as well as there are also some specialities you can get only here. In addition, you can try a water-pipe (shisha, hookah.) here with numerous options for quality tobacco blends. With its friendly atmosphere, fine lounge music and with a blend of exotic scents, it is the best place to relax with a book in your hand, or just to hang out with friends.

Tarantino, hidden at a passage to Hlavna at south end of Masiarska. A tiny (their 'vault' offers some extra and private space if you do not fear an inside of a colour painted submarine like feel) local artsy and intellectual types' favorite hangout owned by a charismatic and friendly young couple. A nice place with good music, good beers and fancy cocktails, and a proper place for a date after a dinner.
Sleep
Budget
phone: +421 55-642 35 11

Is a budget hostel for tourists, not far away from the historical centre. A price for a double room starts from €30. Contact: Kysucká 16, e-mail: recepcia@meihostel.sk.
K2 Hostel, Štúrová 32. Popular accommodation among young budget travellers. 5 min walk from the Main Street. Accommodation is offered in 1 two bedded-, 8 three bedded-, and 7 four bedded rooms, altogether 54 beds. Rooms are furnished with basic furniture. Bathrooms are shared. The cheapest single room is available for €16.50
Mid-range
Hotel Gloria Palace, Bottova 1. Accommodation at modern-day standards in single and twin-bed rooms and suites. All rooms have their own bathroom and WC, color television with 10 channels supplied by cable and telephone. Guests have internet access on the reception.

phone: +421 55 625 65 10

address: Dominikánske námestie 599/3, 040 01 Košice, Slovakia

Modern renovation of an old building. All rooms to high standard with en-suite shower rooms. Breakfast included, in great restaurant. Very friendly staff, 250m from cathedral and centre. Wifi throughout.
Splurge
phone: +421 55-3251 100

address: Hlavna 1

Modern amenities and warm hospitality. The newly renovated downtown hotel.

phone: +421 55 795 11 00

address: Tyršovo nábrežie 1

4
* designer hotel steps from the historical pedestrian zone.
phone: +421 55 7279333

address: Hlavná 16

Four star hotel offering luxurious premises. Glass museum in the hotel and gourmet specialties.

phone: +421 55 729 00 77, +421 55 729 00 78

address: Orlia 3

A 4-star hotel with a Roman spa.

phone: +421 55 63 245 22

address: Dolný Bankov 2, – 4

Elegant 4
* hotel with a charming atmosphere and style in quiet environment. The oldest existing hotel in Slovakia.
Stay safe
Avoid parks and the train station surroundings at night. Do not be overly generous to the homeless and pay caution to impoverished gypsies including children and do not engage with them. Call 112 for medical, police or fire department help.

Go next
By train
There are a few trains per day (2½ hr) to Chop (Čop/Чоп) in
Ukraine
if you're looking for just another country.
By hitchhiking
It's easy to hitchhike out of town.