Ko Chang
Ko Chang
(เกาะช้าง) is an island in
Trat Province
,
Eastern Thailand
.
Understand
Ko Chang is Thailand's third largest island after Phuket and Samui, and the biggest in eastern Thailand. With about 5,000 permanent residents the island is not heavily populated, but tourism (and development) has increased dramatically over the past few years.
The island is approximately 30 km long by 14 km, wide, 213 km 2 . It is part of Mu Ko Chang National Park, which covers an area of 650 km 2 , of which 70 percent is offshore.
It is a mountainous island, with Khao Salak Phet being the highest peak at 744 metres. The island is known for several waterfalls, coral reefs, and rain forests.
Ko Chang is one of Thailand's most beautiful islands with long white sandy beaches, most half-deserted. The island is also home to a wide range of wildlife, including a good selection of birds, snakes, deer, and a number of non-native elephants. The island and its vicinity are great places for snorkelling, diving, and jungle hiking. The "discovery" of the island as a tourist destination since 2000 has brought on development, and while it is still far quieter than places like Phuket or Ko Samui, it's probably better to go now than later. Regarding services and activities specifically aimed at tourists prices have reached such a level that the islanders are pricing themselves out of the market when compared to the other islands.
History
Prior to World War II, Ko Chang was little known by anyone. During this period, the few families there made a living growing coconuts and fruit on the mainland. In January 1941, during the Japanese occupation, the Thai Navy fought the French in a battle in the waters to the southeast of Ko Chang.
Nothing else happened to Ko Chang until the first backpacker foreigners started arriving on the back of local fishing boats in the mid-1970s. In 1982, Ko Chang along with surrounding area became part of the protected Mu Ko Chang National Marine Park. Only very recently, in less than ten years, Ko Chang has turned itself into a major tourist destination, both for foreigners and local Thais.
This sudden tourism boom however, has been fraught with controversy concerning land encroachment. The government is trying to transform it from a backpackers' paradise to a high-end destination. Construction is happening everywhere, with basic huts torn down to make way for fancy resorts.
Geography
Ko Chang is the largest island in the Ko Chang Archipelago. The name means 'Elephant Island', named for the elephant shape of its headland, although elephants are not indigenous to the island.
Ko Chang has an area of approximately 429 square kilometres. The topography contains high mountains and complex stone cliffs. The highest peak is Khao Salak Phet which is 744 m high, rich in fertile evergreen forest which is the main water source. There are many waterfalls, beaches and splendid reefs in the west of the island.
Most accommodation is on the west side of the island, where the sandy beaches are. On the east side there are no sandy beaches and it is far less touristy. There are some nice waterfalls though.
Seventy percent of the island is rain forest, steep hills, cliffs, waterfalls, and wildlife, fine beaches, coral reefs and an abundance of marine life. The island also has tall mountains and rock cliffs.
Climate
Ko Chang has the same seasons as
Bangkok
. The best season to go is the (comparatively) cool season between Nov-Feb. Mar-May are roasting hot and between Jun-Oct it rains, and a lot at that: 4,000 mm in an average year. Many guesthouses close during this season, so accommodation is limited. If you don't mind the rain, traveling during the rainy season can be enjoyable nevertheless, and prices for accommodation are low.
Get in
By plane
Bangkok Airways
flies three times a day from
Bangkok's Suvarnabhumi Airport (BKK)
to
Trat
. The flights depart at 08:30, 12:40 and 16:50, and takes 1 hour. Fares are between 1,800-3,300 baht.
Direct door-to-door minibus transfers from Trat airport to Ko Chang resorts cost 500 baht/person one way and 900 baht/person return including the ferry crossing.
From Bangkok's Suvarnabhumi Airport, take the free express shuttle bus from outside the arrivals concourse to the airport's own bus terminal, and from there the next available bus to either Trat or Chanthaburi, then proceed as described below.
By road
From Bangkok
From Bangkok's Eastern Terminal (Ekamai) 1st class Government Bus 999 offers the most economical way to Laem Ngop, where the Ko Chang ferry piers are. It costs 268 baht, takes just over 5 hr and goes via Suvarnabhumi Airport and Chanthaburi, where you can alternatively get on/off (subject to seat availability). Departures from Ekamai are at 07:45 and 09:45, from Laem Ngop at 14:00 and 16:00.
From Bangkok Suvarnabhumi Airport the Lonely Beach Express shared minibuses go non-stop to Ko Chang's Lonely Beach (at least 600 baht one way or 800 baht return). Departures from BKK are at 09:30, 11:00, and 14:00 and from Lonely Beach at 07:00, 09:00, 17:00, and 19:00. If booked through guesthouses, the minibuses collect passengers along the route on Ko Chang's west coast.
From Bangkok's Khao San area the large, nice air-con VIP Bus by Travelsmart conveniently goes to the Ko Chang's Centrepoint ferry terminal. It takes 4-5 hours and is bookable for 300 baht from most travel agents near Khao San. Departure is scheduled for 08:00, but times can vary.
Direct minibuses leave from Bangkok's Khao San Road and Victory Monument (in front of Payathai Hospital) for Laem Ngop.
Many taxis from Bangkok city may decline the trip as the risk of empty return is too high for them. However, airport taxis will usually deliver you to the island in 5–5.5 hours, especially if they can make it back to the mainland before the last ferry sails.
A non-direct alternative are buses via Trat. Many 1st class (5-6 hr, around 250 baht) and 2nd class services from both the Eastern Bus Terminal (Ekamai) and Northern Bus Terminal (Mo Chit, though not as frequently) in Bangkok go to Trat (timetables). From there, frequent songthaews bring you to Laem Ngop (approximately 30 min, 50 baht per person).
If you are in Southern Bangkok, take the 511 air-con bus from Bangkok's Southern (Sai Tai Mai) to the Eastern (Ekamai) bus terminal.
From the west (Pattaya)
From Pattaya 2nd class bus connections are also via Trat (to Trat: 4 hr, 200 baht).
From the south
It may also be possible (depending on the time of year, time of day - inquire locally) at the border to catch a direct minibus or songthaew to Laem Ngop. They, however, are less comfortable and spacious than public buses, and you may be charged significantly more by travel agencies selling tickets to these, as often with any tourist-oriented transportation in Thailand.
By boat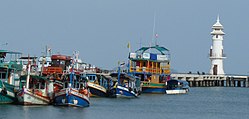 Most ferries operate from
Laem Ngop
, which has three piers: the
Laem Ngop
(
Tha Khrom Luang
or
Tha Laern Ngop
) pier is approximately 700 m west of Laem Ngop; the
Centrepoint
(
Tha Centre Point
) pier is about 3.5 km northwest of Laem Ngop. These piers serve both vehicle and passenger ferries; the Ko Chang vehicle ferry pier is in
Thammachat Bay
(
Ao Thammachat
), around 15 km west of Laem Ngop.
All piers on Ko Chang are on the east side of the island. The major piers are the two
Dan Kao
piers,
Tha Dan Kao
and
Tha Ferry Dan Kao
, which handle most of the traffic.
To take a boat from Laem Ngop to the Dan Kao piers takes around 45 minutes. The car ferry from Laem Ngop takes around 1 hr and arrives at the Tha Ferry Dan Kao pier, 400 m southeast of the Tha Dan Kao pier. The car ferry from
Thammachat Bay
stops at the
Ko Chang Ferry Pier
(
Tha Ferry Ko Chang
) in Sapparot Bay (
Ao Sapparot
), 3 km northwest of the Dan Kao piers.
Light meals, fruit, fruits and beverages are available at all the piers and on the car ferries.
There are two operators who provide daily bus services from
Ko Kood
to Ko Chang. One is based in Ban Bao, the other on
Kai Bae Beach
. Rates are the same but departures times can vary, so make sure to book ahead.
Ferry timetables - Up to date ferry timetables for boat services between the mainland and Koh Chang.
Get around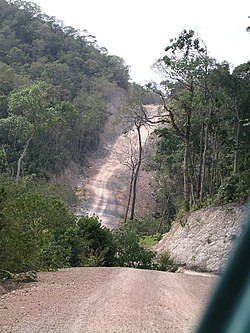 In the daytime, you can catch a
songthaew
on its route around the main road for 50-100 baht/person, depending how far you go. The rates are generally much higher than in other places, but the vehicles are almost new and in excellent condition. Starting from 17:00, many of them start to ask "taxi" price, telling you that they operate as a public transport only until that time, and may quote prices as high as say 500 baht from Lonely Beach to the Dan Kao pier. However, if you have some time and patience, you still can try and have a "shared" ride with some drivers, maybe for a higher rate if they expect little or no other passengers.
These taxis are also waiting at the Dan Kao Pier (50 baht/person to White Sand Beach, 100 baht to Lonely Beach). At the Dan Kao Ferry-Pier there may be no taxis available. If you arrive without a vehicle you may have to walk the 400 m to Dan Kao Pier.
Cars are also available for rent, most hotels can help with it. 4 x 4 recommended, since some roads might be in bad condition, especially near Lonely Beach.
If there are 2 or more people going with you, hiring a songthaew may cost the same price, or even be cheaper than paying per each person in a "shared" songthaew (there is no difference, an empty songthaew can easily be hired). Just do not forget to bargain if their price sounds quite silly when compared, say, to Bangkok taxi-meter (on Ko Chang it can be difficult if not impossible to get the same price, but at least it should not cost double or even more). Most folk however, just stay put on the beach of their choice and walk to wherever they want to go.
Hitching on Ko Chang is also an alternative if you choose not to pay the often exorbitant fees of the songthaew. Many islanders are more than willing to pick up a hitchhiker who happens to be going the same way they are. A Coke or cold bottle of green tea for the driver are always appreciated at the end of your journey.
Motorbike rental
Motorbikes are a fantastic way to explore the island. Small motorcycles can be hired for 150-250 baht per day. The main road is sealed and almost circles the island and there are plans to complete the circuit in the near future. The eastern road leading all the way to the War Memorial, at the island's southeasternmost point, is worth a trip.
Riding a motorbike is not for the inexperienced or faint of heart. Most visitors manage on level roads, during the daytime and during good weather conditions. Darkness and rain, together with poor skills, steep hills and questionable maintenance can be fatal. Think twice if you have to travel at night, and when it rains during the night, avoid the steep hills in the north and the southwest.
When renting a bike, check tires, brakes and light. Reputable shops will fix them while you wait, don't compromise on safety. Bring your own helmet if you have one.
See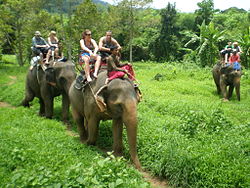 Ban Salak Phet village has a temple, Wat Salak Phet, built in the reign of King Rama V on his visit to the island. The original temple is now used as a museum commemorating the king's visits to the area. A new temple was completed nearby in 2014.
Bays include Ao Salak Phet, the largest on the island, and Ao Bai Lan (อ่าวใบลาน).
Mu Ko Chang National ParkNational Marine Park including parts of Ko Chang and 46 other islands.
War Memorial MonumentA renovation is underway at the memorial site, with a huge building being constructed (Jan 2018).
Beaches
Backpackers will opt to head a couple of kilometres south of Kai Bae Beach to Lonely Beach, which is known for cheap accommodation and almost nightly parties in high season. A quieter alternative is Klong Kloi Beach on the south coast of Ko Chang. This was deserted until 2006 but is now home to a community of beach bars, restaurants, and accommodation.
Khlong Prao-Laem Chaiyachet Beach
White Sand BeachBy far the busiest as it is the first beach visitors reach when they arrive on the island.
Waterfalls
The hilly nature of the island provides it with a number of popular waterfalls. Waterfalls on the east side of the island include Khlong Nonsi, Khlong Nueng, Khiri Phet which is about three kilometres from Salak Phet village, the five waterfalls of Khlong Koi near Bang Bao, and the Than Mayom waterfall near Than Mayom pier.
Khiri PetchMedium sized waterfall.
Klong NonsiWaterfall on the east side of the island. Reachable by foot from the Klong Plu waterfall, 6 km.
Klong NuengSaid to be the most breathtaking waterfall.
Klong PluThe most popular waterfall, and the only one on the west side of the island.
Do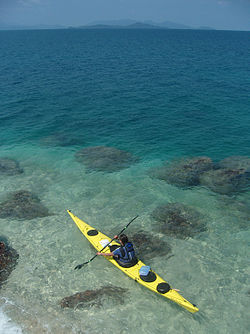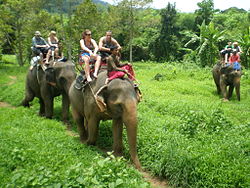 Dive AdventureFive star PADI IDC diving school offers scuba diving, PADI courses and snorkelling trips into Ko Chang National Marine Park.
phone: +66 39 557296

Snorkelling trips.
phone: +66 84 3107600

Rope and harness tree climbing. Fun activities and amazing views from the top of the trees.
Hike with a park ranger from the Than Mayom Waterfall to the Klong Plu Waterfall. The cross island trek takes 8–10 hours and costs 500 baht per person.
Trek in the jungle with Tan, +66 89 6452019, +66 89 8322531, who has been taking guided treks for over 10 years and speaks very good English.
Learn Thai cooking in one of the three Thai cooking schools around Klong Prao: Kati Culinary, Ko Chang Thai Cooking, Blue Lagoon.
Guided sea kayaking trips. KayakChang.com is run by a qualified British guide. They use imported sea kayaks and equipment. They offer single day expeditions off the west coast and multi-day expeditions in the southern islands.
Meet retired Ko Chang elephants at the north end of White Sand Beach.
Buy
phone: +66 81 9198219

Has a good selection of second-hand books in many languages.

MadoosikaLatest fashions. Chic, BOHO, gypsy, hippie, maxi dress, party and sun dresses.

phone: +66 80 0974111

address: 21/23 Moo 4 White Sand

Extensive range of snorkelling and diving equipment focusing more on quality than price, but still cheaper than Western prices.
Eat
Menus are similar to the rest of Thailand, but the high island prices are due not so much to higher transportation costs, but because of high demand. There are many restaurants on any given beach open both daytime and evening with a strong concentration of tourist venues on White Sand Beach.
The beaches of Ko Chang are all dotted with restaurants dishing up some delicious seafood as well as offering romantic evening views. Try Ko Chang's own wine which comes in a variety of fruity flavours including mangosteen and pineapple.
Sunsets can be watched in style from the terrace at the
Top Resort
on south White Sand Beach from the vantage of a cliff top. Bring an appetite and your camera, no reservations needed.
White Sand Beach
Apple

phone: +66 39 551228

address: 7/4 Moo 4

Probably the cheapest restaurant/bar along White Sand Beach. It has a good location in the middle of the beach. Don't expect anything special, just the usual Thai and Italian dishes common at tourist spots. Upstairs there is a small hut where you can chill out with a beer on pillows. Closing times are early, but if you order before closing time you can keep sitting there as long as you want. They also have 21 small wooden bungalows available for 800-4,000 baht/night.
phone: +66 39 551595

If you pass by, you might wonder why this place is busy every night. A family-owned restaurant open for more than 30 years. Thai, Chinese, Western food, and especially fresh seafood.
Bang Bao
Ido Ido Restaurant and chill out barHomemade Thai and Western food. Breakfast.
Drink
The drink you have to try is Chang beer, even if its only for the name. If you have a busy schedule ahead of you, better stick to Tiger beer as it doesn't give as much of a headache (yet it is slightly more expensive). Each village offers something different, but taken as a whole, Ko Chang's nightlife is fairly mellow compared to other islands. There are some quiet beach bars dotted around White Sand Beach with amazing sunset views.
Jungle Queen Live Music BarThe house band plays from around 20:00-24:00, and plays music from Rihanna to AC/DC. People come from all over the island for the live music hour, so be sure to stop by when they are on. They also have free pool, and the place doesn't close until 05:00, so it's a good place to take the party after the nightclub and the other bars start closing. Service is good, and the staff are friendly and efficient.
Lonely Beach's nightlife and bar scene is gaining a reputation among the backpacker community. It is the place to be for "full moon" imitations, bucket parties, and dance till you pass out disco bars. The rubbish left over from the parties are barely cleaned up, so the next day you can see exactly where the party took place from the main road. The party location generally rotates among several different bars depending on the day of the week, and is usually heavily advertised which bar is "the spot" for each night.
Cafe del Sunshine

phone: +66 85 6773993

Thai food and a great selection of Western brunch and lunch dishes. Set in a nicely designed and relaxing building.

Rock Sand ResortRight by the sea with a terrace over the sea to sit and watch the Ko Chang sunsets. Special: Taste of Thailand. Just above and behind the restaurant Rock Sand has rooms for backpackers and flashpackers.

Siam HutHosts a large dance party every Friday night in their large outdoor deck on the beach. Happy hour specials on Friday until 23:00
Sleep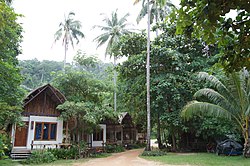 Hat Sai Khao (White Sand Beach)
Most hotels are on the west side of the island, with many resorts and guest houses all along the road that leads down the coast. Generally speaking, prices drop off the further away from the port you get. Supply far out-strips demand, so finding a place to stay should never be hard, though the best or cheapest places may fill up at weekends.
phone: +66 81 8630543

In the heart of White Sand Beach, it is the perfect place to stay for families with children.

address: 16/14 Moo 4

KC Grande ResortBungalow village with restaurant. Five night stay minimum.

Koh Chang Kacha Resort & SpaFantastic beach side swimming pool, beach-front bungalow-villas, pool-side deluxe villas, deluxe hotel rooms, and many rows of bungalow in tropical-style garden. The best place for families. Good value for money, friendly staff, delicious food.

phone: +66 89 6088668

Roomy upstairs apartment with balcony, large bedroom, lounge and bathroom. The rooms are a great value. Three cheaper rooms available at 400-800 baht. Pattamas Restaurant serves authentic Thai dishes, coffee, teas, beers and spirits. Staff are friendly and happy.

S.P. PlaceIt appears to be family-owned, but the family isn't very friendly although the cleaning staff are. Wi-Fi is not free. Rooms are clean, TV/balcony/air-con/private bath.

Top ResortGuests can head to their own beach if they get the expensive 4,000 baht rooms and villas. Flagship are the sea view villas. Friendly staff, German and Thai food (and beer). Reasonable for families and single travellers.
Klong Son Bay
Klong Prao Beach
phone: +66 39 551137-8

Upscale retreat. Some rooms have outdoor plunge pools and amazing views. Two gorgeous swimming pools, restaurant, two bars and a lovely (yet pricey) spa. The resort is 100 m up the river that spills out into the bay and Klong Prao Beach. Free kayaks are available for use. Excellent service.
phone: +66 39 552000

A tropical getaway offering a dive centre, a 50 m lap pool and 5 restaurants.
address: 77 Moo 4

Nice little resort on the beach.
phone: +66 819284094, +66 39557023

address: 38/5 Moo 4

Bungalows and holiday houses in a nice garden with a clean swimming pool in the middle. Not getting too much noise from the road, but the nearby rooftop club can be heard quite often in the nights. The owner, Bank, is very nice and helpful, and takes good care of the place, everything is clean and neat. Wi-Fi reaches probably all bungalows. Cheapest huts for 300 baht (mattress only, shared bathroom), a bit nicer ones for 400 baht, air con for 400-500 baht, bigger family ones (for four people) 1400 baht. Five to ten minutes walk to the beach through the Blue Lagun.
Centara Koh Chang Tropicana Resort

phone: +66 39 557122

address: 26/3 Moo 4

Large resort with 157 rooms in small cottages. Near the beach. Several pools, restaurants and bars. Free Wi-Fi in public areas. Kids Club, babysitting. Most rooms can accommodate 3-4 people.
Mother Earth Garden, kitchen and homestay

phone: +66 902 910662

address: 19/1 Moo 4, Baan Klong Prao

Founded 1990 by the travelers and nature lovers Nujaree and Manni Frohloff. They intend it for nature lovers, writers, musicians, artist, peace lovers, gardeners as space for healing, yoga, detoxing, workshops, etc. It's placed uphill with marvelous sea view, between jungle and sea. The entrance is just opposite the public beach access. Reservations by email, or Skype mann.frohloff. The rooms for rent are the Upper Room in the Base House, Children's House, Nujaree's Tower, Treehouse, and Kent's House.
Kai Bae Beach
phone: +66 39 552555

address: 19/21 Moo 4

Beautiful, modern luxury resort with 38 rooms, including deluxe rooms, deluxe pool access rooms, Jacuzzi suites and pool villas. Breakfast served any time of the day. Free Wi-Fi and Internet stations.

Gajapuri Resort and SpaBungalows on the beach.

Garden ResortQuiet and charming resort with luxury bungalows, swimming pool, high speed Internet and just 150 m from the beach.

Sea View Resort & SpaOver 100 rooms.

phone: +66 87 0265515

address: 100 Moo 4

60 luxury bungalows on the beach, large family bungalows on the hillside and new sea view and pool villas.

phone: +66 81 7531919

address: 19/19/1 Moo 4

New set of bungalows not far from the beach. Pool.
Hat Tha Nam (Lonely Beach)
Following a great deal of development, the name "Lonely Beach" has become something of a misnomer. Lonely Beach is the party capital of the island and each guesthouse on Lonely Beach takes it in turns to hold "party night," during which the partying and attendant thumping music goes on until about 05:00 and all the revellers on the island come to your guesthouse. If you do not want to be kept awake then Lonely Beach is definitely not the place for you. Most guesthouses giving "Lonely Beach" as an address are not located along the actual beach, but about 500 m down the road. From the village access to the sea is not possible as the coast is rocky.
phone: +66 81 8604623

address: 99/1 Moo 1

Offers beautiful sea view bungalows and hotel rooms.

Ice BeachWooden bungalows, cheapest on Lonely Beach at 200 baht for a shared bathroom & fan room, 5-10 min walk to Lonely Beach.

phone: +66 39 696607, +66 87 0280796

Great backpacker place. Listen to live music, enjoy great food and chill out. Nice little huts, that come with mosquito net, attached shower and toilet and free Wi-Fi, though signal is very weak in huts but works well in restaurant.

Kachapura

phone: +66 86 0500754

Well-appointed concrete bungalows spread around a serene tropical garden layout in Hat Tha Nam's "town" strip. It's a trek through the garden to get to the beach, which is anyway rather rocky, so better to walk 5-10 min down the road to the beach and bar at Siam Huts. Some noise from nearby bars at night in the bungalows near the road.

phone: +66 87 0265515

address: 100/1 Moo 4

Pool villas on the white sand of Lonely Beach. Part of the Siam Beach Resort, but in a class of its own. Most popular with romantic couples and young families, because these villa have only a single large bed/living room.

Little Eden

phone: +66 84 8677459

address: 4/47 Moo 1

Small bungalow resort, up the hill away from the bustling village. Comfortable bungalows individually placed, 12 with fans 2 with air-con, 1 twin double room, hot showers, mosquito net, toiletries and free Wi-Fi. Restaurant has Thai and international (slow) food. Every bungalow has a hammock and a gallery in the bath.

Lonely Beach ResortNew concrete bungalows with fan, TV and Wi-Fi. Restaurant serves Thai and Western food. A 5-10 min walk to the sandy beach.

phone: +66 81 7212547

address: Ko Chang

On a hillside with sunset views from the restaurant deck, where you can enjoy home-style Thai dishes, sandwiches or Western favourites. The wooden huts come with fan and mosquito net, attached open-air bath with shower. Free Wi-Fi.

Paradise CottagesVery nice, large and clean waterfront concrete cottages. There is a rocky waterfront, an amazing bar, and lounging areas with very friendly staff and outstanding food. Free Wi-Fi.

SeaflowerGreat price range (between 500 baht for 1-2 person bungalow with fan and private bathroom, and 1,000 baht for sea front bungalow with air-con, cable TV, private bath. All bungalows are clean, new, and the grounds are very well taken care of on a daily basis by maintenance staff. Nice lounging area on a patch of lawn right next to the water, and only a 5-10 minute walk along the water's edge to Lonely Beach. Very quiet at night considering how incredibly close to all the action. Free Wi-Fi.

phone: +66 87 0265515

Formerly a backpacker place, converted into a resort with large swimming pool. Sea view and deluxe pool view hotel rooms, all with a sea view, cable TV, refrigerator, hot water, comfortable beds and breakfast for two.

Siam HutOn the beach, offering a quiet atmosphere (unless they are hosting a beach party, in which case don't expect to sleep before 02:00), friendly staff and delicious food. Options are cheaper spartan waterfront bungalows or slightly more expensive air conditioned bungalows.

Sun FlowerNice bungalows with well-priced Western and Thai restaurant with nightly movie screenings, free Wi-Fi and reclining cushions.
Bailan Beach
Most of this beach is rocky, only the southern end—which is dominated by the resort, not really welcoming non-residents—is sandy.
Ao Bai Lan Beach Resort

phone: +66 81 7614582

phone: +66 39 558084

Each of the 22 bungalows has a computer, free Wi-Fi, hot shower, fan. Air-conditioned rooms available. The bungalows are right by the sea with sunset views.

Bai Lan Resort

address: 6/1 Ko Chang Tai

Have six bungalows, pitching a private tent is 50 baht per person per night.

Elephant Bay Resort (formerly: Gu Bay)

phone: +66 97 351 5525

Bungalows and swimming pool with view to the sea, just 5 m from the water.

Koh Chang Bailan Bay Resort

phone: +66 81 7821710

Spacious, en suite bath, well-designed bungalows built into the hillside, going all the way down to the beach. Fan and air-conditioned rooms available. Friendly staff. Reception and restaurant are open from 08:00-22:00.

phone: +66 81 4098307

Cosy white cottages, swimming pool, air-con, hot showers, free Wi-Fi. They have 15 standard rooms and 18 cottages.
Bang Bao Bay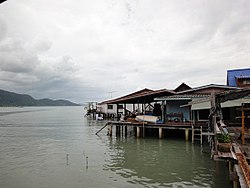 Bang Bao is on the south side of the island. It's little more than a long stretch of wooden deck that takes probably 5 minutes to walk from end to end, with dive shops, seafood restaurants, local houses and a few places that provide accommodation for visitors.
Alysia Spring Resort Bang Bao27 rooms with air conditioning, hot water, fridge, cable TV, safe and balcony. Internet. 1 km to beach, free shuttle service. English and German-speaking staff.
address: Bang Bao Village - TBR residence

Two bedroom self catering sea view apartment, 120 sq m, 180° sea view, 30 m swimming pool, kids' pool, 300 m private pier.
phone: +66 87 4406060

Ko Chang's largest backpacking resort on Ko Chang. Has private bungalows and female/mixed dorms, providing quality accommodation at a great price, Also on site is a bar/restaurant/communal area showing all sports and pool table, dart board.
B. Phoem Phun Thap

phone: +66 81 7322798

address: 24/1 Moo 1
Go next