Ko Lanta
Ko Lanta
(เกาะลันตา) is an island off the Andaman Coast of
Southern Thailand
. Like many other destinations in
Krabi Province
, it is known for its diving and long white beaches.
Understand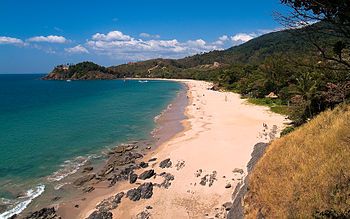 Ko Lanta consists of several islands, the two largest of which are
Ko Lanta Noi
(เกาะลันตาน้อย, "Small Lanta Island") and
Ko Lanta Yai
(เกาะลันตาใหญ่, "Big Lanta Island"). However, Ko Lanta Yai is where all the tourist action is, so this article will refer to it simply as "Ko Lanta".
Ko Lanta is popular with tourists seeking a holiday away from the parties. It's popular with a significantly older crowd than nearby
Ko Phi Phi
: more walking on the beach and watching the sunset than drinking and dancing. However, there are plenty of bars and the longer term stayers are friendly and know how to party. It is also popular with families with young children, and of course, with divers. Ko Lanta can provide a party if you know where to look.
Ko Lanta is a little less well-known than Ko Phi Phi, which has become more commercialised and corporate, but it is hardly undiscovered: the several beaches on the west coast of Ko Lanta Yai are each strung with a line of resorts and bungalows, although the farther down the island you venture, the less this is true. And even when the island is at it fullest, there will be a quiet place for you to relax - the beaches are never full. Ko Lanta is especially popular with Swedish tourists: although the "tourist language" is English as it is in most places in Thailand, and you will find menus and so on are translated into English, expect the poolside language to be Swedish much of the time. However, there are still many English and Irish bars and restaurants.
Ko Lanta was hit by the tsunami in December 2004, which killed 20 people, but virtually all businesses are now operating normally again.
Orientation
The main island is 6 km wide and over 30 km long, and approximately 70 km from
Krabi Town
. The island has 9 attractive white sandy beaches and splendid scenery. Off the coast are more than 70 small islands and plenty with forest, coral reefs and sea life. The geography of the island is typically mangroves, coral rimmed beaches and rugged tree-covered hills.
A paved road runs along the beaches from the northern part of the island almost all the way to the southern tip. The last 8 km leading to the headquarters of the Mu Ko Lanta National Park in the south are quite hilly and aren't yet paved so can become quite tricky to negotiate if it rains. The landscape is dominated by a series of mountains covered with rainforest. To the east is an old settlement.
Ban Saladan
(near Saladan pier, approximately 3 km from Klong Dao Beach) — is the tourist centre of Ko Lanta. Facilities include inexpensive and easy to find transport, diving trips, banking and shopping.
Climate
Weather in the region is tropical and there are two basic monsoons:
During the months of November - April the island experiences the dry monsoon, northeasterly prevailing winds come overland and bring dry air. Temperatures rise during March/April and it get's quite arid and dusty on the island after many months of no rain.
May - October is the wet monsoon season, where southwesterly winds bring wetter weather from the indian ocean. Around April the season changes and the increase in rain helps revitalise the island to its tropical lushness, everything regrows and the cool wet spells brings relief from the heat of the dry season.
Temperatures during the year average 25ºC to 32ºC (77ºF to 89.6ºF) and the yearly rainfall averages 2569 mm. Unlike in say Europe, the rain in this region comes down heavily and quickly over short periods. The sea stays at a warm 29°C all year round.
Culture
Krabi and Ko Lanta are a melange of Buddhists, Thai-Chinese, Muslims and even sea gypsies. The majority of the population in the rural areas is Muslim. Most of the people speak with a thick southern dialect which is difficult for even other Thais to understand.
With this kind of mixture, Krabi is always celebrating something be it part of Thai Buddhist, Thai-Chinese or Thai-Islamic tradition.
The unique lifestyle of the Chao-Le (sea-gypsy) in Ko Lanta particularly is well-worth seeing, a life-style that has been almost completely unaffected by the booming tourism on the island.
Get in
By air
The nearest airports are
Krabi
,
Trang
and
Phuket
. Krabi and Trang have direct road and boat connections to Ko Lanta, and are the best options if you're only visiting Ko Lanta. Flying into Phuket is a better option if you're intending to spend time in Phuket and nearby islands, or, since Phuket has many more international flights, if you don't want to have to organize a domestic flight to Krabi or Trang from Bangkok. As an alternative to Bangkok, there are daily flights to Krabi directly to and from Singapore, as well as Kuala Lumpur.
There is scheduled van service from Krabi Airport taking roughly 2.5 hours, 250 baht if prearranged and 400-500 baht if arranging it at the airport (2016). When going back to the airport from the island, van can be booked via any tourist office for 250-300 baht, departs every round hour in the morning.
Private vans and taxis can be chartered to Ko Lanta for about 2,000 baht per vehicle (2,500 baht if you are going to the south end of Ko Lanta).
Air Asia
and
Nok Air
have a special "Island Transfer" offering that includes a flight from Bangkok to Krabi, surface transport to the port, and a ferry to Ko Lanta. It can all be booked at their websites for additional price: Air Asia 470 baht, Nok Air 900 baht (2016).
Alternative to passenger van is an express transfer - the quickest albeit much more expensive way to get from
Krabi Airport
(2,045 baht per person) and
Phuket Airport
(3,350 Baht per person) to Ko Lanta. It is a combination of minivan and speedboat travel. If you arrive early you will not have to wait for the ferry and if you arrive late at these airports you can still arrive on Ko Lanta the same day. From Krabi airport a 45 minute air conditioned minivan to the first car ferry port. You then go on board the speedboat which then takes you on a stunning boat ride across the water along the coastline of Ko Lanta. The journey takes around 15 minutes depending on weather and conditions. You will arrive directly in Saladan (alternately written as Sala Dan) on Ko Lanta, where you are then transferred to your hotel by car. That means the total journey time should be 1.5 to 2 hours. This eliminates the waiting time at the car ferry and also if you are going from Ko Lanta to one of these airports allows you more time to enjoy your visit.
By passenger van
There is a minivan service that runs between
Krabi Town
and Ko Lanta, However it must be booked in advance through your hotel or someone local, the cost is 400 baht per person. Book early as it fills up quickly. It will pickup and drop off at the airport. You should factor in 3-4 hours to get from Ko Lanta to the airport, since the minivan will pickup and drop off other people along the way.
Vans going to
Ao Nang
cost 450 baht (2016), 3 hours, number of vans greatly varies during a year.
By car
The distance from Bangkok to Krabi is approx 950 km or about 12 hr by car.
Route 1: Phetburi-Prachuap Khiri Khan-Chumphon-Phang Nga-Krabi = 946 km.
Route 2: Phetburi-Prachuap Khiri Khan-Chumphon (Hwy 41) to Chaiya (Surat Thani)-Krabi (Viangsra) - Hwy 4035 - Krabi (Ao Luk) and along Hwy 4 again = 814 km.
Ko Lanta does not have roads connecting it directly to the mainland, but is served by car ferries. Take Rte 4206 off Hwy 4 about 20 km southeast of Krabi airport. Drive to the end of the road, where there is a car ferry from Baan Hua Hin to Ko Lanta Noi. From the pier here, turn right and follow the "ferry" signs to the second car ferry to Ko Lanta Yai. Ferries operate 07:00-22:00.
There are plenty of car taxi and minivan taxi services from Krabi and the nearby airport. A seat in a ten-person minivan from the airport to Ko Lanta costs about 300 baht. These minivans usually don't have much room for luggage (although they can usually find room for one or two large suitcases together with backpacks for the rest of the passengers) so if you're not travelling light you might need to get a private taxi. This is what the dive masters do. A private minivan taxi will usually be quoted as 2,500 baht. It's possible to bargain a few hundred baht off this price but not much more or the tolls will consume too much of the price. Car taxis cost about the same.
When travelling to/from Ko Lanta in the afternoon by road, allow 2–3 hours for the journey as the queues for the vehicle ferries can be lengthy. The passenger ferry which leaves Ko Lanta pier (high season) at 08:00 and arrives at Krabi pier at 10:00 is quicker.
By boat
Private companies on Ko Lanta operate boat services to many destinations.
All ferries can be booked
on-line
or at any tourist agent.
Ferry services run from
Krabi Town
,
Ao Nang
, and from
Phuket
via Ko Phi Phi to Ko Lanta Yai's
Saladan pier
During high season, there are sometimes direct ferries as well. Ferry services are subject to weather and to demand: many ferries have limited room for luggage.
A ferry departs from Krabi pier every day at 11:30, taking 2 hours to reach Ko Lanta (400 baht including pickup from Krabi hotels), making two stops on the open water where passengers transfer from and to longtail boats that connect the smaller islands on the route. Alternatively, for 300 bath a package is available from Krabi where the majority of your trip is spent in a minivan traveling further south, with only a short part on a vehicle-ferry.
Services from Ao Nang are run by Ao Nang Travel and Tour (+66 75 637730) and depart at 10:30 (280 baht).
Ferries depart from Ko Phi Phi at 11:30 and 14:00, and take 1 hour. If travelling from Phuket in a single day, you will need to leave Phuket on the 08:00 ferry to transfer to the 11:30 ferry. Tickets to Ko Lanta are 200 baht from Ko Phi Phi and 450 baht from Phuket.
All above routes operate only during high season, while during
low season
only 1-2 daily ferries to
Ko Phi Phi
remain.
By train
The nearest train station to Ko Lanta is in
Trang
province just south of
Krabi
. From there, there are trains to and from Bangkok.
Get around

The main roads on the island are well paved. However the road just north of Mu Ko National Park is still unpaved dirt. That road ends at the park and so it isn't possible to drive from that point up the eastern side of the island.
It's worth knowing the names of the resorts near yours: both the pickup trucks and motorcycle taxis will often want to pick you up or drop you at a nearby resort with a better road.
Resorts and some of the major tourist services (like the dive shops) own large pickup trucks and transport tourists around in the tray. Very occasionally, they own minibuses instead. If you come in by ferry your resort will almost certainly meet you at pier with their truck; if you're travelling with very small children who you don't want to cling to while you bump along sitting on the side of the truck you might want to warn them in advance that you'll want to ride in the cab: it's generally assumed to be the private domain of the driver.
You will find the locals almost exclusively ride motorbikes; you can hire these all over the island for around 200 baht a day (2016). Almost every rental agency will ask for a deposit of your original passport. If you don't feel comfortable handing over your passport to an unnamed shop at the side of a road then give them your driver's licence card instead. Some of the shops will happily accept it thinking it's your passport/ID card. Petrol is available on every street corner for 40 baht/litre.
You can also hire motorcycle taxis with sidecars. These will happily take you on the unpaved roads but the ride can be as slow as walking.
Otherwise, plenty of tuktuks and songthaews are available on the main road. A typical fare for a ride from Saladan to Klong Dao Beach is 40 baht.
Jeeps can be hired for 1,200 baht per day. Be sure to check insurance, contract terms and the condition of the vehicle. The "roads" of Ko Lanta combined with the driver operation characteristics of some renters are a serious challenge for any car.



See
Khao Mai Kaew CavesGetting away from the beach for the day, tourists can visit the stunning Khao Mai Kaew Caves which are in the centre of the island, offering a wonder of rocks and caverns and housing spectacular stalactites and stalagmites, some of the caves are just huge and one of them contains a pool. For getting around inside the caves you will need a guide, but one is cheap, around 300 baht per person for a two-hour tour. You can also take an elephant ride for around 600 baht per person. Take some good shoes, as the caves are slippery.
Ko Lanta NoiIsland just north of the main Ko Lanta, with no tourist facilities as such but is well-worth a visit. Hire a motorbike and catch the ferry or longtail from Saladan Pier. There are a few circular roads, all paved, that will take you around the island to see the local way of life. There are a few local restaurants along the way so you can stop for some fried rice. Pick up a map before you go from one of the tourist offices on Lanta Noi, and drive carefully!
Lanta Old TownA small village on Ko Lanta's east side. It's one of the region's most culturally diverse, with Chinese merchants, original Thai fishing families, and an ancient sea gypsy community. Many years ago, Ko Lanta's Old Town acted as the port and commercial centre for the island and provided a safe harbour for Arabic and Chinese trading vessels sailing between the larger ports of Phuket, Penang, and Singapore. Today, Old Town is the district capital. It has a post office, Buddhist temple, Chinese temple and the island's hospital as well as a long pier. It's a charming place to visit and boasts many good restaurants and interesting shopping like handmade hammocks and an original batik and art gallery. It's also a great jumping off point to other islands like Ko Bubu and Ko Talenbeng.
Lanta Orchid Nursery and Butterfly Garden

phone: +66 85 211 1488

address: Long Beach (Pra Ae Beach)

This farm is recommended to all orchid lovers. It's easily accessible by bike or motorbike.
Sea Gypsy VillageKnown to Thais as "chao-le", sea gypsies have occupied the area for hundreds of years, settling along the coast in stilted houses erected between the water level of high and low tide. They are unique in that they mix very little with the general population, speak their own language, and have their very own supernatural and traditional beliefs and rituals. An example of the latter is the "loi ruea" (floating boat) ceremony where the village men build a symbolic boat and place wooden statues of themselves in it along with nail pairings, hair and popped rice. By performing this ritual, they ask for forgiveness from the sea gods and for any wrongs that may have done to the sea. It is believed that all evil is carried away in the symbolic boat.
phone: +66 75 660 711

Covering a total area of 135 square kilometres is in Ko Lanta District and consists of many islands. The two major islands are Ko Lanta Yai (เกาะลันตาใหญ่) and Ko Lanta Noi (เกาะลันตาน้อย)It has 2 km trail leading to the small beach and abandoned lighthouse.
Klong Jaak WaterfallA nice spot to cool down in fresh water.
Khao Mai Kaew Caves – These caves, in the centre of the island, house impressive stalactites and stalagmites. Some of the caves are just very large and one contains a pool.
Beaches
Klong DaoOver the years, Klong Dao has developed into the most popular beach on the island with a spectacular 3 km long beach of fine white sand and shallow clear water. Yet, because of its length, it is never really that busy. The beach has an abundance of accommodation ranging in cost from just a couple of hundred to a few thousand. It is more than ideal for those who like a quiet beach, but prefer to have all the usual tourist amenities such as international food, music and bars, etc.

Klong KhongFor most of the length of Klong Khong Beach there is a klong (small canal) running opposite the beach and an old coconut plantation. Towards the south end is an area where the local fishermen tie up their boats to the shore. A rocky reef runs along the length of the shore making it difficult for swimming, but great for admiring the sunset.

Klong NinThis beach is separated by a klong that runs down to the beach at the northern third of the beach dividing it in two. The beach is covered with coconut and pine trees and the back end is tropical rain forest. Like almost all beaches on Ko Lanta, Klong Nin offers a tranquil and peaceful atmosphere and its sand is white and fine. The northern stretch is the best for swimming as it has far fewer rocky paths than the southern part of the beach.

Kor KwangThis beach, with its attractively curved shape, has lovely sand and clear aquamarine water.

Kantiang BayA kilometre long beach on a gently curving shoreline, Kantiang Bay is home to a limited number of hotels and resorts, leaving the pristine beach with an uncrowded feeling even during the busy holidays. There are excellent corals for snorkeling as well. Lying 18 kilometres south of Baan Saladan, Kantiang beach is one of the most beautiful beaches on the island and was voted one of the "Top Ten Tropical Beaches in The World" by the Sunday Times of London.

Pra AeThis beach, in the north of the island, is a stunning crescent of sand about 4 km long. There is a lot of accommodation there, but since it is spread out, visitors get the feeling that place is peacefully quiet.
Island's far south
There are a few beaches in the south of Ko Lanta. All are small, just a few hundred metres long. The beaches are very quiet with little in the way of accommodation, ideal for those who want to get away from it all. They are:
Ao Nui

There are two beaches in the Ko Lanta National Park.
Performing arts
Likae Pa (ลิเกป่า) An adapted play, Likae Pa follows the adventures of an Indian merchant from Calcutta who married a local girl named Yayi. The story is then followed by other plays. Likae Pa is accompanied by the music of folk instruments such as various kinds of drums, cymbals, and gongs. The lyrics are a mixture of the traditional Manora and Buranyawa songs. With its long history of popularity in Krabi, Like Pa performers are abundant here. It is believed that the play originated in this province.
Shadow Plays (หนังตะลุง)This is an Indian influence. There are many shadow play or nang talung companies in Krabi.
Manora (มโนราห์) This is a dance performance, native to southern Thailand, which reflects its traditional culture.
Rong Ngeng (รองเง็ง) and Phleng Tanyong (เพลงตันหยง) A Malaysian adaptation, of Portuguese origin, rong ngeng is a traditional folk dance and music customarily performed in noble houses. It was later performed by the locals with Thai lyrics called phleng tanyong.
Do
Diving
There are no
scuba diving
sites on the island itself, all require a boat trip. However Lanta is the closest island to the famous Hin Daeng, Hin Muang, and Ko Haa sites, so it is very popular with divers.
Hin Daeng and Hin Muang near Ko Lanta are perhaps the best dive sites in Thailand (frequently ranking in the world's top ten) with more than 200 hard corals and 108 reef fish catalogued in a study underway, but thousands more organisms abound. Hin Daeng has the steepest and deepest in the whole of the country with fantastic marine life. Hin Muang next door is completely underwater and it is covered with delicate violet coral. The sites also have one of the world's highest incidences of whale shark sightings.
For details refer to
Diving in Ko Lanta
.
Events and festivals
Krabi Boek Fa Andaman Festival (งานกระบี่เบิกฟ้าอันดามัน) Held annually in November to inaugurate the tourist season. Water sports competitions, cultural shows, and good-natured fun are on the schedule.
Laanta Lanta Festival (เทศกาลลานตา ลันตา) The festival is usually held in March every year in Lanta Old Town, which has a history of more than 100 years. Old Chinese-style houses can still be seen here. In this festival, tourists can see the traditional culture, previously unseen ceremonial demonstrations, local performances, folk games, water sports competitions, and enjoy the tastes from various kinds of food booths which are provided by hotels on the island.
Loi Ruea Chao-Le Festival (ประเพณีลอยเรือชาวเล) This old ritualistic tradition takes place on Ko Lanta during the full moon of the sixth and eleventh month in the lunar calendar. This is a religious rite performed by the sea gypsies of Ko Lanta, as well as neighbouring areas, who gather on the beach near Sala Dan Village. They dance their famous "rong ngeng" round the boats of misfortune to be set adrift. Ceremonies feature singing and dancing. This festival is held to bring prosperity and happiness to the participants.
Sat Duean Sip Festival or Festival of the Tenth Lunar Month (งานประเพณีสารทเดือนสิบ) This is the southern traditional merit-making occasion to honour one's ancestors. Food offerings such as khanom la, khanom chohu, khanom phong, khanom ba, and khanom kong or khai pla, are made offer to Buddhist monks.
Chak Phra Festival (งานประเพณีชักพระ) The original waterborne procession, where images of Buddha are put on elaborately decorated pulpits on boats pulled along the river, has been replaced by a land procession. The festival was formerly accompanied with a performance of traditional boat songs, but they have since disappeared.
Fishing
Wannabe fishers can catch the likes of marlin, sailfish, barracuda, red snapper and tuna. Three different kinds of fishing trip are offered by private long tail boat: half-day, full day and night fishing.
Hiking
Elephant rides can be arranged to take visitors to the top of the hill in Ko Lanta National Park. However, travellers should be aware that treatment of elephants is usually poor, and elephant riding is discouraged as very unethical. Ko Lanta's forests with excellent flora and fauna are suitable for hiking. Elephant rides are usually arranged to take visitors to the top of the hill in Ko Lanta National Park.
Kayaking
The east side of Ko Lanta with its rich mangrove forests and caves is a great option for off-the-beaten-path kayaking. Kayaking can also be done on Ko Talabaeng, the limestone cliff near Ko Lanta.
Rapu Sea Kayaking, 10/5 Moo 2, Ko Lanta Yai +66 92 871749 (contact Chutima Junsirikamon) - guided sea kayak tours of the mangrove areas.
Longtail boating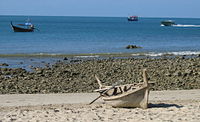 Massage
Lanta Massage

address: Moo 3, Saladan

A wonderful, humble little studio with a wall fully adorned with photos of happy customers. Very relaxing, good massage, with care and attention. You may have some difficulty finding this place.
phone: +66 81 5 699852

address: 147 Moo 1, Saladan

Open all year. Built entirely on the sea on wooden stilts and enjoys a private pier where you can relax before and after your treatments.
Snorkelling
Ko Haa
- this is the best site in Thailand for mixed groups of snorkellers and divers. For divers only, it offers amazing swim-throughs. In recent years Ko Haa has seen a large increase in the number of fish present at the reefs, due to committed conservation policies.
Ko Rok
- some of Thailand's finest snorkelling spots are located off Lanta's coast. Ko Rok, 47 km south of Lanta, is considered by most to be the pick of the bunch, though other people say they rate Ko Haa's snorkelling even more highly. Ko Rok consists of two islands, Ko Rok Nai and Ko Rok Nok, both graced with powdery white sand beaches and with an extensive bed of coral in between. This sheltered and shallow channel is an ideal habitat for reef fish, and the place swarms with innumerable shoals of them. Visibility is very good, and many interesting species of reef fish can be found in these waters. Many snorkellers are most amazed by the sheer numbers of fish here, which swirl and swarm around the swimmers.
4 Island Trip
- Ko Mook's amazing Emerald Cave is the highlight of this trip. The cave is a window into a lagoon through which safety-vest-clad swimmers are towed by local guides. The swim into the lagoon is fully eighty metres in length and a real adventure.
Beach hand tennisA game with a tennis ball and a net played in front of Hans Restaurant every day from 16:30. It's great fun.
Thai boxing: There is one small boxing stadium on the island which hosts regular events. It also holds training camps, which are popular among tourists who wish to learn Thai boxing.
Thai cooking: Thai cooking courses on Ko Lanta offer foreign tourists the chance to learn to cook their favourite dishes such as tom yum kung, sweet green curry, and chicken with cashew nuts.
SUP: Stand up paddle boarding is gaining its popularity across the world and Koh Lanta is not an exception with a number of different tours being offered: 4 island tour, mangrove forest tour, etc.
Learn
Cooking
phone: +66 75 684590

address: 72/2 Moo 3

Professional and fun evening Thai & fusion cooking classes right on the beach. It's run with a passion, usually only 1 class per day. What is most unique is that all the profit goes to Lanta Animal Welfare, founded by the owner, to help the sad situation of the animals on the Island. Classes start at 16:00 (introduction, making curry paste, 4 dishes, mostly seafood.
Muay Thai
phone: +66 89 7397399

address: 245 Moo 2, Saladan

A professional, exciting place to train in muay Thai. They welcome any ability from beginners and children. They have a range of trainers, some ex- and current-champion fighters from all over Thailand. The skills and techniques are taught in a personal, approachable style. They also have fights every Sunday at Williams Stadium, and a lot of foreigners who stay in the area and train may have the option of fighting.
Buy
address: Kantiang Bay

A colourfully funky collection of men's and women's clothing and jewellery with an emphasis on unique, hand-made items. Great location to shop for vibrant lady's evening wear as well as one-of-a-kind gifts.
phone: +66 75 697098

address: 35 Moo 2, Lanta Old Town, Ko Lanta Yai

Unique hammocks. Handwoven in Thailand by the Mlabri tribe. Largest selection of quality hammocks on the island.
phone: +66 84 9489688

address: 2 Moo 5, BaKantiang Village, Ko Lanta Yai

All about handmade inspiration, creating original items for you and your home. Goods such as clothing, toys, ceramics, jewellery and art.
BatiksEven though it is Indonesian in origin, the art of batik has embedded itself in the local culture. There are also a lot of handicrafts such as pineapple paper.
Eat
Much of the cuisine has its origins in Malay, Indonesian, and Indian food. Favourite dishes from the south include Indian-style Muslim curry (massaman), rice noodles in fish curry sauce
(khanom chin)
, and
khao mok kai
(chicken
biryani
).
Pad Thai
is one of the most favoured dishes and is available throughout the island group.
The wing shell (หอยชักตีน) is Krabi's famous cuisine. It is eaten with a spicy dip. In addition, stir fried spotted babylon (หอยหวาน), which is found in mangrove forests, with chilies and basil is also famous. This cuisine is common in Ko Lanta's restaurants. The Ko Lanta beach areas have several restaurants with the "catch of the day" displayed on ice outside. One can find all kinds of fish: juicy crabs and langoustines; shellfish, including giant oysters; as well as squid and lobsters.
Abdul's PancakesA crêpe stall run from a motorcycle sidecar. You can most often find him in Moo 1, Saladan, opposite Lanta Diver when the dive boats come back (around 15:00). His chocolate and banana crêpe and his chicken crêpe are especially tasty.
Baan Laanta Bay View RestaurantServes great fresh seafood BBQ. Enormous tiger prawns, fresh squid, snappers galore. All fish & seafood is caught fresh, locally each day, and cooked in any style you like, served with baked potatoes and a free salad bar (with the best dressings you can imagine). The regular menu is also good, with stir frys and curries at 100 baht, only a little more than the 70-80 baht you'd pay on the road. The juices are small, though. The view out over Kantiang Bay is beautiful and you can request a table on the beach. Aqua Bar, the in-house cocktail bar, serves what may be the freshest and most adventurous cocktails on the island, including mango daiquiris and fresh lime margaritas.
phone: +66 837 474 673

address: 557 Moo 3

A casual restaurant and bar with a great vibe on the main road in Klong Dao. Selection of Western dishes and Thai food and delicious desserts. Kids menu. Citrus owner and chef Aoy is expert at cooking Swedish dishes like Toast Skagen and homemade meatballs served with mashed potato and homemade cream sauce and lingonberry sauce.
Cook KaiWholly built of wood and beautifully decorated, it offers a spacious open dining area and bar. The restaurant, run by the cook, his brothers and sisters, serves bland Thai food at 140 baht for curries and soups.
phone: +66 75 665076

address: 116 Moo 5, Kantiang Bay, Ko Lanta Yai

Aspires to be nothing more than a laid-back café. Serves Western dishes such as pasta and burgers as well as Thai dishes and fusion creations.
Kampong

phone: +66 89 9085977

address: 80 Moo 5, Kantiang Bay, Ko Lanta Yai

Southern Thai restaurant with the best "juices" in town, for size, taste and price. "Juices" are always blended, but Kampong gives you a good amount of fruit. 40 baht for most juices, 60 baht for the Kampong juice (nice combo). Breakfast. Also has a travel agent and some simple rooms (300 baht in off season).
Mary Ann's Bar & Restaurant

address: Moo 1 Saladan

Fun place to start the evening. Good food and a lively place in the evening.
phone: +66 90 6611880

Seres burritos and quesadillas made with homemade tortillas. Has great daily specials as well as delicious grilled and fresh wholewheat sandwiches using imported cheeses. Vegan and vegetarian friendly, everything is made fresh from scratch. Rio's Kitchen only delivers. Free delivery to Kantiang Bay, delivery available to other locations for a fee.
River RestaurantA friendly, family operation. They have a delicious menu: lots of Thai dishes and a few Western ones as well. The pad Thai is excellent. It is very popular with families and the owner's children often play with tourist children.
Spices and Herbs

address: Moo 5, Kantiang Bay, Ko Lanta Yai

Excellent food at a modest price (80 baht for a standard dish). Includes Western options like hamburgers, pizza and pasta. Also offers cooking classes, or 100 baht extra to help cook your meal.
Sunset RestaurantA very small restaurant. The Thai food is arguably the best on Klong Dao Beach and is cheap. Real Thai-style eating with the tables directly on the sand and no decorations at all, but a nice view and cool breeze from the sea.
Thai CuisineA long-established favourite. The menu features a wide selection of wonderful Thai dishes and Chinese as well. The "special" spring roll is excellent. There is bar service and a small artisan boutique.
Time for Lime Restaurant, Bar, BungalowsWell-known professional Thai and fusion cooking school, it also has a beach and tree-top restaurant where you can relish the sunset and breeze while peeking at what the cooking "students" are creating down below. More and more people are checking out the great food, atmosphere and mojitos. They offer a filling 6-course tasting menu for 495 baht, year-round. Personal and friendly place with 8 cosy fan-cooled bungalows. Free Wi-Fi. You will love the food and you must love dogs also, as the Norwegian owner is the organiser of Lanta Animal Welfare.
Drink
There's not much in the way of party nightlife, which, for many, is part of Ko Lanta's appeal. But there is always something going on if you ask around. There are a few restaurant/bars at the harbour, beaches and most hotels. Since it is a small island free of crime and drunkards, the local police are lenient about allowing bars to stay open until the last customer goes home.
Charlee BarleysA friendly bar/restaurant/bungalow. This is a great place to meet other travellers from every demographic. Relaxed sunset happy hours every night. Sometimes live music from international guests.

Irie BarLocal guy named Arms plays here with his band "Lantana".

Korner BarBar on the beach/rocks that often has cheap drink offers on and sometimes guest DJs. Nice atmosphere and open late. Axe pillow seating outside and covered seating inside.

Layana Resort & Spa-Tides Restaurant

address: 272 Moo 3 Saladan

This is an upmarket resort in Ko Lanta. The restaurant setting is beach front and beautiful. The staff are friendly and attentive but not intrusive. Delicious menu and good wine list. Is more expensive than other restaurants in the area.

Mook's BarA good spot to relaxing with a drink on the beach, listen to some reggae and maybe watch sports on TV. Mook himself is a person worth meeting.

Ting Tong Bar

address: 24 Moo 2, Klong Khong Beach
Sleep
Ko Lanta has three tourist seasons:
Peak season: late Dec, early Jan and for some resorts also around Songkran in Apr; expect premiums of 25–50% or more over the high season price and on Christmas and New Year's Eve many resorts have a compulsory banquet costing about as much as an extra night's accommodation.
High season from Nov-Feb, excluding peak season
Low season: Apr/May-Oct. Many resorts will be as much as 50% cheaper than the high season price. Many places used to close entirely but increasingly they're open year round.
You won't have much trouble finding accommodation as late as your arrival. During peak season some places may be fully booked and prices higher. Prices vary widely even in the same class of rooms and at a similar distance from the beach. Shopping around the area where you want to stay may get you great deals.
As of 2015 peak season, it seems that beach front accommodation starts at about 1000 baht per night but going a bit behind (which is also a better choice if you don't want the sound of waves to disturb your sleep) could get you as low as 400 baht for a basic bungalow. Again, prices vary widely and shopping around, especially when not during peak season may yield very good deals.
As many things are cheaper near Saladan pier, you can hire motorbikes for 150-250 baht a day and ride towards the location where you'd like to sleep and later use the motorbike to explore the island.
Accommodation is arranged by beach, north (most convenient to Saladan) to south (least convenient).
Prices quoted here are for the high season unless otherwise specified.
Lanta All Seasons Beach Resort

phone: +66 75 668299

address: 303 Moo 1, Saladan

All equipped with air-conditioning, cable TV, and phone. Restaurant, swimming pool and massage.

Sincere Guest House & Restaurant

phone: +66 81 8285163

address: 150 Moo 1, Saladan

This little cute wooden house near the sea is in the middle of Saladan community. It is designed in chic Chinese-style and is divided into 3 zones. The first zone is the guesthouse room. The 2nd zone is the front coffee bar area that has a tall table and dark brown chairs which look comfortable and relaxing. And if you want an atmosphere of the seaside, behind the coffee shop, you will find a seaside restaurant. There is a wooden terrace which makes it look wide and spacious and it is decorated with oil paintings, adding to the atmosphere of ease and relaxation.
Klong Dao Beach
phone: +66 87 9981336

address: 364 Moo 3, Saladan

Well-managed beach front resort offering 14 beautifully themed air conditioned bungalows. One of the few resorts with all services open all year round. Nice, polite staff, good beach restaurant on the sand, and beach bar with low prices. Free and fast Wi-Fi available in the entire resort area, right down to the sea, and in all villas and suites. Free beach front pool table, tropical day spa and beach massage. Tours and activities office, motorbike and car rental, plunge pool and Jacuzzis.

phone: +66 75 668124-7

address: 278 Moo 1, Saladan

On 8 acres of white sandy beach front.

phone: +66 81 0815679

address: 206 Moo 3

Restaurant, bar, and swimming pool.

phone: +66 81 6430864

address: 333 Moo 3, Klong Dao Beach, Saladan

Amazing hotel that is not on the beach, but extremely clean, very comfortable beds, very helpful staff, well-managed. The rooms look like the ones posted on their site, unlike some other hotels. A five min walk to Klong Dao Beach, just cross the street. Prices are excellent, especially in low season. The staff will arrange for a motorbike for you and have it brought to the hotel. Open all year round and close to many good restaurants.

phone: +66 75 684633

address: 279 Moo 3

48 bungalows.

Lanta Summer House

phone: +66 75 684099

address: 208 Moo 3

Typical beach-side bungalow resort with three-bed air-con bungalows. The restaurant is in the lower price range but the offerings, while extensive, are very watered down (they don't do spicy). Nice and friendly staff.

Maya Lanta ResortHotel-style building on the beach. They have a fancy (by Lanta standards) restaurant.

Royal LantaLuxury villa with beautiful bungalows in the Thai architectural style, pool, and laundry service.
Long Beach (Ao Phra Ae)
Chaw Ka Cher Tropicana Lanta Resort

phone: +66 75 637970

address: 352 Moo 2

Secluded resort with tropical garden.

Escape Cabins

address: 438 Moo 3 Saladan, Long Beach

The amount saved by staying in the jungle compared to staying on the beach in Ko Lanta is pretty ridiculous. This is one of the only off-beach options on the island. The rooms are large, very comfortable, and stylish. Wi-Fi, TV, DVD player, air-con, private bathroom, free water, swimming pool, friendly staff, mini fridge, patio and all around good value. Large four person guesthouse also available.

Good Days Lanta Chalet and Resort

phone: +66 75 684186

address: 183 Moo 2

phone: +66 75 684851

address: 299 Moo 2

Small resort with simple fan bungalows and more luxurious air-con bungalows. The restaurant offers Thai, Western and Tex-Mex dishes. On-site PADI dive centre called Dive & Relax.

Lanta CasuarinaOn Phra Ae Beach which stretches for 2 km along the Andaman sea front.

phone: +66 75 668300-2

address: 405 Moo 1, Saladan

Equipped with air conditioning, cable TV and Wi-Fi. Poolside bar, restaurant and swimming pool with Jacuzzi.

phone: +66 75 684347

address: 42 Moo 2

Standard fan, large fan, standard air-con and deluxe triple rooms with balcony, private toilet, and shower and breakfast. Terrace, restaurant, massage service and travel agency.

phone: +66 75 607100

address: 272 Moo 3 Saladan

Long Beach Chalet Boutique Resort

phone: +66 87 7076076

address: 472 Moo 3

Thai-style villas set in quiet gardens, 100 m from the beach. All rooms have air-con, free Wi-Fi, cable TV, king size beds, fridge and mini-bar.

address: 172 Moo 3

141 air-con bungalows (11 by the beach). Pools, bike rental, Wi-Fi, and a restaurant.

address: 111 Moo 2

French-Belgian owned resort on a 1 km beach and Thai-French restaurant, Manao, which has a superb view over the beach and rocky promontory. The fresh local king prawns or daily catch at the restaurant are recommended.

Sanctuary

phone: +66 81 8913055

address: 186 Moo 2

Well-designed bamboo bungalows, mosquito nets and good Indian & Thai food from the restaurant.
Klong Khong Beach
phone: +66 75 667082

address: 251 Moo 2 Saladan

50 rooms and bungalows, all equipped with comfortable bedding and safe. Facilities and services are garden, outdoor swimming pool and barbecue facilities.

Klong Khong Bay Bungalows

phone: +66 84 4457140

address: 24 Moo 2, Klong Khong Beach

12 bungalows and bar at Klong Khong Beach, a 3 km stretch of golden sand and shady palms. The bungalows are clean, cheap and simple. Have a drink in Ting Tong Bar, an authentic Thai style beach bar and famous for its live music. Enjoy your cocktail while watching the stunning sunset. A relaxed and laid back atmosphere and a place that's hard to leave.

phone: +66 75 667037

address: 154, Moo 2, Saladan

A great bar, restaurant, swimming pool and motorbike rental available.

Lanta Full Moon Bay View Resort

phone: +66 89 6476525

address: 261 Moo 2, Saladan

Wonderful place, great staff, and low price. Food and drinks are great. Free Internet in lounge, laundry service available and pool, So many shady places to relax and read. Quiet beach, but close to the action. The staff can help you with anything you need. Wonderful house cats lounging around.

phone: +66 75 667079

address: 120 Moo 2, Saladan

On the beach. Single, double, and family bungalows with air-con, hot shower, cable TV, minibar, free Wi-Fi in restaurant. Best garden with trees and flowers and the pool is nice with a sea view. Also includes Lanta Pavilion Sunset Restaurant, which offers standard Thai dishes, a selection of European favourites, and a few Indian, Mexican and Japanese dishes. There is also daily seafood BBQ on the beach with a great variety of the fresh seafood done in many styles. They serve pizza, burger and steaks, exotic cocktails, fruit shakes and deserts.

phone: +66 75 667024

address: 149 Moo 2

Funky, chilled out bamboo eco-tourism village surrounded by old coconut palm trees. Each bungalow is unique. Restaurant serves Indian & Thai food, in a clean, friendly, quiet and, above all, relaxed atmosphere. Feeling Bar is on the premises.
Klong Toab Beach
phone: +66 75 662660

Thai-style bungalows, no air-con.

Rawi Warin Resort & SpaOn 35 rai of land, in the foothills of the Ko Lanta Yai and overlooking Klong Tob Bay, this resort offers a choice of rooms, each with its own distinct style and ambience, numerous sports activities, dining options and private swimming pools.
Klong Nin Beach
phone: +66 75 662560

Beautiful resort with full amenities for only 1,200 baht a night, all bungalows. Air-con in all rooms, incredibly sweet staff, and restaurant + bar with some good music and some performances now and then. Can rent motorbikes, schedule side trips, do laundry, etc., all in the resort for the same price as anywhere else on the island. On the beach, with no rocks, 24 hour swimming.
Kantiang Bay
Baan Kantiang See Panorama Villa Resort

address: 263 Moo 5, Kantiang Bay

Fully equipped villas that sleep up to 6-8 people.

phone: +66 75 665091

address: 72 Moo 5, Kantiang Bay

Thai-chic luxury bungalows 3 steps from the beach. Air-con, large balcony (with sun loungers), hot shower, fridge & TV as standard, swimming pool with view out over the bay. Open all year with exceptional discounts during the low season. 7-Eleven on the main street, good souvenir and clothes/jewellery shopping at nearby Indigo Gekko Bay View Restaurant and "Aqua Bar" directly on the beach.

Kantiang Bay View Resort

phone: +66 17 87192

address: 9 Moo 5

Open year-round with some great rates in low season. Restaurant and "Why Not?" Bar on the beach. Wooden bungalows. Good atmosphere and spills out right onto the sand. Not to be confused with the nearby Marine Park View Resort, which is on the hill. Free pickup from Ban Sala Dan to Ao Kantiang, but return to Ban Sala Dan is 500 baht.

address: 58 Moo 5 Ko Lanta Yai

Direct beach access, free transfer to/from Saladan pier, restaurant, bar, motorbike & Jeep rental services, Internet, laundry, scuba diving and island tour, national park camping trips, elephant trekking, waterfall trekking.

phone: +66 75 607999

address: 99 Moo 5

A member of Small Luxury Hotels of the World. PADI diving centre and cooking classes. Also includes The Seven Seas wine bar and restaurant, which serves fusion cuisine and has an extensive wine list and nice sea views.
Klong Jaak Beach
Mai Pai/Bamboo Bay
Baan Phu LaeBungalow resort with budget price ranges for fan or air-conditioned bungalows.

Bamboo Bay Resort

phone: +66 75 665023

phone: +66 75 665066

Twenty spacious bungalows on Mai Pai/Bamboo Bay, the southernmost beach. Two beachfront swimming pools, a Jacuzzi, a beach bar, a Thai/Western restaurant, and a beach front dining area. All bungalows include air-conditioning, satellite TV, a mini-fridge, free Wi-Fi, and covered front porches. Most have ocean views. Open year-round with some great rates in low season.
Hat Khlong Nam Chuet (หาดคลองน้ำจืด)
Kaw Kwang Beach (Had Kaw Kwang)
Lanta Old Town
Lanta Buri ResortThere are 9 separate rooms available, each with a shower/WC, TV/cable, and fan or air conditioner. The rooms surround a lovely garden with small pond. The kitchen is available for use by guests as well as the outdoor dining area with ample tables and chairs.

phone: +66 86 9486836

All units are built directly over-the-sea in what many describe as Thailand's most charming and culturally diverse fishing village. Rooms are renovated to feature the original teak structures that served as Chinese shop houses over 50 years ago.
Cope
Medical
The major medical facility providers are:
# Ban Saladan Clinic. Saladan.
# Ko Lanta Hospital. South of Lanta Old Town in the southeast of the island.
# Dr Salarin Clinic, the island's main English-speaking private doctor. Phra Ae village.
# Siam International Clinic. Phra Ae village (open only Nov - Apr).
# Andaman International Clinic. Next to post office, Phra Ae.

Go next