Ko Lipe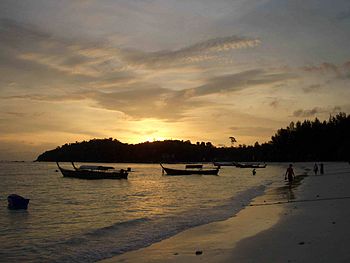 Ko Lipe
(Thai: เกาะหลีเป๊ะ) is an island off the Andaman Coast of
Southern Thailand
. It is in Satun Province, close to
Langkawi Island
(
Malaysia
), 67 km from
Pak Bara
. It is part of a large group of over 70 islands, and also part of a smaller cluster of islands called the Butang Islands or Adang Archipelago.
Ko Lipe is known for diving and snorkelling, and for beautiful beaches and relaxed atmosphere.
Ko Lipe enjoys a great reputation and is spoken of in almost reverential terms by travel writers and on web blogs. Why this is so is difficult to understand. The island is not particularly easy or inexpensive to get to. Worse, the island is in danger of becoming another Patong given the huge number of visitors it receives and the rampant development that has transformed its "Walking Street" — overrun with commercial vehicles — into a mini-Ao Nang. If you're looking for the real "Thailand", Ko Lipe is not the place to do it.
Understand
Ko Lipe (also spelled as Koh Lipe) is just outside Tarutao National Park and surrounded by uninhabited islands of the Butong Archipelago.
The island is home to about 500 Chao Ley, or Sea Gypsies, who were given a grant to half of the island and live in small villages, predominantly around the far east side of the island near Sunrise Beach. The name "Ko Lipe" means "Paper Island" in the local Chao Ley language.
The huge tourism business of Ko Lipe results in water shortages, waste disposal issues, and other environmental problems. It is common to see garbage being burnt since there are not many reliable options for waste disposal. The island has a central power plant, fossil fuel-powered, but also has a small solar installation. Solar panels, even passive, are a rarity on this island awash in solar energy.
Grey water is captured in cesspools as there is no sewer system. The source of fresh water is a mystery as no wells are evident.

Get in
By plane
Air Asia offers an
island transfer
package that includes a flight from
Bangkok
to
Hat Yai
, a bus to
Pak Bara
, and a ferry to Ko Lipe.
By boat
The following companies operate boats in the high season (Nov-May):
In the low-season, there is one boat per day from Pak Bara leaving at 11:30.
Boats from the mainland dock at an off-shore pontoon during high-season. During low-season ferries arrive on Sunrise Beach. Before you are allowed to proceed you must pay a 200 baht national park admission fee even though Ko Lipe is not in the national park. From there longtail boats will take you ashore for 50 baht or offer transfers to anywhere on Ko Lipe for negotiated price.
Get around
All of Ko Lipe can be covered on foot, although its size at first can be a little deceiving. There are many motorcycles and saleng on the island, none of them for rent. The saleng are motorcycle sidecar taxis (labeled as such with drivers wearing numbered blue vests) that charge 50 baht per person from any point on the island to any other point on the island (or 300 baht per hour), they are typically parked near the 7-Eleven or ordered by phone (phone numbers are displayed on many of the electric poles). There are pickup trucks on the island belonging to resorts and used to transfer their customers' bags on arrival/departure and as shuttles (certain resorts also operate golf carts as shuttles). Small concrete roads link the various beaches.

Do
Fishing
is illegal near the island, so stay away from fishing trips and do not purchase locally-caught fish.
Beaches
Pattaya BeachThe most popular beach and good for children. Lots of bungalows for rent on or near the beach. Ferries dock here during high-season (Nov-Apr).

Sunrise BeachFerries dock here during low-season (May-Oct).

Sunset BeachIn the west, which as the name implies, facing the sunset. Not much of a beach, but has bars and tent sites for camping.
Diving
Around Ko Lipe are some of Thailand's best reefs, all within easy reach. The reefs around Ko Lipe are largely intact; the 2004 tsunami had little impact here. The currents here are predominantly tidal which means certain times of the month there are strong currents and at other times none at all. You can always find somewhere good to dive but the widest selection of dive sites is available twice a month, following the half moon.
You can see numerous sharks, whale sharks and manta rays. Sightings of the big guys are more likely at sites around the edge of the marine park, nearer the deeper waters. For the best chance, visit 8 Mile Rock, Stonehenge, or Ko Pung.
Between Ko Adang & Ko RawiHas excellent diving and snorkelling between the two islands where the mountains come down to the sea. Underwater there are huge boulders and many types of rare fish and coral species that inhabit the reef in this region. A great spot for drift diving. Snorkellers should head for the east side of Ko Rawi where the national park has set up ropes along the reef, so that snorkellers can pull themselves easily along and investigate the reef with ease.

8 Mile RockA true deep sea pinnacle 75 minutes away by boat. The rock can be a tough place to dive due to the strong currents, but the marine and bird life that come here to feed are fantastic. The top of the pinnacle rises to within 14 m of the surface. Found here are soft corals, schools of pelagic fish, potato cod, manta rays, whale sharks, leopard sharks.

Hin Takorn DukongRight in the centre of the Marine Park, this site is home to just about every species of fish that you can imagine. The site is made up of granite stones shaped similar to building blocks rising up from the seabed into a structure with a series of tall points at its peak. Up to 18 m deep, one can swim around the base of the pinnacle, observing what is here in abundance: hard and soft corals, at least 6 types of eel such as snake eels, different types of lion-fish and stone-fish. Squid and cuttlefish try to hide here and succeed in attracting the larger predators such as sailfish.

Ko Bu TangHas become one of the most popular islands to dive. One of the largest islands of the group, Ko Bu Tong supports many bird and animal species. Troops of crab eating monkeys called "macaques" live on the island and a colourful type of bee eater bird can often be spotted from the beaches here. Giant corals and shellfish grow everywhere around this island paradise. Dive the north and south channels, although for deep diving the "Giant's Staircase" on the island's west side has huge natural stone steps going down underwater to 50 m or more. Also to found on Ko Bu Tang is Sting Ray City, where the blue spotted stingrays are plentiful. This site is also very good for snorkelling. North side: has Monkey Bay, similar to Sting Ray City but much more steep and dramatic. Expect to see endless rows of tall coral-heads, turtles and rare critters such as the ornamental ghost pipe-fish and sharks sleeping under the corals. East side: has the perfect tiny island of Ko Lokoi. Surrounded by about 90 acres of shallow coral, you could do four dives here and not see it all.

Ko LangchaBetween Langcha and Adang is a very nice coral garden really worth the effort both for divers and snorkellers. Near perfect gardens shelter all sorts including rays and eels.

Ko SawangThis last tiny island is on the outer edge of the archipelago. There is not a tree or scrap of vegetation that can grow on this tall smooth stone, but underwater this place is full of life. Fantastic coral gardens growing on the rocky outcrops below and spend time with the millions of fish to be found here.

Yong Hua ShipwreckIn 1996 a fish-factory ship anchored near the western end of Ko Lipe caught fire and sank to the bottom of the sea in about 40 m of water. The shipwreck is now completely covered in marine growth and inhabited by schools of fish. The shipwreck has become a very interesting place to dive but does some times have strong currents making it a difficult dive. The top of the wreck is at about 26 m sitting on its keel that is at 40 m.
Dive shops
Other activities
Day trips to nearby islandsPirate Falls and Chado Cliff on Ko Adang, and the dense jungle on Ko Rawi are recommended.

FreedivingFreediving as a recognized activity has only been around for 100 years, but people have been practising diving deep without equipment for thousands of years. On Lipe it's in its early days and so far only one dive operator on the island offers it as a course.

KayakingRent a kayak from various spots on the beach and spend the day or two seeing the island and reef.

MassagesThere are plenty of places to get a massage, including an offshoot of the Wat Po massage school in the centre of the island. Also Castaway Resort has a lovely little spa with sea views. Figure on each massage costing 100 baht more than the same massage on the mainland.

phone: +66 77 457002

Sailing intro courses or five-day sailing courses on an ocean-going sailing yacht leading to an Ocean Hiker Competent Crew Certification, the first step to start your sailing career.

phone: +66 77 457002

Sailing around Ko Lipe and within the Butang Group is certainly the most chilled way to explore these natural gems. There are day sailing trips with snorkelling activities or liveaboard sailing cruises within the Butang Group or as far as Ko Tarutao National Marine Park.

SnorkellingThe calm, clear water makes the Ko Lipe area ideal for snorkelling, with 25% of the world's tropical fish species found in the area. There are large varieties of fish around the coral 20 m off all of the beaches. Ko Lipe is surrounded by over 30 islands and hundreds of reefs all within easy reach of the island. Tarutao National Park is one of Asia's oldest marine parks thus the reefs and the islands surrounding Ko Lipe are in very good condition. Nowhere else on the Southeast Asian peninsula will you find so many excellent snorkel sites so easily reached.
Buy
There are three ATMs on the island. One is at 7-Eleven on Walking Street. Another is across from Pooh's Restaurant at the Sunrise end of Walking Street, and the third is in front of Harmony Bed and Breakfast.
Many travel agencies or hotels will offer to charge your debit/credit card and give you the cash in exchange for a 5-8 percent fee.
For currency exchange, Bundhaya Resort offers the best exchange rates for dollars, euros, pounds. or ringgit, but the rate is less than you would receive in a major city.

Eat
Banana LeafServes average food, but drink prices are good and they play movies every night on a big projection screen.

Elephant American Coffee House

phone: +66 88 850 1473

An East-meets-West American-style coffee house (owners are from America and Thailand), with coffee drinks, homemade bakery, breakfasts, including homemade toasted muesli and lots of crispy bacon. Other menu items include American burgers made with imported beef, sandwiches, a large selection of fresh salads, fresh baked bread, and even a smoked pulled pork sandwich. Dinner options include imported Australian strip loin steaks, pan seared salmon and pork chops with sauteed apples. There is a bar built into a 10-metre longtail boat, which offers a selection of Thai and imported wines, cocktails, high-end imported liquor and American craft beer. Every night starting at about 21:30, the now infamous Banana Band serves up Thai and English music in a relaxed setting. The band's motto is "if you're in the bar, you're in the band", meaning everyone can join. Kitchen open until 00:30.

Flour Power BakeryThere is a brilliant banana cake in small aluminium box shapes. The seats are somewhat hidden behind the house. Western breakfasts and sandwiches are served with their hearty whole-grain bread.

Jack's JungleA lovely spot when you want to get off the beach and eat surrounded by cool, green jungle. The Thai food is fantastic (especially the coconut soups) and you can order to mild to Thai-style spicy. The banana-lime pancakes are especially good.

Pancake LadyChoose from fillings like coconut, banana, and chocolate. Delicious smoothies sold in plastic cups.

PeeWee BakeryA popular breakfast spot that has a good bakery adjoining that serves bagels and cinnamon rolls. The service can be rude and unhelpful, but still worth it.

Sunrise RestaurantFriendly place, directly on the beach, very good Thai food, inexpensive.
Drink
Beers are surprisingly cheap on Ko Lipe, given that everything else seems jacked up in price. Beers on the beach can be had for 60 baht (Feb 2016). A can of Leo in a mom-and-pop shop costs 40 baht (Feb 2016).
Bila Beach CafeThis is the only bar/restaurant on the little, but sweet, Bila Beach. Worth a visit and a good place to hang out for the day.

Cozy Cove

address: north end of Sunset Beach

Great views and good tunes.

Jack's Jungle BarOtherwise known as JJ's, is inland and is a recommended because Of Jack's friendly personality. Jack also organises parties every Saturday in the high season, some with live music.

address: Sunset Beach (Pirate Beach)

With DJs from various countries. If you like electronic music, it's the place to go. Mia LunA organise parties such as full moon, half moon and black moon.

Mom's Tattoo Bar

address: Walking St, near Pattaya Beach

An intimate bar, where anyone can be a "regular" on their first visit. Tasty drinks mix well with good conversation and music. Best place to lose an hour or five while making new friends or just hanging out with the bar's namesake owner, "Mom" who is also a tattoo artist.

Oh My God!A locals' favourite. It used to be called Oh's Pooh Bar, and moved to a new location 50 m from the intersection, at the end of Walking St(near Sunrise Beach) and shakes up the best cocktails on the island. There are pool tables and TVs (for watching big sports events), and there are usually a few local divers hanging out there. They also serve some delicious food and bar snacks. Open late. Also sells Swedish snus.

Peace & Love

address: Pattaya Beach

A Lipe institution, offering a great beach vibe, well-made drinks, and nightly fire shows. Hang out and talk to the bar's Muslim owners Chai and Yaad and learn about the island and the history of the South Andaman, or just take in the amazing beach views from your beach mat. Three bamboo bungalows available for rent behind the bar.

Reggae BarMellow scene. On 6 Feb celebrates Bob Marley's birthday with a 3-day music and culture festival.
Sleep
There are over 60 guesthouses on the island. While some places may charge as little as 500 baht for very basic accommodation in the high season, these guesthouses sell out quickly. Most places will charge 1,000 baht+. Some hotels will have a sign advertising cheaper rates, but when you go inside to enquire, those rooms will inevitably be unavailable.

Pattaya Beach
Sunrise Beach
Karma Beach
Sunset, Bila & Sanom Beaches (Northwest Coast)
Inland
Stay safe
Precautions
Stonefish have been spotted and photographed in the waters of Ko Lipe. While the chances of getting stung are slim, you may want to consider protective footwear when swimming in the water.

Medical care
There is a hospital next to the school on Sunrise Beach, with an English-speaking doctor. There is a clinic next to Pooh Restaurant, with an English-speaking doctor.

Connect
Free Wi-Fi is available at almost all resorts and bars/restaurants. Don't expect breathtaking throughput.

Go next
Agencies abound on the island who can book the speedboat/ferry and train/bus tickets to anywhere in Thailand. It's best to buy tickets before 18:00, since the agencies won't be able to book and confirm certain bus/train tickets later in the day. If you reserve the ticket at a late hour, they will try to buy it the next day, but the train may be fully booked. It's better to insist on them reserving the ticket when you are at the agency.
For the trains it's best to book at least three days in advance. For most buses one day ahead is enough. Buses are less comfortable and more expensive compared with the 2nd air-com sleeper class trains.
Feel free to bargain. Travel agencies can't do anything about the train/bus price, but they are able to lower the ferry/speedboat price as well as the minibus transfer from the port to the city.