Ko Mak
Ko Mak
is an island in
Trat Province
,
Eastern Thailand
. It is fairly undeveloped and natural.
Understand
There are very few islands in Thailand which are still in the same hands as they were over a century ago. There are even fewer which have a
written history
covering this period. The extended family, descended from a royal tax collector, Luang Prompakdee still own 80% of the island and run many of the resorts. The islanders, in conjunction with the Thai government and a German NGO have been piloting many schemes aimed at making the island Thailand's first environmentally friendly, low carbon destination by showcasing how
sustainable development
can improve livelihoods and been done in an affordable manner. There are several projects up and running, including hydroponic farms, a biogas plant, solar powered tour boat and hop on, hop off electric bus service.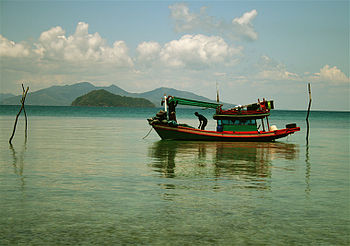 Get in
Get around
Ko Mak has a 27 km long coastline, many long sandy beaches, a few hills. It is about 16 km 2 in area.
Ko Phi, also northwest of Ko Mak but southwest of Ko Kham, is unoccupied.
At low tide, it is possible to walk to Ko Kham (privately owned), which is a smaller island less than 1 km northwest of Ko Mak. It can be reached with a
sea kayak
from Ko Mak or by walking during low tide. Ko Kham has nice places to snorkel, depending on the direction of wind. Especially the south beach has calm sea, a nice sand dune, black lava rocks with shells, and crabs (or crayfish or shellfish). Near rocks, you may see (or swim over) black sea urchins that have radius and many thin black spines about long. Locals say that the spines contain small needles and poison: if one touches the spines and is stuck by a needle, the needle should be crushed with a rock. The poison is only irritating and not lethal. In Thai, the name is
hoi men
(หอยเม่น).
For exploring the island, motorbikes and bicycles are available for rent at numerous locations, and most beaches and restaurants are within easy walking distance.
See
Ko Mak is a working island with the majority of the island being covered in rubber plantations and pineapple farms.So the main attractions are the
beaches
. The two main beaches are Ao Suan Yai on the northwest shore of the island.  And Ao Kra Tueng and Ao Kao which run along the southwest facing beach. Other smaller, less developed beaches include Ao Pra, Ao Tao Khai, Ao Tan, and Ao Talong.
Do
phone: +66 81 9019972 (Leng - speaks English and Thai)

Leng has been teaching Thai cooking for 5 years now, so relax and enjoy.
Kayak to nearby islands
Explore Ko Mak's quiet bicycle trails and roads on a rented bike or scooter
Visit nearby Ko Kradad's wild deer population
Enjoy Ko Mak's many small Thai and Western restaurants
Dive
Buy
The Island does not have an ATM. There is reportedly one resort which can charge your plastic card and take an additional 5% for the pleasure.
There are a few small shops on the island but no 7-Eleven.

Sleep
phone: +66 39 501000

Thai-style resort with pool, spa and tropical gardens.

Koh Mak RetreatPrivate sea view villas in a secluded location.

phone: +66 87 802757

Has beachfront bungalows, pool and sea view hotel rooms at one of the best beaches on the island.

Thaidaho Vista Resort

phone: +66 87 5482665

Non-smoking boutique guesthouse (only 5 rooms) with spectacular ocean views and tropical garden.
Go next