Ko Muk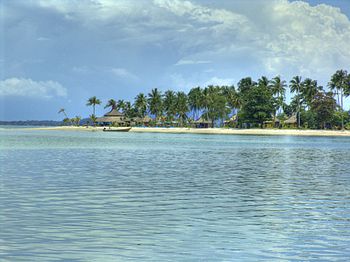 Ko Muk
is an island in the
Southern Andaman Coast
region of
Southern Thailand
.
Understand
Muk is the Thai word for "pearl", so Ko Muk means Pearl Island. While it's not a party island, or completely overrun by tourists, you won't be the only traveller, and there are the usual bars, restaurants and island providers for the highlights around. Overall the island is rather quiet and peaceful.

Get in
By boat
Connections usually start from
Trang
or directly from Trang Airport.
Combined minibus and boat tickets can be booked from any
Trang
tourist information shop, prices are fixed. For 350 baht (Apr 2018) you can get a minibus to the nearest jetty and a longtail boat to the main pier at the village of Ko Muk including a taxi to your accommodation.
For 250 baht you can get the 11:00 minibus to the nearest jetty and aboard the only ferry, departing once a day. It's recommended to arrange accommodation and a pick-up from the Ko Muk pier, otherwise you'll have a 3-km walk or 50 baht motorbike taxi ride to get anywhere on arrival.
The return trip is easier and cheaper, with the same ferry departing at 07:40. With no booking fees or middleman it is possible to get the ferry for 50 baht and a minivan to Trang for 100 baht, although 200 baht is the more likely combined fare.
The arranged minibus + long boat transfers back from the island to the mainland take around one and a half hours and leave thrice a day at 08:00, 09:00, and 14:00, dropping you at Trang (fixed price based on time, 300-400 baht (Apr 2018)) or Trang Airport Trang (fixed price based on time, 400-500 baht (Apr 2018)).
See
Farang / Charlie BeachThe more popular of the two beaches and good for watching the sunset.

Tham MorakotAccessible from Farang Beach by boat or kayak. Expect tour rates to start at 600 baht before haggling and kayaks at 100 baht per hour. The cave is accessible only at low tide, and takes about 30 minutes to reach by kayak from Charlie Beach. Bringing a light source is recommended, as the cave is 80 m long and has some sharp turns. Beyond the cave is a attractive, small, completely enclosed beach formed by a sinkhole.
Do
Bike rentalRent a mountain bike from PK minimiart and explore the island.
Eat
Hilltop RestaurantCheapest meals on the island, with a menagerie of animals and very friendly staff.
Drink
Mong BarA nice beach bar playing good music. Soemtimes with live performances from Thai reggae bands. A good place to watch the sunset. Beers start at 50 baht and cocktails at 100 baht.
Sleep
Budget
MookiesHot showers and a bar area. The huts are dingy, with nothing but draughts, a light, a mattress, and a fan. Intermittent electricity.

Koh Mook HostelA nice clean hostel run by a very friendly family. Breakfast is included in the price and is served at the bakery across the road.
Mid-range
Splurge
Resort accommodation is available fronting onto Farang Beach.
Go next