Ko Samui
Ko Samui
(เกาะสมุย), often called just
Samui
(สมุย) is an island in the Gulf of Thailand, about south of
Bangkok
and from the eastern coastline of
Southern Thailand
.
Orientation
Ko Samui is all in all a fairly big island, the second biggest in Thailand after Phuket. The most popular and commercialised beaches are
Chaweng
and
Lamai
, while the northern beaches and their adjacent villages of
Mae Nam
,
Bophut
,
Bang Rak
(Big Buddha) and
Choeng Mon
are more peaceful choices, and the west coast beaches are still (comparatively) quiet.
Clockwise from Nathon on the west coast, the main beaches are:
Understand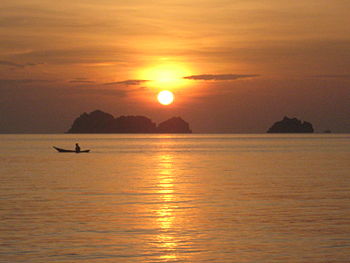 An island of great natural beauty and variety, Samui is home to some 50,000 full-time inhabitants, 90% of whom are Buddhist. The palm-fringed shoreline and coconut and fruit cultivation of the coastal lowlands rise to a central granite massif, the slopes of which are cloaked in virgin rainforest.
At 247 km², Samui is the second largest island in Thailand and the largest island in an archipelago of over 80 (mostly uninhabited) islands which form the
Ang Thong National Marine Park
, a kayaking and snorkelling paradise. At long and wide, Samui is big enough for serious exploration by the adventurous and fit, but can be circumnavigated in just a couple of hours by motorbike or car.
The island was probably first inhabited about 15 centuries ago, settled by fishermen from the Malay Peninsula and south China. The origin of the name Samui is mysterious.
Until the late 20th century, Samui was an isolated self-sufficient community, having little connection with the mainland of Thailand. The island was even without roads until the early 1970s, and the journey from one side of the island to the other involved a whole-day trek through the mountainous central jungles.
In the early 1970s the first backpackers travelling on the back of a coconut boat arrived on Ko Samui. For years after that the island just had a few bungalows and a trickle of travelers. Things started to change in the early 1990s when tourists started arriving in full boats and since then the place has grown substantially. Samui is now the second most popular island destination in Thailand (Phuket is first). Ko Samui may not be the country's most beautiful island but it is still an oasis of natural beauty with its white sandy beaches, dazzling coral, luscious lagoons, picturesque waterfalls, swaying coconut trees, and crystal clear water. The water at Bophut Beach, though, is often murky, especially around December.
Unfortunately, development on Ko Samui is starting to take its toll and the beaches of Chaweng and Lamai are overcrowded in the high season.
Climate
Samui's weather patterns are a little different from the rest of Thailand. In Apr-Sep, when most of the country has its monsoon, Samui stays fairly dry, but from Oct-Dec, it's wet in Samui and drier elsewhere.
Tides
Ko Samui - like other places on the Golf of Thailand - has an unusual 12 hour tide pattern. During summer the tide is low at daytime and high at night time, while in winter it is always high at daytime. Beaches are much wider at low tide, and the difference can be huge in places with shallow water. In some places the beach may be very narrow during high tide.
Get in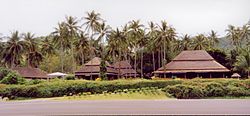 By plane
Ko Samui AirportA private airport that was built by Bangkok Airways, which is still the main operator. They have near-hourly departures to/from Bangkok (). Tickets are expensive not only by Thai standards, with advance bookings costing 3,000-5,000 baht one-way, while a walk-in booking may be a bit more . There are also daily flights to/from Phuket for 2,000-3,000 baht, Pattaya, Singapore, Kuala Lumpur and Hong Kong; two daily flights from Chiang Mai (but only one direct flight in the opposite direction). Thai Airways flies between Bangkok (BKK) and Ko Samui. In addition to Bangkok Air and Thai Airways, Ko Samui is served by Berjaya Air and Firefly from Subang airport (a small city airport 30 minutes from Kuala Lumpur city centre) and Penang International Airport in Malaysia. Silk Air connects with Singapore directly. Air Asia has a special "Island Transfer" offering that includes a flight from Bangkok to Surat Thani or Nakhon Si Thammarat, surface transport to the port, and a ferry to Ko Samui. You can book the entire trip at their website, or even buy the ticket on the plane (400 baht for ground transfer and Seatran Ferry).
Visa-on-arrival
and
visa-free
entry are available at Samui Airport for some nationalities. See
Thailand
for more information.
Ground transportation from the airport is readily available. A seat on a minibus for the 20-minute ride to Chaweng costs around 200 baht/person; a faster taxi may cost 500 baht. Be sure to negotiate the rate to your destination before you get into the taxi as many drivers refuse to use their meters.
A cheaper, but less convenient option is to fly to
Surat Thani
(
URT
) with Thai Airways or low-cost airlines Air Asia and Nok Air (departing from Don Mueang Airport-DMK) and connect by road and then ferry. Seatran Ferry offers a bus/ferry service from the airport to Nathon Pier on Ko Samui for 400 baht. Travel time is three hours. Buses leave the airport six times per day.
Or fly to Nakhon Si Thammarat (NST) with Nok Air, then take a bus and catamaran with the Lomprayah Company.
If you're a couple or a family, you'll probably be approached in the airport by some young women holding signs of some of the higher-end hotels. They will ask you where you're staying, and based on the answer, offer you a free taxi ride if you promise to attend a presentation for their hotel's timeshare during your stay.
One nice feature of the international departure gate is a courtesy corner which provides food and drinks for all passengers in a cosy sitting area. Awaiting boarding becomes rather more comfortable with food, drinks, and Wi-Fi provided free.
A good way to get to Samui if you want to do some island hopping, travel from Chumphon Airport (CJM) via Ko Tao. Located north of Chumphon city in Pathio District. It has direct daily flights connections with Bangkok's Don Mueang Airport (DMK). Flights from Bangkok are around 50 minutes. High-speed Lomprayah catamarans depart from Chumphon to Koh Tao, Koh Pha Ngan and Koh Samui.
Nok Air operates three daily flights between Bangkok (Don Mueang - DMK) and Chumphon Airport, Pathio District, Chumphon (CJM). Nok Air offer a combined flight and ferry ticket on their website.
The Chumphon Airport has transit agents for onward connecting travel to the islands of the Koh Tao, Koh Phangan and Koh Samui. The Tourism Authority of Thailand, Chumphon has a tourism information counter at the airport offering information on the region.
The Pathio District, nearby the airport has many unspoilt beaches and bays and is well worth visiting.

By boat
From Surat Thani train station and Surat Thani Airport (URT), there are combined bus/ferry services to Ko Samui costing 200-300 baht. Some entail a 60 minute bus ride to Don Sak pier followed by a 90-minute ferry crossing, others a 30 minute bus ride with a longer ferry crossing. Tickets are sold by numerous agents who meet each train and airplane. Should cost certainly less than 300 baht even if bought this way (return combo boat + bus ticket on a more comfortable Seatran Ferry bought on the Nathon Pier on Samui officially costs 230 baht).
From Don Sak Pier, there are 2 ferry companies (each line has a departure every 60 min.) and a smaller passenger boat. One ferry line, Raja Ferry, arrives south of Nathon, the others, Songserm Travel and Seatran arrive at Nathon pier. The former is what you more often get if booking via the travel agency. It's a rather small ferry with two decks, often very crowded so you can't get the seat on the lower one if you come late (and the upper, while air conditioned, costs extra, so you may end up sitting around the pile of backpacks on the back of the boat under the sun, if you do not want to pay). There is a small on board shop on the lower desk but the prices are grossly inflated (instant noodles cup, which costs 15 baht in a 7-Eleven, is sold for 50 baht there), so if you still choose this boat, better to bring your own snacks. The people aboard Songserm ferry are mostly, if not all, foreigners.
Raja and Seatran ferries are much bigger, have several decks (entrance to most of the those, including air conditioned areas, is free), much less packed just because of size (still can be at peak times of high season), equipped with numerous TVs (Thai channels), have big cafeterias (with much friendlier prices, such as 20 baht for the same cup of noodles), and the passengers are mostly Thai, as well as some expats and tourists.
If you choose for the Raja or Seatran ferry ("high speed") but book it as part of a package deal that includes pickup instead of directly with the company, insist that the name of the ferry company and departure times are written on your receipt and pay attention to where you're taken. Otherwise, the agent that picks you up might just as well drop you at a Songserm transfer "terminal" at a remote location outside town where you have little other options than to accept the slower Songserm ferry instead.
Raja Ferry Port operates services between Don Sak pier and Lipa Noi pier on the west side of Samui (a few kilometres south of Nathon). It includes a free air conditioned deck and several comfortable seats. This ferry also transports cars, so can be used should you decide to come with your own transport. Without a car, however, there are fewer options for transportation there, and songthaew/taxi drivers may be more reluctant to bargain. Songthaew transfer from the pier at Lipa Noi on Samui to either Chaweng or Lamai will cost 100 baht per person. Taxis will be more expensive, with initial asking prices of up to 1,000 baht.
Numerous ferry services are direct from mainland Surat Thani including Lomprayah catamaran and an express boat (3 departures daily, taking around 3 hours and costing 150 baht) and slow night boats (taking 6–7 hours).
Lomprayah offers a combined bus/high speed catamaran ferry service from Bangkok to Ko Samui which takes about 11 hours (5.5 of them by boat) and costs around 1,250 baht (1,000 baht in the opposite direction). The bus pauses in Hua Hin and then stops at Chumphon, where it connects with the ferry, which calls at Ko Nang Yuan, Ko Tao and Ko Pha Ngan on its way to Ko Samui. While the route may be more scenic (as it includes the long boat trip via 2 islands), and the ferry itself is comparable to Seatran, the entire route to Samui will take more time, and will cost more too.
Lomprayah, however, is a good (if not exactly cheap) option to get to Samui from Ko Tao or Ko Pha Ngan, as well as a reasonable one to get to those islands from Bangkok. There are also regular speedboats and ferries of other operators.
Regardless of what port you are departing from the mainland or arriving on Samui, you will be offered a minibus transfer service to any place on the island for 150 baht. This seems to be a good option to avoid hassles especially when arriving late and in sight of inflated taxi prices (May 2019).

Get around
As on many islands in Thailand, small motorbikes are available for rental. Compared to other nearby islands, Samui's road system is very developed and there are plenty of taxis cruising about, although it's a challenge to get them to use their meters.
By taxi
By day, Ko Samui's public transport is provided by songthaew, pick-up trucks with two rows of seats. They drive fixed routes at fixed prices per person until 18:00, ranging from 20-80 baht depending on distance. After 18:00, songthaews serve as normal taxis and prices must be negotiated first. Even if you pay for a trip, however, the songthaew may stop and pick-up more passengers on the way. Metered taxi service is operated by private taxi companies. The drivers, however, are very reluctant to use their meters, and, especially on popular beaches or entry points to the island, tend to ask foreigners much more than normal fare. Some, say, on Nathon pier, will even show you official-looking papers with "fixed" prices like 600-800 baht for a 25–30 km trip to Chaweng or Lamai Beach. This is not true, and once they know you're aware of that, it's usually possible to bargain (for this distance, you should bargain to at least 400 baht, or even better 300 baht (outdated bargain prices, in 2013 more likely prices around 500 to 600 baht from Nathon to Chaweng or Lamai), which is still higher than the Bangkok metered taxi price). On the popular beaches it may be impossible at all to get a reasonable fare sometimes. If so, just walk around to an area which is quieter and further away from luxurious hotels.
NaviGo Samui
 is a Mobile taxi application similar to that of Uber and GrabTaxi in the west. Taxi can be ordered quickly once the app is downloaded and waiting times are rarely over 5 - 10 minutes. The fares are strictly metered and an estimate of the total fare can be seen before confirming the order. All taxis have cameras inside and the drivers speak good English. The service is a good, safe alternative to the regular Taxis to avoid unreasonable fares. At least on a public holiday, don't expect there to be any NaviGo drivers to pick you up from the airport.
Airport taxi & transfer
There are no public taxis available inside the airport's arrival area. Sometimes so-called
Taxi Meter
cabs are waiting outside, but will rarely drive using the meter and charge instead fairly high fixed or negotiated rates. The airport has a minibus service at a fixed price per person, booking at counter in arrival hall. Airport-approved private taxi companies and limousine service are also available on arrival. Many hotels and resorts have airport transfer included in their service, arrival pick-up normally has to be booked in advance.
By bus
Pickup trucks/public passenger pick-up vehicles (
songthaews
) also serve as group taxis.
To get from the Nathon Pier to Bophut/Chaweng take a brown one which runs at regular intervals and will cost 50 baht to or from Bophut (Just ask if he is going that way and get on board. Pay when you get off.
If you want to go to a particular place, then you hire a taxi or songthaew, and negotiate the price with them first.
By motorbike
Motorbikes can be rented virtually anywhere on Ko Samui for between 120-700 baht per day depending on the size and season (small 125 cc bikes should cost no more than 200 baht even during New Year). It is recommended though, to hire only from a reputable company as there have been reports of scams. Some places have been known to steal bikes that they have rented out. Also rental motorbikes are not insured. If they tell you they have insurance, it's not true. If something happens, you can't claim for it. Read the rental agreement extra carefully, as too many (it's
not
typical for other parts of Thailand e.g. Chiang Mai) will state that you may not replace any broken/damaged parts yourself. This is a scam, as instead they will replace it for you for a price several times higher (sometimes also stated in the agreement) than it actually costs. They
will
check any old scratches and/or serial numbers, if noted in the agreement, and demand that price even if you have already replaced that part yourself! For the same reason, inspect the motorbike carefully and be sure any existing scratches/damages are written in the agreement before you have taken the motorbike. Take photographs of the bike.
Motorbike shops will likely want you to leave your passport as collateral. This is a common practice in Thailand, and, by itself, shouldn't raise much concern, however most government travel advisory services advise against leaving your passport anywhere as a deposit for obvious reasons. Combined with the scams and bad practices mentioned above, however, it may lead to a situation where your passport is held as a hostage until you pay what they want. For this reason, it's unwise to return your motorbike just before your departure. Leave at least several hours, or perhaps a day, to settle any problems if they arise. If the shop's demands are clearly illegitimate (the agreement you have signed does not contain any silly conditions and prices, the price they ask for damages is unreasonable, or the damage was clearly done before you rented the motorbike) - call Tourist Police. They 'will' help your cause, although shop owners will try to convince you otherwise.
If hiring a motorbike doesn't appeal to you, then there are motorbike-taxis willing to take you around for a (negotiable in advance, as foreigners are commonly asked an exorbitant price) fee, as well as other modes of transportation.
By bicycle
Bicycles can be hired very cheaply on Ko Samui. One shouldn't cost any more than 50-100 baht per day.
By car
There are many car hire options on Ko Samui, including the local arms of international companies such as Budget and Avis. Prices are fairly expensive (1,200-1,500 baht per day for a small car), but the convenience of a small, air-conditioned car may be worth it. You can pick up and drop off at the airport or some other locations. Driving is easy on the island as long as you are not in a hurry and having a car gives you easy access to almost all areas of the island. An international driving license is required nominally, although they will accept any valid driver's license. But you may have issues in case of accident without the international license.
See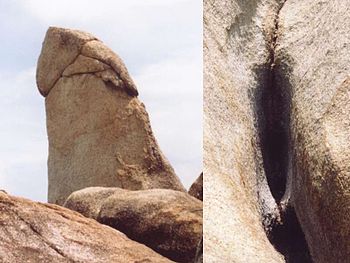 The major reason people come to Samui is, quite simply, to enjoy the beaches. Even though the two main beaches of
Chaweng
and
Lamai
have generally suffered due to mass development over the past decade they are still relatively impressive. Development has been thwarted slightly because of the island's regulation governing height restriction, although it can be argued that this has caused sprawl.
Other than lying on the beach with a cold beer in hand and ogling at the babes and hunks sauntering past, there isn't all that much to see on the island. A certain pair of rocks on
Lamai
amuses some visitors,
Bang Rak
has a large but nondescript Buddha statue, and there are some waterfalls (notably
Na Muang
) of minor interest.
Beaches and places
Ban Lipa YaiThis village grows high quality fruits, including rambutan, durian, mangosteen and the famed langsat.

Bang Rak BeachAlso known as "Big Buddha Beach", in northeast Samui, Big Buddha offers visitors good swimming and lovely views. The area has developed a lot over the past few years and there are now plenty of restaurants, shops, and bars.

Bophut BeachIn the north of the island, is a popular starting point for diving tours. The place isn't in any way as developed as Chaweng but there are still plenty of restaurants, shops, and bars.

Chaweng BeachThe major beach on Ko Samui and one that has developed tremendously since the early 1990s. Just 20 years ago the beach was home to just a sprinkle of wooden bungalows but now the place is swamped with hotels, pizza joints, pubs, and go-go bars. Samui's nightlife is becoming legendary but unfortunately does not always attract the highest standard of tourist. Chaweng's once hippie-only backpackers have given way to a lot of lager louts. Chaweng is the place to be if you are one of them.

Choeng Mon BeachIn the northeast corner of Samui just 10 minutes from Chaweng. Unlike the latter, it is a perfect place for relaxing.

Grandmother and Grandfather RocksThese odd-looking rocks at the south end of Lamai Beach bear a striking resemblance to male and female genitalia and they have turned into one of the island's biggest attractions. For those who would like to hear a legend or two surrounding the rocks, they need only ask a local.

Hin Lat WaterfallEasily accessible by car. Some of the numerous tiny levels have a large basin for swimmers.

Lamai BeachLike Chaweng, Lamai has been transformed from a hippie hangout into a fun, party place packed out with bars and exciting nightlife. The beach though, is still in better condition than Chaweng and the place doesn't get quite so crowded. But if it's a quiet relaxing location you are after, then the tourist downtown, known as Lamai Beach, won't be the ideal place for you. The quieter northeast end of the beach is lined by both good-quality luxury resorts and low-cost guesthouses and bungalows, which front along the highway towards Chaweng.

Mae Nam BeachThis quiet beach, in the north of the island, is decent enough for swimming and sunbathing especially for families with children due to the shallow water.

Na Mueang WaterfallA local road leads to the Na Mueang 1 Waterfall just off Rte 4169. A walk of about 30 minutes ends up at the more scenic Na Mueang 2 Waterfall. Purple rocks surround the stream of water, which gushes in from an impressive height of around 79 m.

Old HouseThis Chinese-style house, almost 200 years old, represents Samui's hints at Samui's distant cultural past. Grandpa Si and Grandma Maen Hancharoen, the present owners, open the house to visitors.

Secret Buddha GardenThis beautiful garden was made by a 76 year-old Ko Samui fruit farmer in 1976. It is surrounded by lush jungle, rocky hills and is adorned with sculptures depicting both humans, in various poses, as well as various deities. Since the garden is the highest point on the island, there are also some awesome views to be had. Organized tours to the garden last for about 2 hours.
Diversions
Monkey ShowsThese shows can be observed at the open-air theatre on the main road behind Bophut beach. The entertainment also includes performing elephants. However, the capturing and training of otherwise wild animals is at best ethically questionable.

Samui Aquarium and Tiger ZooThe undersea world of the aquarium has an amazing collection of tropical fish and other vibrant aquatic animals such as turtles and colourful coral. The tiger zoo is home to Bengal tigers and leopards. For those who are daring enough, they can have their photograph taken with the animals.

Samui Butterfly Garden / Insect MuseumThere is a huge collection of butterflies, some a quarter of a metre wide. In the nearby Insect Museum, you can see a variety of rare bugs and a bee house.

Buffalo Fighting Festival: One of the best-known festivals on Ko Samui is the Buffalo Fighting Festival which is held on special occasions such as New Year's Day and Songkran. Unlike Spanish bullfighting, the fighting on Ko Samui is fairly harmless. The fighting season varies according to some ancient customs and ceremonies. The buffalo are beautifully decorated with ribbons and gold-painted leaves. Before the contest, which lasts just two rounds, monks spray the buffalos with holy water. The winning owner typically takes home millions of baht in prize money.
Ten Stars Samui Art Party: A recurring cultural event bringing together art lovers, local Thai and international artists, and their new, original artworks. The annual event, hosted at various high-end resorts and other high-end venues on the island, focus on building the art community on Ko Samui, with presentations by featured artists.
Samui Triathlon: The International Triathlon Union organizes this event every year. This event draws more than five hundred participants from around the world.
Temples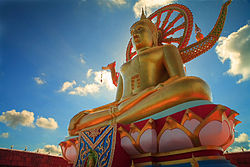 Laem Sor Pagoda Ko SamuiThis chedi (pagoda) at Laem Sor temple is one of the most important shrines on Ko Samui. The structure with its yellow tiles which gives off a golden aura is quite impressive.

Wat Khunaram Ko SamuiThis temple is the island's most famous temple for its mummified monk on display. The mummy sits upright in a glass casket and devotees offer it flowers and incense. The mummy is in fact the body of a very revered former abbot of the temple who was also a meditation master who was able to predict his own death.

Wat Phra YaiHas a 15 m tall statue of the Buddha. It was built in 1972.
Do
The usual panoply of water sports are available, including plenty of dive shops, but most diving is done either in the nearby
Ang Thong National Marine Park
or
Ko Tao
as the visibility around Samui's sandy beaches tends to be poor. You can book diving day trips at dive shops, most of which are based in
Chaweng
. The dive boats tend to leave from the pier at
Bophut
and
Bang Rak
.
Ten Stars Samui Art PartyA recurring cultural event bringing together art lovers, local Thai and international artists, and their artwork. The annual event, hosted at various resorts and other venues, focus on building the art community on Ko Samui, with presentations by featured artists.

Koh Samui THA Midnight RunThe Ko Samui Midnight Run is a charity run organized by the Thai Hotel Association (THA) and the Thai Association of Ko Samui (TAKS). It is a yearly event usually held in March. With up to 2000 participants, the run is one of the biggest on Samui and in Thailand. Participants will run 5 or 10 km around the buzzy and lively streets of Chaweng Beach. The first run was held in 2013.

Samui RegattaA sailing race held every year. The tournament is internationally known and competitors come from as far away as Australia, Singapore, Japan and China. The event began in 2002.

Samui TriathlonThe International Triathlon Union organizes this event every year. This event draws more than five hundred participants from around the world.
Diving
Without a doubt the south of Thailand is home to some of the finest and most beautiful beaches and islands in the world, surrounded by crystal clear water and stunning coral. And that is the main reason why the number of divers coming to Thailand has escalated over the past decade or so. Even though the best time year of the year to dive in the Ko Samui is between Jun-Aug, it is still perfectly possible to dive virtually all year round. As Thailand is considered one of the safest destinations for diving and snorkelling in the world, it is perfect for novices.
Under sea visibility in some places around Ko Samui is very good (distances of up to 10–30 m). One can enjoy splendid sights of underwater mountains, coral gardens, undersea rock formations, hard and soft coral, and whale sharks in season.
Ko Kra & Ko Losin: These two small islands to the southeast of Samui don't get too many divers due to their remoteness. Blacktip sharks, manta rays and hard to find loggerhead turtles can be seen.
Samran Pinnacles: Since the currents in this area are often quite strong, this site is recommended for experienced divers only. Due to the currents, the site is a haven for larger pelagics such as barracuda and jacks.
Water park
phone: +66 77423 548

address: 28/41 Moo 1, Maenam Soi 1

With pools, Jacuzzi and slides. Restaurant on site, with children's menu and vegan options.
Eat
Samui is well known for its
coconuts
, which are available everywhere and quite tasty. Being an island, seafood is generally a good choice although in high season demand often exceeds local supply. The larger beaches have a number of international restaurants as well (often run by Thai-farang couples) with
Bophut
having a particularly good reputation.
Southern Thai food in general is renowned for its spiciness. Much of the cuisine has its origins in Malay, Indonesian, and Indian food. Favourite dishes from the south include Indian-style Muslim curry (massaman), rice noodles in fish curry sauce (khanom jeen) and chicken biryani. Popular local foods are salted eggs and rambutan.
Dual pricing is common: some restaurants have two menus, one for tourists and the other for Thai people, at about a quarter of the tourist prices. Main courses in a standard, low-key Thai restaurant should be under 100 baht (except some seafood dishes), so if prices seem unreasonably steep, head elsewhere. Always check prices and menu first so you don't have to argue when the bill is served.
Drink
There are innumerable options for a drink, ranging from the loud and brash tourist pubs and girlie bars of
Chaweng
to the candle-lit romantic bars of
Bophut
. The local beers of Singha, Tiger, Chang and Leo are around 90 baht, with imported beers up to twice that. Wine is especially expensive and usually costs over 2,000 baht per bottle.
Beer bars
Chaweng Beach is famous for its beer bars staffed by pretty hostesses. Buy them a 'girlie drink' and you'll be in entertaining company. Beer bars can be found all over Chaweng. The bars offer pool, Connect4 and other popular bar games. Since the nightlife on Chaweng can devolve into serious debauchery at times, the local law enforcers are strict in regards to closing times. The official closing time in "entertainment zones" is 01:00, that on practice is usually somewhere between 01:00 and 02:00.
Karaoke
At karaoke bars customers can either choose a private room or sing in the main lounge for everyone to hear. There are Thai songs and international songs. There may be pretty hostesses available to sit for a pleasant chat. These bars are especially popular with Asian tourists.
Nightclubs
Chaweng Beach is packed out with nightclubs playing mostly commercial pop and electronic music and serving exotic cocktails.
Rum distillery
There is a distillery that brews 5 flavours of rum on one of the side roads on the
South Coast
of the island, which offers tours during the sugar cane season and free samples any time. The flavours are natural (sugar cane), lemon, orange, pineapple and coconut. Natural and coconut are quite tasty, lemon has a very strong pleasant citrus flavour, and you won't miss anything if you don't try the other two. They also have a delicious mixer to serve with consisting of lime juice, cinnamon and other spices. Worth heading to if you're in the area or just for the novelty of sampling authentic Thai rum. Very friendly staff.
Sleep
With only an estimated 25,000 rooms, accommodation may be a problem in high season. If you're into nightlife,
Chaweng
is definitely the place to be, but also
Lamai
offers some late entertainment. If you're into a quieter beach experience, try the northern beaches like
Mae Nam
,
Bophut
, or
Choeng Mon
. Also the
South Coast
and west coast are good compromises.
Nathon
is in the centre part of the island, and offers reasonably priced accommodation with hotel rooms from around 400 baht.
There are plenty of luxury private villas on Ko Samui. The villas usually have dedicated staff on hand to offer customised services such as breakfast, dinner and in-villa spas. You can also arrange for them to pick you up at the airport.
Stay safe
Tap water is generally not potable. Liquids from sealed bottles nearly always are, and should be used wherever possible. Restaurants buy ice made from purified water, so don't worry about ice. Tap water in most hotels should not be used for drinking or brushing teeth unless explicitly labelled as safe.
Motorbikes are somewhat risky, but Jeeps, trucks, and other cars for rent are readily available at very reasonable rates, and are considerably safer. If you must use a motorbike always wear a helmet and never drive drunk. Make sure you have a travel insurance, as most vehicles comes with the compulsory insurance only, that covers nearly nothing and the driver may be personal responsible for damage. Rental cars from major companies however, may have a full insurance. Roads are hazardous with many large potholes.
After a good time drinking in the party areas of Chaweng, Bophut, and Lamai taxis and motorbike-taxis are readily available to take you home. However, be careful: Generally, taxi and motorbike-taxi drivers tend to rip you off.
A recent development has been the appearance of all-terrain vehicles (ATVs) to rent. These are not be registered for road use and not allowed in most areas.
Be careful about beaches in night time as crimes sometimes occur there.
If travelling to Ko Samui, Ko Pha Ngan, or Ko Tao by bus, do not store any valuables in your luggage. Sometimes there are thefts from people's belongings stored in the hold. They will pick the lock and steal valuables and then reseal the luggage, and when you realise it they will be long gone. Do not let valuables out of your sight when transferring from the train to the islands.

Connect
Thailand also has more than its fair share of Internet cafes. The hourly charge is about 30 baht. For those in rural areas, hooking up to the Internet can be done via broadband satellite.
GSM networks of all major Thai mobile operators cover the island quite well. While roaming is an option, purchasing local SIM card will save you a lot on international calls. Even more, GPRS/EDGE/3G service is a cheap and convenient way to access Internet from virtually anywhere. See the
main article
for details.
Most resorts, and also many restaurants, cafés, and shopping centres offer free Wi-Fi.
Cope
Medical facilities
For those who are just a little sick there are countless clinics and pharmacies in all major tourist areas. Emergency calls for ambulance service can be direct to a hospital or to Samui Rescue Foundation (077 42 1444) or
Samui Tourist Police
(077 42 1281) or 1155. The public hospital is in Nathon (077 42 1230). There are four private hospitals in the Chaweng area.
Go next