Kobe
Kōbe
(神戸) is a city in the
Hyogo
Perfecture of
Japan
.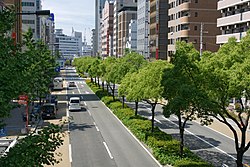 Understand
A cosmopolitan port city with an international flavor, hemmed in by Mt. Rokko, Kōbe is often ranked as the best place for expatriates to live in Japan. The city has a population of over 1.5 million people.
History
A port in what would become Kōbe was established as a concession to western powers in 1868, during the time when Japan was opening to the world. Nagasaki and Yokohama had already begun serving foreign ships nine years earlier. Today, a synagogue, Japan's first mosque, Japan's first Sikh temple, a Chinatown, and European architecture mark Kōbe as a place where foreigners and foreign culture first arrived in Japan.
Great Hanshin Earthquake
At 05:46 AM on January 17, 1995, the Great Hanshin Earthquake, measuring 7.3 on the Richter Scale, struck near the city. The quake killed 6,433 people, made 300,000 people homeless and destroyed 10,000 buildings and large parts of the port facilities, and toppled the Hanshin Expressway, an elevated freeway. It was one of the most costly natural disasters in modern history. However, visitors will not see any of the aftermath of the quake as the city has been restored.
Get in
By plane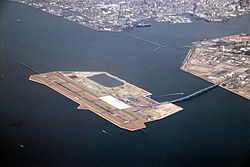 Kobe AirportBuilt on reclaimed land in front of the harbor, opened in February 2006. The airport handles domestic flights only: both Japan Airlines (JAL) and All Nippon Airways (ANA) have flights to Kobe from Tokyo Haneda, Sapporo, Sendai, Okinawa, and Kagoshima. ANA also offers service from Niigata, while JAL has flights from Kumamoto. A low-cost airline, Skymark, operates cheap flights to/from Tokyo, Naha, Ibaraki, Kagoshima, Nagasaki, and Sapporo.
From Kobe Airport, the
Port Liner light rail
to Sannomiya Station runs about every 10 minutes (18 minutes, ¥330). Sannomiya Station offers connections to the Japan Rail (JR), Hanshin, Hankyu and subway lines. From there, a small trip on the subway will link you to the Shin-Kobe bullet train station (¥200). If coming
from
Sannomiya to the airport, be sure to board a train marked "Kobe Airport", as some head to the Kita Futo branch line instead.
Kansai International Airport
is 70km from Kobe and is the nearest international airport. The fastest way to get there is on the
Kaijo Access
high-speed ferry from Kobe Airport, which runs every 45 minutes (29 minutes, ¥1,850 or ¥1,000 for foreign visitors). However, if you are coming from or going to Sannomiya Station or Rokko Island, it's nearly as fast and less of a hassle to take the
Airport Limousine bus
(60-75 minutes, ¥1,980 one-way, ¥3,080 round-trip). Alternatively, you can take the JR
Kanku Kaisoku
(関空快速) rapid to Osaka station and change there to the
Shin-kaisoku
(新快速 - Special Rapid) that runs to both Sannomiya and Kobe stations (90 minutes, ¥2,410).
Itami Airport
, officially known as
Osaka International Airport
is 30 km northeast of Kobe.
Airport buses
operate service to/from Sannomiya Station (40 minutes, ¥1,050).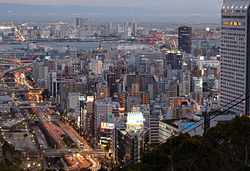 By train
The central business district and many attractions are near Sannomiya station, 1.7 km south of Shin-Kobe Station. . Sannomiya station has a tourist information office well-stocked with area maps. Be sure to ask for the coupon book, which offers discounts of 10% to 20% for many attractions. The Japanese characters for Sannomiya station on Japan Railways (三ノ宮) differ from the Sannomiya station on other railways (三宮).
The nearest station on Japan's high-speed
shinkansen
network is at .
From
Tokyo
station, Shin-Kobe is 2 hours, 50 minutes away via
Nozomi
(¥14,670); 3 hours and 20 minutes via
Hikari
(¥14,270; no charge with the Japan Rail Pass). From Shin-Kobe station, take the Seishin Yamate subway line one stop to Sannomiya (¥200).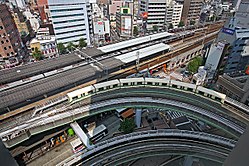 From
Osaka
, there are several ways to arrive in Sannomiya:
Trains on the Hankyu and Hanshin private lines depart respectively from Hankyu-Umeda and Hanshin-Umeda stations. The Tokkyu (特急) express takes roughly half an hour to reach Sannomiya (¥310).
Hanshin trains also operate to Kobe from Namba station. Kaisoku Kyuko (快速急行) trains depart every 20 minutes, reaching Sannomiya in 45 minutes at a cost of ¥400. In some instances you may have to change trains at Amagasaki.
The best option via JR is to take the Shin-kaisoku (新快速 - Special Rapid) or Kaisoku (快速 - Rapid) service that departs from JR Osaka station, running to Sannomiya in 20 and 26 minutes, respectively (¥390, no charge with the Japan Rail Pass).
From
Kyoto
, Sannomiya is 50 minutes away from the main train station via
Shin-kaisoku
(¥1,050; no charge with the Japan Rail Pass). You can also make the run to the area in 30 minutes via bullet train, but it is more expensive, and if you have the rail pass, you can only take one train every hour without changing trains (the
Hikari
that runs through to
Okayama
).
From the
central area
of Kyoto (near Gion and the shopping district), you can reach Sannomiya in 70 minutes via Hankyu limited express, changing once at Juso station (¥600). Hankyu trains depart from the Kawaramachi and Karasuma stations.
From
Nara
, direct Kintetsu trains operate to Sannomiya Station on the Hanshin line via
Namba
every 20 minutes (75 minutes, ¥940).
By bus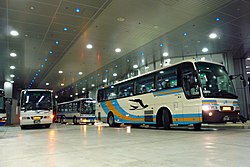 Kobe is served by highway buses from many parts of Japan, including
Tokyo
,
Nagoya
,
Nagano
, and the
Chugoku
,
Shikoku
and
Kyushu
regions. Most buses congregate at the
Sannomiya Bus Terminal
(三宮バスターミナル), adjacent to the Sannomiya train station. Others pick up and discharge passengers in the surrounding streets. Willer Express, for example, uses an area near the PMPT building about a kilometer west of the bus terminal.
From Tokyo
Willer Express
and
JR Bus
are among the major operators running buses from Tokyo to Kobe. Tickets for these and several other operators can be purchased online in English. One-way advance fares typically start at ¥3500 for high-density buses with 2x2 seating, and ¥5000 for buses with better seats and more amenities. Trips take 9-10 hours, with most buses leaving from either the Yaesu Exit of Tokyo Station or the Shinjuku Expressway Bus Terminal (
Busta Shinjuku
).
Keio Bus
and
Shinki Bus
operate the fastest overnight bus from Tokyo. The service starts at
Busta Shinjuku
and picks up at Shibuya Mark City on the way to Kobe, operating nonstop between Shibuya and Kobe in just 7 hours. The one-way fare is ¥8000, with advance fares available for around ¥6000-7000.
By boat
Several ferry services are available to Kobe, including routes from:
China Express Line

phone: +81 3 3537-3107 (Japan), +86 22 2420 5777 (China)

weekly service. 50 hours.
Get around
By train
If you are planning to travel beyond city limits you might want to consider using the
Kansai Thru Pass
.
There are some other useful tickets:
ICOCA Card
is a rechargeable card that can be used on rail, subway, and bus networks in
Kansai
area,
Okayama
,
Hiroshima
,
Nagoya
(Kintetsu) and
Tokyo
(JR East). These cards are available at vending machines at these rail stations, and cost ¥2,000, which includes ¥1,500 in transportation credit and a ¥500 deposit that will be refunded when the card is returned at JR West Station.
The Hankyu (阪急), Hanshin (阪神) and JR lines cross Kōbe in a west-east direction, and provide the cheapest and fastest way to travel across town. Each of these three lines have their own station located around the busy central Sannomiya shopping district and each provide access to different points of interest.
For visitors with a
Japan Rail Pass
, JR will be of the most use.
Shin-kaisoku
(新快速 - Special Rapid) trains stop at both Sannomiya and Kōbe stations and provide the best way to travel west towards
Akashi
and
Himeji
or east towards
Kyoto
and
Osaka
. Boarding a
Futsu
(普通 - Local) from either Sannomiya or Kōbe stations will allow you to easy access to Motomachi (for Nankin-machi and Meriken-park) Nada (for the sake brewing district and museums) Rokkomichi (for buses to Mt. Rokko) and Sumiyoshi (for the Rokko Liner to Rokko Island).
The Hankyu and Hanshin lines are of less use to tourists but you may be forced to use them to visit certain sights. Koshien Stadium, home of the baseball team the Hanshin Tigers, is easily accessible from Hanshin Koshien Station and both lines provide service to Shinkaichi for transfer to the private Kobe Dentetsu line and access to the famed
Arima Onsen
hot-spring district.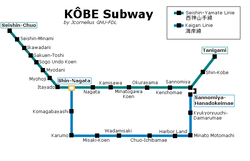 By subway
Kōbe has two subway lines. The
Kaigan Line
runs along the coast, and the
Seishin-Yamate Line
runs toward the mountains. Both are more expensive than ordinary trains and unlikely to be of use for the traveler, except when connecting to Shin-Kōbe, the station located north of the city where the Sanyo Shinkansen stops. The small jaunt between Shin-Kobe and Sannomiya costs ¥200. If you want to explore Kobe, there is a one-day-pass for both lines (1日乗車券; Ichinichijoshaken), costing ¥800 (children: ¥400) or subway plus bus for ¥1000 (children: ¥500).
North of Shin-Kobe station, the Yamate subway runs over the
Hokushin Express Line
. Trains run 7.5 km under ground and terminate at Tanigami Station, from which you can transfer to the
Shintetsu Arima Line
for Arima-guchi Station and
Arima Onsen
.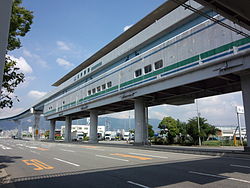 By light rail
The automated
Port Liner
links Sannomiya to the reclaimed port district south of the city, and continues over the Kobe Sky Bridge to Kobe Airport. Likewise, the
Rokko Liner
links the Rokko Island area to JR Sumiyoshi station. Both are operated by Kōbe New Transit.
By bus
Kobe has a comprehensive city bus system, which is often your best choice when travelling to areas north of the city, away from the predominately east-west running train and subway lines. Schedules and boarding locations can be obtained from the tourist information office below JR and Hankyu Sannomiya stations.
The city also operates a loop-line tourist bus that travels around scenic spots and famous tourist locations in Kobe including the Kitano Ijinkan streets, Nankin-machi and Meriken Park. These distinctive old-fashioned green buses can be boarded are 15 stops between the Shin-Kobe area and Harborland and cost ¥250 for a single loop or ¥650 for a day pass. Boarding locations are indicated by green and red signs on the side of the road. Buses run at 15-20 minute intervals and one loop takes approximately 70 minutes.
By ropeway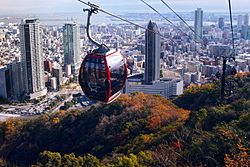 Kobe has several ropeways that travel up Mount Rokko. One that is near a major station is the
Shin-Kobe Ropeway
, a 5-minute walk from Shin-Kobe station. The ropeway, reputed to have one of Kobe's best scenic views, runs up to the Nunobiki Herb Park. Adults ¥550 one-way, ¥1000 round-trip. Combination tickets are also sold which include the Nunobiki Herb Park (see below).
On foot
Kōbe is narrow in the north-south direction, but long in the west-east direction. Since much of it is built on a hill, a reasonable itinerary is to take the bus up the hill, and walk down. If you get lost, find the mountains or the harbour. The mountains are in the north, and the harbour's in the south.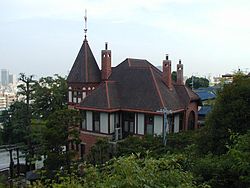 See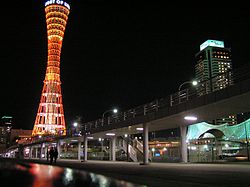 Kobe's main attraction for the Japanese is its concentration of
Western-style houses
, some dating back to the days when Kobe was opened for foreign trade in 1868. Europeans who grew up in similar scenery may find them less fascinating.
Districts
Kitano IjinkanKōbe's main attractions are the Ijinkan (foreign houses). These are 19th-century residences of Kobe's foreign traders, clustered in the Kitano area.

Kyu-kyoryuchiThis is where foreign consulates and trading companies built their offices. Several 19th-century buildings have been converted into restaurants and shops. Notable buildings include Chartered Square, once the Chartered Bank branch and the 15th Building (十五番館), once the American consulate. The area is also packed full of high-fashion boutiques such as Gucci, Louis Vuitton, Prada and Fendi.

ChinatownThe original settlement of Chinese merchants. Today, it is rather touristy though it offers some "Japanised" versions of Chinese food such as pork buns (豚饅頭 buta-manjū). Its architecture is still rather pleasant though.
Museums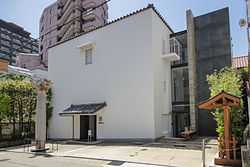 Takenaka Carpentry Tools Museum

phone: +81 78 242-0216

A very nice exploration of hand carpentry tools, from the stone axes of Jomon age to the Western influenced tools of yesterday. Hands-on exhibits and English language descriptions make this a pleasant place to spend the afternoon.
Monuments
Tetsujin 28 statueA 18-meter-tall statue of a manga robot that was built to help rebuild the Nagata ward of Kobe both financially and morally after the great earthquake. The Nagata ward was one of the worst hit areas and the character of the statue has a long history to Japan as a whole and specifically this area.

Weathercock HouseArguably the most-often photographed house among the Ijinkan
Viewpoints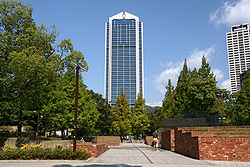 phone: +81 78-391-6751

address: 5-5 Hatobacho, Chuo Ward

Built in 1962, it is the world's first sightseeing tower with a pipe structure. The unofficial symbol of the city. 108m tall. 5 levels of observatories.

Observation deck on the 24th Floor of Kobe City Hall

phone: +81 78-331-8181

address: 6-5-1 Kano-cho, Chuo-ku

Offers nice bay and mountain views of Kobe.
Sake breweries
Kōbe is a well-known center of
sake production
and many sake breweries are in the Nada (灘) area and have tours or museums open to the public. You can pick up a map of the sake breweries at the tourist information office in Sannomiya.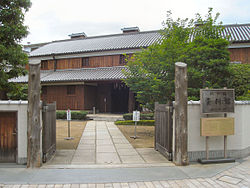 phone: +81 78-882-7788

This museum is probably the best of the bunch, with an informative multi-level exhibit partly labelled in English, and a well-stocked gift shop

phone: +81 78-822-8907

This museum is inside a former brewery, and features traditional tools, dioramas and English-language videos to explain the sake-making processes. At the end, you can sample some sake, which is non-pasteurized, presumably because it doesn't have to travel far from the factory. Write your name on a piece of paper provided by the guard and return that at the end.

Hamafukutsuru-Ginjo Brewery and Shop

phone: +81 78-411-0492

Reportedly, Hamafukutsuru offers factory tours, rather than just a museum

Kiku-Masamune Sake Brewing Company

phone: +81 78-854-1029

address: Kobe, Higashi Nada-ku Uozaki Nishimachi 1-9-1

Kiku-Masamune Sake Brewing Memorial Hall is the only facility that exhibits "Sake brewing utensils of Nada" which are tangible cultural properties of Japan. It is a museum of Sake that tells you the secret of traditional sake brewing techniques of the Tanba region. You can also try tasting different kinds of sake here for free. There will be a guide to take you though the museum and present the history of a prestigious "Sake of Nada" brewer.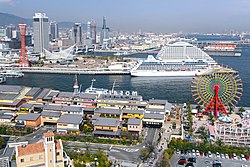 Do
MOSAICKobe's playground. There are restaurants, bars, a movie theatre, a shopping market, an amusement arcade and a little amusement park. Harbour cruises are offered, some of which go as far as the Akashi-Kaikyo Bridge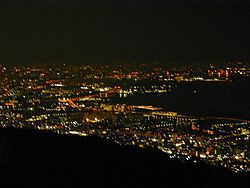 Mt. Rokko (六甲山 Rokko-san) and its Rock Garden, the first an easy cable car trip for suitable romantic evenings, the second a light day's hiking with an excellent view. The view over the glittering expanse of Osaka Bay is canonized as one of the Three Great Night Views. The Mt. Rokko and adjacent Mt. Maya cable car routes close at 17:10, or 20:50 in the summer.

Nunobiki FallsFour waterfalls that empty into the Ikuta River. The largest is 43m high.
Parks and gardens
Meriken ParkLocated on the harborfront has a poignant memorial to the devastating Hanshin Earthquake in 1995, which killed 6,433 people.

phone: +81 78-954-1000

Surrounded by a lot of flowers and greenery. Many people hold their wedding ceremonies here every year. In spring, the park becomes even more beautiful as about 10,000 tulips bloom.

phone: +81 78 351-4680

A nice Japanese-style garden in the middle of the city. Very good value and a great attraction to see after going through the Ijinkan area.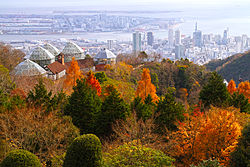 phone: +81 78-271-1160

40-acre garden on Mount Rokko. It is accessible by the Shin-Kobe Ropeway, near Shin-Kobe station. It features over 200 varieties of herbs, as well as greenhouses, exhibitions, and a restaurant.

phone: +81 78-961-5624

Besides animals, there is a mini amusement park with rides for young children
Festivals and events
phone: +81 78 303-0038

Japan's best display of lights. Large, flamboyant light displays. The lights and the event itself have a deeper meaning: The luminaries began in 1995 after the Great Hanshin Earthquake devastated the city of Kobe. Each light is said to represent one life lost during in the earthquake.

Kobe CollectionFashion event popular with young women.

Kobe Jazz StreetFamous Jazz event in Japan.
Buy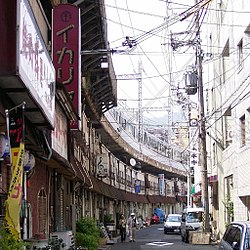 Kōbe's shopping is clustered around the Sannomiya train station and the Center-Gai shopping arcade leading off from it. Many of the unassuming little cafes and specialty shops in the arcade in fact have histories tracing back well over a hundred years.
Piazza Kōbe
(ピアザ神戸) and
Motokō Town
(モトコータウン) are the two names of essentially one long arcade where all manner of second-hand goods are sold. These stores are underneath the JR lines, running from Sannomiya station, past Motomachi Station, to Kōbe Station. Motoko sells a variety of things such as books, clothes, shoes, accessories, knives, lighters, toys...... You can get heaps of things.
Harbor Land (adjacent to Kobe station). This is a modern shopping and dining area, developed on the edge of the Kobe Bay.
Books
Junkudo (7th floor of the big DAIEI building in front of Sannomiya station and 5th floor of JR Sumiyoshi station). +81 78-252-0777. Open daily 10:00-21:00. Huge bookstore with big selection of English books and magazines.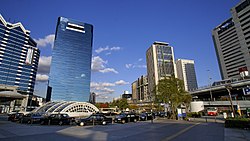 Eat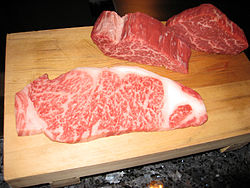 Kobe has many restaurants offering international cuisine.
Kōbe is known worldwide for its
Kobe beef
, exquisitely marbled, very fatty and very expensive beef. Recommended for a splurge, but expect to pay close to ¥10,000 per 100 grams. At the opposite end of the culinary spectrum is
sobameshi
(そば飯), a concoction of fried rice and noodles mixed together, which is cheap, filling and pretty much unique to Kobe.
Budget
Cheap eats can be found in Kōbe's Chinatown (
Nankinmachi
in Japanese), walking distance from Sannomiya station.
Gaen Shuga Chinese Restaurant

phone: +81 78 331-8828

address: 2-8-7 Sakaemachi-dori, Chuo-ku, Kobe-shi, Hyogo 650-0023

Delicious Cantonese and Hong Kong cuisine prepared by genuine Chinese chefs. An English menu is available. You can get a dish such as fried rice for under ¥1,000 or a set menu with several dishes including soup and dessert for slightly more. You can also ask the proprietor to prepare a special banquet menu for you that includes delicacies like shark's fin soup and fresh abalone.

phone: +81 78-331-5435

address: 1-3-3 Motomachidori, Chuoku

phone: +81 78-391-3060

address: 3 Chome-11-15 Kitanagasadōri

A vegetarian organic cafe that also serves alcohol and desserts.

Naruto Taiyaki Hhonpo Hankyu Sannomiyaekimae

phone: +81 78-321-5520

address: 1-9-5 Kitanagasakidori

A cramped and popular taiyaki shop. Serves 2 varieties of taiyaki, a fish-shaped cake: sweet potato and red bean paste.

Pizza Kitchen

phone: +81 78-333-0350

address: 1-12-4 Nakayamate-dori

Free WiFi for customers.

phone: +81 78-391-7728

address: 1-4-8 Motomachidori, Chuo-Ku

Chinese restaurant. Try the chicken.
Mid-range
address: Several branches near Sannomiya station, Motomachi station, and elsewhere

>Specializes in yōshoku, or Japanized Western dishes. Specialities include Ebi furai (breaded shrimp), kaki furai (breaded oyster), hamburger steaks and tonkatsu (pork cutlets).

Sky Buffet

phone: +81 78-252-7570

address: 5-1-14 Hamabedori, Chuo-Ku

At 24 floors up, the view is quite impressive, especially at night. Go for the view, not the food.

phone: +81 78-322-0252

address: 3F Lighthouse, 2-2-9 Shimoyamatedori

Possibly the best Indian restaurant in the Kansai region. The chef is famous for his creations and often recommends what dishes to order for first timers. Set lunch and dinner menus are available along with an ala-carte menu. The restaurant holds several food festivals, notably in summer (June - August) and in Christmas. Reservations strongly required, as seating is limited and the restaurant gets packed during lunch and dinner times.

address: 3 locations: near the Hankyu station, near the shrine, and just down the street from the Haagen-datz near the concrete statue park

Torikizoku is the most popular yakitori chain in Kansai. The Yakitori is delicious, comes in generous serves and is very cheap. It's very popular with both locals and expats, and is always busy. Try to come before 7:30PM to secure seats. As the drinks are cheap it's also popular for drinking with snacks on the side. Look for the distinctive yellow and red sign with the chicken and 鳥貴族
Splurge
phone: +81 78-252-1113

address: 4-9-2 Kitanocho, Chuo-ku

A French restaurant with a romantic view.

Kobe Beef Steak Ishida Kitanozaka

phone: +81 78-599-5029

address: 4-7-11 Kanocho Chuo-Ku

Rated one of the best places for Kobe beef.

Kobe Portopia Hotel Restaurants

phone: +81 78-302-1111

address: 10-1, 6 Chome, Minatojima Nakamachi, Chuo-ku

There are several restaurants in the Kobe Portopia Hotel, some with high floor views.

Kokubu

phone: +81 78-321-1717

address: 1-21-2 Kitanagasadori, Chuo-ku

One of the top Kobe beef steakhouses.

Medium Rare Steakhouse @ Oriental Hotel

phone: +81 78-326-1577

address: 25 Kyomachi, Chuo-ku

Great Kobe Beef, Hida Beef, Hamburg Steak, Abalone, and Fresh Japanese Tiger Prawns. All perfectly cooked right in front of you on Teppan grills to your liking.

phone: +81 78-321-1990

address: Daiichi Kishi Bldg. 3F, 9-9 1-chome, Kitanagasa Dori, Chuo-ku

One of the most famous houses serving Kobe beef. The slightly reduced lunch specials are worth checking out. Must make reservations.

phone: +81 78-599-5509

address: 1-9-2 Mozan-Biru 1F

Definitely is the best place to enjoy sushi! With a cozy atmosphere, Japanese-style music and design, will make you feel comfortable and of course, fill your hungry stomach with fresh seafood, sashimi and sushi by Chef Nakanishi Shinsuke. Black-hair beef here is worth a try, too. The service is friendly and the kitchen is delightfully quick. Good drinks menu; try the ginger ale, Asahi beer, and wine.

phone: +81 78-262-2838

address: 1-1 Kitanocho, Chuo-ku

Kobe beef prepared right in front of you.
Drink
Bars
Kobe's specialty are
tachinomiya
, literally stand-and-drink bars.
Cafes
phone: +81 78-231-6051

address: 4-6-15 Ikutacho, Chuo-ku

A cafe in a former church.
Clubs
phone: +81 78-391-2016

address: 1-5-1 Kitanagasadori, Chuo-ku
Sleep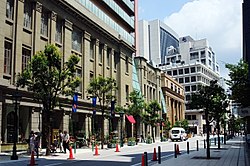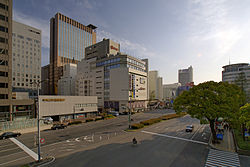 Kōbe has a wide variety of accommodation, ranging from love hotels near Shin-Kobe to luxury hotels by the waterfront. If you're looking for cheaper alternatives, ask at the tourist information office in Sannomiya station (they speak English).
If you don't find a hotel,
Osaka
is only 20 minutes away on the JR line for ¥390.
Budget
Hostel Nakamura Kobe

phone: +81 78-777-6319

phone: +81 78-576-1818

address: 1 Chome-2-2 Shinkaichi

phone: +81 78-222-3755

address: 3-10-15 Ninomiya-chou, Chuo-ku

8 minutes walking from Sannomiya station (Hankyu, Hanshin, JR Line). Spa and capsule hotel with a floor exclusively for women

Ninomiya Ryokan

address: 1-10-6 Kotonoo-chou, Chuo-ku

phone: +81 80-4496-3034

address: 2-4-6 Kumoi-dori

Solid hostel in a great central area. Free wifi, free computers, kitchen, lounge.

Kobe Stockers' Share House at Uozaki

phone: +81 70-6453-1583

address: 4-2-1 Minami Uozaki, Higashinada, 658-0025

Cosy little hostel for stays of at least 2 weeks.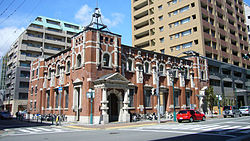 Mid-range
phone: +81 78-362-1155

address: 1-3-5 Higashi-kawasaki-cho, Chuo-ku

Overlooks Mount Rokko and Osaka Bay. The location near JR Kōbe station is good.

Hotel Tor Road

phone: +81 78-391-6691

address: 3-1-19 Nakayamate-dori, Chuo-ku

phone: +81 78-302-1111

address: 10-1,6 Chome, Minatojima Nakamachi, Chuo-ku. 650-0046

This is a high-rise international hotel on Portopia Island mainly of interest to business travelers or those attending events at the International Convention Center nextdoor. Includes spa and pool at additional cost. Free wifi in guest rooms. Very nice view from the 30th floor during the breakfast buffet or the bar in the evening. Shuttle service to Sannomiya, Shin-Kobe Stations and Kobe and Kansai airports.

Sannomiya Terminal Hotel

address: 651-0096 Hyogo, Kobe, Chuo-ku Kumoidori 8-1-2

Directly over the Sannomiya station, with reasonable pricing, simple but adequate facilities and rather small rooms. The "twin room with sofa bed" is larger than the doubles, but the convertible sofa pretty much fills up the extra space.

phone: +81 78-303-0100

address: 7 Chome-5-1 Minatojima Nakamachi

An older mid-range hotel on the artificial island next to the Kobe airport (accessible by the Port Liner). Shows its age inside and out, but still does the job well and the views are quite nice.

phone: +81 78-291-1121

address: 1 Chome Kitanocho

phone: +81 78-222-7500

address: 1-1-22 Isobedor

Kobe Motomachi Tokyu REI Hotel

phone: +81 78-327-0109

address: 1-2-35, Sakaemachi-dori, Chuo-ku

Mini-fridges in rooms.
Splurge
phone: +81 78-857-7000

address: 2-13 Koyocho-naka, Higashinada-ku

address: 3-3-20 Yamamoto-dori, Chuo-ku

Its owner was a chef at Le Relais Bernard Loiseau (a restaurant in France, Michelin 3 stars restaurant). This hotel's plan includes dinner and breakfast.

Oriental Hotel

address: 650-0034 Hyogo, Kobe, Chuo-ku Kyomachi 25

A Japanese take on modern Western-style luxury hotel, in the Kyu-Kyoryuchi area. Higher-level rooms and suites, as well as the hotel bar enjoy a view over the Kobe Harbour

Kobe Meriken Park Oriental Hotel

address: 650-0042 Hyogo, Kobe, Chuo-ku Hatobamachi 5-6

The hotel resembling a giant cruiseship is a very conspicious part of Kobe Harbour's waterfront. Inside you will find spacious rooms, the more expensive of which feature balconies with views over the harbour. All Western-style comforts are to be found, and hotel's restaurants and bars add a touch of luxury to the land-cruiseship experience.

Hotel Villa Fontaine Kobe Sannomiya

address: 651-0095 Hyogo, Kobe, Chuo-ku Asahi dori 4-1-4

A stylish boutique hotel squeezed into the immediate neighbourhood of Sannomiya station. All rates include a complimentary breakfast.

Hotel Okura Kobe

address: 650-8560 Hyogo, Kobe, Chuo-ku Hatobamachi 2-1

A slightly tired luxury hotel in a highrise next to the Port Tower. Room prices increase with floors, but do note that views from some rooms are over the less-than-scenic industrial part of the port of Kobe.
Go next