Kodaikanal
Kodaikanal
is one of
Tamil Nadu
's finest hill stations, 7,200 feet above sea level amongst the Western Ghats of India, in the Palani Hill Range and under the administrative control of Dindigul District.
Understand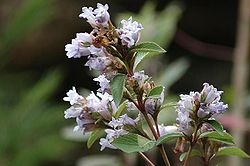 In Tamil, Kodaikanal means "Seen in Summer".
Kodaikanal is also referred to as "Princess of Hill stations."
Kodaikanal relies upon agriculture and tourism as the two major parts of its local economy.
Unique to the Western Ghats, the Kurinji Flower is in full bloom around December once in 12 years, and it bathes the valley in a beautiful sea of blue. The name Nilgiri (blue mountains) was derived from the blue color. It was last in full bloom in 2018.
Get in
By plane
The closest airports to Kodaikanal are
Trichy
150 km,
Madurai
120 km and
Coimbatore
175 km. You can get regular flights from Mumbai, Trichy, Bangalore and Chennai. From any of these airports you can hire a private taxi, cab or take train to reach Kodaikanal.
Trains are available in frequent intervals but you can choose to go by private taxi if you are in real hurry.
By train
The nearest railway station is Kodai Road, at a distance of 100 km. From Kodai Road station, one can travel only by road. Taxis are available for hire up to Kodaikanal but since these might be the only mode of transport here, the prices are often not negotiable.
Another railway station that is quite close is Dindigul Railway Station. It is easier to come to Kodaikanal using this station, as
Dindigul
is a much bigger city. Once you get off at the Dindigul Railway station, you can get an auto rickshaw for around ₹50 to come to the Dindigul Bus Stand. From there, there are frequent buses to Vathlagundu from where there are many buses to Kodaikanal. Straight buses are available from Dindigul to Kodaikanal as well, but you might have to wait for an hour or so. It takes around 30 minutes from Dindigul to Vathlagundu (Batlagundu) and then about 2 hours from Vathlagundu to Kodaikanal by bus.
By bus
From Dindigul city, Kodaikanal is located at a distance of 90 km approximately and there are plenty of buses plying from various parts of the state.
Buses ply from
Chennai
,
Pondicherry
,
Trichy
,
Madurai
,
Dindigul
,
Palani
and
Coimbatore
.
Buses are available from Madurai (Arapalayam) to Kodaikanal at regular timings.
By car
Reach Kodaikanal from Kodai Road (80 km) for ₹1300/- approx, Dindigul or Madurai and then take a cab/taxi to Kodaikanal. The drive from Kodai road takes approximately 2 1/2 hrs while the drive from Madurai takes approximately 3 1/2 hours and from Dindigul it takes about 2 1/2hrs.
From
Kochi
, it is 295 km via the hill station of
Munnar
. The route to be taken is Kochi-
Muvattupuzha
-Kothamangalam-Adimali-Munnar-Devikulam-Poopara-Bodi-Theni-Kodaikanal which is the NH49 Kochi-Madurai.
From
Alappuzha
or
Kottayam
, the route is via
Kumily
along Kottayam-Kumily road, KK Road.
Get around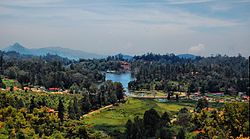 The central region of Kodaikanal is highly compact which makes it extremely easy to get around on foot. Though auto-rickshaws are not available in this part, taxis are there to take you to different sightseeing destinations. The charges are fixed and significantly high. The entire sightseeing tour may cost you ₹300 for couple of hours to ₹700 for five hours.
If you think that you are fit enough to challenge the hills then you can hire mountain bikes from different bicycle stalls located around the lake. These bikes may cost you ₹10 per hour or ₹75 for entire day.
See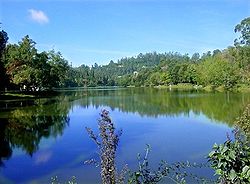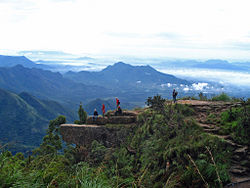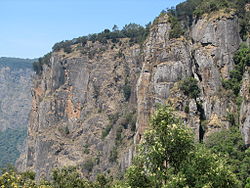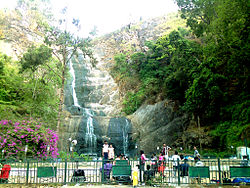 Bear Shola fallsThis is a really beautiful water falls. But during some seasons there may not be any water there. But climbing up the falls is a good trek.

Berijam LakePerhaps the most pristine of the three lakes in Kodai. This is a plastic free zone and it is beautiful and serene. The lake lies within a reserved forest region. You need to get permission to visit this lake. Permissions need to be obtained on the morning of the intended day of visit from the forest office. Usually the person who arranges the vehicle will arrange the permit. Moreover, in peak season, a limited number of vehicles are allowed in per day.

Bryant parkA must see. Its main entrance is on the road surrounding the lake and is a 10-minute walk from the entrance to the boat club. Nicely maintained and a huge park. Their flower shows during summer are very famous.

Coakers WalkIf you wish to catch the scenic valleys, the best time to visit the place would be before 2PM. But if you want to watch snow-like clouds (only in winter) beneath you form an ocean, reach the place between 3PM and 6PM. Try and catch the sunrise here or in the nearby Greenlands Hostel. At evenings a view of the Jewel Box (evening view of Theni and Periyakulam)is also an attraction. A marvel. Also try out the telescope near the main gate. This place is very near the bus stand.

Devil's KitchenA cave known more to the locals, First being "Green Valley View" and "Pillar Rocks" and then finally "Guna Cave". Watch out for the deep hidden ravines. What would appear like mere dark gutters are actually a deep fall. Many unsuspecting people have fallen prey to the "devil's trap", so watch your step!

Dolphins NoseTo reach Dolphins Nose at a distance of 8 km from the bus stand, one has to follow the route specified here. There is an old road after crossing Pambar Bridge near Levinge Stream. A rough curve rounds the hillside which leads to a point where a flat rock projects over an awful chasm of 6600 feet deep. This is Dolphins Nose. On the way, beautiful views of plains and steep, rocky escarpment called rolling hills can be seen. The old village of Vellagavi can be reached through the rugged bridle path.

Guna CavesA cave which became very famous after the movie Guna. Very steep and risky to get in. The public may not be allowed to enter this cave nowadays, though it's a very good place to take pics. But if you are not a professional spelunker, a trip to this cave may be your last. Getting back will be problem as it's very dark and there could be about a 90% chance of suffering a free fall.

Green Valley Viewhas a more than 5000 ft steep drop from this point. The monkeys are a good attraction at this point. Renamed Green Valley View, apparently to prevent people from being lured to commit suicide.

Kodai LakeIf you are going in winter, go boating in the evening, as it's an amazing experience to boat through fog settling on the lake. The lake is very near the bus stand. This is a star-shaped lake and walking around it during the night is one of the best walking experiences you can have in your life. Be cautious, there are lot of dogs around this lake and some places are extremely dark. Walk between 6 and 7PM, then head back to your room.

Kurinjiandavar TempleAbout 4 km from the lake is a temple whose presiding God is Lord Muruga. The flowers inside the temple bloom once in 12 years. One can get a view of the Palani Hills and the Kodaikanal Town from this temple. During the winter, the view of Kodai city and Palani from the two ends of the temple is blocked. However, in summer, the visibility is good and hence the experience, too.

Lasaleth Church and Lion's caveHas the 100yrs old tree, 500yrs old tree and Lion's Cave.

Old Suicide PointThis place is about 5 minutes before the main/old pine forest. In recent days tourists get down to see the pine forest in many places as an entire stretch is full of pine trees) while driving from the observatory side. You need to get down and walk towards the cliff. Here you will see a small pathway on the left side. If you take this path and walk for about 10 minutes you will reach the old suicide point. The view from there is simply breathtaking.

Pillar RocksIt has huge steep cliffs. During summer rainy days, the cliffs get completely hidden due to excess of fog. Watch out for the cross at the top of the mountain hoisted by an English adventure enthusiast.You can see the cross by an available telescope.

Pine ForestIt's a really very good forest of pine trees. You can ride horses there. It's on the way to the Guna Cave.

Shanthi ValleyAnother pine forest nice place.

Silent Valley View

Silver CascadeIt's a nice waterfall on the road side from Kodai Road, just before 4-5 km from Kodaikanal. The cold water flows and it's really super to bathe in the cold water and travel in between the eucalyptus trees. If you are going to Kodaikanal by private vehicle on the way, you can visit the place. Buy fresh carrots and some exotic veggies around here.

Thoppi Thuukum PaaraiIt's en route to Berijam Lake. Wonderful tourist Spot. Children should be careful near the cliffs.
Do
Boating at the Kodai lake - paddle and row boats are available at the lake. Entrance is via the Kodaikanal Boat Club.
Cycle around the lake - and watch the clouds while they slowly descend onto the water; cycles are available for hire at the lake on an hourly basis. It is possible to cycle to other places although cycling one way will be difficult due to the hilly terrain. Do check the cycles before setting out.

Fun park

phone: +91 94871447131

address: near fairy falls

games

phone: +91 94871447131

address: near fairy falls

Horse Riding - Right near the front of the entrance to the boat club, you can rent a horse (with the trainer) to take you around the lake.

phone: +91 9360750817

address: Karuna Farm, Prakashapuram

Regular daily Morning & Afternoon classes as well as Yoga workshops. For those that wish to come, please get in touch and make sure to book your accommodation in the farm before arriving.
Trekking - Kodai offers several scenic trekking spots, including one which is to walk along the stream which goes to Dolphin's Nose. Kodai tourist office has a trekking guide which is available for free there, which lists all the possible trekking routes and difficulty levels. The tourist office advises people to take guides and offers to provide them, although this is not necessary. An easy trek is to Perumalmalai, the tallest mountain in the area.
Wander About - Kodai has numerous waterfalls and beautiful views not mentioned in the tourist guides, so wandering about can bring you to some spectacular place.
Watch a Tamil movie - go down the PT road, continue to S-road. Then turn left, after the petroleum station. Just ask which way is to cinema, almost every local knows it. Vellaiyappan cinema theatre is an old building with relatively big screen and cheap tickets - great experience. Ticket cost ₹30 (15 May 2009)

phone: +91 - 90 - 475 46 879

address: Perumalmalai / Kodaikanal

Bodhi Zendo is a zen retreat center open to spiritual seekers from all over the world who wish to train in zen. Includes a zen garden, library, as well as a zendo. Costs are 500 rupees for non-Indians for a private room with a bath and three vegetarian meals a day. It's a popular place with many meditators staying on for days, weeks or months. Zen Sesshins (days of more intense instruction & practice) are held for several days each month. Reservations are encouraged well in advance.
Buy
Cheese Factory - Various cheeses.
Eucalyptus Oil and herbal oils- A Variety of oils that claim to relieve joint pains and other aches are also available at every shop.
Home made Chocolates - Kodai's shops are stocked with home made chocolates. These are a lot cheaper compared to the major brands.

Spices CornerHas an exclusive range of essential and aromatic oils, herbal teas, coffees, mouth watering chocolates & spices.
There is a State Bank of India (SBI) ATM near the petrol pump at the Seven Road Junction which accepts other banks cards as well.
phone: +91 4542 240244

address: PT Road

The Potters Shed produces a wide variety of handmade stoneware pottery ~ both crockery and artefacts. All products are microwavable, dish-washer safe and oven-proof. The factory is in a village 7 km outside Kodai.
Eat
Astoria Veg Reasturant - This is one of the best vegetarian restaurant in Kodai.

Chocolate factoryChocolate factory - Good collection of home made chocolate. They also have a good varieties of fruit syrup filled chocolate. Try the hot chocolate, ₹60 per cup.

Cloud Street

address: PT Road

Serves pasta, sizzlers, Continental food and other international cuisine. Barbeque chicken sizzlers, pastas, lemon cake and chocolate biscuits.
Eden Paradise Restaurant, Paradise Compound, Laws Ghat Road. Serves Tasty ethnic Keralite cuisine.
Pastry Corner - Cakes, Pastry, Coffee and Tea are excellent in this place. People here are well educated and kind. Located near bus stand and Astoria Veg Restaurant. Never miss this small but a good place.
Pine & Petals, JC Residency, Convent Road, Naidupuram. Multi-cuisine restaurant.

PotLuck

address: PT Road

A cute little European style cafe with outdoor seating on the verandah (balcony); PotLuck serves fresh food and off-the-shelf delicacies carefully cooked in Kodai kitchens. The fresh food consists of an international menu including pastas, quesadillas, sandwiches, Spanish omelettes and waffles/pancakes. You can take away off-the-shelf items like coffee-bean chocolates, lemon curd, Mexican salsas, burgers, fresh thin crust pizzas, garlic pickles and marmelades. All profits go towards providing scholarships for needy children.
Rasoi, 106 Maratha Shopping Complex, Annasalai. Serves excellent Gujarati and veg. Punjabi thali. The Chola batora and alu paratha are their specialities.
The Royal Tibet -PT Road. In this restaurant you will get best momos specially potato cheese momo for vegetarian, for non-veg you can choose beef, chicken and mutton. Noodles are freshly made everyday and you get fantastic soups. It gets bit noisy when restaurants gets jam packed with kodaikanal international school students.

Sree Krishna Restaurant Bhojanalaya

phone: +91 9047856670

address: Nellai Nadar Bazaar, Fairy Falls, Pambarpuram

100% pure veg Bhojanalaya, serving North Indian, Rajashthani & Gujarati food
Tava, 7 road junction. Outstanding Sindhi food, express service.
Tibetan Brothers - PT Road. The food is mouth watering and authentic Tibetan and Chinese. Try the steamed momos or the Thukpa. The owner who doubles up as a waiter is very courteous - and very passionate about his country. So the restaurant walls are plastered with photos of Lhasa, Potala palace and the Dalai and Panchen lamas.

Altaf's Cafe

phone: +91 94871 20846

address: Dolphin Nose Road, Vattakanal

A nice eatery for people looking for continental food
Drink
There is a shop near the bus stand, where you can get some standard Indian whisky, beer, vodka, etc.
Bars & Lounge
Carlton Hotel

phone: +91 4542-241231

address: Carlton Lake Rd

End Of The Road

phone: +91 4542-240056

address: C/O The Carlton Hotel, Lake Road

Oasis Bar

phone: +91 4542-245190

address: No 17/328 Kodai International Hotel

Sterling Resorts

phone: +91 4542-242437

address: Pallangi Road, Vilpatti
Sleep
Budget
Staying in a cottage or a bungalow is probably better than staying in a closed AC room in some random hotel. If you stay somewhere 3-4 km from main city you might get cheaper cottages and bungalows with good view. But it is always preferable to stay near the Lake, where one doesn't need to worry about food and you can have nice walk in the evenings.
phone: +91-7042424242

address: 16/12, P. T. Road, Seven Road Junction

Preferred by loads of tourists visiting the charming town of Kodaikanal, FabHotel Kodai Kings Park boasts a central and easily accessible location. The biggest advantage of booking a room here is that all popular tourist attractions of Kodaikana are nearby.

Greenlands Youth Hostel

phone: +91 4542 240899

This is the best place if you want the best view and also the feel of the bygone times. You can get dormitories as well as single/double rooms and the prices are very reasonable. However, do book in advance. Fresh food both veg and non veg available. one kilometer distance from the crowded areas. Quiet place facing the valley view. Friendly people.

Hotel Astoriaa good option

Hotel Bala International

phone: +914542 41136

address: 17 Laws Ghat Rd

phone: +9198655 91202

address: 25,Laws Ghat Rd

Kodai Retreat

phone: +91 9842412190 (mobile), +91 4542 240911, +91 4542 242144 (landlines)

address: #55 , Edistone Compound, Convent Rd

address: 17/178 Sivanandi Rd

Lilly's was the very first resort to be built in Kodaikanal back in 1982 by Mr. Raj A. Sukumar, who felt the place resembled somewhere in England he had seen.
New Gold Nest, about 3 km away from the lake and on the way to the Kurinjiandavar Temple. This property comprises individual cottages which are located overlooking the valley and offer enchanting views of the clouds rising through the gaps in the mountains.

phone: +91 97882 35786

address: Ananthagiri IV Street
Mid-range
Hotel Kodai International

phone: +91 4542 245190, +91 4542 245191, +91 4542 245192, +91 4542 245193

address: Lawsghat Rd

Well-equipped gym, table tennis, billiards and badminton. Breakfast is complimentary. Off-season and special packages available.

phone: +91 9500645583

address: 123-5, Fern Hill Rd

A 10-15 min walk from the lake, this place offers you a suitable budget.

phone: +91 9244243940

A nice little cozy resort with great views. On walking distance is Kodai lake, Coaker's walk and Bryant Park. The hotel staff is very courteous and helpful. The rooms are clean with simple decor. The best thing is they serve fresh food to order, and therefore require orders to be made well ahead of time. Good variety for both veg and non-veg cuisine.

Kodai Resort HotelIn front of Coakers Walk. Good Cottages and good lawn with birds flying in the garden.

Misty Mountain, Independent cottages. Available single and double bedrooms cottages. Nice place for honey moon couples and family get-togethers. Two km from bus stand. Cottages are placed at the top of secured independent hills Ph: 9962087706.

Snooze InnA well run budget hotel, known for its clean rooms and prompt service.

phone: +91 124 620 1184

address: 8/59 Post Office Rd

High quality veg food.
Splurge
phone: +91 4542 248 555

This is one of the best hotels with a great view of the Kodai Lake. Book in the off season and you could get a 3 nights package for about 16K (for 2 people) with food and sight seeing. A good time for the honeymooners would be to go during the winter season. The hotel is within 5 minutes walking distance from restaurants and the local market. Also, there are small eateries and shops right outside the hotel.
Stay safe

You will see lots of monkeys in some parts of Kodaikanal, so be extra careful when moving with kids and carrying food. Try to ignore monkeys while passing by. Any abrupt move from you may convey the wrong message to these unpredictable creatures.
Don't leave cash or any valuables in the hotel room. Cross check all hotel, restaurant and lounge bills for errors.

Stay healthy
Prefer to eat healthy breakfast. After arriving at your desired destination, the chances are very high that you will not be paying any attention to your meal. So, do yourself a favor and consume healthy food while traveling around the destination.
Drink plenty of water and consume lots of multivitamin, mainly if you are flying. It will save you from dehydration and keep your immune level high.
Van Allen Hospital - The only hospital available in Kodaikanal. It is established by American missionaries. For major treatments, you have to go to Madurai hospitals.
Go next
Madurai - on the bank of Vaigai River People from diverse culture and religions reside at Madurai. Festivals of all different kinds are celebrated in this place.
Munnar - At a height of 6000 feet, Munnar is one of the most reputed summer resorts in Kerala.
Palani - Known for the Hills, it is part of oldest mountain ranges which can be explored in India, made up of rocks such as schists, charnockites and gneisses.