Kodiak
Kodiak
Island is in southwestern
Alaska
, in the Gulf of Alaska, 250 miles south of Anchorage. It is Alaska's largest island and second largest in the US, after the Big Island in Hawaii. The City of Kodiak is situated on the east shore of Kodiak Island.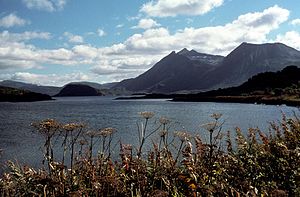 Understand
The Kodiak Island Borough, with a population of 13,900, includes The City of Kodiak, seven villages, the U.S. Coast Guard Base, plus several remote camps and lodges. Due to its magnificent green summers, Kodiak is called
Alaska's Emerald Isle
.
Commercial fishing accounts for about a third of the local economy. Kodiak is home port to Alaska's largest and most diversified fishing fleet, over 700 commercial fishing vessels. Next comes government and military services (the Coast Guard's largest facility in the U.S. is on Kodiak). Third is tourism, with only about 35,000 tourists in 2010. Tourism in Kodiak is an afterthought, which is not a bad thing if you're a tourist and want to see Alaska in the raw. The City of Kodiak and the Coast Guard's Integrated Support Command Kodiak, located 8 miles southwest of the city, are where the people are. The rest of the emerald green island remains in its beautiful natural state (most is part of the Kodiak National Wildlife Refuge), with some tourist lodges and native people's encampments scattered on or near the coastline.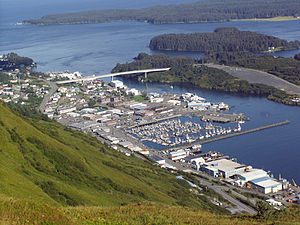 Climate
Kodiak is cloudy an average of 306 days per year; expect just 3 or 4 clear days during the summer months of June through September. Measurable amounts of rain takes place on at least 15 days out of every month. The weather in Kodiak can change abruptly, so a good raincoat or windbreaker is a necessity on every day's outing, even if there isn't a cloud in the sky.
Get in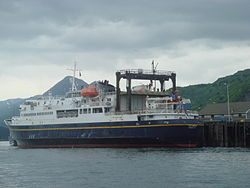 Because it is situated on an island, Kodiak is accessible only by air and sea.
By plane
By ship
If flying isn't your thing,
Alaska Marine Highway System
offers ferry service to Kodiak (at Pier 1 downtown) via the
M/V Tustemena
, or what the Kodiak locals fondly call the "Rusty Tusty".
Kodiak is a boutique port on the Alaskan cruise ship summer circuit. Premium or luxury cruise ships call at Kodiak's Pier 2 (City Dock), about 1 mile southwest of the downtown area. Some cruise lines offer shuttle service from City Dock to downtown and back. If not, the most direct pedestrian access from City Dock to downtown is along Shelikof Street, walking with the water to your right, past Kodiak's fish processing facilities and small boat harbor. In 2017, Kodiak is slated to host 16,600 passengers sailing on 15 ships.
Get around
By foot
The first place to visit is the
downtown visitor center
, 100 Marine Way, Ste 200, at the foot of Center St next to the ferry terminal at Pier 1. The visitor center is open Monday – Friday, 8:00 a.m. – 5:00 p.m. year round. From early May through late September, it is open also on Saturday and hours are extended to accommodate the ferry or cruise ship schedules. The historic points of interest in downtown Kodiak are clustered together just northeast of the small boat harbor and can be easily covered by foot.
A walking map of downtown Kodiak
may be obtained from the visitor center.
Bicycles can also be rented daily for riding around the city of Kodiak and local parks.
By car
Kodiak has less than 100 miles of public roads and about half of that is asphalt. Best way to get around Kodiak's short road system is to rent a car.
For the more adventurous you can charter a float plane to take you to a remote destination or charter a boat to take you along the long coastline of the second largest island in the USA.
See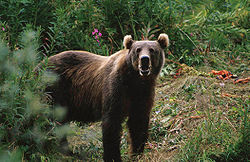 Alutiiq Museum & Archaeological Repository

phone: +1 844-425-8844

address: 215 Mission Road

Preserves the 7,500-year heritage of Kodiak's indigenous Alutiiq ("A-LOO-tick") people. The exhibits display one of the largest collections of Alutiiq artifacts in the state, ranging from a kayaker in his waterproof parka of seal gut to a 19th-century spruce-root hat. Take time to explore 'Sharing Words,' an intriguing interactive computer program that uses village elders to teach Alutiiq words and songs in an attempt to save the indigenous language.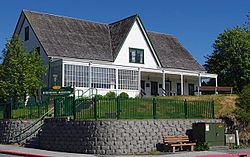 phone: +1 907 486-5920

address: 101 E Marine Way

Museum is housed in the oldest building in Alaska, the Russian American Magazin or Erskine House. Exhibits interpret Kodiak's Russian era (1741-1867), early American era (1867-1912), and modern era (1912-present).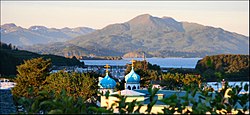 phone: +1 907 486-3854

address: 385 Kashevaroff Ave

The most recognized building in the city, it houses the oldest continuously operating Russian Orthodox parish in America. The original church was built in 1794 by the early Russian colonists. The current church building is the fourth church on this site, built in 1945 after a fire destroyed the previous church. Amazingly, this church building survived the tsunami that hit the city after the 1964 earthquake.
Do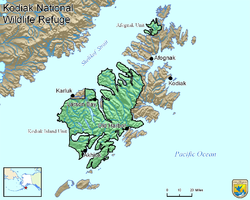 Kodiak National Wildlife Refuge

phone: +1 907-487-0282

address: 402 Center Street

Visitor center offers a fun, interactive exhibit hall, including a complete skeleton of a 36 foot gray whale, for learners of all ages to spark an interest in the wild lands of Kodiak Refuge and the plants and animals that call the island home. It also features Kodiak videos on demand, a small Alaska Geographic bookstore, trip planning information, and outdoor summer programs for the whole family. Getting to the refuge is not as simple as jumping into a car. The refuge covers most of Kodiak Island, most only accessible by floatplane or boat.

Wildlife viewingWildlife follows flora and terrain: elk and deer in the north where the dark green spruce forests dominate, bison in the mid-sections where the grazing lands are, mountain goats in the higher elevations, caribou herds to the south where tundra and grasslands are. And the massive Kodiak brown bear can be found throughout the island, thanks to the Kodiak National Wildlife Refuge, which celebrated its 75th anniversary in 2016.
Buy

Check out the shops around the small boat harbor along W. Marine Way and Shelikof. Visit the museum (Alutiiq and Baranov) gift shops for Native or Russian made arts and crafts.

Eat
Old Powerhouse Restaurant

phone: +1 907 481-1088

address: 516 E Marine Way

Great seafood in a friendly environment.
Sleep
address: Larsen Bay

A wilderness escape offering fly fishing, saltwater fishing, wildlife viewing, eco-adventures and spectacular scenery. Perched on the shoreline of Uyak Bay, the lodge offers a panoramic view of Kodiak's deep fjords and emerald hills.
Cope
A. Holmes Johnson Memorial Library, 319 Lower Mill Bay Road, provides connection to the outside world. Free, public-use Internet computers are located near the circulation desk.
Dillard's Stop or Drop Laundromat, 216 Shelikof Street, across from the small boat harbor, also provides internet access; they charge $2 for 15 minutes. Phone: (907) 486-2345.
McDonalds, 209 Thorsheim Street in downtown Kodiak, of course, provides wi-fi with your fries.