Kofu
This page describes a city in Yamanashi. For the township in Tottori, see Kofu (Tottori).
Kōfu
(
Kōfu-shi
) is the capital of
Yamanashi Prefecture
.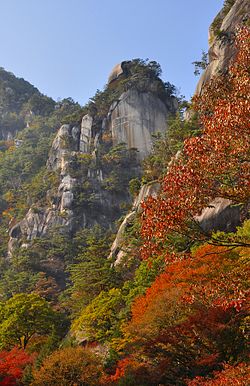 Get in
By train
Coming from Tokyo on the Chuo Line, there are few express trains from Shinjuku to Kofu that continue on to Matsumoto. It is possible to take the journey by local trains at half the price and an extra hour of traveling. To do so, transfer at JR Takao. The Chuo Line takes Suica cards.
The Minobu Line runs from Kofu, through Minobu, to Fuji in Shizuoka. This is a quaint railway line, and it is single tracked in most places. Take a ticket from the machine when you board the train, and pay the driver when you get off. The Minobu Line acts as a local line in Kofu and has many stations within the city.

By bus

There are highway buses between Kofu and Shinjuku which on paper take two hours; this is shorter than the local train and challenges the express. In practice, however, traffic delays can lengthen this journey to over three hours. The advantage of the bus is that it is very cheap, costing only ¥2000 one-way which is around half of the price of the express train.

Get around
Kofu is very much a car driven city. The entire city is designed around the idea that everyone has a car with most shops being out of the city centre, by the side of dual carriageways.
It is possible to
rent electric bikes at various hotels near Kofu station
if you are only travelling short distances. It is only ¥500 for a full-day rental.
See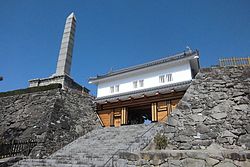 The mountains in the north side of the city contain some beautiful scenery and some wonderful views of the Kofu basin and Mt Fuji. In town, there are several tourist sites.
Do
Bike the Arakawa or Fuefukigawa riverside cycling road.
Pick fruit. Grapes or peaches depending on the season. Fields are scattered in the whole surburban area; ask a local tourist office for the nearest available ones.
Make houtou noodles.

Takeda Shingen FestivalA big festival to celebrate the 16th century warlord. Usually a famous Japanese TV actor plays the part of Takeda Shingen himself.
Buy

Kofu is famous for grapes and wine.

Eat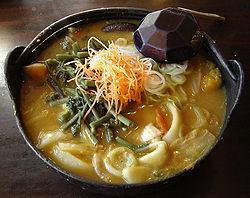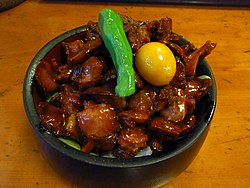 Houtou soup
(made with thick udon) and
raw horse meat
are the famous foods of Kofu. Soba and Torimotsuni (chicken livers/hearts/gizzards in thick sauce) are also famous.
KosakuAuthentic Houtou. They also serve raw horse meat and many other local dishes.

OkutoTorimotsuni or tempura, with all-you-can-eat soba. First they ask you how many soba plates you want, then just ordering more plates until you are full.
Drink
Kofu has some pubs, many izakayas, and no clubs.
phone: +81 55-235-8894

address: 1-9-9 Marunouchi

A small, quiet pub.

phone: +81 55-225-2012

address: Miyazawa Bldg 2F, 1-1-5 Chuo

A microbrewery.

phone: +81 55-237-0944

address: Muto Bldg B1F, 1-21-7 Marunouchi

A foreigner pub. It is quite expensive and empty during weekdays but full on weekends.

JuJu

address: MK Bldg 7F, Chuo 1-1-17

A bar.

Music Box

phone: +81 55-235-5526

address: Marunouchi 1-15-8

A bar.

Club Goa

address: Ueda Bldg, 1-1-9 Marunouchi
Go next