Koh Kong
Koh Kong
, or
Krong Khemarak Phoumin
, is the capital of Koh Kong Province in
Cambodia's
Cardamom Mountains
. It is 8 km from
Cham Yeam
, which is connected by Cambodia's southernmost
Thai
border crossing to the Thai town of
Hat Lek
.
Understand
The province is one of Cambodia's greenest and most eco-friendly, with its town being tiny, but surrounded by Asia's largest expanse of mangroves, beautiful islands, and mountains.
The town is somewhat strange in appearance, with improbably wide streets, long blocks, and a correspondingly low density. Be prepared to walk or hire a motorbike. The town is 11 kilometres from the border crossing, so transport is essential. In June 2019 a motorbike taxi from the border to downtown cost 150 baht (In Koh Kong you will find prices quoted in Thai baht, US dollars, or Cambodian riel. You can pay in any of the three currencies and may receive a mix of currencies as change.).
Be prepared to be shocked by the litter that pollutes every square inch of the town and environs.

Get in
Koh Kong has an airport (KKZ) but has no scheduled flights. Its runway is in a less than optimal shape and air travel will not commence commercially for a while.
From Cambodia
Koh Kong is linked to the south by Hwy 48. After around 100 km, in
Sre Ambel
, it hits Hwy4 to
Phnom Penh
(another 140 km) and
Sihanoukville
(90 km). Hwy 48 is paved and has five major bridges. It's a good scenic drive through some of Cambodia's least developed and unspoiled regions, the Cardamom Mountains.
Minibuses
and tourist air-con
buses
to and from Koh Kong leave mainly in the mornings. Afternoon departures depend on demand.
Travel to
Phnom Penh
is 6 hrs and should cost 25'000 riel (USD6.25).
Emerald Expresshas clean minivans from Koh Kong to Phnom Penh at 07:30, 08:00, 13:30, 14:00. Nice waiting room.
Travel to
Sihanoukville
is offered by
bad reputation bus company Virak Buntham at 08:00 (8 USD, 5 hrs), direct
minibus operator Olympic Transport at 13:15 (10 USD, 4h30), direct
other companys, but connections require to change bus
From
Kep
there is a daily 07:30 bus for Koh Kong via
Kampot
(USD16).
Shared taxis
from Sihanoukville may be available from the taxi stand in the city's 7 Makara St, opposite of Psar Leu market, or from the bus terminal. They do the trip in 4 hrs. If nobody's sharing, expect to pay US$45 to US$60 up to the Thai border.
There is no longer a
boat
between Koh Kong and Sihanoukville. It stopped operation in 2009 although some travel agents in Thailand still sell travel tickets for the (non-existent) boat.
From Thailand
The border is at
Cham Yeam
, about 11 km by road northwest of the town. It borders
Hat Lek
in
Thailand
. Motos (USD3-3.50), shared taxis and taxis (USD9-10 for the entire car) run between the town and the border. Drivers will ask for more (asking for 400 baht is common). Don't let them. Negotiate in dollars rather than baht as baht prices always work out to be more expensive.
Your driver will likely offer to exchange your cash to riel at poor rates. Politely refuse. There is no legal requirement to change any foreign money into riel and the US dollar is the de facto consumer currency of Cambodia. In Koh Kong, and other border provinces, Thai baht is also accepted, but you'll get better rates if you exchange baht for riel rather than shop with them.
If you're continuing further into Cambodia, beware of overpriced bus tickets: USD15–30 or more. Do not agree to this. Agencies may tell you that the normal price is USD25 or 30, and as such USD15 is a bargain: this is not true. The proper price to Phnom Penh is 25,000 riel (USD6). If you get a ticket for USD8 you are doing well.
Cambodian Immigration
While some sources claim problematic officials are increasingly less common, there are still old tricks to be aware of.
After you get your passport stamped with the Thai exit stamp, walk down the road, and the arrivals office is on the left side of the street. Ignore the fake quarantine station. If you allow the touts to direct you there, they will take your temperature, give you a bogus form and ask for 20-400 baht. You do not need this form and you will not be asked for it when you apply for your visa or entry stamp.
The fee for a tourist visa is USD30 as of 2019. You will be asked for more (USD37 or 1500 baht as of September 2019) by officials. It is a scam. If you are shown an official-looking document, take out your phone and ask to take a picture of it - it will disappear fast! You may try insisting on paying only USD30 (smile and be nice about it) but they will insist it is necessary. If you are lucky you will only lose a few minutes and not the "fee". Arriving early can help, as in the late afternoon a corrupt official knows that a delay could result in missing onward transport, which makes the bribe seem more attractive. Whenever you arrive, be polite, say hello (sue-saw-day) and thank-you (awkunh) in Khmer and you may find no problems.
The paperwork is very simple. It requires no assistance, regardless of what touts may say.
Forms are available at the counter to the left of the visa window, although a helpful tout will likely offer you one as soon as you approach the office. Take the form and otherwise ignore the tout.
A photo has been required for the visa in the past, but as of September 2019 they do not ask for one.
You can also pay in Thai baht, but better stock up on USD before the border or change money outside the building, where you'll get slightly better rates. A tout may say you can only pay 1500 Thai baht, and not in USD. But in the office they will accept USD.
Alternatively, you can obtain an
e-Visa
for USD35 as of 2019, which is the same visa as the one for USD30 as of 2015 but obtained on-line in advance. Having an e-Visa saves time at the border and a page in your passport.
As of 2019 tourist visas (T-class) cost USD30 and may be extended for one month only. Persons wanting longer stays and multiple entries to Cambodia will need a USD35 as of 2015 business visa (E-class, valid for 30 days and extendable once in Cambodia). Confusingly, E-class visas are unrelated to the on-line visas. They cost USD35 as of 2019 and require no extra documents or fees. Make sure the officials know that you know this.
Once you have your visa, brush off the touts and go to the arrival window to get your entry stamp into Cambodia. Make sure you receive a stamp on your form, and not just in your passport. Without a stamp on your form you will not be able to depart Cambodia later at another crossing but will be told that you must return to your original entry point to address your missing stamp. This could result in an overstay if you are far from your entry point when you attempt to exit.
From immigration, the road continuing into Cambodia is messy and in poor condition. The first few motorcycle taxi drivers will speak English well and will ask for 400 baht. Ignore them, and keep on walking down the road. In about 250 m is the main group of taxi drivers, where the standard fare to Koh Kong town is 100-150 baht. It takes around 10 min to reach the centre of town.
Get around
Rent a motorbike from Fat Sam's Restaurant and explore the local area. By Cambodian standards the local roads are safe and most of the local people drive slowly.
Motorbike taxis around town cost 1,000 riel/km. Starting price is 1,000 riel.

See
Around Koh Kong, there are islands, mountains, jungles, rivers, waterfalls, a zoo, casino, and a lot more.
Irrawaddy dolphins otters and birds
Between between the Cardamom Mountains and the Gulf of Thailand, the mangrove-estuary system of Koh Kong Province is the largest and most intact in Southeast Asia. Many of the estuaries of the Cardamom Mountains have national park or other protected area status. However due to their remote and until recently inaccessible location they are largely untouched and unexplored and are home to an extremely diverse range of rare and exotic wildlife. Rare dolphins, finless porpoises, two species of otters, Asia's most elusive cat, it's rarest (and smallest) deer, gibbon, macaque and an array of globally endangered shorebirds are just some of the little known treasures
Dolphins
Irrawaddy Dolphin
Finles Porpoise
Indo-Pacific Humpback Dolphin
Koh Kong has a large marine (salt water) population of Irrawaddy dolphins. They inhabit the waters at the estuary mouth in and around the mangroves. Boat tours to see and study these beautiful rare dolphins and other wildlife can be arranged at Fat Sam's Restaurant.
Otters
Cambodia is often described as "a land of water", so the recent realisation that it is a hot spot for three species of otters is not really surprising. Estuaries in Koh Kong are the prime habitat for two of these species:
Smooth-coated Otter
Hairy-nosed Otter
Birds
Koh Kong's coastline and islands are the habitat for some of Asia's rarest and most endangered birds and animals. They are the wintering home for over 20 species of migratory shorebirds - including the globally endangered Spoon-billed sandpiper (global population 200).
Along Hwy 4 (Sihanoukville-Phnom Penh), about 30 km south of Traeng Trayoung, 20 km north of the Koh Kong turn-off, there is on the west side of the road a small turn-off which leads to a nice set of rapids called O'bak Retes. Great place to stop.
Koh Kong Island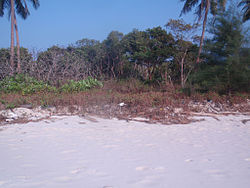 Koh Kong Island is considered one of the best beaches in SE Asia. There is no accommodation on Koh Kong Island as it a military installation and therefore illegal to spend the night. Day trips are offered by Koh Kong Divers Tour Centre and other operators in Koh Kong. Koh Kong Island is the largest island in Cambodia, about 20 km long by 7 km wide. It has crystal clear waters, white sand beaches, and a tropical forest.
The only settlement is the fishing village of Alatang on the southeast corner of the island. The west side boasts six tropical beaches, most with their own natural freshwater lagoons leading to rivers running down from the high mountain peaks that lie above them.
In high season, from October to late May, the ocean is quiet with moderate waves and moderate wind, ideal for snorkelling, fishing, and every tourism activity.
In low season, the waves are very impressive, moving up the sand on the beaches. Contrary to what one might think, the low season is not all rain. There is regularly sun and rain intermittently.
Inhabited by monkeys, tropical birds such as the eagles and toucans, deer and marine animals, fauna is very diversified. Regularly, there are dolphins and whale sharks in the bay. The island is 40 minutes from Koh Kong city by speed boat. The one-way price is USD10 per person.
On the island of Koh Kong there are small monkeys, wild boars, squirrels, toucans, mynah and small parrots. You can also find rare butterflys including among others the biggest moth Attacus Atlas.
As for marine life there are harmless whale sharks, dolphins, Parrot fish, Snapper fish, Barracuda, king fish, Cobia fish, Wahoo fish, swordfish, Grouper fish, Sea turtle, wahoo fish.
The north end is controlled by the military, camping is allowed at your own risk on the 5th and 6th beaches and also at the military post in the village of Alatang.
Do
Day trips to Koh Kong Island, to see the Dolphins in Pream Krasop Mangroves (Asia's largest), Trekking and overnight stays in the Cardamom Mountains are available from Fat Sam's Restaurant located next to the roundabout in the city centre.
Fat Sam's Bar on the roundabout in the town centre is a fabulous place to get ideas about what to do. The staff are very helpful and know the area very well. They also have motorbikes for rent, free local guide books and maps of the area and can book trips and tours for you.

Eat
phone: +855 35 6901252

address: 169 Neang Kok Village, Pak Klong Commune, Mondolsima District

Thai seafood restaurant and bar on the Koh Pow River, karaoke, kayaking, Wi-Fi.
phone: +855 977370707

address: The Roundabout, Town Centre, Koh Kong

Owned by a British expat named Alistair who is a great source of info about the area and things in general. The restaurant is run by Lin who is an excellent cook and has an good menu with quality Western and Cambodian/Thai food, almost all of which is sourced locally. Caution: portions are generous. A full bar with a comprehensive range of spirits, good wine, Bruntys English cider, Cambodian draft beer and a range of canned and bottled beers is available. Most sports including Formula 1 and Premier League football are shown on a big screen TV. Visas for Cambodia, Thailand and Vietnam can be arranged. The clientele in Fat Sam's Restaurant and Bar is a mixture of local expats, who can be an excellent source of information on Koh Kong and Cambodia in general, and travelers and tourists from a wide variety of countries and backgrounds. In Fat Sam's you can meet someone from your hometown or from the other end of the world. The open fronted bar faces the roundabout and it's a great place to sit and watch Cambodian life go by. Free WiFi. Motorbike rentals.
Cambodian restaurants
There are a number of restaurants clustered round the roundabout in the town centre selling good local food.
Drink
Stebie C Sports BarRun by Brit expat Stevie (beware: Chelsea fan). Convivial little hangout. What really sets it apart is Stevie's partner, an Italian, who makes wonderful pizzas and other Italian food on the premises. The pizzas must be ranked as among the best in Asia. Stevie also rents rooms for USD7.
Waterfront Bar & RestaurantCambodian food and snacks, pizzas and hamburgers, cocktails, beer, spirits, music, view of river.
Sleep
There are many guesthouses and small hotels in the central part of town and on the riverside street, partially thanks to Thais who come to Cambodia for gambling (the big casino can be seen on the way from the border). Basic guesthouse room with fan costs USD3-6 (or 100-200 baht). For USD10 and more you'll get an air-con room in a guesthouse or hotel. As is often the case in Asia, the cheapest places and room rates are usually those found "on the spot" on arrival. Motorbike taxi drivers will be happy to take you to a guesthouse or hotel of their choice if you're not sure where to go. Ask them (and note how far from the centre is it) and the price. Alternatively, walk around and look for accommodation yourself: the town is quite small. South of the town there is a small group of 12 islands called the Koh Sdach archipelago. This area has white sandy beaches, crystal clear seas, and paradisaical islands. It's a must for any traveller visiting coastal Cambodia. Accommodation is only available on two of the islands, Koh Sdach and Koh Toteung, and room rates are from USD10–120.
Street 12 or "Hotel Street", also known on Google Maps as Chicken Farm Road, goes from the town centre roundabout away from the river and has the highest concentration of mid-range and budget accommodations in town. There are 11 hotels or guesthouses within 500 m of the roundabout. Starting from the roundabout there are Rozana, Somross, Bun Na Reach, Tann Tay, Sunny, Raksmey Koh Kong, Paddy's, Dong Tong, Pailin, Blue Moon and Neak Meas. Prices range from USD3 for a dorm room in Paddy's to USD15 for an air conditioned room. Most fan rooms are USD7-9 and air-con rooms USD10-15. The majority of the guesthouses have been built since 2009 and offer good value clean comfortable rooms most with free Wi-Fi. There are also a good range of Western and Cambodian restaurants around the area.
Apex Koh Kong ResortCentral. Adequate rooms. Small swimming pool. For two days, could not accept a hundred dollar banknote for a USD30 tab. Ended up paying 1,000 baht (>USD30) just to escape from the place.
phone: +855 11 555706 or +855 16 700970
Nathy Koh KongOpened in May 2017. Its rooms are far superior to the majority of guesthouses charging similar prices.
Paddy's Bamboo Guesthouse and PubBackpacker central, has USD3 dorm beds plus private rooms, USD6 with fan. The place to meet other travellers. Paddy is a cool laid back guy who can organize everything from trips to transport to your next destination. Pub serving Western breakfast and local meals.
RITHY Retreat GuesthouseGuesthouse with clean fan dorms and various private rooms. Attached restaurant/bar and eco tour booking with very helpful staff. The guy in charge is a visa expert and can get your business visa extended for a year for USD40 (on top of the USD290 government fee.
Rozana Guesthouse

phone: +855 70 586658

address: Street 12

Rozana is a friendly family run business with both fan and air conditioned rooms.
Sunny GuesthouseGood swimming pool and free Wi-Fi.
Tann Tay GuesthouseFree Wi-Fi and flat screen TV.
Cope
All banks are closed on weekends except for Canadia Bank which is open for a half-day Saturday morning.
If you use an ATM, most likely you will request cash in USD. If you ask for USD300 you will get three hundred dollar bills. The problem is that no one has change for a hundred dollar bill. As for a sum ending in x90 instead (e.g., USD190 or 290, etc.) At least then you will get some ten-dollar bills that you have a hope of using. Even one hotel could not accept USD100 for a USD30 tab leading to another pricey trip the the ATM (USD5 charge for each withdrawal).

Go next
Tatai
is the next town east, 19 km away. USD4–5 by motorbike, USD10 by tuk-tuk.
Tickets to
Phnom Penh
or
Sihanoukville
40,000 riel and can be purchased at the bus station in the centre of town. Buses depart around 07:00. There is also a 13:00 bus to Phnom Penh.