Kokand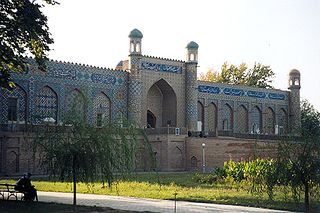 Kokand
(also Quqon or Qo'qon) is a city on the southwestern edge of the
Ferghana Valley
in
Uzbekistan
. Population was about 200,000 as of 1999.
Understand
Kokand is a trading city on the
Silk Road
, at a junction where a route going north to
Tashkent
branches off the main trail from
Samarkand
through the Ferghana Valley and over a pass to
Kashgar
. It has existed for at least a thousand years.
The city's glory days were 1709-1876 when it ruled the Kokand Kanate, which included parts of what are now four countries. The Russians put an end to that. Yakub Beg, who was born near Kokand and started his career in the Khan's army, built a kingdom around
Kashgar
and ruled much of what is now
Xinjiang
in the late 19th century, but Chinese forces ended that.
Get in
See
At one time, Kokand had over 300 mosques; some of those survive.
Palace of Khudayar KhanOnly nineteen of the palace's original 113 rooms survive; they are now a museum.

Khamza Museumdedicated to Kokand's Soviet poet and hero Hamza Hakimzade Niyazi.

Khamza House Museum

Mukimi Museum

Jummi MosqueThe Jummi Mosque, built 1800-1812, is large enough to hold 10,000 worshippers.

Amin Bag MadrassahBuilt in 1830 and restored in 1913, the madrassah was closed under the Soviets and reopened in 1991. A carved wooden gate leads to the main courtyard with colored tiled walls

Dasturkhanci Madrassah

Narbutabey Madrassah

Modar-I-Khan Mausoleum

Dakhma-i-Shakhon
Buy
Kokand Bazaar

Rishton Ceramics Factory

address: in the town of Rishton

The Rishton factory is famed for its blue and green ceramics. Decorative plates, tea-sets with floral design are sold to visitors. However such items are not hand-made. Modern machinery is used in the production process.
Eat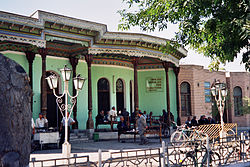 Markhabor Teahouse

Ghuldasta Teahouse
Sleep
Hotel Istiqlol

phone: +998 91 140 80 00

Hotel Khan

address: 31, Istiqlol Kuchasi

Kokand City Hotel

phone: +998 95 400 40 81

address: Imam Ismail Buchari Kuchasi

Dangara Hotel

phone: +998 73 503 80 04

address: Tashkent Street 70

Comfortable Motel located 5 km from the city center. Outdoor swimming pool and sauna