Kokořínsko
Kokořínsko
is a landscape protected area (CHKO) in
Central Bohemia
region of
Czech Republic
. It is known for its massive rock formations and medieval castle in the center of it. It covers an area of of 410 km².
Understand
Kokořínsko is listed as landscape protected area (CHKO) which is a landscape protection level similar to national park in Czech law. It does not feature just beautiful nature, but also cultural monuments, such as Kokořín castle, historical villages and numerous castle ruins.
History
The area of today's Kokořínsko was inhabited by ethic Germans until they were expelled from Czechoslovakia in 1945. Before the Germans were expelled, there were many German tourist clubs, which were looking for interesting places and building tourist infrastructure at such places. Kokořínsko with its castle from 14th and numerous canyons was one of such places.
Landscape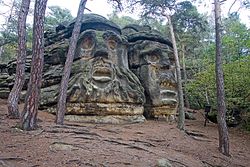 The landscape in Kokořínsko is hilly, with steep sandstone formations and canyons. There are also many caves and rock overhangs, which are popular for wild camping. Most of these are in the southern part of Kokořínsko, in Pšovka river valley. As sandstone is relatively easy to carve into, you will find many carved caves and sculptures here.
Flora and fauna
There have been sightings of wolves in Kokořínsko, but you are unlikely to encounter them. There are some other interesting animals living here, such as Eurasian eagle-owl and common raven.
Climate
The climate is the same as in the rest of the Czech Republic. An interesting feature of Kokořínsko area is that the higher you are, the warmer it is, i.e., temperature inversion.
Get in
There are numerous towns with good accessibility at the edge of Kokořínsko. Most useful of them are Mšeno and Blíževedly.
By train
You can use different railways to get to Kokořínsko. For the southern part, you can take a train to Mšeno. If coming from Prague, you will have to change trains in
Mladá Boleslav
. The railway from Mladá Boleslav to Mšeno is being repaired in 2018, so the train might be replaced by a bus - follow other train passengers.
For the northern part of Kokořínsko, the most useful stop is in Blíževedly. If coming from Prague, you will have to change trains in
Lovosice
. In both cases, use
IDOS
to find a suitable train.
By bus
There is a bus going to every village in Kokořínsko several times a day, but you will have to change buses in Mělník if going from further away. Again, use
IDOS
to find the right bus.
By car
With your own car, you can easily get to the central towns of Kokořínsko, such as Kokořín and Dobřeň. It is permitted to use every paved road in the area and it is also easy to park thanks to the area's size. It takes about one hour to get here from Prague by car.
Fees and permits
No permits are necessary to hike in the area, nor it is necessary to pay for it.

Get around
By foot
The area is an ideal opportunity to hike. When hiking, you can use dense network of marked tourist trails (three stripes on trees). The area is quite large, so you can plan long trips for many days, if this is your thing. Use
mapy.cz
in outdoor mode to see all the marked trails.
By car
You can go anywhere where a paved road go. Be careful, as the some roads are very narrow, and there are hikers on them during day and animals during night.
By bus
There is a bus network between towns in Kokořínsko. Use
IDOS
to find a suitable bus.
See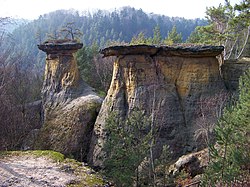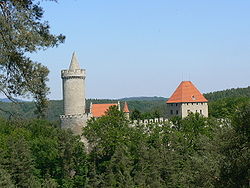 PokličkyA huge rock formation resembling a lid (thus the name) with stairs leading from the road beneath it to the top. The climb is tough, but you can park your car just beneath it (there is also a bus station).

phone: +420 315 695 064

Large castle from 14th century, worth visiting. For the interior, you can only take a guided tour included in the admission fee. It is possible to climb the tower for an extra 30 Kč.

Ronov castleAn unguarded castle ruin on top of a hill. Sunsets are very romantic here. An adventurous person can hide next to the former castle walls and sleep here, provided he has a sleeping bag and enough courage. You can walk here from Blíževedly train station.

HelfenburgAnother castle ruin. Features a preserved tower which you can climb on summer days. Great view.

Lookout tower Vrátenská HoraA modern lookout tower offering a nice view.

Zkaměnelý zámekAnother rock formations, supposedly resembling a castle turned to stone by evil wizard

Skalní bytySmall man-made caves carved into sandstone. Adventurous person can sleep here
Do
Wild-camp. Kokořínsko area is popular among people who just want to go into nature for a weekend and sleep there. You can easily join them, you just need to find a suitable overhang, cave or have a tent. People often start fire to prepare some food, but it is illegal - a forest guard can tell you to extinguish the fire and give you a small fine, although this is rare.
Hike. You can use dense network of market hiking trails or find new ones. No printed map should be necessary, mapy.cz app with offline maps and a power bank should be enough. If you prefer paper, buy green map number 16 made by KČT (ask for it in a big bookstore).
Buy
If you intend to wild-camp, you better come prepared, as there are no big supermarkets in small towns of Kokořínsko. Small-sized supermarkets are only located in towns of Mšeno and Dubá, which are both at the very edges of the area.

Eat
Eating options are limited, as there are only a few people living in Kokořínsko. Some additional food stands may pop-up during summer weekends.
Drákulova krčma

address: Dobřeň, Jestřebice 41

Restaurace U Zlatého lva

phone: +420 315 693 118

address: náměstí Míru 19 277 35 Mšeno
Drink
While you might expect otherwise, Kokořínsko is kind of a drinking destination. It is popular among some people, especially from Prague, to come here, sleep under some overhang, cook some sausages and have a few beers. If this is also your thing, please do not be too loud in the forest and leave no trace.

Sleep
Lodging
Most of people coming here sleep in the woods or are here only on a day trip, so lodging options are limited.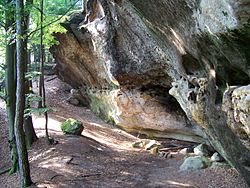 phone: +420 603 461 723

A guesthouse just below the castle. They have bikes to rent

phone: +420 605 833 003

A guesthouse in traditional village style house - "roubenka"
Camping
phone: +420 732 772 182

Only regular paid camp in the area
Backcountry
You can easily wild-camp anywhere as long as you are out of sight. Especially castle ruins are a good choice if you are crazy enough.
Stay safe
Be careful when on top of some rock formations - railings are not very common here.

Go next
Mělník - larger city with magnificent chateau high above confluence of Vltava and Labe rivers. 13 km.
Bohemia Switzerland National Park - nearby national park with interesting rock formations. 70 km.
Brdy - If you got interested in wild camping in Czech Republic, this large hilly area should be your next stop. 110 km.