Koli National Park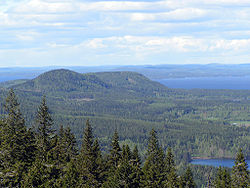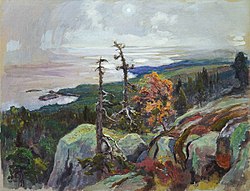 Koli National Park
(
Kolin kansallispuisto
) lies in the municipalities of
Joensuu
,
Lieksa
and
Kontiolahti
in
North Karelia
, Eastern
Finland
, on the western shore of Lake Pielinen, and covers 3000 hectares. Established in 1991, the uncommonly beautiful national park and diversified winter tourist centre is administered by the Finnish Forest Research Institute (Metla).
When Finland was building its national identity in the late 19th century, Koli inspired many painters and composers, e.g. Jean Sibelius, Juhani Aho and Eero Järnefelt. Koli became the probably best known national scenery of Finland. A large scenery about Koli from 1911, by Eero Järnefelt, A.W. Finch and Ilmari Aalto, can be seen in the restaurant of Helsinki railway station.
Understand
History
Landscape
Flora and fauna
Climate
Koli is in inland Finland, with somewhat warmer summers and colder winters than Helsinki, but probability of extreme weather is low.
The ski season lasts from mid-February into April.
In May, there are schools visiting the park.
The summer peek starts at Midsummer and lasts until schools start in August.
The Ruska season, when leaves change colour, is usually from late September to early October.
Get in
The national park is situated next to highway 6 between
Joensuu
and
Nurmes
, across lake Pielisjärvi from
Lieksa
By bus
Coaches between Joensuu and Nurmes stop at Ahmovaara, 10 km from the park (follow Kolintie to the east). For a taxi ride from Ahmovaara call e.g.
Kolin taksipalvelu
, phone +358 400-372-301.
You could also take the shuttle taxi from Joensuu or the ferry (or a taxi) from Lieksa.
In winter, when the 7-km ice road is open, you could also opt for going via Vuonislahti (near Lieksa).
By car
Follow the signs to Koli and you will arrive at the visitor centre of the national park.
In wintertime there is a 7-km ice road (from Vuonislahti; when the ice is strong enough).
By shuttle taxi
Shuttle taxis
transport passengers from the closest major city, Joensuu, to the visitor centre or an address of your choice (e.g. at the trail head). Prices €15–50/person.
By ferry
In the summer you can cross Lake Pielinen from Lieksa to Koli (€20, children 4–12 €12) by
ferry
. There are two daily departures in each direction and you can also take your car with you for €12 (€35 with a caravan). Lunch on board €12–20.
Fees and permits
There are no fees for hiking in the park.
There are no open wilderness huts in the park, so unless sleeping in your tent, lean-to shelters or the like, you have to pay for lodging.
Angling and ice fishing is allowed as usual (get the permits for angling by paying the fee). For other fishing you need a special permission (probably not practical).

Get around
There is an extensive trail network, including a few nature trails (i.e. with information boards). There are also some roads in the park, but parking is allowed only in designated areas. Cycling is allowed on some routes.
Downhill skiing and snowboarding is forbidden on the natural slopes of Ukko-Koli, Akka-Koli and Paha-Koli.
Landing is forbidden at some of the islands 15 May–15 Jul, to protect nesting birds.
Also when Ukko-Koli is crowded (which is common) there may be plenty of opportunities for experiencing the nature alone, only a few kilometres from that area.

See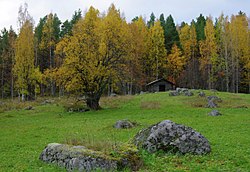 Koli has lots to offer cultural heritage-wise. Former it was a sacrificial site. Later it was used for slash-and-burn agriculture. The aim of Koli National Park isn't to reserve wild nature but traditional agricultural heritage is cherished in Koli. Some fields are slashed, burnt and re-cultivated and hay is cut yearly. Traditional Finnish breeds of cows and sheep are grazing in the meadows of Koli.
The most well-known vantage point in the park is Ukko-Koli, with a grand view to the East, over the lake Pielinen. Near the top there's the Heritage Center Ukko. In the summer, two long scenery lifts are working in Koli.
There are also many caves in Koli area, e.g. the cave named Pirunkirkko ("Devils church"). It is 34 meters long and 1–7 meters high.
Do

There are two ski resorts in Koli area: Loma-Koli for families and Ukko-Koli for more advanced downhill skiing. There are three ski lifts and six ski slopes in Ukko-Koli. The highest vertical drop is 230 m and ski slopes are 800–1,500 m long. There are four ski lifts and six ski slopes in Loma-Koli. The highest vertical drop is 145 m and ski slopes are 530–1,050 m long. Two of the slopes are streets for snowboarding. There are also snow castles for children.

Buy
There is a shop in Koli village, with fuel, post office and pharmacy services. The nearest ATM is at Koliportti in Ahmovaara (at the Joensuu–Nurmes road, 9 km farther).
Rowing boats and canoes can be rented in the harbour, hiking equipment at Retkitupa and slalom equipment at Rinnetupa.

Eat
There are several cafés in the area, including that in the harbour, in the Koli village, in the visitor centre and (probably) in the heritage farm Mattila in the park proper (on the trail between Koli village and Ukko-Koli). Some of the cafés are open only in the summer season (by reservation otherwise).
The hotel at Ukko-Koli offers views and services as you would suspect.
You may pick berries and edible mushroom.
Campfires may be done only at designated places, and only when there are no wildfire warnings in effect. Firewood is provided.

Drink
For water for trekking, ask in the visitor centre. They monitor the water quality in the wells and have some information on water in the wild (but will not take responsibility for your using it). You can use tap water from the visitor centre.
There are wells in the park, but only some of them have good water, while others are dry or have water that must be boiled. The wells at Seppälä and Ollila should be good. Water from springs and some brooks in the wild is mostly potable, but you should be careful. Water from the lakes and rivers must be boiled for a few minutes before use.

Sleep
Lodging
There is Hotel Koli near the top of Ukko-Koli and several lodging options in the vicinity. The heritage farm Mattila has two guest rooms. There are quite a few rental huts in the park (booking e.g. through the visitor centre).
Camping
Koli Freetime
in Kopravaara, 8 km from the park, is the only real camping area.
Camping is allowed at marked sites in the park: Turula, Myllypuro, Ylä-Murhi, Lakkala and cape Rykiniemi. Most have a campfire site, a dry toilet and some source of water, which must be boiled before use.
There are a few lean-to shelters and lapp huts in the park.
Stay safe
The cliffs may be slippery, especially when wet, and the slopes steep. Take care.
Avoid the hill tops during thunderstorms, not to be hit by lightnings.
When a lot of snow has fallen, heavy branches may break under the strain. Being hit can be lethal.