Kolkata/Esplanade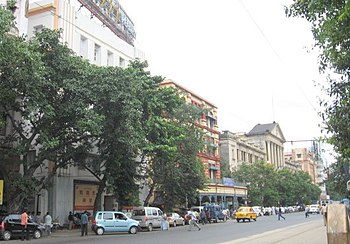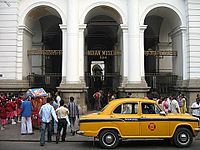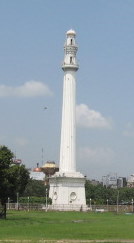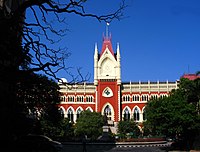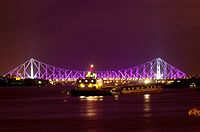 Esplanade
is the heart of Kolkata. It consists of the region just north of the
Maidan
and includes Dalhousie Square with all its colonial British buildings. The district takes a visitor back to the Raj-era with nostalgic overtones. Many of the city's important buildings are located here. It is the central business district of the city.
Understand
Calcutta was once nicknamed the City of Palaces. This comes from the numerous palatial mansions built all over the city. During the British colonial era from 1700–1912, when Calcutta was the capital of British India, Calcutta witnessed a spate of frenzied construction activity of buildings largely influenced by the conscious intermingling of Gothic, Baroque, Roman, Oriental and Islamic schools of design. Unlike many north Indian cities, whose construction stresses minimalism, the layout of much of the architectural variety in Calcutta owes its origins to European styles and tastes imported by the British and, to a much lesser extent, the Portuguese and French. The buildings were designed, and inspired by the tastes of the English gentleman around and the aspiring Bengali Babu (literally a nouveau riche Bengali who aspired to cultivation of English etiquette, manners and custom as such practices were favorable to monetary gains from the British). Today many of these structures are in various stages of decay. Some of the major buildings of this period are well maintained and several buildings have been declared as heritage structures. Conservation efforts are often affected by problems of litigation, tenant troubles, ownership disputes, old tenancy laws and a lack of funds.

Get in
By bus
Esplanade- in the centre of the city, has buses passing through from all areas of the city.
The long-distance and inter-state bus stand at Babughat is still functioning (the High Court has ordered its shifting).
Esplanade Bus Stand - The Esplanade bus stand has bus terminals for buses from Bangladesh, Bhutan, Sikkim, Odisha, Jharkhand, Bihar and other parts of the country.

Shyamoli Paribahan

phone: +91 33 2252 0802

address: 10 Marquis St

Buses to Bangladesh, some with a break journey at the Benapole-Petrapole border (it is called kata service). From the border buses are available for Dhaka, as well as various other destinations in Bangladesh. Shyamoli Paribahan handles the border transfer from one bus to another so well, that it seems a better option to many than the direct service. Direct buses between Kolkata and Dhaka are available from Salt Lake International Bus Terminus.
By EMU Local Train
The Babu Ghat station and Eden Garden Station are the nearby train stations.

BBD Bagh Circular Railway Station

address: Strand Road
By metro
Chandni Chowk metro station

Central metro station

address: Chittaranjan Avenue Rd

Esplanade metro station

Park Street metro station

address: Jawaharlal Nehru Rd, Park Street area
Get around
Babu Ghat

address: ~8, Strand Rd

Ferry to Ramkrishnapur Ghat

Fairlie Ghat

address: Strand Road, Bara Bazar

Take a boat to Howrah Shipping Ghat
Area landmarks
BBD BaghLal Dighi, the big tank in the centre of the square, was there before the arrival of the British. The place was then called Dihi Kolkata. The British decided to settle there, because it was less crowded than other areas in the neighbourhood. They built the old Fort William here (at the place where the General Post Office now stannds.). After their victory in the Battle of Plassey in 1757, they built the new fort in Gobindapur, Dalhousie Square remained at the heart of what was then the 'White Town' of Kolkata. No Indian, rich or poor, dared to live in the area. They came for work during day time and went back to 'Black Town' (Sutanuti) before sunset. With Writers Building occupying the north side and numerous commercial offices all around it became the administrative and business centre of Kolkata. Even now it stands out as a 'period piece'. After independence of India, the square was named after three youngsters who dared to challenge British rule and died there in 1930.

General Post Office

address: Netaji Subhas Road, B B D Bagh

The GPO is notable for its imposing high domed roof (rising over 220 feet) and tall Ionic-Corinthian pillars. It was built in 1868, at the site of the old Fort Wlliam, and has remained an important landmark of the city ever since.

Howrah Bridge

phone: +91 33 2254-8000

address: Esplanade Row West

It is the oldest High Court in India. It was established as the High Court of Judicature at Fort William in 1862. It has jurisdiction over the state of West Bengal and the Union Territory of the Andaman and Nicobar Islands. The High Court building is an exact replica of the Cloth Hall, Ypres, in Belgium.

The Raj BhavanThe Governor's Residence. Built in 1803, modelled on Lord Curzon's home, Keddleston Hall, Derbyshire, England, this is now the official residence of the Governor of Bengal. There are many rare works of art and other interesting items. Entry is restricted.

address: 15 Netaji Subhas Rd, 8 Council Road, BBD Bagh,

Writer's Building

address: Lions Range

Office of the Chief Minister of West Bengal. The building is set for a three-year major repair from the end of 2013.
See
Assembly House

address: Esplanade Row West

Carey Baptist Church

phone: +91 33 2236 7254

address: Bepin Behari Ganguly Street, Bow Bazaar

phone: +91 33 2249 5699

address: J.L. Nehru Rd

Established in 1814, this was the first such museum in Asia. Among its famous collection is the urn that held the ashes of the Buddha (though this is generally not on display), an Ashoka pillar (the three-lion symbol from which became the official emblem of the Republic of India) and numerous rare antiques. Varied collection of exhibits that include unique fossils, Buddhist Gandhara art, and Egyptian mummy.

Mother Teresa's tomb

phone: +91 33 2217 5267

address: 54A, Lower Circular Road, Taltala

The Missionaries of Charity is a new order formed in 1950 by Mother Teresa. Their vow 'to give wholehearted and free service to the poorest of the poor' was put into action with the setting up of several homes. Visit Mother Teresa's tomb at the Mother House, Nirmal Hriday (home for the dying), Shanti Nagar (for lepers) and Nirmala Shishu Bhavan (the children's home). For voluntary work with the Mission, in India, you may contact the London branch of the Missionaries of Charity, 41 Villiers Road, Southall, Middlesex, UK, or write in to the "Mother House", 54A, Lower Circular Road, Calcutta 700 014.

Nakhoda MosqueThe largest mosque in Kolkata

South Park Street cemeteryThe final resting place for early British traders and settlers.

Press Government of India

address: Chandni Chawk, Bow Bazaar

Sahid Minar48 meters high.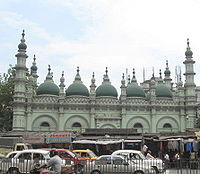 St Andrews Church

address: Brabourne Rd, Murgighata, Barabazar Market

St John Church and Compound

phone: +91 33 22436098

address: 2/1 Council House Street, Kolkata: 700001

Built in 1787, St John's Church is the third-oldest church of Kolkata and the oldest Anglican Church of the city. Its compound contains several graves including that of Job Charnock.

Tipu Sultan Mosque

address: 185 Dharmatala Street (now Lenin Sarani)

Built in 1832 by Prince Ghulam Mohammed, the youngest son of Tipu Sultan. People from all sections of society and religions are allowed to visit and take pictures of this historical premise.

Town Hall

address: Esplanade Row W, B B D Bagh
Do
Curzon Park

address: Rashmoni Avenue, Maidan

Millennium Park

address: Strand Road, Bara Bazar

Nalanda Park

address: Weston Street, Lal Bazar, Pilkhana
Buy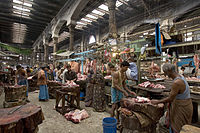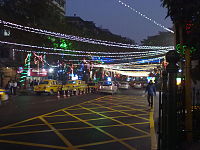 Chowringhee

address: Chowringhee Square, Chandni Chawk, Bow Bazaar

It is the central market place for the people of Kolkata. There shops ranging from computer peripherals to paint brushes and accessories, from cloth merchants to phoren goods. There are cinemas and restaurants.

Dr B.C.Roy Market

address: Dufferin Rd

It has garment, sports goods and other shops

Eagle

phone: +91 33 98 023 6663

address: 12/2 Lindsay St

A good place to pick up Indian art films.

Free School StreetIt is famous for its second hand bookshops and second hand record stalls. Rummaging through the LPs for sale on the street, one may find real gems from the jazz age.

HandicraftsIt has several shops selling handicrafts. The largest is at the corner of Surendra Nath Banerjee Road. Those who are particular about handicrafts can also try 'Dakhinapan Shopping Complex' (see South Kolkata)

New Market

address: Bertram Street, Taltala

It is a good place to sample Indian sweet delicacies and generally soak up the atmosphere of Kolkata. There are also a few handicraft stalls inside. The market is in a large red brick building on Lindsay Street (the road parallel with Sudder Street to the north). It has got over 2,000 stalls and is a bargain hunter's delight. The shops are arranged merchandise-wise. It is supposed to be the ultimate marketing experience in Kolkata.

phone: +91 33 2229 5455

address: 15 Park St

A large and well organized bookstore. Good selection of books on India and by Indian writers. Discount books and cafe (Cha Bar, see Drink section) on the second floor.

Park StreetFamous for its restaurants but also showcases fashionable clothes, books from all over the world. and so on. Park Street has retained the British spirit, and is so well decorated during Christmas, as if it is still part of the British Empire. The overwhelmingly non-Christian crowd gather there to enjoy Christmas. Queues at most restaurants.

Shree Ram Arcade

address: 15A, Jawaharlal Nehru Rd, New Market Area, Dharmatala, Taltala

Full of garment shops.

Treasure Island

address: Madge Lane,Lindsay St,Hartford Lane, Dharmatala, Taltala
Eat
Budget
Blue Sky Cafe

address: 3 Sudder Street

The food is cheap, the place is clean and service is truly fantastic. Great if you are on an extended stay as they offer both Indian and some Western food. You will not find nicer waiters anywhere. Try the fresh squeezed juices.

Chung-Wah

phone: +91 33 22377003

address: 13A, Chittaranjan Ave

One of the oldest and best places to sample Chinese food. Drinks served.
Curd Corner, Sudder Street, (near junction with Chowrunghee Lane). This small hole in the wall eatery is quite an institution in the area, and a generation of travellers have gorged themselves on the fresh and thick yoghurt. Check out the filter coffee and 'mock' cappuccino. Service staff don't speak English, which makes it hard when their menu is itself in English.

Khalsa

address: Madge Lane (on left side when entering Madge Lane. from Sudder Street)

offers excellent and cheap Punjabi food.

Mission Cafe

address: 20 Ganesh Chandra Ave, Bow Bazaar

Vegetarian fast food spot. Dosa, chaats and curry served at high tables. The cafe is known for its chola-bhatura, a chickpea dish served in a phuchka shell. Turnover fast here, not even stools to sit on, but it is nonetheless tasty.

Nizam's

address: Junction of Hogg Street and Corporation Pl

A Calcutta institution for over a 100 yr. An unpretentious place that is famous for 'Muslim' food and lays claim to be the place where Kathi Rolls were invented, it is still considered to make the best ones.

Raj's Spanish Cafe

phone: +91 33 4001 4373

address: 7 Sudder St

Serves breakfast and espresso based coffees. Mexican, pizza, and other Western staples.
Mid-range
phone: +91 33 22297664

address: 18 Park St

A popular and stylish cafe serving a good variety of baked goods and various coffees, sandwiches and entrees. A great place for breakfast or lunch. Baked goods ₹80-₹100, drinks ₹80, meals ₹600-₹1000.

Gangaur

phone: +91 33 22658437

address: 2 Russel St

Serves a variety of vegetarian food but is famous for its Rajasthani or Marwari food.

Kathleen's

address: Free School St, (Mirza Ghalib Street)

Pastry shop and an ecelectic mix of cuisines dominated by Indian and Chinese styles.

phone: +91 33 4027 5000

address: 20-K, Park St

Kwality

address: 17 Park St

Been around for years with sharply dressed waiters serving tasty tandoori and north Indian food to well-off locals. Try their Chhola-bhatura.

phone: +91 33 2226 6330

address: 55 Park St

Mocambo

phone: +91 33 2265 4300

address: 25B Mirza Ghalib St

Same owners as Peter Cat, but here the cuisine is a bit more rounded. Continental, Indian and even some Chinese dishes served in upscale surrounds.

Moulin Rouge

phone: +91 33 2229 9397

address: 31 Park St

Oasis

phone: +91 33 2229 9033

address: 33 Park St

Cosy restaurant with variety of foods. Has a small bar service counter with three stolls.

Peter Cat

phone: +91 33 2229 8841

address: 18 Park St

Very popular for its chello kababs. However, their service has not received the best reviews. Serves Indian, tandoori and Continental fare.

Waldorf

phone: +91 33 65354952

address: 13 D, Russel St

Serves delicious Chinese food
Splurge
Aheli

phone: +91 33 2228-0301

address: Peerless Inn Hotel, 12 Jawaharlal Nehru Rd

Authentic Bengali food, served in brass utensils in a Bengali marriage environment. Drinks not served. +phone=+91 33 4400-3900

phone: +91 33 2249-2323

address: Oberoi Grand, 15 Jawaharlal Nehru Rd

For an authentic taste of Thailand, visit Baan Thai. Widely recognised as the premier Thai restaurant in the country. Drinks served.
Drink
Coffee
There are a number of cafe chains (Barista, Cafe Coffee Day etc) on Park Street, near the junction with Free School Road.
Cha Bar

address: 2nd floor, Oxford Book Store, Park Street

A modern and chic cafe with a great selection of teas, including herbal, smoothies. Cha Bar also sells coffee, but this is of mediocre quality. A large window offers views of street life below, while the books provide a literary dimension. Cha Bar is an excellent place for a budding writer or a day dreamer.

The Street

address: GF, Park Hotel, Park Street

The universal colors of chic decor, black and red, are used extensively to give this cafe a warm but modern feel. Good selection of coffees and healthy snacks opposed to what the name might make you think. This cafe is about as far from representing Kolkata street life as you could possibly get, but it makes a good alternative to the ubiquitous Baristas and Coffee Days.
Alcohol
address: 27A, Ganesh Chandra Ave

Recommended for a glimpse of a bygone era. Also one of the few places which serves beer with a plate of sliced cucumber.

phone: +91 33 2252 1510

address: 13/A Sudder St

Only serves beer. Eccentric atmosphere with greenery everywhere. Famous among travellers and volunteers. Great place for meeting people and early evening drinking. Snacks and dinner available.

Olypub

phone: +91 33 64520472

address: 23 Park St

A fine afforable bar

Super Pub

address: Sudder St

Air-Conditioned and clean place. Serves beer and hard liquor and seasonal fruit juice. Snacks and eateries are reasonably priced.
Juice
Rallis, Esplanade

address: J.L. Nehru Rd.

Excellent sherbets.
Sleep
Sudder Street is at the centre of Kolkata's backpacker area, and many of the budget hotels geared towards travelers are located on and around this street.
Budget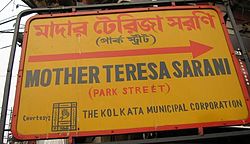 phone: +91 33 22363930

address: 27A Ganesh Chandra Ave, Chandni Chowk

Despite lacking AC the very large rooms with high ceilings make for a great space and the price is definitely right. Don't miss the authentic ambiance of the restaurant and bar of this 1937 built hotel. Supposedly due to the hotel's popularity rooms are often difficult to get unless you book ahead, however try hanging around and see if one magically opens up while you're there (especially if you're first offered a more expensive room). Upper triple rooms have balconies.

Hotel Galaxy

phone: +33 2252 4565

address: 3, Stuart Lane

Clean, simple, and convenient location.

Hotel Maria

phone: +91 33 2252 0860

address: 5/1 Sudder St

Hotel Modern Lodge

phone: +91 33 2252 4960

address: 1 Stuart Ln

Not very modern, but cheap and fairly clean. ₹150 for single with shared cold-water bathroom.

Paragon Hotel

phone: +91 33 2252 2445

address: 2 Stuart Ln

Recently under new management which refuses to pay the union wages that were previously paid. Rather loud dormitory next to rather loud reception area for ₹120. You get plenty of action nearby

Hotel Royal Palace

phone: +91 33 2252 5280, +91 33 2252 4178

Clean and large A/C & non-A/C rooms with private bath, color TV, STD/ISD.

phone: +91 33 2249-2192

address: 25 Jawaharlal Neru Rd

An extremely drab and dark hotel that appears not to have received a lick of paint since its founding in the mid 19th century. However, in someways, that is the hotel's distinctive charm, and so it may appeal to strict traditionalists. There is a simple restaurant on the second floor. The food is nothing special, but the balcony offers a great view of the buzzing city below.
Mid-range
phone: +91 33 2252 9679

address: Sudder St

Clean, large, albeit drab, rooms with private bathrooms.

phone: +91 33 2252 2540

address: 11/1A Marquis St

All rooms A/C and breakfast included. Close to the Bangladesh bus stations. There are better deals out there but not quite as new as this place.

phone: +91 33 2212 7101

address: 2 Chandney Chowk St

Very clean and reasonably quiet rooms, albeit not massive.

Hotel Jaapon

phone: +91 33 2252 0657, +91 33 2252 0658

address: 30F Mirza Galib St

Reasonably clean AC and non-AC rooms available with a very small private bathroom and cable TV. Beds are surprisingly comfortable given the thin and well worn mattresses,but some rooms are chokingly musty - check before checking in. Location is central and just metres from Sudder St.

phone: +91 33 2229 9401

address: 7 Royd St

Clean and great location. Those who tote lots of luggage be warned there are stairs to climb to top floor reception.
Splurge
Connect
phone: +91 9674273616

address: 7 Tottie Lane

Friendly, quiet internet cafe off Sudder Street with relatively modern computers, AC and free chai (with Wi-Fi, Skype, printers, phone calls, etc.). They also rent bicycles and sell train tickets. Their coffee and snacks are good as well.
Hotline Services, 7 Sudder St, (near the Astoria Hotel, at the back of the parking lot between Roop Shringar clothing shop and Metro Beauty Parlour. Identified with a large illuminated sign in red) has a room jam packed with high speed computers, and charges ₹15/hr. They also sell CDs of various styles of Indian music for around ₹150/each, and have a selection of hand-woven material and cotton clothing from all over India. Hotline also provides a coffee and snack service.
There are other smaller internet cafes on Sudder Street such as
Net Freaks
, but they are often very busy.
Go next