Kolkata/Maidan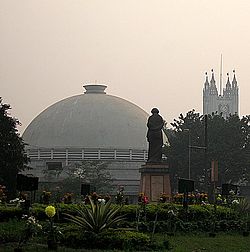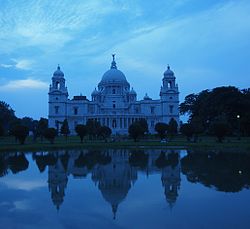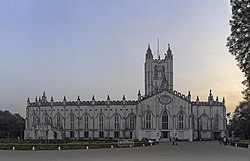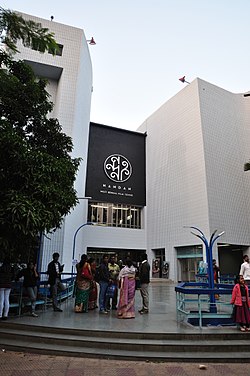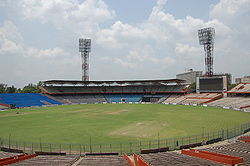 Maidan
is a district of
Kolkata
. In the heart of the city, the 400-ha park stretches from the Hooghly river in the west to Chowringhee and Park Street in the east, and from the Victoria Memorial in the south to Raj Bhawan and Eden Gardens in the north. Lending its name to this area is the huge, lush, green, open parkland.
Get in
By metro
Maidan metro station

Park Street metro station

Rabindra Sadan metro station
By circular railway
address: ~8, Strand Rd

address: Kolkata Riverfront, Fort William
By bus
Buses are available.
By boat
Babu Ghat

address: Strand rd
Get around
Area landmarks
Fort WilliamIn the early 18th century, a dense jungle was cut down to build the fort and develop the maidan , after the earlier mud defense was destroyed in 1756. In Bengali, the Maidan is known as garer math (the field of the fort). The present fort, an irregular squat octagon was completed in 1733. It stands where Gobindapur village once stood. Today, it is the headquarters of the Indian Army's Eastern Command and is not open to the public.

MaidanThe new Fort William was completed in 1773. The tiger-haunted jungle which cut off the village of Chowringhee from the river was cleared, and gave way to the wide grassy stretch of the Maidan of which the city is so proud. The Maidan was developed as a 5 sq km parade ground for the British forces and even today is army property. It is a vast stretch of field and home to numerous play grounds, including the famous cricketing venue Eden Gardens, several football grounds, and Kolkata Race Course. The Maidan sports several statues. The roads on the Maidan are dotted with tiny greenish bungalow-tents (club houses) belonging to various sports clubs. There are numerous patches for playing. Some of the larger clubs occupy the fields with wooden galleries. The big three of Kolkata football, Mohun Bagan, East Bengal and Mohammedan Sporting have a noticeable presence but there also are names with faded glory such as Rangers. Somewhere in between fit in organisations such as Kennel Club and Press Club. There also are lower order clubs, who do not have much of a following but have a noticeable contribution and sometimes spring a surprise – Wari, Aryans, Rajasthan and so on – and a host of office clubs.Once in a while the Brigade Parade Ground has political rallies with crowds numbering one hundred thousand plus.

Vidyasagar Setu BridgeWith a total length of 823 metres (2,700 ft), Vidyasagar Setu is the longest cable–stayed bridge in India and one of the longest in Asia. It was the second bridge to be built across the Hooghly River; the first, the Howrah Bridge 3.7 km to the north. The bridge was commissioned in 1992.
See
Burmese PavilionSet in a small lake, which was brought from Burma by Lord Dalhousie in 1854

Glorious Dead MemorialGlorious Dead Memorial is a memorial dedicated to the fallen soldiers of World War I

address: 96, Jawaharlal Nehru Rd,

96, Jawaharlal Nehru Road. one of the oldest Planetaria in India. The only planetarium in the country whose dome houses a collection of projectors and optical equipment expensively imported from East Germany. It is the largest planetarium in South-East Asia and the second largest in the world. Daily shows in English, Hindi and Bengali.The central dome measures 25 mts in diameter.

phone: +91-33 2223 1551

address: 94/1, Chowringhee Road, Hazra,

St. Paul's Cathedral

address: 1A, Cathedral Rd

The largest Anglican church in Kolkata. It was constructed in 1847 and serves as a cathedral church of Church of North India (CNI). This Gothic styled cathedral was designed by William Nairn Forbes.

Town Hall

address: Mayo Road, Maidan

built in 1813, in Doric style of architecture. It is now the City Magistrate's Office.Don't let the riverfront mesmerize you yet !Between the Town Hall and the Strand is the Calcutta High Court, scene of legendary legal battles. Completed in 1872, the Gothic architectural style was copied from the Staadhans at Ypres, Belgium. The tower measures 55 mts.

Victoria Memorial

phone: +91 33 2223-5142

address: Queen's Way

The city's most celebrated landmark, this monument was built to imperial self-confidence was the brainchild of Lord Curzon, one of India's most flamboyant Viceroys. The domed structure was completed in 1921 with marble used from Makrana. Now a museum, the Victoria Memorial's 25 galleries are spread over 2 different floors. The collection covers a fascinating selection of Raj memorabilia, and includes the Calcutta Gallery with oil paintings and watercolors of the city's history. Do not miss the grand Durbar Hall, inside which lies a statue of Lord Cornwallis.
Do
NandanCinema centre. Major festivals are held here.

Rabindra Sadan

phone: +91 33 2223 9917

Theatre and cultural centre. built 1961-67.
Parks
address: Hastings

Built in 1819, it is one of the best in the east and is the scene of much gaiety, especially during the winter season.

Eastern Command Sports Stadium

Eden Gardens

address: Maidan

Eden Gardens, named after Lord Auckland's sister, this picturesque garden has a tiny Burmese pagoda set in a small lake. It also houses Calcutta's Cricket Stadium, one of the most famous cricket stadiums in the world

Netaji Indoor StadiumInauguarated in 1975, it can accommodate 12,000 people. The Netaji Indoor Stadium hosts a wide range of activities, from sporting events to cultural programmes. It is a venue for both national and international trade fairs. It is also used as a center of counting of votes.

Outram Ghat

address: River front on Strand Rd

Outram Ghat is one of Kolkata's premier riverside entertainment spots. The place is a long stretch with a grand view of the river and Vidyasagar Setu nearby. There are numerous eateries. One can also have a ride in a country-boat. The ghat (steps leading to the river) is used for bathing and religious ceremonies. there are other ghats alongside. Beware of trains moving along the circular rail track.- A pleasant walk. View the majesty of the busiest bridge in the world, the Howrah Bridge and the Vidyasagar Setu – an awesome structural feat . Or enjoy a cruise on the river in a panshi.

Princep Ghat Garden

address: Fort William, Hastings
Buy
Earthcare Books

phone: +91 33 2229-6551

address: 10 Middleton St

A wonderful independent bookstore tucked away in an alley leading from Middleton Street. As the name suggests, the bookstore specializes in environmental titles, but also has a wide range on local subjects and poetry.

Emami Shoppers' City

phone: +91 33 2282 0675

address: 3 Lord Sinha Rd

Coffee shops, bookshop, designer wear, toy shops, boutiques, footwear stores, electronic stores, discotheque, beauty salons, gift shops, game parlours, multiplex

Metro Plaza

phone: +91 33 30525473, +91 33 30525474, +91 33 22883802

address: 1 Ho Chi Minh Sarani

Locally manufactured readymade clothes. Many shops deal only in imported garments, mostly from Bangkok. The latest footwear and lingerie. Good parking facility.

phone: +91 33 39849202, +91 33 22815115

address: 22 Camac St

Vardaan Market

phone: +91 33 22812724, +91 33 22874082

address: 25-A, Camac St

Forerunner of today's large shoppng malls, it was the earliest airconditioned market. Little shops and stalls line the walls of this mall selling shoes, handbags, toys, saris, salwar suits and western wear for ladies, shirts, tee shirts and trousers for men and children's clothes for all ages, chocolates and snacks.

phone: +91 33 22817312

address: Block D22 Camac St

The Westside stores have numerous departments to meet the varied shopping needs of customers. These include menswear, women's wear, kid's wear, footwear, cosmetics, perfumes and handbags, household accessories, lingerie, and gifts. Fashionable goods priced a little on the higher side.

New Market

address: Bertram St, Lenin Sarani, Dharmatala, Taltala

New Market, previously known as the Stuart Hogg Market, was inaugurated on Jan 1, 1874 and happens to be one of the oldest surviving markets in the city. It is named after Sir Stuart Hogg, Chairman of Calcutta Corporation.
Eat
Drive Inn

phone: +91 33 2217-2247

address: 10 Middleton St

An outdoor restaurant offering a wide range of good vegetarian and non-vegetarian fare (Indian/Chinese). AC area available, staff speaks good English and is friendly.

Haldiram Food City

phone: +91 33 30520055, +91 33 22821359

address: 58 Chowringhee Rd

North Indian vegetarian street food

Jyoti Vihar

phone: +91 33 2282 9791

address: Ho Chi Min Sarani.

Offers clean and tasty South Indian food. It is completely vegetarian. It is on the same street as the US Consulate.

New Embassy

phone: +91 33 22827490

address: 53A, Chowringhee Ln, New Market Area?

Delicious Chinese food

Sip & Sandwich

phone: +91 9830605145

address: 1 Shakespeare Sarani, Theatre Road AC Market, Elgin

Vegetarian fast food

Scoop

phone: +91 33 22485680

address: 71 Strand Rd

Fast food outlet. It has an exclusive view of the river from the first floor of the restaurant. Sitting in the restaurant one can watch boats moving in the river and cars moving across Vidyasagar Setu.
Note: For places to eat in the Park Street area see Kolkata/Esplanade

Rallis, Esplanade

address: 10D, J L Nehru Road

Vegetarian restaurant known for various kind of snacks. Chats and South Indian foods are common. Famous for non alcoholic drinks including various kinds of milk shakes.
Drink
phone: +91-33 22829957-58

address: 15 Shakespeare Sarani

Officially they serve Indian and continental cuisine but what has made this outlet famous are the variety of kababs that go wonderfully well with drinks. Price mid-range.
Sleep
Budget
Mid-range
phone: +91 33 4021 8000

address: 234/1A, Acharya Jagadish Chandra Bose Rd

phone: +91 33 2289 3000

address: 15 Camac St
Splurge
Go next