Kolkata/North Kolkata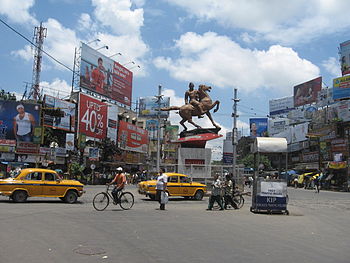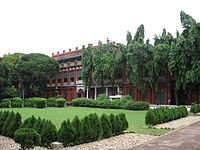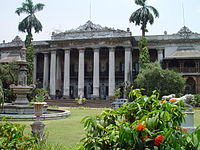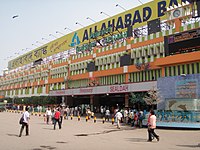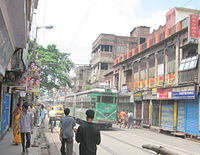 North Kolkata
is the older area of
Kolkata
, a fascinating district dominated by narrow little lanes and hundreds of century-old buildings. It includes Barabazar, Chitpur Road, Bagbazar, Belgachhia, Shyambazar, Shobhabazar, Maniktala, Jorasanko and the College Street area. Also found here are the Sealdah Station, one of the largest train hubs in India, and the Kolkata Station, which opened in 2006.
Get in
By bus
The longer roads in Kolkata have a north-south alignment and there is plenty of road transport available from North Kolkata to other parts of Kolkata. However, road transport slows down during office hour rush.
By metro
Metro railway is the fastest and the most convenient way to reach North Kolkata. However, there is only one route which runs along the city from north to south. This means one may have to change to other modes of transport to reach one's destination. Trains run every 10-15 minutes and at ₹5-₹15. It runs from 7:02AM to 9:49PM from Monday to Saturday and 10:02AM to 9:49PM on Sunday.
The metro runs from Noapara in the northern fringes to Kavi Subhas (New Garia) in the south-east. The entire metro route within North Kolkata is underground. The metro stations in North Kolkata are:
Noapara metro station

Dum Dum metro station

Belgachia metro station

Shyambazar metro station

Shovabazar Sutanuti metro station

Girish Park metro station

Mahatma Gandhi Road metro station
By train
The suburban overground railway tracks pass through the eastern edge of North Kolkata. The circular railway system covers the western and northern edges of North Kolkata. The stations in North Kolkata are:
Kolkata railway stationCircular railway station.

Tala railway stationCircular railway station.

Baghbazar railway stationCircular railway station.

Sovabazar Ahiritola railway stationCircular railway station.

Barabazar railway stationCircular railway station.

Bidhannagar Road railway station

Patipukur railway stationCircular railway station.

Sealdah railway stationSealdah railway station came up with the laying of the main line of the Eastern Bengal Railway in 1862. It is amongst the busiest railway stations in the country with a huge number of people commuting to the city for work.
Get around
Area landmarks
address: 93/1 Acharya Prafulla Chandra Rd

A scientific research institute founded by Acharya Jagadish Chandra Bose in 1917 in what was his residence. It is now the main campus with branches.

Medical College, KolkataEstablished in 1835, it was the first medical college in Asia.

Presidency UniversityEstablished as Hindu College in 1817, renamed Presidency College in 1855, and upgraded to a university in 2010.

Shovabazar Rajbari

address: 33 & 36 Raja Nabakrishna Deb St

The Rajbari, now partly in shambles, was probably built around or before 1757. The Durga Puja was started in 1757, after the British victory in the Battle of Plassey.

Star Theater

University of CalcuttaIndia's first western-style university established on 24th January 1857.
See
The northern part of Kolkata houses the old buildings belonging to the Zamindars (Landlords), other rich Bengalis who used to trade with the British. It preserves the cultural heritage of Kolkata. The building structures give an impression of the royal folk who occupied them. The area is generally crowded and has some interesting markets including the famous
Posta
,
Burrabazar
whole sale markets,
College Street book market
where one can trace many out of print books with a little patience. While in College Street a visit to the College St
Coffee House
is a must. Also around the area are the
Calcutta Medical College
, the
Presidency College
and
Calcutta University
, all pioneers in their field in the country.
Bauddha Dharmankur Sabha

phone: +91 33 2211 7138

address: 1 Buddhist Temple St

A Buddhist monastery established in 1892 and run by the Bengal Buddhist Association. The distinct red building mostly consists of a school and a guest house. There is a very small Buddhist shrine tucked away on the 1st floor.

Datta Ancestral Home - Birthplace of Vivekananda

address: 3 Gour Mohan Mukherjee St

The 18th-century building was in a dilapidated condition, worsening day by day. The Ramkrishna Mission acquired it, along with an adjacent plot, in May 1999. Ramakrishna Mission restored Swamiji's ancestral house without changing any of its original architectural features. It houses Swamiji's birthplace, meditation hall (first floor) and museum, where some of the articles used by Swamiji, his father, mother and brothers are preserved.

phone: +91 33 23607704 (Director)

address: 113 Acharya Prafulla Chandra Rd

The museum collects, preserves and interprets objects related to the history of Kolkata Police. Exhibits includes various items seized during the freedom struggle of the country.

Mahabodhi Society of India

phone: +91 33 2219 9294

address: 4A Bankim Chatterjee St

A small, but interesting Theravedan Buddhist temple located in an historic building. There is a library and shrine room on the second floor. Meditation classes are held every 1st and 3rd Sunday of the month.

Mahajati Sadan

address: 166 Chittaranjan Ave

Auditorium and cultural centre planned as part of the independence movement by Netaji Subhas Chandra Bose. The foundation stone was laid in 1939 by Rabindranath Tagore, who named it Mahajati Sadan (House of the Nation). It was completed by Dr. B.C. Roy in the early 1950s.

Marble Palace

address: Chorbagan, 46, Muktaram Babu Street, Jorasanko

At Chorbagan is the Marble Palace, built in 1840 by Raja Rajendra Mullick, now a museum. Spend your afternoon among precious objects d'art including works of Rubens and Sir Joshua Reynolds.When tired, take a tram ride along Red Road with the green expanse of the Maidan around you. The perfect antidote. - The marble palace was the private mansion of Zamindar (Land owner) Raja Rajendro Mullick, who had built this palace in 1835. It is situated on the Muktaram Babu Street in a congested part of the city. A real garden, of may be an acre with a Palladian Mansion set square in the centre. Today this place has an incongruous collection of statues and paintings. There is also a private zoo housing a collection of birds from different corners of the world.

Parashnath Jain TempleEntry has been restricted to Jains since 2012 by order of management.

Parashnath Jain Templeless visited than the Belgachia one

phone: +91 33 22181744

address: 6/4 Dwarakanath Tagore Lane, Jorasanko

The Jorasanko Thakur Bari is the ancestral home of the Tagore family. Rabindra Bharati University was established here in 1962.

Raja Rammohan Roy Memorial Museum

phone: +91 33 2360 5122

address: 85A, Raja Rammohan Roy Sarani

The memorablia in the museum consists of photographs, sketches, paintings and excerpts from the writings of Rammohun and others reproduced, wherever possible, in facsimile. Also period furnitures and diorama representaions designed to recreate the times. Together they not only give us the glimpses of the various facets of one of the greatest personalities of the modern age, but at the same time take us back into a period in history when India was at crossroads, and Rammohun heralded the coming of the modern age.

Vidyasagar Smriti Mandir

phone: +91 33 22413018

address: 36 & 36/1 Vidyasagar St

The erstwhile residential house of Pandit Ishwar Chandra Vidyasagar, social reformer, language pioneer and a key figure in bringing about the renaissance in Bengal, currtly has been converted into a women's college which runs various professional and language courses. The heritage building was renamed 'Vidyasagar Smriti Mandir'. A part of the building has been converted into a museum.
Do
Fishing, photography.

Buy
BurrabazarKolkata's wholesale market is spread across Burrabazar and Posta. The place was the old Sutanuti Hat before the British came. With the influx of the Marwaris (a trading class) during British rule from North India, it was transformed in to Burrabazar (big market). The saying goes that if one is willing to pay the price, eveything is available in Burrabazar. The market thrives on selling larger quantities at cheaper prices.

Hatibagan-Shaymbazar market

address: Spread along Bidhan Sarani

Manicktala marketA big market for varieties of fish.

Mullick GhatAt the base of the Howrah bridge, on the Kolkata side, is the city's bustling wholesale flower market. Flowers are an essential part of life in the city, they are bought not just for temple prayers but also for wedding decorations, events and festivals.

Orchid Point

address: 3/1A Upendra Chandra Banerjee Road,Kankurgachhi

It houses most major brands.

Sealdah Market

address: Spread all over Sealdah

One of largest markets in Kolkata
Eat
Shyambazar and Shobabazar
phone: +91 33 2533 8519

address: Star Theatre, 79/3/4 Bidhan Sarani

It serves a wide variety of home cooked Bengali cuisine.

Allen KitchenFamous for its Prawn Cutlet. One of the oldest restaurants of Calcutta, founded in the late 19th century.

phone: +91 33 2554 6096

address: 211, Acharya Prafulla Chandra Road

Famous for Kosha Mangsho (spicy goat meat).

Niranjan AgarFamous fry shop. Try their deviled duck eggs, mutton koftas and special fish fry.

phone: +91 8420161111, +91 9830342665

address: 47, Jatindra Mohan Avenue

North Indian fast food outlet famous for its brain chop. Also go for the various chops, cutlets or Afgani.

phone: +91 33 2543 8192

address: 3A, Bhupen Bose Avenue

North Indian fast food outlet: Fish Kaviraji, brain chop, Chicken Kaviraji, Mutton Kaviraji, mutton cutlets, fries, Prawn Kabiraji

New Madras Tiffin

phone: +91 9804237342

address: 138, Bidhan Sarani, Hatibagan

Good vegetarian South Indian joint. Must-try items are Mysore plain dosa, Dahi vada and Kulfi.

Only 4 Chinese Gazab

phone: +91 33 30859011

address: 34C, Shyampukur Street, Hatibagan

Quality Indian Chinese and great pork items. Also try their Darsaan with vanilla ice-cream.

Rupa

address: 222A, Acharya Prafulla Chandra Rd

Quality Bengali lunch. Famous for Shukto - Bhaat (Bengali bitter gourd dish and rice) and Kosha Mangsho (spicy goat meat).

Chittaranjan Mistanna Bhandar

address: 73, Shyampukur Street, Shyambazar

A century-old sweet shop famous for Bengali sweets like Rosogolla, Rajbhog, Chomchom etc. Must-try items are Rosogolla and Modhuporko.
Hedua
Bowbazar
phone: +91 33 2212 0465, +91 33 2269 7908

address: 5, Nirmal Chandra Street

Famous for sandesh. Also makes a variety of sweets.
Teretti Bazar
Chinese Breakfast

address: Sun Yat Sen Street behind Poddar Court

A delicious Kolkata experience, where Chinese fish dumping come steamed, fried or in soup.
Drink
Indian Coffee House

phone: +91 33 2241 4869

address: 1F, 15 Bankim Chatterjee St

A venerable old establishment run by the Indian Coffee Workers Co-op Society. The high ceilings, peeling paintwork, skylights and workers in traditional uniform create an image straight out of a 20 or 30s movie. In addition, the coffee (and the food) is good and cheap.

Paramount Juices & Shakes

phone: +91 33 22192433

address: 1D, Bankim Chatterjee Street, College Square
Sleep
Mid-range
Ashoka Hotel

phone: +91 33 66039939

address: 133, Acharya Jagadish Chandra Bose Rd

Raja Guest House Pvt. Ltd.

phone: +91 33 2241-3827

address: 8/2 Bhawani Dutta Ln
Budget
Anand Bhavan

phone: +91 33 22374014

address: 95 Chittaranjan Ave

AV Hotels Pvt Ltd

phone: +91 33 22687741, +91 33 2268-7746, +91 33 2268-7748, +91 33 2268-7749

address: 1 Shambhu Mullick Lane, Burrabazar

North Indian vegetarian cuisine.

Hotel Avenue Club

phone: +91 33 2236-4988, +91 33 22257337

address: 95A Chittaranjan Ave

Hotel De Bengal

phone: +91 33 2360-3512

address: 17 Mahatma Gandhi Rd

Lovely Guest House

address: 17 Manindra Mitra St

Mahabodhi Society of India

phone: +91 33 2219-9294

address: 4A Bankim Chatterjee Rd

The guesthouse is part of Buddhist Monastery, and although simple has a lot of character.

Padma Hotel

phone: +91 33 2227-0552

address: 131 Acharya Jagadish Chandra Bose Rd

Palace Hotel

phone: +91 33 2350-0634

address: 31/2 Mahatma Gandhi Rd

Santiniketan Hotel

phone: +91 33 23501661

address: 16B, Mahatma Gandhi Rd

Hotel Cozy

phone: +91 33 2350 6513

address: 19, Mahatma Gandhi Road

Imperial Lodge

phone: +91 33 6952 6856

address: 28, Mahatma Gandhi Road
For places to sleep in the Sudder Street area see Kolkata/Esplanade, for the Ballygunge area see Kolkata/South. For other areas see the relevant area page.
Go next