Kolkata/Northern fringes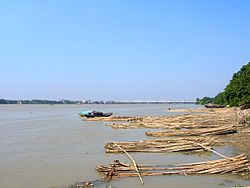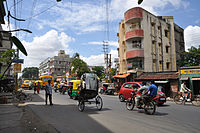 The northern fringes of
Kolkata
are in
Southeast Bengal
.
Understand
The large urbanised industrial area to the north of the city extends up to Naihati and Barasat and includes such places as Kashipur,
Dumdum
,
Baranagar
,
Dakshineswar
,
Belghoria
, Nimta,
Birati
, Khardah, Panihati, Titagarh,
Barrackpore
and Madhyamgram. The once flourishing manufacturing belt, still has some units working well but the industrial area as a whole is no more in the pink of health and is often in the news for the wrong reasons.
The main line of the Eastern Bengal Railway, that once served to link Kolkata with the eastern part of Bengal (now Bangladesh), ran through this area. The area has a mixed population - high percentage of Hindi-speaking people from Bihar and Uttar Pradesh and refugees from East Pakistan (now Bangladesh), generally outnumbering the local population.
It is part of Kolkata urban agglomeration and is split into numerous municipalities spread across North 24 Parganas district.
Get in
By train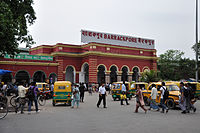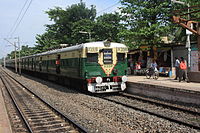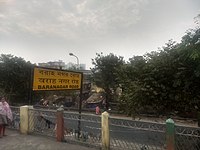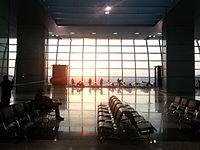 The main line links Sealdah and Ranaghat. A branch line links Dum Dum to Bangaon, near the India-Bangladesh border. The Calcutta Chord line links Dum Dum to Dankuni on the Howrah-Bardhaman Chord line. The main stations in the region are:
Agarpara railway station

Barasat railway station

Bamangachhi railway station

Barrackpore railway station

Belghoria railway station

Birati railway station

Bisharpara-Kodalia railway station

Dum Dum Cantonment railway station

Dum Dum railway station

Durganagar railway station

Hridaypur railway station

Ichhapore railway station

Jaggadal railway station

Kakinara railway station

Khardah railway station

Madhyamgarm railway station

Naihati railway station

New Barrackpur railway station

Palta railway stationbarrackpore &palta & ultadanga railway station & road map

Shyamnagar railway station

Sodepur railway station

Titagarh railway station

Baranagar Road railway station

address: Baranagar

Noapara metro station

address: Baranagar
By road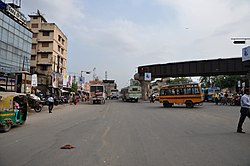 The two main roads leading into the area from Kolkata are Barrackpore Trunk Road and Jessore Road (NH 34). Jessore Road is linked with the junction point of NH 2 and NH 6 at Dankuni via Belghoria Expressway across Nivedita Setu. Direct roads link Barrackpore with Barasat and Sodepur with Madhyamgram. Kalyani Expressway is another important link in the area.
By air
Netaji Subhas Chandra Bose International Airport is in this area but it attracts hardly any passengers from this area. All the industry offices are in Kolkata.
By ferry
There are a set of parallel bridges across the Hooghly River - Vivekananda Setu and Nivedita Setu - between Dakshineswar and Bally. Between Naihati and Bandel, there only is a railway bridge. There are numerous ferry points (locally known as ghats) connecting the two banks of the Hooghly River.
See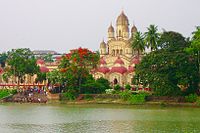 Khadi Pratisthan

address: Sodepur

Founded in 1925 by Satish Chandra Dasgupta, a close associate of Mahatma Gandhi.

Rishi Bankim Chandra's residence and museum

address: Naihati

Dakshineswar Kali TempleThe temple was built in 1855 by Rani Rashmoni, a philanthropist and a devotee of Kali. It is famous for its association with Ramakrishna Paramansadev, a mystic of 19th Century Bengal. For more information see Kolkata/Dakshineswar.
Do
Barasat StadiumCapacity:22,000
Buy
Big Bazar Supermarket

address: Nazrul Islam Avenue, Baguiati

Big Bazar Supermarket

address: College More, M.B. Road, Birati

address: Haritala, Barasat

phone: +91 33 25834436, +91 33 25834437, +91 33 25834438

address: Station Road, Sodepur
==Eat==
phone: +91 9830011127, +91 9830011120

address: P420, Kazi Nazrul Islam Sarani, Kaikhali

Sher-e-Punjab

phone: +91 33 25672848

address: Jessore Road, Sukanta Nagar

Quality Punjabi dhaba food. Chinese & Thai dishes also available. AC or open-air seating. Drinks served.
Sleep
Dum Dum
Hotel Airways

phone: +91 33 25132106

address: Motilal Colony, Rajbari

Hotel Gateway Continental

phone: +91 33 25118324

address: Crossing of Kazi Nazrul Islam Sarani and Jessore Road

phone: +91 33 2576 2711

address: Kazi Nazrul Islam Sarani

O2 Hotel

phone: +91 33 25250078, +91 33 25250113

address: Kazi Nazrul Islam Sarani, Kaikhali

Rose Valley Hotel

phone: +91 33 4019 7000

address: RGM 25/3010, Kazi Nazrul Islam Sarani, Raghunathpur, Baguiati
Barasat
Annapurna Hotel

phone: +91 9433275251

address: Taki Road

Hotel Windsor

phone: +91 9831260630

address: Rishi Bankim Chandra Road

Palash Hotel

phone: +91 33 25523042

address: 125 Jessore Road

For places to sleep in Barrackpore see Barrackpore
Stay safe
For the past several years Barasat has, from time to time, been in the news for crime in general and against women in particular. The victims have generally been local people and life has gone on. However, those traveling to Barasat may keep a note of the emergency police number:100.