Kolkata/South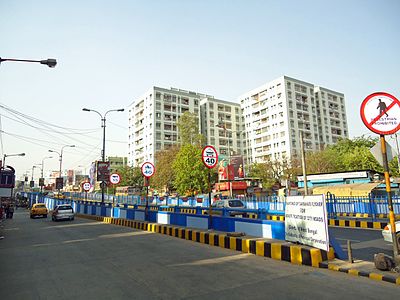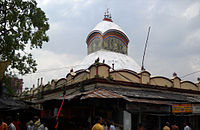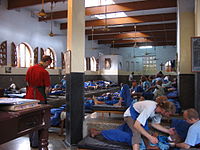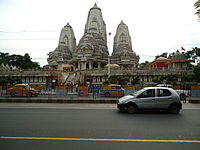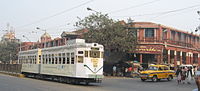 South Kolkata
is a district of
Kolkata
. It is less congested and more modern when compared to the rest of the city. One will find more apartment blocks and green patches. The neighbourhoods covered are: Ballygunge, Gariahat, Bhawanipur, Alipore, Chetla, New Alipore and Rash Behari.
Get in
South Kolkata can be easily reached from the central regions like Dharmatala and Sealdah easily by bus, taxi or metro railway. From north Kolkata the number of buses is slightly low, but metro railway is always an option. There also are bus links with the East and the Southern fringes. There is a railway system linking the city to the suburbs, and a part of this system passes through the city.
By road
Buses have the most extensive coverage, and is inexpensive. You can travel 20 km at around ₹10. The exact fare depends on the type of bus, whether it is a state bus, a mini bus, or a private bus.
Point to point auto rickshaws are a cheap and popular means of transport, in most parts of the city, except the central business district. These accommodate four passengers and charge individually.
Taxis are a fast mode of transport, and offer you more comfort and privacy than the other modes. However, they are much more expensive than buses or metro rail. There are many agencies that provide hired cars - AC and non-AC. They charge per km or per hour, whichever is higher.
By metro
Metro railway is the fastest and the most convenient way to reach south Kolkata. However, there is only one route which runs along the city from north to south. This means you may have to change to other modes of transport to reach your destination. Trains run every 10-15 minutes and at ₹5-15. It runs from 8AM to 9:45PM from Monday to Saturday and 2PM to 9:45PM on Sunday.
The metro runs from Dum Dum in the north to Kavi Subhas (New Garia) in the south-east. The entire metro route within South Kolkata is underground. The metro stations in South Kolkata are:
Jatin Das Park metro station

Kalighat metro station

Netaji Bhawan metro station

Rabindra Sadan metro station

Rabindra Sarobar metro station
By train
The suburban overground railway tracks pass through the eastern and southern edges of South Kolkata. The Park Circus-Majherhat section is also used by the circular railway system. The stations in South Kolkata are:
Ballygunge railway station

Dhakuria railway station

Khidirpur railway station

Lake Gardens railway station

Majherhat railway station

New Alipur railway station

Park Circus railway station

Remount Road railway station

Tollygunge railway station
By boat
Bidhan Ghat

address: Strand Rd,Hastings
See
Birla Industrial & Technological Museum

phone: +91 33 22877241, +91 33 22877242, +91 33 22877243

address: 19A, Gurusaday Road, Kolkata - 700 019

A modern museum with lots of interesting artifacts, shows, events and activities, primarily popular with school-going children. The exhibitions, many of them demanding you to take an active part, can compete with one you could visit in countries like the United States.

phone: +91 33 23356623

address: 5, Ashraf Mistry Lane, Ballygunge, Kolkata-700019

The former home of the learned great Indian freedom fighter and First Education Minister of India, Maulana Abul Kalam Azad. Maulana Azad's work interpreting the mystic Sarmad of Prince Dara Shikoh's court is also a cornerstone to the secular tradition of India. The museum is replete with narrations of his life, times, work, personal archives, and belongings.

phone: +91 33 2485-8509, +91 33 2485 8717

address: Sunny Towers, 43 Ashutosh Chowdhury Avenue, Kolkata-700 019

The Centre of International Modern Art is a small museum showing modern artworks.

Former Belvedere House, now the National Library

phone: +91 33 2248-7831

address: Belvedere Road, Alipore

This is a stately mansion. Once home of the British Viceroys, Belvedere House is now the National Library. Oldest Library in India with a huge collection, including some rarities. It houses over a million books and is the biggest in India - Main Campus Tel:+91-33-2479 1381 to 87, Librarian: +91-33-2479 2467

phone: +91 33 2401 4132

address: Alipore Mint Colony, New Alipore

Nirmal HridayThe home for the destitute is just next door to the Kalighat temple. If you are bold, have a look into the building to see the people lying in big dormitories and being cared for by some sisters of the Missionaries of Charity.

address: Entally

Rabindra SarovarIt is a large open lake and park area housing boating clubs, an open air theatre and eateries. The rowing regatta events are held here.

Ramakrishna Mission Institute of Culture

phone: +91 33 2464 1307

address: Golpark

Houses a bookstore and a library, among other amenities, with Ramakrishna-Vivekananda literature. It has an auditorium and a well-maintained guest house.
Holy Places
Bhukailash Temple

address: Karl Marx Sarani, Khidirpur

Birla Temple

address: 2 Queens Park Road, Ashutosh Chowdary Ave

The most modernly-opulent in Kolkata and worth a visit. The adjoining tree-lined lane Queen's Park is the most exclusive and fashionable address in the city and is worth a stroll through. Some of the biggest names in the city call it home. A close second is Sunny Park, running parallel to Queen's Park on the other side of the Birla Temple.

Durga Mandir

phone: +91 89 61613209

address: 127A, Shyama Prasad Mukherjee Rd

Ismail Mosque

address: Karl Marx Sarani, Khidirpur,

Kalighat Temple

address: Kali Mandir Road

Houses Kolkata's patron deity. According to the legend, when Lord Shiva's wife Parvati's body was cut up, one of her fingers fell here. Rebuilt in 1809, this is an important shrine of Hindu Shakti worship

Lord Soni dev Temple

address: Harish Chatterjee Street
Do
Cinema
Parks
phone: +91 33 2479 1150

address: No.2 Alipore Road

Built on 6 ha of land in 1876. The lakes within are a favourite retreat for migratory Siberian birds.

Bhawanipore Cemetery

address: Debendra Lal Khan Rd, Bhawanipur

address: 1, Alipore Road

A lush environ and also the venue for exotic plant and flower exhibitions. This spread over 21 acres comprising main lawns and informal gardens and children park, having many rare and tropical plants.

Kalighat Park

address: 61, Shyam Prasad Mukherjee Rd, Manoharpukur, Kalighat

address: Moiras Street, lake Terrace, Dhakuria

Padma Pukur Park

address: Kavi Bharati Sarani Road, Lake Gardens

Vivekananda Park

address: Kavi Bharathi Road, Southern Park, Lake Gardens
Sports
Calcutta Cricket Centre

address: ~107, Southern Ave, Lake Terrace,

Rabindra Sarovar Stadium

address: Moira Street, Hindustan Par

Multi-use stadium. Can accommodate 40,000 spectators.
Buy
Markets
Gariahat Market

address: 212, 214 Rash Behari Avenue, near Gariahat Road-Rashbehari Avenue crossing

One of the largest markets in Kolkata. Vegetables, fruits, flowers, betel leaf, fish, egg, meat, grocery etc. available

Fancy Market

address: ~22, Karl Marx Sarani, Khidirpur

Consumer goods market - lots of foreign goods. Fancy items, fancy prices. Beware of fakes.

Kidderpore Babu Bazar

address: Bhukailash Road, Khidirpur

Jadu Babu's Market

address: 31, Asutosh Mukherjee Road

Vegetables, fruits, betel leaf, fish, meat, eggs, etc., available

Lake Market

address: 104, Rash Behari Avenue

One of the largest markets in Kolkata. Vegetables, fruits, betel leaf, flowers, fish, meat, eggs, etc., available. It is the best place in South Kolkata for flowers, flower bouquets, floral rings etc.

Lansdowne Market

address: 65/1 Sarat Bose Road

Vegetables, fruits, betel leaf, flowers, fish, meat, eggs, etc., available. Old market, popular for both variety and fair prices.
Shops
Dakhsinapan Shopping Complex

address: Dhakuria

It is an excellent place to buy Indian handicrafts and artifacts. There are many Indian state government emporiums there, stocked with fixed price goods from all over the country. It also has clothes shops, eateries et al.

The Forum

address: 10/3 Elgin Rd

There is an appealing range of upmarket shops housed across six floors. Forum is a centre of fashion and there are many beautiful clothes, accessories, and shoes to choose from. For those with nostalgia about things foreign, can find shops selling Belgian chocolates, English biscuits and so on.

GariahatGariahat which comes under Ballygunge area is the biggest shopping district of Kolkata, where one can find shops ranging from branded showrooms and malls to numerous smaller shops. It has a good market for saris and other clothing items. The shops are spread along both Rashbehari Avenue and Gariahat Road, and extends into the lanes.

Gariahat Mall

address: Ballygunge

address: 18B Asutosh Mukherjee Road, Bhawanipur

Homeland Mall is one stop mall for house building materials and interior decor items. E Zone Electronic Mall is next to it.

address: Ashutosh Chowdhury Rd, Dover Terrace,Ballygunge

Lake Mall

address: Kavi Bharathi Sarani, off Rash Behari Avenue

Highend shopping mall, branded shops, food court and restaurants, multiplex, offices and hotel

address: 33, Syed Amir Ali Avenue, Park Circus

Luxury retail, largest apparel store, fine dining, six screen insignia class multiplex

address: 24A, Lake View Road, Ground Floor

Different varieties of fish starting from single piece to large quantities
For South City Mall see Kolkata/Southern fringes
Eat
Mall food courts
address: Prince Anwar Shah Road

It has a food court on the third floor with a number of restaurants. Most of the restaurants have bars. The restaurants are splurge/mid-range. Apart from restaurants at the edges there is a big open space in the middle with seating arrangements. This area is served by KFC and other outlets serving food ranging from South Indian to Kababs. The open space food outlets are comparatively less costly. Spencer's also have a food zone within their outlet in the basement. Restaurants (on the 3rd floor): Mainland China Restaurant (Tel.+91 33 64578361, Innovative Chinese food), Flame & Grill (Variety of Kababs served hot), Zara The Tapas Bar and Restaurant (Mediterranean food), Benjarong (Thai food), Sarson, Subway (fast food), KFC (fast food), Pizza Hut

Forum Mall

address: 10/3 Elgin Road

Restaurants here: Oh! Calcutta(Tel.:+91 33 22837161, mains from ₹150, excellent Bengali food). Ar-Han-Thai (Lebanese & Thai food), Spaghetti Kitchen (Italian food), Starstruck (Chinese, Continental, North Indian, Mughlai).
Lake Gardens, Jodhpur Park & Dhakuria
phone: +91 9002107890, +91 9474453800

address: 259-B, Lake-Gardens, Kol-45

Specialist in Punjabi, tandoori & North Indian cuisine. Free home food delivery or sit'n'dine service.

phone: +91 33 24837471, +91 24837474-76-32402551, +91 33 40004601

address: 1/432 Gariahat Road South, Jodhpur Park

Pizzas, garlic bread.

phone: +91 33 40007830, +91 33 24133243

address: 1/114 Jodhpur Park

Supreme pizza, momos, fried rice chicken, burgers, Margherita pizza.

phone: +91 33 40007588, +91 9836370051, +91 9831458972, +91 9830006647

address: 28/4 Gariahat Road South

North Indian and Chinese cuisine. Specialities - mocktails, shawarma, murgh musallam, masala kulcha, keema naan, murg reshmi kabab, manchow soup. Try their mixed kabab plate. Hard drinks served.

Suresh Mistanna Bhander

phone: +91 9836876365

address: Shop 7, Sarat Ghosh Garden Road, Dhakuria

All sorts of sweetmeat with unforgettable taste

phone: +91 33 3099 1262

address: UBI Dhakuria Branch Building, 32/12A, Gariahat Road (South), Dhakuria

Chinese, Continental, North Indian, etc.

phone: +91 8420170529, +91 9007980125

address: 533, Jodhpur Park

Tasty and varied Bengali dishes - mocha chingri, mochar ghonto, mutton kasha, dhokar dalna, posto bora et al. Must try bhetki fry. Special menu during the Poila Baisakh week, but beware of the special crowds it attracts, because it is a small homely place. They also serve Continental, Chinese and Thai dishes. Drinks not served.
Gariahat & surrounding areas
Lake Market-Deshapriya Park
phone: +91 33 24641960, +91 33 24640941

address: 74&75 Rashbehari Ave

South Indian vegetarian snacks and thali meal. Great food. Authentic South Indian taste - very different from the road side stalls catering to Bengali taste.

phone: +91 9836033337, +91 9874246629, +91 33 24669695

address: 166A, Sarat Bose Rd

Hyderabadi Mutton Biryani, Mutton Rogan Josh.

phone: +91 33 24661979

address: 176 Sarat Bose Rd

Mexican, Italian and other cuisine

phone: +91 33 66343960

address: 177 Sarat Bose Rd

South Indian Non-vegetarian. Snacks like idli and dosha not available. Specialised main meal dishes. Enjoy Keralian food, Coorgi dishes et al.

phone: +91 33 2464 4224, +91 7604066539

address: 187 Sarat Bose Rd

Great Mughlai food, take away only

address: 23/B, Deshapriya Park and also at P-562, Hemanta Mukhopdhyay Sarani (behind Vivekananda Park)

Period dining experience - try it out

phone: +91 33 2463 1961

address: 63/1, Lake Market Area

South Indian vegetarian

Maharaja and Maharani

address: Sarat Bose Road, near the Rashbehari Avenue crossing

These are two separate kachouri shops, near each other. The footpath in front of the shops is always crowded. Their early morning stocks often get exhausted by around 9AM. They also serve later in the day. Any one going that way must give it a try. Don't miss the jalebis/ malpuas after the kachouri-sabzi. The location shown in the map here is that of Maharani, and Maharaja is a little down the road towards the lakes.

phone: +91 33 2463 0909

address: 205 Sarat Bose Road

Continental and North Indian cuisine. Drinks served.
Southern Avenue
phone: +91 33 4003 6606

address: 124B, Southern Avenue

Bengali cuisine

phone: +91 33 4065 9510

address: 122A, Meghnad Saha Sarani (Southern Avenue)

Thai, Chinese, etc. Drinks served.

phone: +91 33 3099 1254

address: 55, Southern Avenue

Indian sea food, South Indian, Keralian, Maharshtrian
Bhawanipore
Park Circus
Alipore & New Alipore
phone: +91 33 6612 3939, +91 33 2223 1193

address: 34-B, Belvedere Road

Taj Bengal is a 5-star deluxe hotel and is amongst the top hotels in Kolkata. The luxurious restaurants are also open to non-residents. Given below are average costs to give an idea of the expenditure involved. Actual cost will depend upon the food ordered. Drinks are served and costs extra. Amongst the restaurants are:

1. Sonargaon presents the zemindary or landlord culture of the past. Punjabi, North-west India and Bengali cuisine. Average cost of lunch/ dinner for two ₹2,800 plus taxes. Open all days.

2. Souk presents Mediterranean and Middle-eastern fare. It offers a medley of flavours from Moroccan, Greek, Turkish, Egyptian and Arabic cuisines. Average cost for two ₹3,200 plus taxes. Closed on Mondays.

3. Chioniserie is a top class Chinese fine dining restaurant with a spread of dishes from Sichuan and Canton. Average cost for two ₹3,600 plus taxes. Open all days.

4. CAL 27 is the best all-day dining restaurant. It offers a global menu but specialises in Italian cuisine. Average cost for two ₹2,500 plus taxes. Open all days. Look out for buffet lunch on Sundays.

In addition to the above there are specialised small bar/ confectionery/ eatery sections. Check with hotel website for lunch and dinner timings. Taj Bengal is a large hotel and if someone arrives without a booking there will generally be some place to get in, but that may not be what the person desired. Please book seats in advance to avoid disappointment.

phone: +91 33 66343401

address: 43 Diamond Harbour Road

Budget restaurant. Biryani and Mughlai food.

phone: +91 33 2479 3667

address: 17/1 E, Alipore Road

Bakery, desserts, fast food. Serves non-vegetarian items also. No alchohol. Some popular items: vegetable burger, vegetable pizza, chocolate pyramid, pineapple pastry.
Khidirpur
phone: +91 9073309928, +91 9073309929

address: Ground Floor, Ideal Towers, 57, Block A, Diamond Harbour Road

Vegetarian restaurant. Indian and Chinese cuisine. Popular items: lassi, naan, paneer tikka masala, roti, thali.

India Restaurant

phone: +91 33 44502381

address: 34 Karl Marx Sarani

Sheesh Mahal

phone: +91 33 66037353

address: 28 Karl Marx Sarani

Note: For places to eat in Tangra/ China Town see Kolkata/East, for the Park Street area see Kolkata/Esplanade
Drink
The Lassi at Sharma's Confectioners in Mandeville Gardens is worth checking out.

Sleep
Budget
Fern Hotel & Restaurant

phone: +91 33 24407797, +91 9831477704

Hotel Komala Vilas

phone: +91 33 24641960

address: 74&75 Rashbehari Ave

Mysore Guest House

phone: +91 33 24667705

address: 5A, Mysore Rd

address: 10/1 Tal Bagan Ln

Sharani Lodge

phone: +91 33 24635717, +91 33 24641999, +91 33 24644971

address: 71/K Hindustan Park, Gariahat
Mid-range
The Best Inn

phone: +91 33 24549101

address: 1B Sushil Sen Road, Kolkata-700025

Amenities include air-conditioning, telephone, internet connectivity, TV (Cable), laundry service, housekeeping, room service, continental breakfast. Deluxe Suite (King size Double Bed)/Deluxe Queen (Queen Double Bed)/Deluxe Twin (two single beds) rooms with attached bathrooms.

phone: +91 9836465400

address: 7th Floor, Lansdowne Court, 5B, Sarat Bose Rd

10-minute drive from Park Street and 1 minute from Minto Park. It's on the 7th floor of a residential apartment. 4 bedrooms with free WiFi, attached bathrooms, common kitchen. All rooms are air conditioned. Owners live in the same building. Great location, safe, and 24/7 security. Recommended for backpackers.

phone: +91 33 2287 4056, +91 33 2287 5817, +91 33 2289 5791

address: 1 Orient Row

address: 35A, Sarat Bose Rd

phone: +91 33 23431678, +91 33 23431679

address: 53D/1,Tiljala Road,Park Circus

Mrs. Dam's Guesthouse

phone: +91 33 2290 4533

address: Near Ballygunge

Modern, prettily furnished rooms with attached bath, air-con, TV, etc. in a quiet, safe neighborhood. Helpful owner lives in the same building, and is a handy source for tips on what to see/where to go in Kolkata. They also have a great cook, so make sure you try a home-cooked Bengali meal when you're there.

phone: +91 33 40086847

address: P-399, Keyatala Lane, Kolkata-700 029.
Splurge
Bodhi Tree Boutique Guesthouse

phone: +91 33 2424 6534

address: 48/44, Swiss Park, Kolkata.

address: A.J.C. Bose Rd

Good location near Rabindra Sadan metro station. Good food. Five star rates.

phone: +91 33 2223 3939

address: 34B, Belvedere Road, Alipore.

It is one of the best in town.
Connect
phone: +91 33 24791381

address: Belvedere Road

phone: +91 33 2466 3126

address: Raja Basanta Roy Rd, Southern Avenue, Ballygunge
Go next