Kolkata/Southern fringes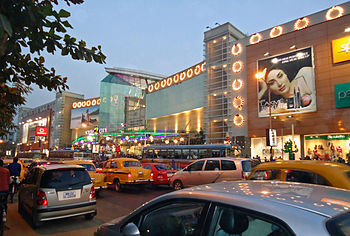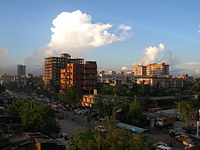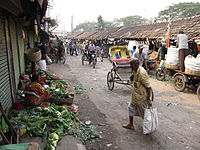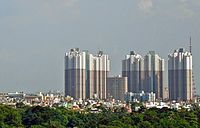 The
Southern fringes of Kolkata
are in
Southeast Bengal
.
Understand
The rapidly mushrooming neighbourhoods to the south of the city include Tollygunge, Behala, Joka, Pailan, Jadavpur, Garia and Narendrapur. New areas are being continuously developed and added to the city. Traditionally a part of the South 24 Parganas district the area now forms part of the added on areas of Kolkata. Kolkata is a British-built city, but the southern fringes were left by the British as virtually a big semi-urban slum area soon teeming with millions of refugees from East Pakistan. The transformation to a modern city has been spectacular - with slums here and there, a reminder of the harrowing post partition days. Most of the refugee colonies now sport a brighter look.

Get in
By bus
Large number of bus routes from other parts of Kolkata and outside Kolkata ply into this area. AC buses have also started plying as for example from Sulekha to Rajarhat and from Tollygunge to airport.
Some of the important bus stands / stops are:
Ajaynagar Morh bus stopThere are many long distance buses from places like Baruipur and Sonarpur in the south to places like Airport, Barasat and Dakhineswar which avoid he city crowds and travel via EM Bypass. This is the bus stop from where people of Santoshpur and the surrounding areas can board such buses. Mukundapur is nearby. It has many hospitals and many budget guest houses and hotels have sprung up.

Avisikta Morh bus stopIt is at the meeting point of the Prince Anwar Shah Road Connector and EM By Pass, near Kalikapur and Anandapur crossings. There is a Spencer's outlet nearby.

Bagha Jatin Morh bus stopAuto link to Rani Kuthi

Behala Chowrasta bus stop

Behala Manton bus stop

Behala Parnasree Pally bus stand

Garia No.5 bus standGaria has three bus stands. This depot handles buses coming along Raja SC Mullick Road. The second bus depot handles buses coming along NSC Bose Road. There is a bus stand near Padmashri cinema hall, handling 45, 45A and 45B. The Garia-Gol Park autos leave from opposite No. 5 Bus Stand.

Garia No. 6 bus standThis bus depot handles buses coming along NSC Bose Road. Buses travelling south of Garia are handled by either No. 5 or No. 6 depot depending on the direction they are coming from. Autos on the Garia-Tollyguge route leave from near this bus stand. There also are autos for Boral.

Golf Green bus stand

address: 18/3 Uday Shankar Sarani

Bus terminus for 234, 234/1,17A, 223, AC 43 (Golf Green- Airport via sector 5 & New Town) AC9A (Golf Green-Dakhineswar) and Golf Green-Howrah mini. Auto link to Lake Garden/ Lords Morh.

Jadavpur 8B bus standIt is terminus for S9, E1, AC1, AC 9, S19, S31, S8B & AC 9B buses and Jadavpur-Airport and Jadavpur-Purbachal (via Diamond Harbour Road) minis. Auto to Nayabad, Rani Kuthi, Tollygunge Metro and Taratala (bit infrequent). Garia-Golpark auto passes through.

Jadavpur Thana More bus stopImportant crossing point. Terminus for 240 (Jodhpur Park-Baghbazar). Many buses and minis travelling south for Jadavpur, Santoshpur and Garia pass through here. Anwar Shah Road-Nimtala minibus passes through here. All Golf Green buses pass through here.Auto routes: Garia-Gol Park, Jadabpur-Taratala.

Joka Tram Depot bus stand

KamalGazi More bus standnarendrapur

RaniKuthi bus stopBuses, minibuses, autos plying along NSC Bose Road between Tollygunge and Garia pass through here. Auto links to Jadavpur 8B and Bagha Jatin Morh.

Santoshpur Jora Bridge bus stopBuses may available to some important places, such as- Howrah, Burrabazar, Ultadanga, Sealdah, College Street, Airport, Birati, Kalighat, Behala, Park street, Esplanade, Chadni chowk, B.B.D bag, tea board, new town, sector 5, Karunamoyee, Beleghata, Saltlake, Santragachi, vidyasagar setu, pts, alipore zoo, park circus & nabanna. Except Dakhineshar & Belur math. Some important bus services- 1A Mukundapur-Ramnagar (via Santoshpur, alipore zoo, kalighat, Khiddirpore). 1B Nayabad(Garia stn.)- Ramnagar( via santoshpur, Golpark, New Alipore). S9/AC9 Jadavpur- Saltlake, Karunamoyee(via santoshpur, E.M. Byepass, Bikasbhawan, Central Park). MW-1(ac) Jadavpur(sulekha)- unitech(via Santoshpur, E.M. Byepass, Niccopark, Sec5, New Town). S4B haridevpur-newtown(via Tollgunge, Ranikuthi, Baghajatin, Santoshpur, E.M. Byepass, Sec5) S5C(Old C5) nayabad(garia stn)-howrah station(via santoshpur , kalighat) SD16 Mukundapur-serakole(via santoshpur, amtala, behala). AC37B Airport Gate No.1 – Garia 5 Bus Stand (AC)(santoshpur, E.M.Byepass). M2 tollygunje- birati (via santoshpur, airport) tollygunge -ultadanga / airport shuttle(via santoshpur), AC 9B Jadavpur- Ecospace ( via santoshpur,sector 5,new town, unitech),206 new garia metro- saltlake(via santoshpur,esplanade, tea board, chudney chowk, college street, ultadanga, sealdah) 37A Nayabad-Howrah(via santoshpur,kalighat,park street,rashbihari, gariahut, hazra) santoshpur bbd bag mini (via santoshpur,park street)

Taratala Morh bus stop

Tollygunge Phanri bus stopAll buses and minibuses travelling south to Tollygunge Metro and beyond pass through here. Auto link:Tollyguge-Hazra Morh.
By train
The Sealdah-Canning, Sealdah-Lakshmikantapur-Namkhana, Sealdah-Diamond Harbour and Sealdah-Budge Budge lines of Eastern Railway pass through this area. Beware of the work hour rush. Cycle rickshaws are available at all stations for local travel.
The railway stations serving this area are:
Akra railway station

Bagha Jatin railway station

Brace Bridge railway station

Budge Budge railway station

Garia railway stationbus 1b.s5c,45(white bus),garia stn-howrah stn,garia stn-bbdbag, garia stn-newtown,37a available.

Jadavpur railway stationauto services available for garfa,haltu & santoshpur & jadavpur 8b & sulekha. sd4,1,212 buses available from jadavpur railway station area near palbajar.

Narendrapur railway station

New Garia railway stationchangeover for kavi subhas metro. bus 1b,206, 45(white bus@ kadamtala), garia stn-howrah stn, garia stn- kolkata stn,37a( nayabad-howrah),s5c(nayabad-howrah) available.

Nungi railway station

Santoshpur railway station

Sonarpur railway station
By metro
The Dum Dum-Kavi Subhash (New Garia) metro cuts across this area. Except for Mahanayak Uttam Kumar and Kavi Subhas, which have stations at ground level, the entire track in the area is elevated. The Mahanayak Uttam Kumar-Dum Dum track, beyond the area, is underground. New metro lines are being constructed from Kavi Subhas to Airport and Joka to Benoy-Badal-Dinesh Bagh. Progress is tardy at many places because of illegal occupation of railway land.
The metro stations serving this area are:
Gitanjali metro station

Kavi Nazrul metro station

Kavi Subhash metro stationChange over for New Garia station on the Sealdah-Sonarpur section. The station is about 10 mins away by bus/auto from Santoshpur jora bridge area or Ajoy Nagar.

Mahanayak Uttam Kumar metro station

Masterda Surya Sen metro station

Netaji metro station

Shahid Kshudiram metro station
Get around
Point to point autorickshaws are available for slightly longer routes. Cycle rickshaws are available everywhere.
Area landmarks
Indian Association for the Cultivation of ScienceIt was founded in 1876 by Dr Mahendra Lal Sircar and is the oldest research institute in India. Sir C. V. Raman worked here during 1907 to 1933 on various topics of physics making discovery of the celebrated effect on scattering of light in 1928, which bears his name and that brought many accolades including the Nobel Prize.

The Indian Institute of Management

address: Joka

Established in 1961 it is a fully autonomous institution and offers several Post Graduate Diploma and Fellowship programmes in Management.

Jadavpur UniversityIt was established by the National Council of Education in 1905, with the objective of challenging the British grip over education by offering education to the masses 'on national lines and under national control'. It was given the status of a university in 1955.

Kolkata Doordarshan Kendra

address: Golf Green

Royal Calcutta Golf ClubThe oldest golf club in India, established in 1829. Exclusively for members and guests.

Tollygunge ClubExclusively for members and their guests. This club, founded in 1895, spread over a hundred acre campus, is acknowledged as one of top clubs in the world. It offers facilities for golf, tennis, squash, indoor and outdoor swimming, riding and amateur equestrian sports
See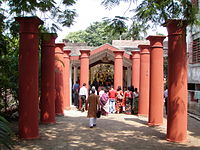 Durga Puja of the Sabarna Roy Choudhury familyThe three villages of Sutanuti, Govindapur and Kalikata were part of a khas mahal or imperial jagir or an estate belonging to the Mughal emperor himself, whose jagirdari rights were held by the Sabarna Roy Choudhury family. On November 10, 1698, they transferred, by lease, their rights over the three villages – Sutanuti, Kalikata and Gobindapur - to the East India Company. The pillars of the cutchery (land rent collection office) where East India Company's Charles Eyre, son-in-law of Job Charnock, was handed over the right to collect rent in three villages still stand. The family has been celebrating Durga Puja since 1610 in their ancestral home at Barisha. It is possibly the oldest organised festival in the Kolkata region.

Gurusaday Museum

address: is in 3A Bus stand Thakurpukur / Joka on Diamond Harbour Road.

Tollygunge film industryFrom an early beginning in the silent era in 1919 to the talking era in the 1930s to the golden days of 1950s to 1970s has been a chequered history. It has seen such greats as Satyajit Ray, Bimal Roy, Rittwick Ghatak and Mrinal Sen. Tollygunge produces about 70 films annually.

State Archeological MuseumThe museum has a wide collection of antiques from the bronze age and various artefacts collected from excavations across West Bengal.
Religious places
Tipu SultanShahi MasjidThe Tipu Sultan Mosque was built at Dharmatala in 1832 by Prince Ghulam Mohammed, the youngest son of Tipu Sultan. An identical mosque built later by the Waqf Committee at Tollygunge. It is called Tipu Sultan Shahi Masjid.

phone: +91 33 2497 8698

address: Diamond Harbour Road, Pailan

Built in 2013. The mandir is 180 feet x 100 feet and has a height of 80 feet. There is a 1,400 feet pathway (parikrama) in the temple.
Do
Jadavpur StadiumOfficially named Kishore Bharati Krirangan, but more popular as Jadavpur Stadium, it is a 13-acre sports complex. It has a stadium that can accommodate 12,000 spectators and hosts lower division matches of the Kolkata Football League. It has a swimming pool with training facilities for children. now the stadium may under the supervision of kmda & survey park police station( as per the jurisdiction of kolkata police). kasba traffic guard & east jadavpur traffic guard office locates.
Buy
address: 375 Prince Anwar Shah Rd

Car parking available @ ₹25 per hour.
For Hiland Park Metropolis Mall see Kolkata/East
Eat
Fiya the Zayka

address: 44/1 Adi Ganga, Bansdroni Post Office Road, Bansdroni 700070

Cooking The Royal Biryani is the profession of Fiya the Zayka's; they serve Mughlai food, developed under the patronage of the Mughal Kings and Queens using the spices of the Mughals' adopted Indian homeland.
South City Mall
It has a
food court
on the third floor with a number of restaurants. Most of the restaurants have bars. The restaurants are splurge/mid-range. Apart from restaurants at the edges there is a big open space in the middle with seating arrangements. This area is served by KFC and other outlets serving food ranging from South Indian to Kababs. The open space food outlets are comparatively less costly. Spencer's also have a food zone within their outlet in the basement.
Flame & Grill

phone: +91 33 24228503

address: Shop No. 310, 3rd Floor

Variety of Kababs served hot

KFC

phone: +91 33 40277000

Mainland China Restaurant

phone: +91 33 64578361

address: Shop No. 313, 3rd Floor

Innovative Chinese food.

Pizza Hut

phone: +91 33 40653061

address: 3rd Floor

Subway

phone: +91 33 40643116

address: Shop no. 306, 3rd Floor

Zara The Tapas Bar and Restaurant

phone: +91 33 32568055

address: Shop No. 309, 3rd Floor

Mediterranean food

Hiland Park Metropolis MallIt has ten outlet eateries.
Behala
Darbar Restaurant

phone: +91 9830919450

address: 371/1 (48) Diamond Harbour Rd

Haji Saheb

phone: +91 9831063809

address: 474 Diamond Harbour Rd

Jadu Kadai

phone: +91 9874118554

address: 743 Diamond Harbour Rd

New Punjabi Hotel & Restaurant

phone: +91 9874661256

address: 394 Diamond Harbour Rd

Panna's Kitchen

phone: +91 33-24680535

address: 54 N, Diamond Harbour Rd

6 Ballyganj Place

phone: +91 7384650430

address: 20/4 Souren Roy Road, Behala AC Market, First Floor

Hatari

address: James Long Sarani

Kolkata 34

address: James long Sarani
Joka
D's Cafe

phone: +91 9051334724

address: Mahatma Gandhi Road, Kalitala

Dakshinayan Restaurant

phone: +91 33 65135660, +91 9831738083

address: 3A Bus Stop

Herbs & Spices

phone: +91 983016926

address: Gennex Valley, Diamond Park
Tollygunge
Aaoji Khaoji

phone: +91 9836582305

address: Shop No. 8, Tollygunge Metro

Venus Restaurant

phone: +91 33 24224479

address: 3/19 Haripada Dutta Ln
Jadavpur
Bawarchi

phone: +91 33 66342645 24149486

Branch at Bagha Jatin

Bhooter Raja Dilobar

phone: +91 33 66037042

address: A-25 CIT Market, Central Rd

Calcutta Bistro

phone: +91 33 66348354

address: Sukanta Setu Morh

Golden Gate

phone: +91 33 24990096, +91 33 24721113

address: 100 Raja SC Mullick Rd

Chinese, North Indian, Bengali food

Indian Coffee House

phone: +91 33 24736476

address: CIT Market, Central Rd
Santoshpur
Open Sesame

phone: +91 33 24189334

address: 1050/1, Survey Park Unnayan, Bengal Ambuja Complex

Raajbarir Khawa

phone: +91 33 66246302

address: B/171 Survey Park

Shiraz Golden Restaurant

phone: +91 33 24164591

address: C279, Ajay Nagar, Survey Park
Garia
Anish Restaurant

phone: +91 9831524331

address: 2/92 NSC Bose Rd

Brar's Punjabi Hotel

phone: +91 9831540560

address: Garia Main Rd

Dishes

phone: +91 33 24305024

address: P-2A, Kanungo Park

Ishan South Indian Delite Restaurant

phone: +91 9830036626

address: 87 Baroda Ave

Raj Restaurant

phone: +91 33 44504153

address: 124C, Raja SC Muliick Rd
Drink
Amit Das F.L. Off Shop

address: SANTOSHPUR JORABRIDGE

LIQUOR SHOP.

Gossip

phone: +91 33 24188348

address: 1050/1 Unnayan Commercial Complex, UNS 77, Survey Park, Santoshpur

Palki

phone: +91 33 24308378

address: 110 Baroda Avenue Extension, Patuli

Spoonz Rooftop Restaurant

phone: +91 33 28370868

address: 140-22A, NSC Bose Road, Tollygunge

Trouble Bay

phone: +91 33 24164126

address: Survey Park, Ajay Nagar Morh, Santoshpur
Sleep
Eastern View Hotel

phone: +91 33 2416-9396

address: 185/9 Santoshpur Ave

1 star with six rooms. Amenities include cable TV. Government approved.

address: Pailan, Joka

phone: +91 6450 4025, +91 33 2497 9007, +91 9230613727

address: Bishnupur

phone: +91 33 24809009, +91 33 24709929, +91 33 24809000, +91 33 24709928

address: Diamond Harbour Road, Kriparampur

110 rooms, halls, conference rooms, swimming pool and many other indoor facilities. Arrangements for weddings, anniversaries, birthday parties, conferences, corporate award shows and dinner, dealer's meet, training sessions etc. Lunch also available for non-boarders - it is a great place for a day out.

New Punjabi Hotel & Restaurant

phone: +91 9874661256

address: 394 Diamond Harbour Rd
Note
: For places to sleep in other parts of Kolkata, see
South Kolkata
,
Maidan
and
Esplanade
Go next