Kollur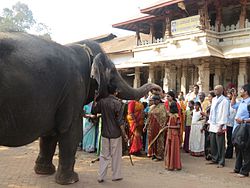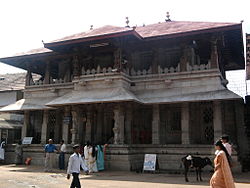 Kollur
is a temple town and hill station near
Kundapur
in the
Udupi district
region of
India
.
Get in
By plane
Mangalore International Airport (IXE), at Bajpe, about 20 km from the city centre. There are daily flights to Mumbai, Bangalore, Goa, Kochi and Calicut in the domestic segment and weekly or bi-weekly flights to Dubai, Abu Dhabi, Muscat (Oman), Doha (Qatar), Kuwait and Bahrain in the international segment. Kollur is two hours drive from Mangalore.

By train

Byndoor (Mookambika Road Station - BYNR) is the nearest station to Kollur, road distance is about 28 km. From the railway station to Byndoor, catch a rickshaw, and from Byndoor to Kollur private bus facility is there but at limited intervals. Other option is private taxi from Byndoor or from the railway station. Big disadvantage of Byndoor station is its located remote border area of Kundapura taluk and there is risk of getting facilities during night hours.
Kundapura (KUDA) is the best railway station to reach Kollur because you can get more buses from here. But the Kundapura Railway Station is 10 km from the city and autorikshwas charge about ₹120 to the city bus stand. Kollur is about 38 km from the railway station.
The station has good waiting room/hall and a fruit stall. From Kundapura there are plenty of private express buses are available (every 15 min) to Kollur. Plenty of private taxis are also available. Nearest route to Kollur from the station is via Basrur-Gulvady Vended Dam Bridge (Kundapura Station-Basrur-Gulvadi Vented Dam Bridge-Neralkatte-Vandse-Kollur), its lesser than 35km journey. Railway Station telephone number: +91-8254-237365.

Get around
Autorikshaws are available everywhere and they charge ₹25/- for shorter distances.

See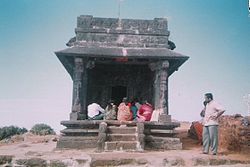 Arishna Gundi WaterfallsReached only by trekking to the deep jungle. The name "Arishna" refers to the orange-yellow colour created by sunrays falling on the water droplets around the waterfall.

Kashi Theertha bridge1 km from the Mookambika temple. Popular with trekkers and river lovers.

Kodachadri MountainAdi Sri Shakthi Mookambika Temple sits atop this mountain and is believed to be the real abode of Devi from where Adi Shankara re-established it at foothills at Kollur. A trip by jeep will cost you ₹600.

Mookambika templeFamous for Vidyadana, temple trust running several schools, & sponsoring midday meal program for surrounding schools. Devi Mookambika is famous for Vidya (education). People come from all across South India to visit this temple. Kollur is believed to be one of the seven pilgrim centres created by Parashurama, a Hindu mythological figure. Mookambika temple honors the Hindu goddess Parvathi.
Mookambika Wildlife SanctuaryKundapur-Kollur- Shimoga road. A World Wildlife Fund project, and a home for an endangered species, the lion-tailed monkey.
Souparnika riverDevotees take a holy dip here at a spot one km from the Mookambika temple. There are rocks in the river and very good photographic opportunities. There is a small tea shop and ample parking facilities here.
Do
Trekking possibilities are numerous. You can start from the bridge at Kashi Theertha river spot 1 km from the temple gate. Auto fare. ₹25.
address: at Mookambika Temple

The Annual Festival is held in March or April for nine days. Daily worship and special processions are held. At noon, Shatha Rudrabhishekha will be performed. At 5:30PM and at 10PM, street festivals take place. The main Car Festival (Maha Rathotsava) will be held on the 8th day. Next day the "Okuli Festival" (like Holi) and the Boat Festival (Theppotsava) are held on the Sowparnika River.
Eat
Adiga Restaurant

address: Temple gate

Offers vegetarian food at reasonable rates.

Akshaya Restaurant

address: Temple gate

Offers good food at cheap rate.
Drink
Sri Raghavendra Tea shop

address: Near the parking gate on the Shimoga Road

Superfine tea is their speciality.
Sleep
There are a number of lodges around the Mookambika temple. Private hotels are mostly situated between the busstand and the temple gate and some of them offer rooms at ₹500-2,000 per night.
There are two lodges inside the temple gate. The first one is called Hotel Shwetha.
The second one is a guest house run by the temple administration. Rates: ₹500 for a double room with bath. The rooms are new, spacious and attached with clean bathrooms.
Several cheaper lodges are also available behind the parking space on the Shimoga road. They offer rooms at ₹200 per night and dormitories at lower prices.

Go next