Kom Ombo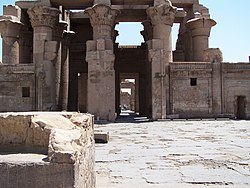 Kom Ombo
(Arabic: كوم أمبو) is a medium-sized
Egyptian
town in the region of
Upper Egypt
, on the east bank of the river Nile 65 km south of
Edfu
and 50 km north of
Aswan
. Population 60,000.
Understand
Kom Ombo is an agricultural town, producing mostly irrigated sugar cane and corn, and unremarkable but for the unusual double temple of Ptolemaic date situated picturesquely high on its banks above the river Nile. The town has ancient origins, of which virtually nothing beyond the temple is to be seen today (it is awaiting excavation!)
However, the temple is now a major tourist site crowded with cruise ship passengers every day.
Climate
Get in
By train
All trains between
Aswan
and
Luxor
stop in (5 km from the temple). Local trains also stop at the Naj al Shatb al Kabir railway stop, which is 5 km south of Kom Ombo station but only 2 km from the temple, in case you are looking for a shorter walk. There are at least two local trains from Aswan to Naj al Shatb al Kabir, one at 1PM (LE3.50) and one at 2:10PM (LE2).
At Kom Ombo Station you can take a taxi (LE15-25) or tuk-tuk (LE5-10)—price depending on negotiation. In Naj al Shatb al Kabir, tuk-tuks wait at the road to the temple, 200 m north of the railway stop. The temple and the Nile are about 10-15 min ride away.
By felucca
Take a
felucca cruise on the Nile
from Aswan or Luxor.
By cruise boat
If you are on a cruise boat between Luxor and Aswan, you will most likely make a stop here. The temple is beside the cruise ship dock, so you do not need transportation from the ship to the temple.
See
Temple of Kom OmboAn unusual dual Temple of Sobek and Haroeris dating to the reign of Ptolemy VI and part of that ruler's extensive building program. Earlier Pharaonic remains have been detected at the site, but little now remains of these. The temple suffered some damage in the earthquake of 1992 but has been restored. Includes admission to the Crocodile Museum beside the site, which shows artefacts related to the cult of Sobek.
Eat and drink
There are restaurants at the foot of the temple.

Go next
Gebel es-Silsila – A range of sandstone hills and ancient quarries of huge geological and Egyptological significance, almost immediately north of Kom Ombo.