Komsomolsk-on-Amur
Komsomolsk-on-Amur
(
Russian
: Комсомо́льск-на-Аму́ре,
kuhm-sah-MOHL'SK nah ah-MOO-ryeh
) is a large city in
Khabarovsk Krai
on the
Baikal-Amur Mainline
. Home of around a quarter of a million people, it's the 3rd largest city of the
Russian Far East
after
Vladivostok
and
Khabarovsk
and a major industrial center.
Understand
First settled by indigenous people, then by settlers from the Perm region, but the history of this BAM town in the far flung reaches of the union come federation, doesn't kick of until the communist hey-ho fervour in the early honeymoon days of the Soviet union, when patriotic fresh-faced members of the Komsomol - the Soviet youth league - landed on the Amurs shores in the 1930'ties, to build a "model city" with wide tree lined avenues, modern trams and large factories - a new future, carrying the Soviet dream to the far east. And while there are countless monuments and murals celebrating the valour and accomplishments of the Komsomol and the BAM builders here, reality however, is far more sinister; nearly three quarters of the builders were actually convicts, Japanese POW's and other dissidents, and the city became a major, if not the most important GULAG centre during Stalin's purges, and nearly a million prisoners tramped trough the various camps of Komsomolsk. So the city is not, as legend would have it, built on the glory of labour and patriotism alone, but also on top of thousands of unmarked graves.

Get in
By plane
Owing to its aircraft industry (the Sukhoi Superjet 100 is produced here) and its strategic importance, the city actually has two airports, but unless you find yourself unwittingly recruited by the Russian army, your interest will mainly be in Khurba airbase.
By train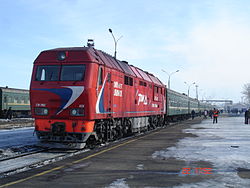 Planes aside, most visitors who wind up in the city are here because the city is an important hub on the
Baikal-Amur Mainline
. Westwards the next major town is
Tynda
(~40 hours, once daily) and to the east the line reaches the pacific with a stop in
Vanino
(~15 hours, once daily, twice in summer), where ferries takes passengers across to
Sakhalin
before the railway terminates in
Sovetskaya Gavan
. Going south there is a branch line with 1-3 daily trains from
Khabarovsk
or
Vladivostok
. Occasionally there are direct trains to Irkutsk and beyond, you can try the #008/667 from/to
Novosibirsk
if that's useful to your itinerary - in the summer there is even sometimes a direct carriage attached to the Rossiya from Moscow.
If you want to shorten time from Komsomolsk to Khabarovsk, you may get off at Selikhino between them, where a bus will await you for connection. The total travel time will be 6 hours instead of 11.
By bus
The road to
Khabarovsk
is, by Russian standards, in workable condition and paved for nearly the entire length, so naturally buses are taking full advantage of this rare feat, with around 10 round trips per day. The trip takes a good 8 hours and costs between depending on which bus you catch. There is a red eye service leaving in both directions at 23:00 if you're on a
really
tight budget, and the 09.30 #306 bus continues onwards to
Birobidzhan
. Supposedly there is a single daily bus to
Vanino
, but if that's a miss, there should definitely be a Marshrutka leaving sometime. The
Bus station
phone: +7 4217 59-11-54
address: at Pionerskaya Street 2
is a short walk from the river terminal north along the beach.
By boat
If potholes is not your thing, and 7000 kilometers of shouting provodnitzas has put a dent in your railway enthusiasm, you can go liquid instead, that is, when it's not frozen between June and August. Meteor hydrofoils speed up the Amur from
Khabarovsk
in six hours, which actually makes it the fastest connection between the two cities. In the same period, you can continue onwards to
Nikolaevsk-on-Amur
with the boats too, really the only option other than the daily flights from
Khabarovsk
, if you like your bones right where they are. This trip takes around 12 hours. The
River terminal
(Речной вокзал, +7 (4217) 59-29-35) is at the end of Oktyabrskiy Prospekt right by the beach.
Get around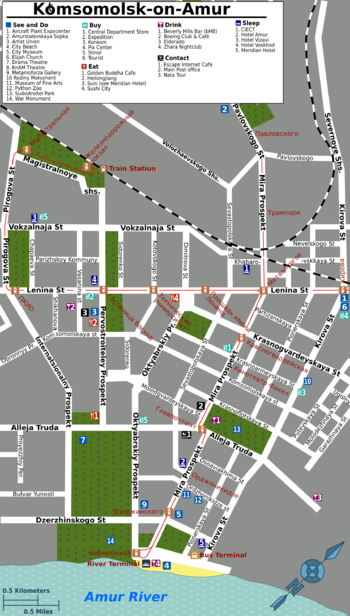 While the River terminal and the Bus Station are just a few hundred meters apart on the river front, the Railway Station is about 4km away; tram line number 2 or bus number 17 will do the work for you. In fact any tram numbered 2, 3 or 4 will take you to the river terminal, while 1, 2 and 5 will take you the railway station, provided you take it in the right direction of course, all the tram lines convene at the intersection of Lenina and Mira Prospekts
See
Unless Komsomolsk is the first stop on the Russian mainland coming from Japan, it should come as no surprise by now that this young city is not a prime sightseeing spot by anyone's standard, unless of-course you've seen nothing but taiga pines for the past year or so, in which case it might just stir a bit of excitement. As a short stopover however, the city works surprisingly well -
especially
(or perhaps mainly) if you have an interest in photography; there is a number of buildings in Stalin's Neo-renaissance style in the city centre, and many of the housing blocks are adorned with both sculptured and painted murals with soviet themes - makes for some amazing pictures if you know what you're doing. As does the
War Memorial
on a marble plaza right above the river boat terminal, with its seven giant granite heads looking towards an eternal flame. If seen from the river the River Terminal itself is also a bit interesting, as it's designed to look like a ship, another monument nearby portrays a band of Komsomolsk pioneers.
Aircraft Plant Expocenter

phone: +7 4217 22-95-09

address: Kopylova St 48а

Exhibition on the history of aircraft factory, including several displays of aircraft built at the factory, including the WWII IL-2 (Sturmovik), Korean war-era Mig-17 (Fresco), the modern SU-27 (Flanker) fighter-jet and the odd looking BE-103 (Snipe) amphibious plane. Access is tricky as it's only open to prearranged visits, which is not easy. Try contacting a tour agency, sometimes they can even arrange tours of the plant itself, but you'll need a healthy dose of luck for both.

Artist Union Exhibition Hall

phone: +7 4217 53-93-88

address: Pervostroitelej Av 21

The local branch of the Russian Artist Union runs a small gallery with local art exhibitions, and a small souvenir store where you can buy indigenous souvenirs

phone: +7 4217 45-54-40

address: Mira Prospekt 8

Somewhat feeble attempt at a local museum. Covers both the area's ancient history with a archaeological and ethnographic collection, as well as the more recent history relating to the construction of the modern city by the Komsomol and BAM builders. There is also a small free open air tank museum outside with around 20 different tanks.

Church of the Holy Prophet Elijah

address: Mehanicheskaja St 37

While this rather large church was only build in 2002, it's still quite picturesque, especially contrasting the rather dodgy area which surrounds it - so cameras out and practice your photography skills.

Metamoforza Gallery of Modern Art

phone: +7 4217 27-23-40

address: Dzerzhinsky St 24/2

In business since 2001, this small independent gallery covers 140 square meters and has around 20 changing exhibitions per year covering everything from graphics design, folk and traditional art over to the more experimental. They also organize a small art school for the local population

Monument to the crew of Rodiny

address: Kirova St 46

In a town with little in the way of attractions, this can count as one. This odd monument made out of the tail of a plane can make a good addition to your photo album. It's a monument to the pilots who perished saving the crew in a emergency landing in the Taiga, after their plane ran out of fuel during a record attempt for the longest flight back in the pioneering days of aeronautics.

Museum of Fine Arts

phone: +7 4217 54-12-62

address: Mira Prospekt 16

The ground floor is dedicated to Wehstern art, including some nice promgrafiki from Soviet tobacco manufacturers, and a hall for temporary exhibitions. Upstairs is a nice collection of indigenous art, ritual sculptures, clothing, utensils and ornaments from the Narnaii's and other Amur estuary aboriginal peoples. There is also a collection of Chinese folk art.

Python Zoological Center

phone: +7 4217 55-35-28

address: Ordzhonikidze St 9a

Really not that interesting, but if you are bored, there is around 100 species of animals here you can check out.
Do
Amurstalevskaya Sopka Ski slope

address: Kommunisticheskaya St

A small 250 meter ski slope with a single rope lift.

City Beach

address: Naberezhnaja

If you wound up feeling lonely in a suspiciously empty town on sunny days, half the population will probably be at the surprisingly nice sandy beach by the river terminal. Spot the standing sun bathers! you could take a dip, many locals does, but watch out for the current, and keep in mind that there is plenty of very polluting industries right at the river, both in town and upstream.

phone: +7 4217 53-50-29

address: Pervostroitelej St 11

Home to a 20 man troupe and two halls seating around 600 and 100 respectively. The theatre makes its own productions, and also provides a stage for touring theatre companies from other Russian cities.

phone: +7 4217 53-70-88

address: Pervostroitelej 15

A small independent avantgarde theatre founded in 1985 with just 26 seats available for show. The actors are not paid, and solely depends on profit sharing from the show - talk about shotgun employment. Theatre is known in Europe and Asia, often on tour in France, Germany, Switzerland, Belgium, Portugal, Italy, Singapore. Check the schedule if in town for a while, they might have arty stuff going on that you don't need Russian skills to enjoy

Sudostroitel Park

address: Mira Prospekt/Truda Ave

The "park of the shipbuilders" has a few attractions and running amusements, at last passing a new 30 meters tall ferris wheel were being constructed to celebrate the towns 75th anniversary

phone: +7 4217 22-27-37

address: Orekhova St 70

The local skydiving club offers classes, equipment rental, jumping tower, Class for training parachute jumps, jumping ground for the rental of equipment for diving. Preparatory courses are free of charge, but in Russian only
Buy
Central Department Store

phone: +7 4217 54-64-73

address: Mira Prospect 37

Nearly every Russian city has one, and as a model soviet city Komsomolsk of course is no exception. Decent selection of various stores inside.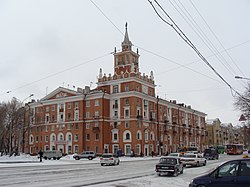 phone: +7 8-914-179-5222

address: Lenina St 39

Adventure equipment and gift store.

Konkom

phone: +7 4217 54-75-52

address: Kirova St 42

Photo services, Souvenirs, Film and batteries

Pix Center

phone: +7 4217 25-32-53

address: Leningradskaya St 48

Photocopy/Xerox, photo prints and stationary.

phone: +7 4217 55-31-31

address: Oktjabrskij Av 22-24

A big electronics store with digital equipment, computers and household appliances.

Tourist - Sports and recreation shop

phone: +7 4217 53-40-22

address: Vokzalnaya St 50

Outdoor equipment, sporting goods and clothing, fishing and camping equipment, ski's, bikes etc.
Eat
As the author of the Lonely Planet guide so eloquently puts it; "Komsomolsk isn't Russian for 'spirited dining scene'"...
Golden Buddha Cafe

phone: +7 4217 53-74-07

address: Pervostroitelej Av 15

Aside from a selection of Chinese cuisine, this place offers excellent Green Tea, and more importantly a wide variety of cocktails and other alcohol. Sometimes have live music, though it's mainly "restaurant style" table seating, so best for groups.

Heilongjiang Restaurant

phone: +7 4217 53-13-72

address: Pervostroiteley 21

Popular Chinese option, which also serves a bit of Russian cuisine. Live music in the evenings from 21 (Tu-Su). Unlikely to stir much excitement, but it's not bad if you avoid the deep-fried greasy stuff.

Suin Restaurant

phone: +7 4217 52-15-20

address: Dzerzhinsky St 3

Interesting, if upscale and slightly expensive option, as they besides some usual suspects from the Russian and European kitchens, had a few traditional Nanai dishes on the menu at the latest visit.

Sushi City

address: Lenina St 21

For a frontier restaurant rather fancy and modern decór, obviously sells Sushi and other usual suspects of the Japanese kitchen. Also has take-away which is a nice concept for the train journey don't you think? though, if you're a regular at high-class sushi joint's back home, you might want to give it a miss.
Drink
Beverly Hills Bar (BHB)

phone: +7 4217 54-35-35

address: Alleja Truda 22, 3rd floor

The nightclub of the "Krasnyj (Красный (Red))" entertainment complex which also includes a cinema and an arcade.

Boeing Club & Café

phone: +7 4217 53-33-29

address: Lenina St 39

Where else would you find a bar called Boeing (other than perhaps Seattle), than in the city with an aircraft industry on its own. Serves European and Asian food during the day. At night it turns into a club, with strict "face control" Two bars, two dance floors and a karaoke room.

Eldorado

phone: +7 4217 54-11-94

address: Alleja Truda 6

An entertainment complex fitted into the old factory kitchen of the shipyard, once full of hungry workers. People still come here to eat, as it's now a considerably more up-scale restaurant and night club. If you eat for more than in the restaurant, entrance to the two halls of the nightclub is free.

Zhara Nightclub

phone: +7 4217 51-09-60

address: Naberezhnaja St 7

The name means heat, and true to its corny name it sometimes have strippers. Though, for the most part it's just a pretty nice club on the waterfront, which dishes up some nice DJ sets once in a while, mainly house and electronica.
Sleep
Center for International Economic and Cultural Ties

phone: +7 4217 54-06-59

address: Khabarovskaya St 47

Concrete villa with its own garden. Originally build for Soviet über comerade Khrushchev, and temporary home of a couple of other premiers since then. Has an impressive banquet hall, a sauna, gym and swimming pool. You can either opt for sleeping in with history in the "lyux" room, or take the more modest accommodations downstairs. You'll need to book ahead.

phone: +7 4217 59-09-84

address: Mira Prospect 15

500 meters from the River- and Bus stations up Mira Prospekt, in a surprisingly attractive yellow 1932 building. Has 48 rooms, adequate but slightly tacky.

Hotel Vizavi

phone: +7 4217 28-40-59

address: Vokzalnaya St 52

It may be closed, as there isn't much information about this place, but this small 8-room hotel is/was very near the train station, and may be an option if you arrive exhausted after your trip.

Hotel Voskhod

phone: +7 4217 53-51-31

address: Pervostroitelej St 31a

Big gray soviet style concrete block, fortunately the 200 rooms inside have been renovated since those days (2006 to be exact) and are OK for the price. There is an attached entertainment complex with nightclub, bowling, casino and what have you for a rainy day, and a restaurant on the top floor. This hotel asks visitors to pay for their rooms in cash, in advance, on a daily basis. There is an ATM (cash machine) in the lobby, but if you don't speak Russian it might be a good idea to have someone to help you. If you don't press any button within 20 seconds after entering your card, the machine keeps your card.
Cope
phone: +7 4217 20 10 67

address: Vasanina st 12, room 110

English speaking staff, arranges a wide range of activities and tours around the region surrounding Komsomolsk, including river rafting, bike rentals, fishing trips and excursions down the Amur. Perhaps more importantly they also assist with bookings for the Sakhalin ferry, although for a rather steep fee.
Connect
Main Post Office

phone: +7 4217 59-22-14

address: Mira Prospekt 27

Escape Internet Cafe

phone: +7 4217 51-98-98

address: Alleja Truda, 19
Go next
Komsomolsk Nature Reserve
Komsomolsky Zapovednik (
phone: +7 4217 22-18-23
address: )
is a large nature reserve 50 km north of the city, covering some 650 km² of both river wetlands, lowlands and mountain landscapes, around the mouth of the Gorin River on the west bank of the Amur. The reserve is transitional between the mixed forests of the south morphing into Taiga, and it's home to an amazingly diverse range of animals and plants; wild boars, raccoons, bears. Siberian tigers occasionally cross into the reserve, but you'd probably have better odds winning the lottery and buying one, than spotting a tiger here by chance. Since several important migratory routes for birds crosses the reserve, spring and fall brings an amazing diversity of bird species here, cranes, storks, ospreys, eagles and 200 other species makes it a hotspot of ornithologists during those seasons.
Other destinations
Transportation wise the next major stops are
Tynda
to the west, and the port city of
Vanino
with ferries to
Sakhalin
to the east along the
BAM
. Along the mighty Amur river, you'll find
Amursk
and
Khabarovsk
to south with both bus, river and railway connections, and
Nikolaevsk-on-Amur
going North, but only reachable in summer. Nearby you can check out some sights of natural and ethnographic interest;
phone: +7 4214 62-37-89

The area's largest ski resort, about north-west of the city. It has 3 ski trails ranging from 250-1850 meters and a snowboard park, all serviced by two rope lifts and a modern chair lift. Ski rental available, and there is accommodation for up to 140 people, as well as a restaurant and various other entertainment. There is a bus leaving F-Su at 10 from the school just off Metalurgov Square (площадь Металургов, also stops at Lenin Prospect 11), Returning at 17:00. One way ticket is

Nizhny Khalby

phone: +7 4217 54-70-96

A small Nanai settlement of 400 people, some 60 km downstream from Komsomolsk. It has a Nanai ethnographic museum/cultural house