Kongsberg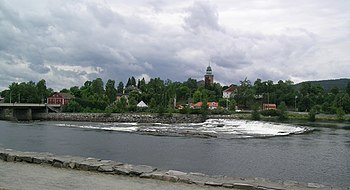 Kongsberg
is a town in
Buskerud
. It is an old mining community that developed around the rich silver mines from the 1600s. Today the town is a high-tech centre in Norway and the mines are now only a great sight for visitors. Kongsberg is the gate to the great Numedal valley. There is also a nice winter sport resort in the hills of Kongsberg.
Understand
Kongsberg was founded in 1624, after silver was discovered in the hills. The Danish-Norwegian king recruited German miners to the mines. As result, Kongsberg in the 17th century was a "German" town. It was the second largest in Norway only rivaled by
Bergen
. Mining ceased in 1957. The name "Kongsberg" means something like "King's mounta" or "King's mining hills".
Kongsberg today is a centre for high-tech industry. Kongsberg also hosts the Norwegian mint, and all Norwegian coins since 1686 are produced in Kongsberg. Kongsberg was from its foundation a key town in Norway, thanks to the rich silver sources in the hills. Today it's merely a small town, but its rich past is seen, for instance, in Konsberg church, still Norway's largest church by number of seats. Kongsberg and
Røros
Churches are the two monumental churches of the 1700s.
Silver mines
Unlike most other Norwegian towns, Kongsberg is not a port but resides in the valley next to the mines. The silver mines is a web of some 1000 km of tunnels, and 300 shafts, dug out during more than 300 years of production, and is a key historical monument. The mines cover an area of 30 square km, which also includes about 80 dams supplying water to the facilities. Unlike most mines, in the Kongsberg mines large chunks of pure silver were often found deep in the hard rock. More than 1 million kilograms of pure silver were extracted from these hills. The deepest shafts went 1000 meters underground. At its peak, the mines employed some 4000 people and were Norway's largest enterprise before the industrial era. A small train brings visitors a few kilometers into the mines (May 18 to August 31).
Røros
and Kongsberg were the only towns in Norway that enjoyed the special
bergstad
(mining town) privileges.
Get in
By plane
By rail
Trains between Oslo and
Kristiansand
passes Kongsberg. There is 23 trains a day between Oslo and Kongsberg. , the main railway station is located at Schwabes gate 2 just north of the city centre.
By bus
"Timekspressen" Bus between Oslo and Notodden passes Kongsberg, every hour, every day.
By car
Kongsberg is situated on the E134 highway. Driving distance from Oslo is about 1 hour and 15 minutes. E134 continues in westward to
Notodden
, and over the mountain towards
Haugesund
. Or Northern going road 40 towards
Geilo
and then after 5 kilometres to
Rjukan
westwards on road 37.
Get around
Kongsberg is a compact town. So it is possible to walk. Kongsberg also has many cycling paths.

See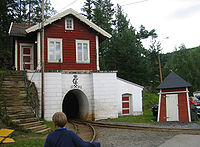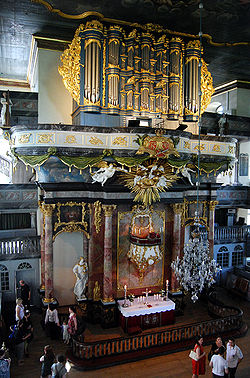 address: Saggrenda

Guided tours in the old mines. A train brings the visitors 2300 metres into he mountain.

phone: +47 32723200

address: Hytte gate 3

LågdalsmuseetHas a collection of old houses, and old things. Showing how life was in the town in old times.

Kongsberg Church

phone: +47 32 86 60 30

address: Kirketorget 1

Kongsberg's large church, one of Norway's largest, is a legacy from Kongsberg's important past. It was designed for 2400 seats, now seating is limited to 1100. The somewhat strict exterior conceals a rich rococco interior, the interior also reflects the particular mining society at Kongsberg. German professionals at the mines had a key impact on the design. The interior has several unusual features, such as the integration of the pulpit with the altar, the organ towering above. The largest chandelier is about 3 meters tall. The King's chambre is also a dominant feature of the interior.
Do
phone: +47 32717070

Skiing slopes.
Buy
Eat
Tastyasia

phone: +47 32732155

address: Storgaten 2

Thai

Big Horn Steakhouse

phone: +47 32723060

address: Thornesvei 4

Steak restaurant with view of the river.

Kongs Kina Restaurant

phone: +47 32733695

address: Nymoens Torg 18

Chinese.

Peppes Pizza

phone: +47 22225555

address: Nymoens torg 2

Restaurant Fryd

phone: +47 32772800

address: Christian Augusts gate 2

Opsahlgården

phone: +47 32764500

address: Kirkegt. 10
Drink
phone: +47 32724400

address: Storgata 4
Sleep
Budget
Kongsberg Vandrerhjem Bergmannen

phone: +47 32732024

address: Vinjes gate 1

Pikersfoss Hyttegrend og Camping

phone: +47 91 19 07 41

address: Svendsplassveien 2, 3614 Kongsberg
Mid-range
Best Western Gyldenløve Hotell

phone: +47 32865800

address: Hermann Foss gate 1

Quality Hotel Grand

phone: +47 32772800

address: Christian Augusts gate 2
Connect
Kongsberg Bibliotek

phone: +47 32866850

address: Christian Augusts gate 1

Wireless internet for laptop and computers with internet access available.
Go next